Greetings friends! Do you know there are many countries that have fought for their independence against the cruel rulers? One of those countries is America. It won its independence on 4th July. Also known as Independence Day, the 4th of July has been a federal holiday in America ever since 1941. But the tradition of Independence Day celebrations goes back to the American Revolution. On July 2nd, 1776, the Continental Congress voted in favor of independence. Thus from 1776 to the current day, July 4th has been celebrated as the birth of independent America, with festivities ranging from fireworks, parades, and concerts to casual family gatherings. Now one of the most powerful countries in the world, let us learn about this important day in the history of America with our free printable happy 4th of July coloring pages. Check out our collection of free Fourth of July coloring sheets to print below. 
35 Free Printable 4th Of July Coloring Pages
Happy 4th Of July Coloring Page: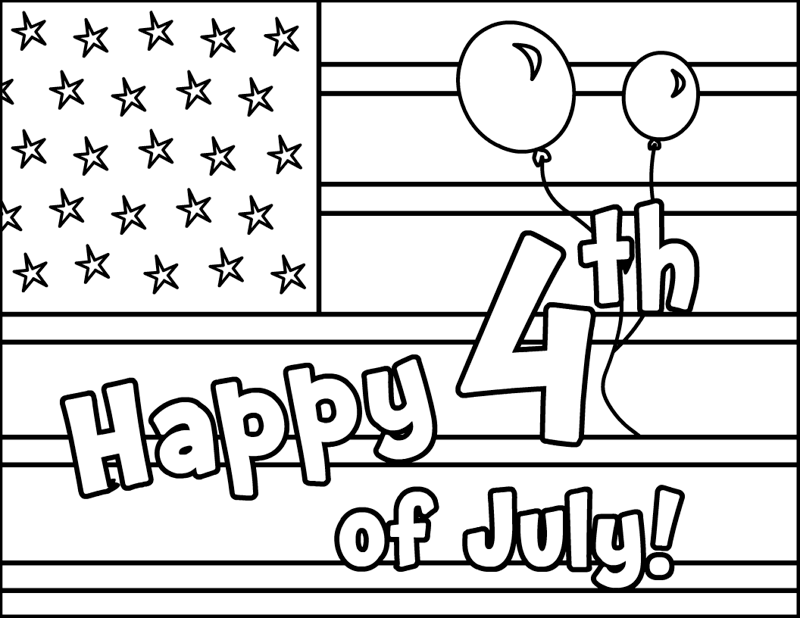 In June 1777, the Continental Congress passed an act to establish an official flag for new independent America. As a result, the American flag was designed with 13 horizontal stripes of red and white alternatively and 50 five-pointed white stars. Color this flag in celebrations of the 4th of July.
4th Of July Activity Sheet:
Red, blue, and white are the colors of the American flag. Here is an activity sheet for you. Color the things in this sheet as indicated; with yellow, red, and blue colors. Have fun while doing this activity.
to join this conversation on GitHub. Already have an account? Sign in to comment Footer © 2023 GitHub, Inc. Footer navigation Terms Privacy Security Status
4th Of July Celebrations Coloring Page: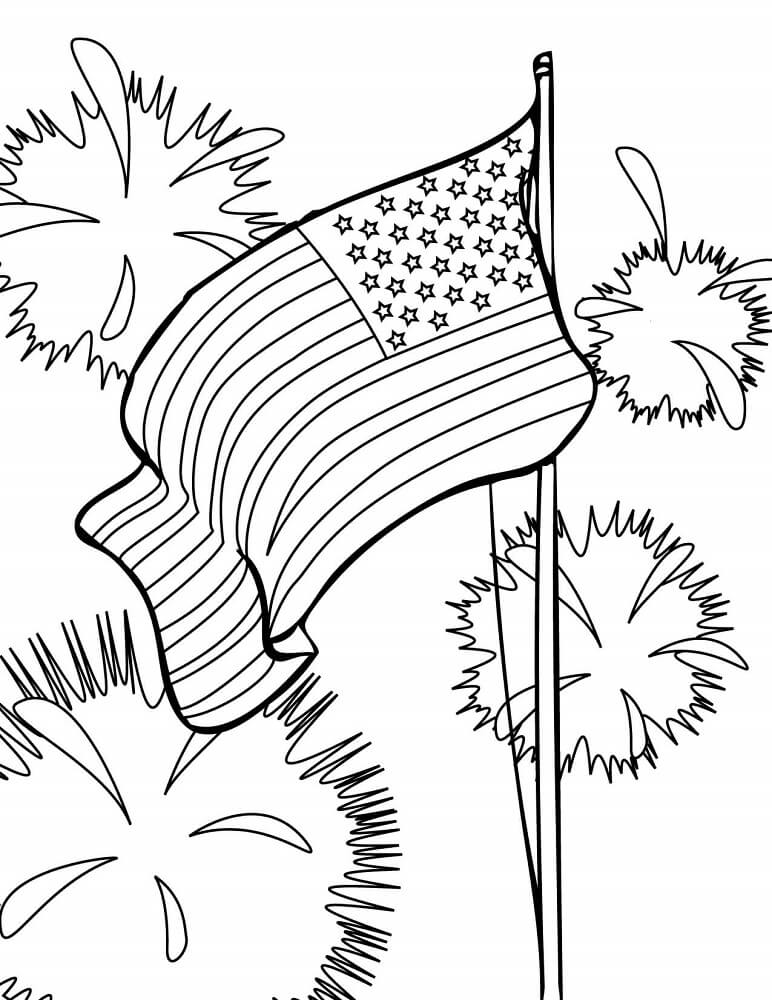 Independence Day celebrations feature fireworks. These fireworks are the main highlight of the day. Like in this sheet you can see the flag with a background of fireworks. Color this sheet with shades as blazing as the fireworks.
4th Of July Coloring Page:
Don't you think the man here looks just like the ex-president of the U.S.A, Barack Obama? I think so, people may have different imaginations. He is accompanied by the bald eagle, the national bird as well as animal of the U.S. with the American flag. Color this iconic trio with amazing hues.
4th Of July Coloring Page For Kids:
Sam and Samantha have already started the celebrations of this auspicious day. They are in a musical mood clearly. How can they not be? Everywhere they can see parades, celebrations, and enthusiastic people. Color them with colors as bright as their faces.
4th Of July Coloring Page For Preschoolers: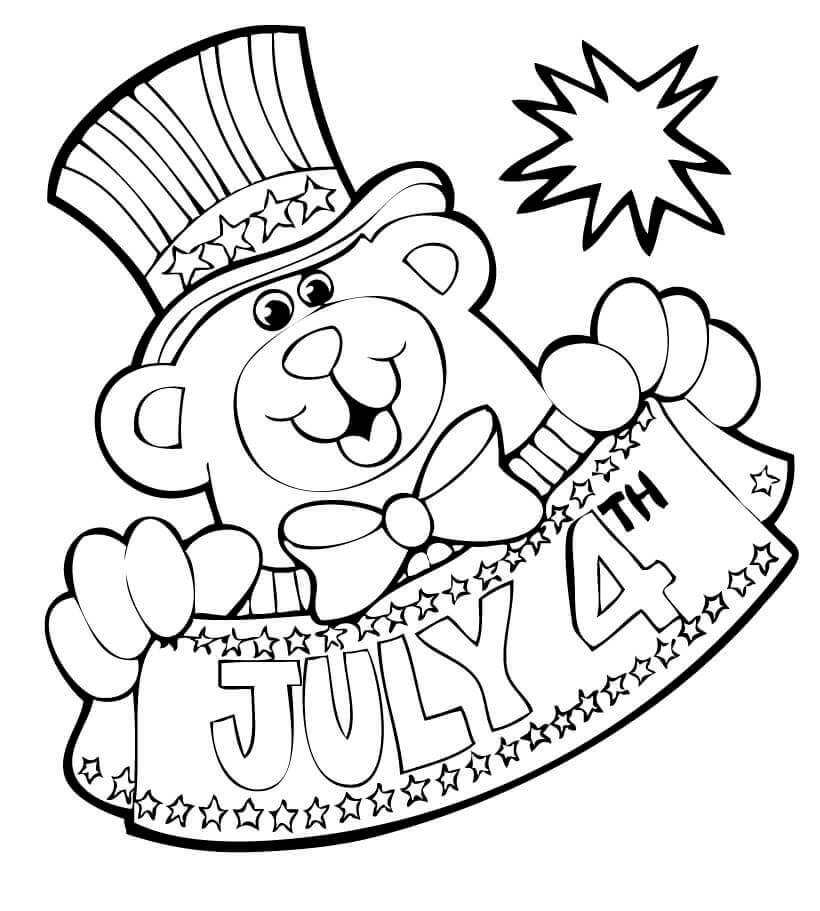 This bear is wearing a hat that resembles the American flag-Stars and Stripes. He even has a cute little bow. It seems like he too is happy with the celebrations going around him and he is again reminding you that it is 4th of July.
American Heart Coloring Page:
For many people, their country is their pride and honor. Their country is in their heart. Although a real heart does not look like this, I think you understood the reference. This heart is made of the American flag symbolizing how important the country is for the people. Color this pride and love.
[ Read: Heart Coloring Pages ]
Horse Is Ready:
Mr. Horse is ready for the celebrations of Independence Day. He is the mayor of Horseville so today, on the occasion of the 4th of July; he has to give a speech in front of the people of his town. Surely he is looking good in his suit and hat with the flag in his hand. Do you think he will be able to convince everyone with his speech and become the mayor again?
Dog And Cat Celebrating Fourth Of July Coloring Page:
Although a dog and a cat are arch enemies, they can't ignore this occasion-4th of July. This is a day when all Americans come together to celebrate their independence; freedom won by their brave ancestors. So no surprises that this dog and cat are seen together.
[ Read: Dog Coloring Pages ]
4th Of July Firecrackers Coloring Page:
The highlight of the 4th of July is the fireworks. It is like a tradition that goes back to 1777. On this day you will see a sky full of bright and colorful lights. There are special firework displays held in many cities. In 2009, New York held the largest firework display in the country.
Siblings 4th Of July Coloring Page:
Tim and Tina are siblings. For them, these fireworks aren't new as they have grown watching these. This part of the 4th of July is their favorite because they get to see colorful lights in the night sky.  Tina is holding a flag, a reminder that this flag was won after long and difficult struggles.
4th Of July Independence Day Coloring Page For Kids:
Did you know that John Adams believed that July 2nd  was the correct date to celebrate the birth of independent America, and for that reason, he would turn down invitations to come to July 4th events in protest? Adams died on July 4, 1826—the 50th anniversary of the adoption of the Declaration of Independence.
Salute To The Nation: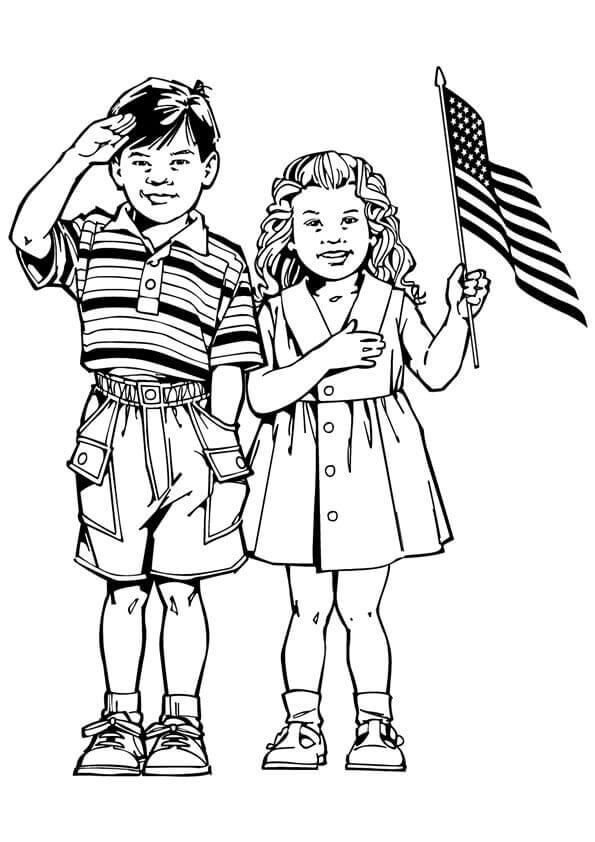 Natasha and Steve are best friends. Their dads are in the army and they know the importance of this day. They know that their country wasn't built in one day but was made out of sacrifices of many audacious men. Color this proud duo.
4th Of July Parade Coloring Page:
Parades on Independence Day are a common sight in almost every street of America. You will see various bands marching; it also includes parades that represent different cultures of the U.S.A. You will experience the patriotism, inspiration, and spectacle of July 4th if you happen to attend a parade.
God Bless America: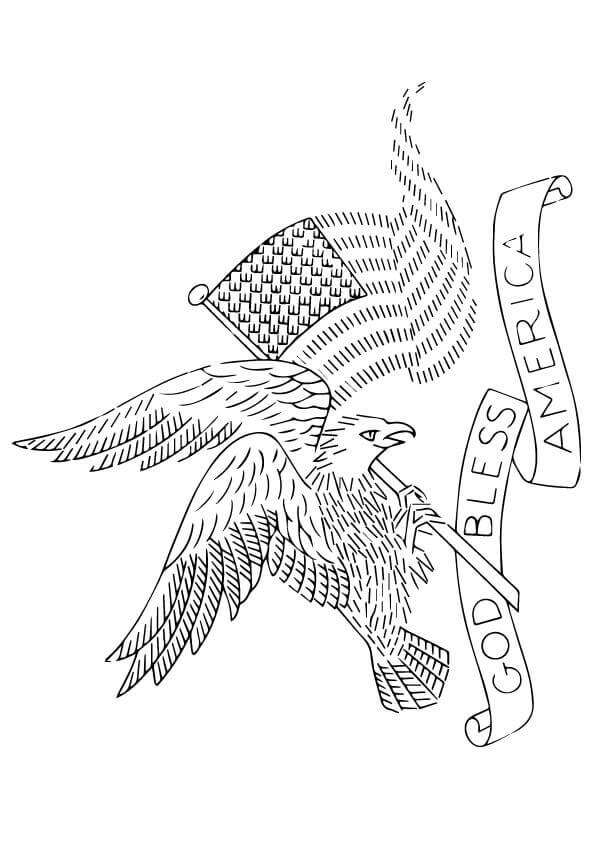 "God Bless America" is a patriotic song of America written by Irving Berlin while serving in the U.S Army in World War I. The song was revived in World War II. This song has great importance in American history because it was seen as a "peace song" when Adolf Hitler was rising.  Here you can see the national animal as well as the national bird of the U.S flying with the national flag and a banner that reads "God Bless America."
A Capitol 4th Coloring Page:
A Capitol Fourth places viewers front and center for the greatest display of fireworks anywhere in the nation. A Capitol Fourth gives a live broadcast from the West Lawn of the U.S. Many celebrity hosts and a variety of guests entertain and pay tribute to the nation throughout the evening.
Unites States Map Coloring Page:
Here is a map of the U.S.A for you with the flag on it. The U.S.A is a federal republic with 50 states. America is one of the 17 megadiverse countries. It emerged from the 13 British colonies established on the east coast. Fill in this American map and flag.
Cute 4th Of July Coloring Page: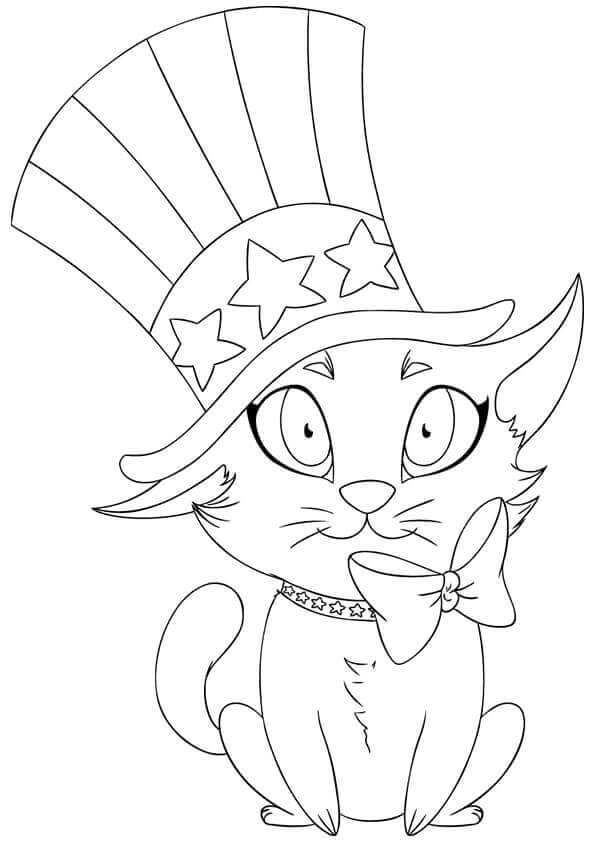 Marie the cat is ready for the 4th of July. She is wearing a hat that resembles the pattern of the American flag. Don't you think she looks cute with her big eyes and that hat on her head? Color this cute cat.
Also Read: Cat Coloring Pages
Easy 4th Of July Coloring Page:
The 4th of July is more than just a federal holiday, it is a day marked with the patriotic display. People take advantage of the day off and celebrate Independence Day with their families going on picnics or hosting barbeques. Political leaders too don't forget to go in public and talk about the country's heritage, law, history, etc.
Dean Posing Coloring Page: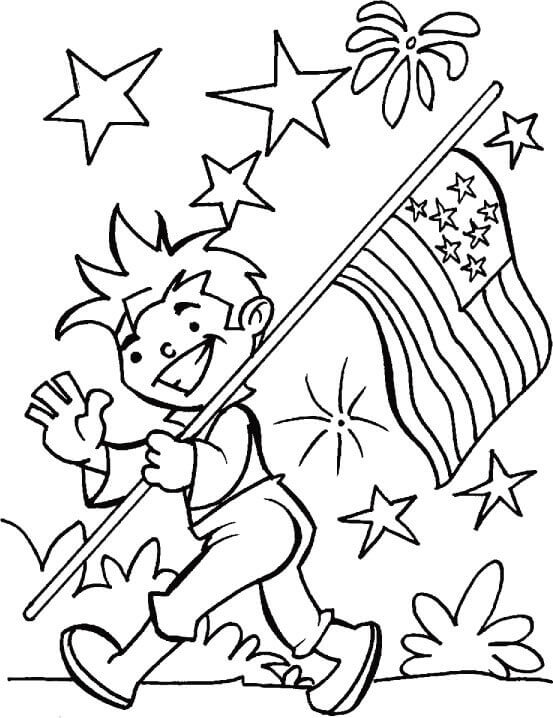 Dean is posing for the camera here. He is holding the nation's flag and in the background, you can see fireworks. He is happy to live in a free and one of the most powerful countries in the world. Color him elated.
Proud Girl Coloring Page:
Katie is a proud American. She has been taught by her parents ever since her childhood, to respect the country and its flag because it is made of blood and sacrifices of those people who devoted their lives to the nation. Maybe she is too young to understand this but she knows her parents are always right and thus she must obey them.
Toddler 4th Of July Coloring Page:
This toddler looks like he is in a celebratory mood. This is the reason why he is playing the drum. He is surrounded by confetti and looks adorable. Fill this sheet with colors that are bright and blazing.
July 4th Coloring Page To Print:
Falling in summer, Independence Day celebrations since the 19th century have become a famous pass time and a common occasion for family reunions. The most common but important symbol of this holiday is the national flag accompanied by "The Star-Spangled Banner", the national anthem of the U.S.
Elephant Coloring Page:
Mr. Elephant is happy to be a part of the celebrations. Wearing a hat with stripes and stars and holding the national flag he looks cute, like a little kid. Color Mr. Elephant cute.
[ Read: Elephant Coloring Pages ]
American Independence Day Coloring Page:
Independence Day's most iconic moment is the parade. Wearing American colored dress and holding the national flag, men and women gleefully celebrate this day. This little man is a participant in the parade too and is therefore dressed up.
Statue Of Liberty:
Standing on Liberty Island in New York Harbor in New York City, the Statue of Liberty was a gift by French people to the Americans. This statue became a symbol of freedom and of the U.S. Fun fact: The height of the copper statue (to torch) is 46 meters and from ground level to the torch is 93 meters.
Happy Independence Day Coloring Page:
Stars are one of the most important features of the American flag. In the star is this little man called Jim and he is proudly holding the national flag in both his hands. Color these stars including Jim.
4th Of July Free Printable Page:
Although the Continental Congress voted for independence from the 13 colonies on 2nd July, the Declaration of Independence was adopted on 4th July. This is the reason why John Adams wanted 2nd July to be the birth of independent America. Coincidently he died on the 4th of July.
Bald Eagle-The National Bird: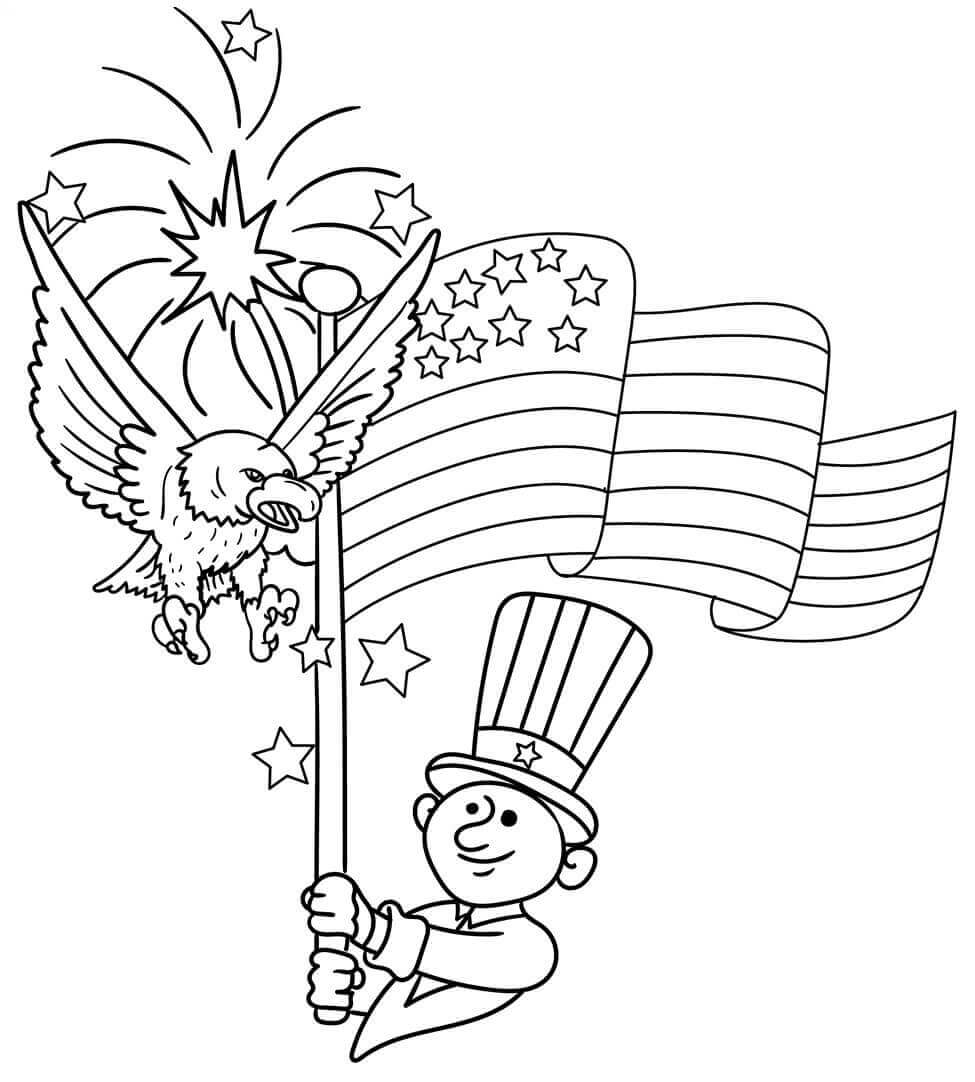 The bald eagle is the national symbol of America and it appears on its seal. Apart from this, it is also the national bird and animal of America. The eagle is not actually bald but its name is derived from an older meaning of the word "white-headed." Its majestic and fierce looks have earned it its place on the American seal.
Happy Independence Day Coloring Page:
There was a lot that happened before America became an independent country. During the American Revolution, the legal separation of 13 colonies was declared on 2nd July. After voting for independence, Congress turned their focus towards the Declaration of Independence which explained the reasons for their decision.
Have A Great 4th Of July: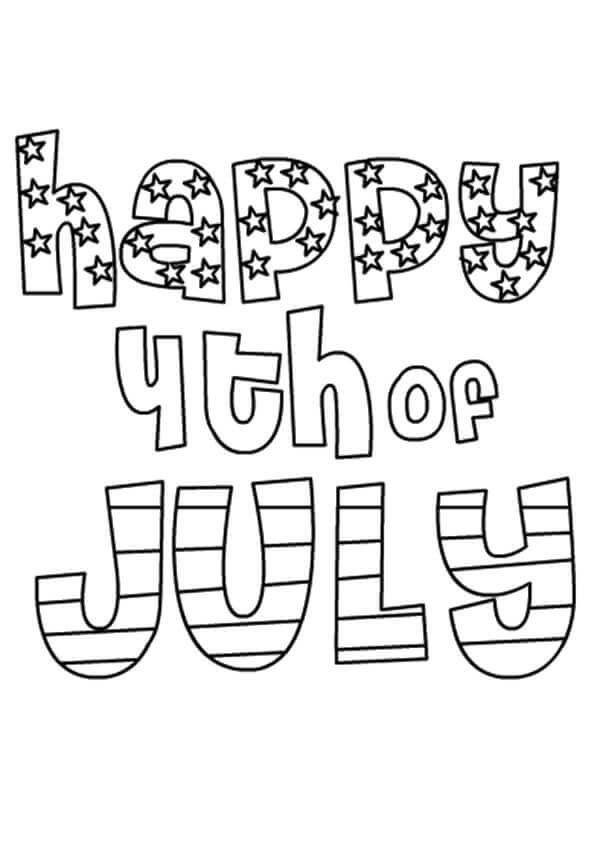 A one-gun salute is given for each state of America on July 4th at noon which is called "Salute to the Union." The gun salute is given by any capable military base.
Greetings Of 4th Of July:
In this Fourth of July coloring sheet, you can see the United States Capitol. This is an important historic monument of the U.S.A and is a seat of the House of Representatives and senates. It houses Senate offices, Supreme Court, gallery, the library of congress, and the house office.  There is a total of 540 rooms in the monument. The dome of the capitol building has a height of 288 feet.
Danny And The Flag Coloring Page: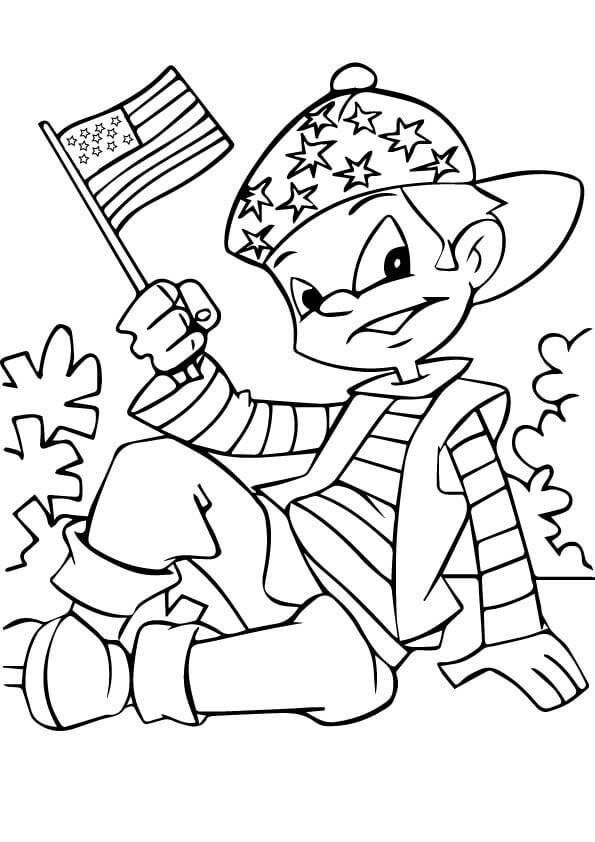 Danny has his own swag, which is why he is considered to be "cool" among his friends. Although he is known to be cool and all, he respects his country and the sacrifices of his countrymen. He is posing with the flag and seems to be happy. Color him with colors as bright as his smile.
Uncle Sam 4th Of July Coloring Page:
Uncle Sam whose initials are U.S (like the United States) is a personification of the American Government or the U.S in general. The name Uncle Sam is derived from Samuel Jackson who supplied rations to American soldiers during the war of 1812. He is posing for you, color him quickly.
Uncle Sam Coloring Page:
Uncle Sam has been a popular symbol of the US government and a manifestation of patriotic emotion. Uncle Sam wears a tall top hat and a blue jacket. During World War I, the portrait of Sam with the words "I Want You For The U.S. Army" was used as a recruiting poster. Color him in.
4th Of July 2021 Coloring Page:
With Independence Day 2021 approaching, we decided to get our readers a brand new 4th of July 2021 coloring page. We hope you will like it.
A country's independence is won after long and difficult struggles, sacrifices of valor men and women. This year the birth of independent America will be celebrated on Wednesday. The day will be celebrated enthusiastically for sure. When and how does your country celebrate its independence? Print as well as color these sheets and let us know.