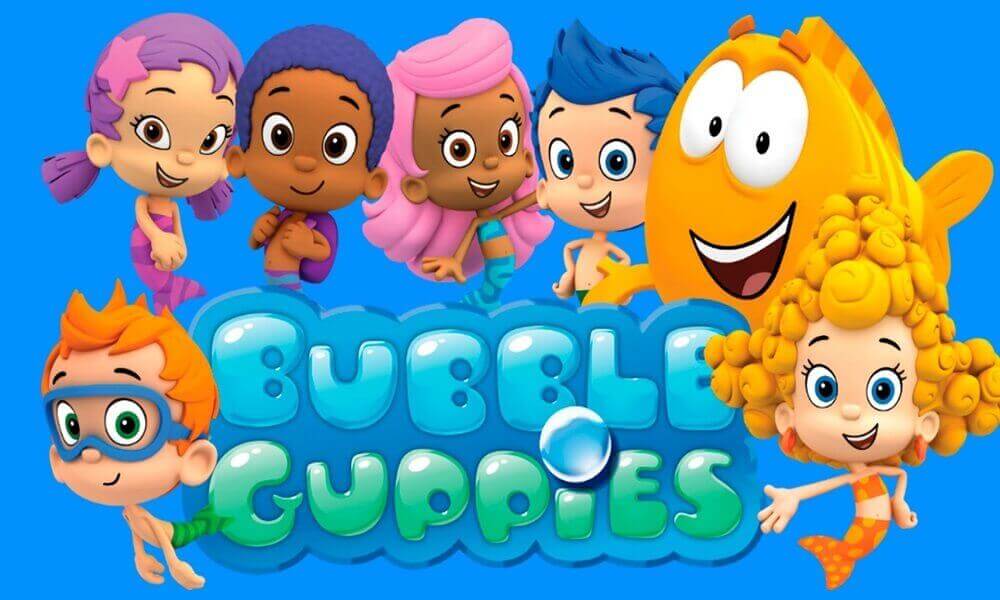 The Bubble Guppies, a group of merperson living under the sea in a fictional city called Bubbletucky are part of an animated television series by Nickelodeon primarily aimed at kindergarten kids. Each episode follows the day to day schedule of the preschoolers and addresses a particular topic with all events in the episode revolving around it. Today we present before you 25 free printable Bubble Guppies Coloring pages. Let it be fun and learning too as you sprinkle colors to the characters. Besides, kids will even learn some back some meaningful lessons and morals of life with these free Bubble Guppies coloring sheets to print.
25 Free Printable Bubble Guppies Coloring Pages:
Bubble Guppies Characters Together: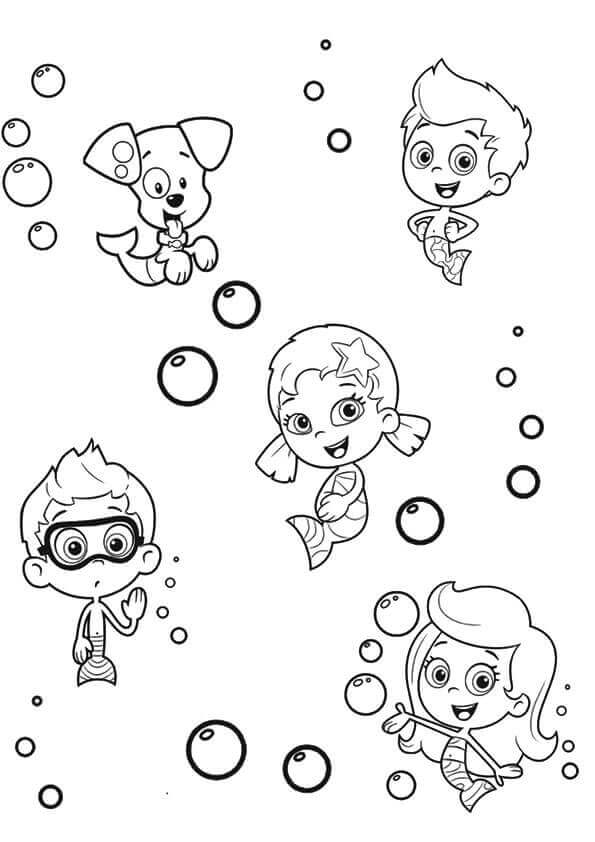 In this Bubble Guppies coloring page you will find all the main characters of the show – Molly, the leader of the gang; Gil living on the edge and enjoying the thrill of risk; the empathetic Oona; the intelligent Nonny and Bubble Puppy, Gil's loving pet. Say 'hi' to them before you add your favorite colors to the picture.
Get Ready For School Coloring Page:
All the Guppies attending their Sunday school class in this Bubble Guppies coloring printable. All look very excited, especially their teacher Mr. Grouper. Gil, Molly, Deema, Goby, Oona, and Nonny love going to school as they gain more knowledge and all their queries are answered fondly by Mr. Grouper.
to join this conversation on GitHub. Already have an account? Sign in to comment Footer © 2023 GitHub, Inc. Footer navigation Terms Privacy Security Status
Gil From Bubble Guppies Coloring Sheet::
This guppy is super energetic, the liveliest character around. Always bubbling with curiosity and inquisitiveness, this character's unquenchable desire to unravel the unknown is communicable enough to propel the other characters too to participate in adventures and discover the mysteries around. As seen in this picture he has successfully attempted in racing the car in between a big round-shaped swim tube. This Guppy boy has blue hair and eyes. Color his dress in purple as it's his favorite color.
Nonny and Deema With The Frogs:
There are no chances that these friends will turn into frogs! Nonny, not the one to back out of trying a new experience is trying to be cool with the frogs on his head and hand. Though he is looking scared to hell but Deema, his dancing partner is encouraging him to complete the stint until the end.
Oona And The Car: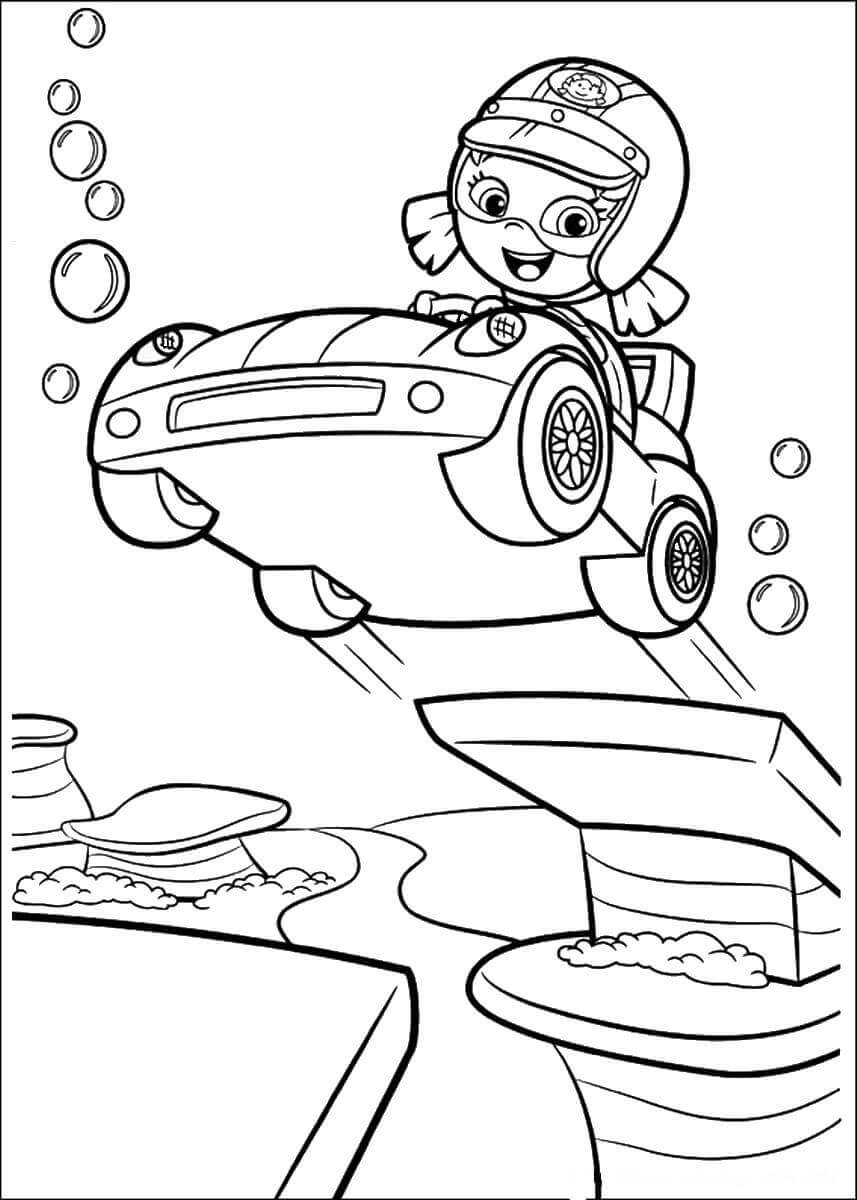 A sweetheart, this Guppy is the most caring and affectionate of all. She endeavors to always help a sick friend, a pet, a plant, or cheer up someone when sad. Best friends with Nonny, she is also quite fond of Deema. She is ever inquisitive and this nature of her leads her to try exciting antics like trying to jump over posts in her car.
Deema From Bubble Guppies Coloring Picture: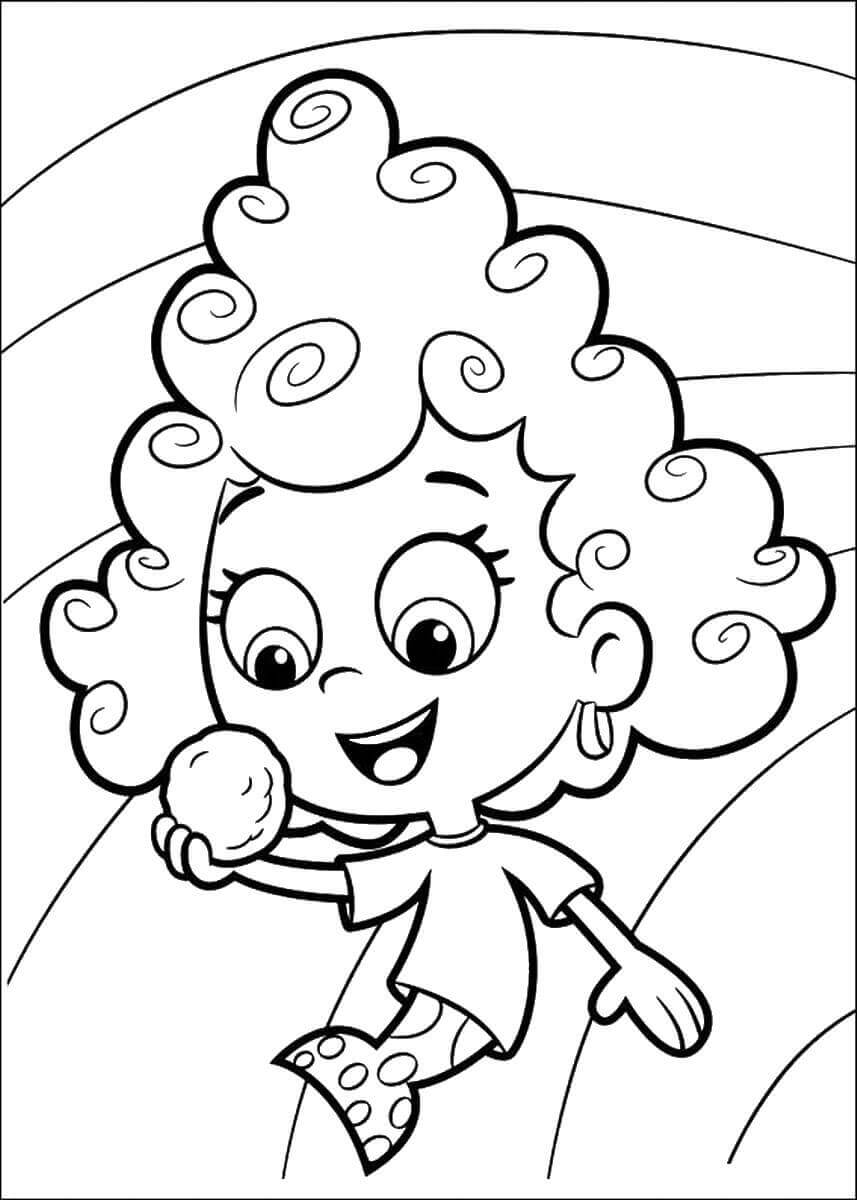 Full of melodrama and charisma, Deema the mermaid is always charged up when it comes to theatre, dancing, singing, and acting. Making silly faces, cracking jokes, or being a crowd-pleaser, she can do anything for her friends especially Molly and Oona. Her big curly shining yellowish-orange hair makes it easy to identify her. Her tail and her top are both orange colored.
[ Read: Mermaid Coloring Pages ]
Gil Playing with His Helmet:
The ever-charming and vibrant character that he is, in this picture he is seen trying to play football with his baseball helmet. Always looking for adventure, he is ever ready to throw caution to the wind and undertake any daring task. He is extremely fond of pizza and apple juice. Gil loves to sing pop songs and dance but always seems to land in trouble and chaotic situations because of his lack of alertness.
[ Read: Baseball Coloring Pages ]
Molly And Mr. Grouper:
Mr. Grouper is ever ready to answer any query from the Guppies. He is doing the same here in the picture. He loves it when his children rack their brains and put up inquisitive questions. Here, Molly puts her doubts across to her teacher and he is answering with all enthusiasm and joy.
Grouper From Bubble Guppies Coloring Image: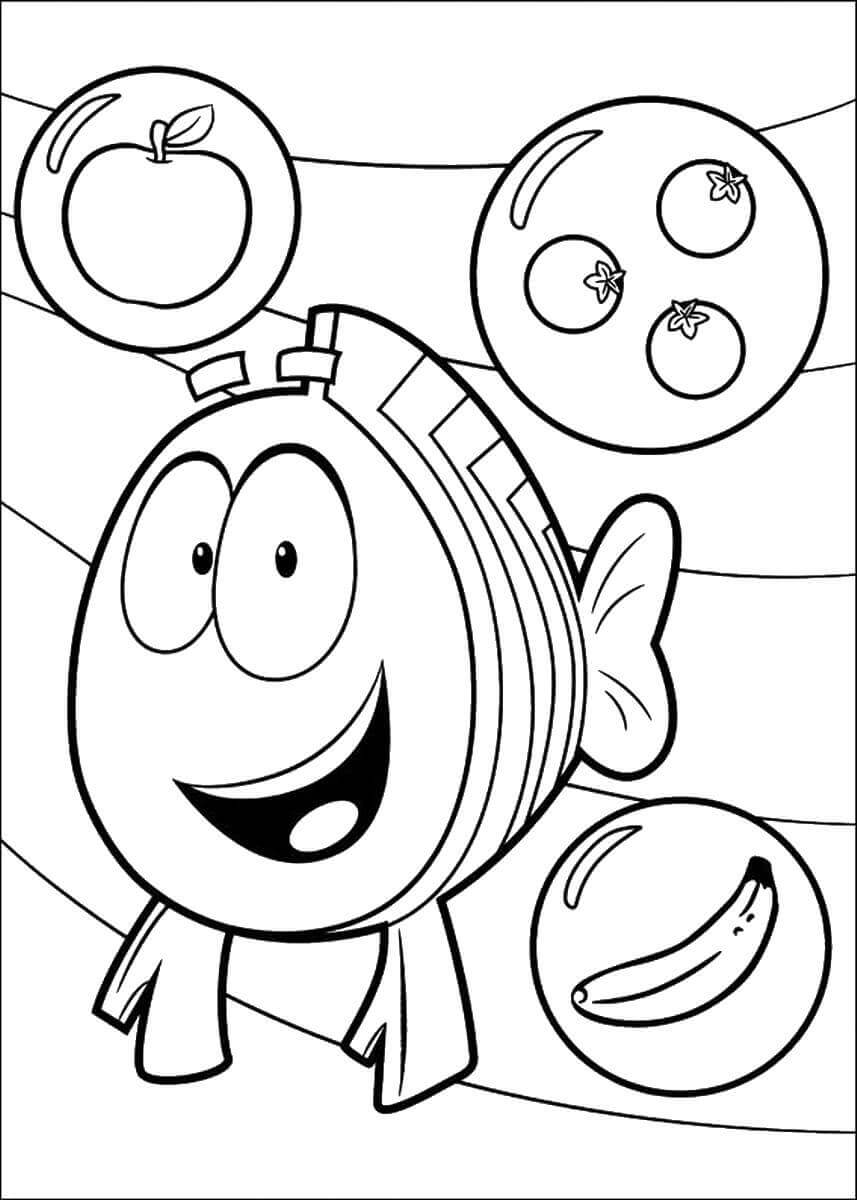 This teacher-cum-friend to the Bubble Guppies always has a moral to deliver at the end of each episode when they are out on a field trip. An ideal teacher, he encourages the Guppies to be imaginative and ask questions.
Oona From Bubble Guppies Page:
This Guppy is tender-hearted, empathetic, and emotional by nature. Never one to lose her temper, her kind-heartedness touches all animals and plants. She wears a one-piece suit, has purple hair, ties pigtails, and wears a pink-colored star hair accessory. Her tail is purple in color with pink stripes.
Bubble Guppies In School Coloring Page: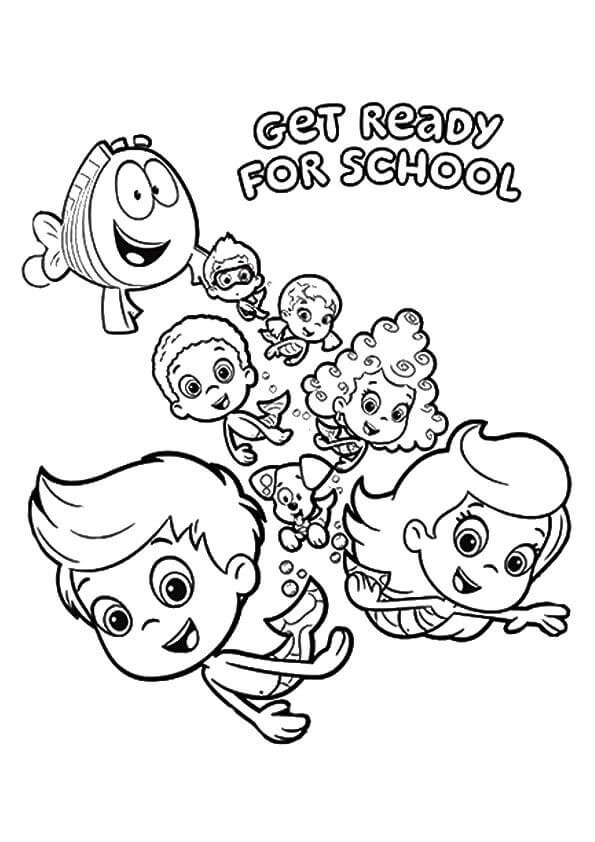 The ever effervescent Gil leading the way followed in a line by Molly, Bubble Puppy, Deema, Goby, Oona, and Nonny. They are out on a field trip and Mr. Grouper, their teacher is all excited that they will learn something new today.
All The Guppies Ready To Race:
The Guppies' friends' group is dressed up in their car racing costume. Seems like all of them are participating in a car race to find out who the real thrill seeker is! Make sure to make them wear their favorite colors.
Deema & Molly Watch The Snails Driver:
The two best friends, Deema and Molly, are catching up. And as they bend down from the high archway, they spot one of the Snails Driver merrily driving by. They seem a bit shocked maybe because it's their secret hideout and they didn't expect anyone to be around.
Gil: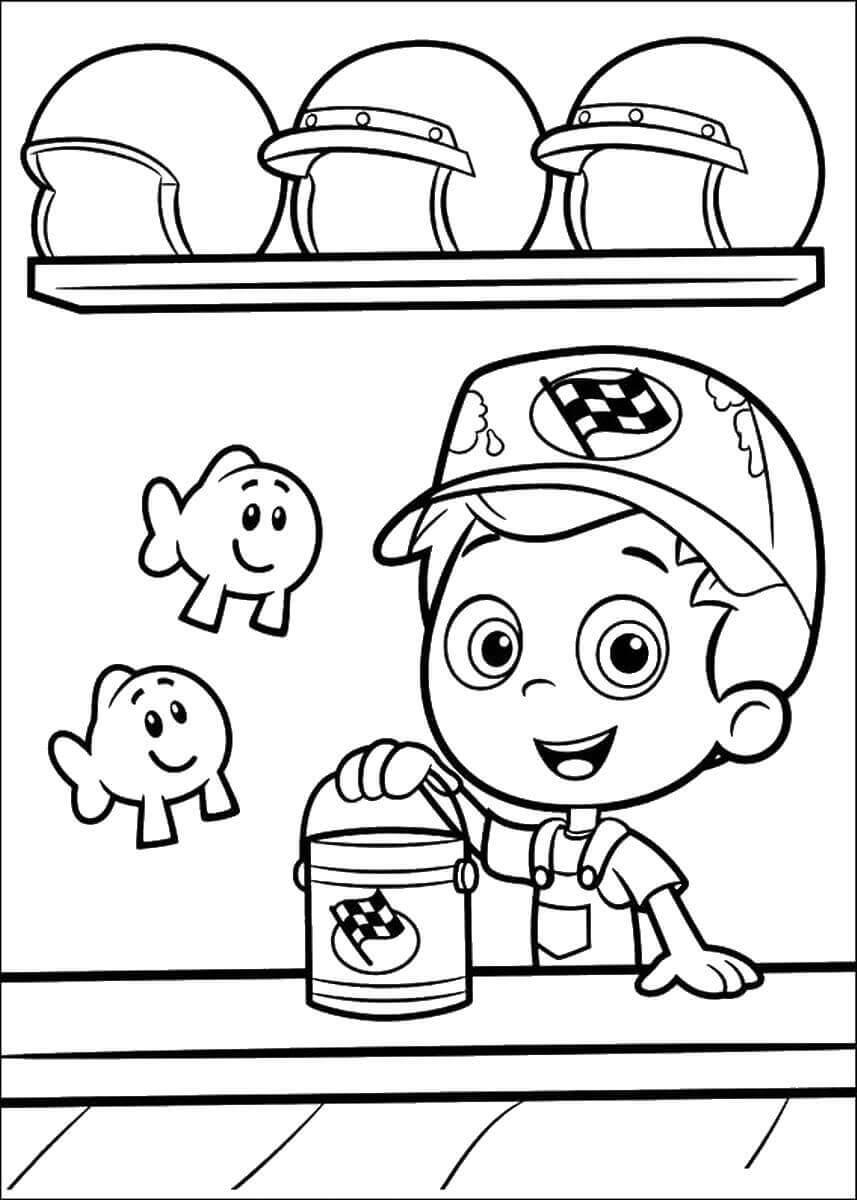 In this picture, Gil is buying Bubble Bites, food for his adopted pet and friend, Bubble Puppy. The ever-helpful Gil knows that this is his pet's favorite food and that's why he has gone out of his way to buy it.
Nonny:
Nonny, the intellectually sharp and always alert Guppy, is unruffled by any incident or event. He has an excellent command of the language and loves to verbally comment on something rather than physically participating in any act, for example, driving a car. Lovingly called 'Nonners' by Deema, Nonny doesn't believe in giving up easily. Books are his best friend and so is Deema.
Bubble Puppy: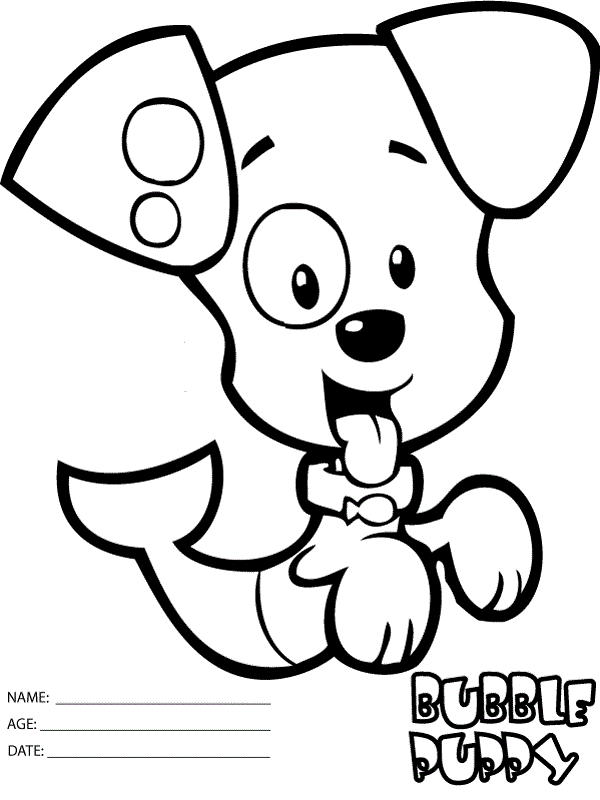 Gil, always trying new things wanted to adopt a pet and that's when all the Guppies learn how to look after a pet. Bubble Puppy is devoted to Gil and loves to play with him and his friends. It is a lively little dog with a fishtail. His favorite antic is to jump high in the air to catch a Bubble bite thrown in the air by Gil. He is a regular character in all the Bubble Guppies series.
[ Read: Puppy Coloring Pages ]
Goby:
Imaginative, story-teller and creative, this dark-skinned Guppy loves enacting characters by putting on varied costumes and imitating different tones and voices. His tail is blue colored with purple sides. He pushes his friends to participate in adventures that are creations of his imagination. His best friend is Gil and he loves to wear baseball caps.
Molly:
The central character of Bubble Guppies, Molly has all virtues of a leader – vivacious, kind-hearted, friends with all the other Guppies and she sings her own songs. All shows start with Molly introducing the audience to the show by saying 'Hi'. All Guppies want to be her friend and swim with her. Her hair is bright pink, her tail and top both are light blue color. 
Molly And Gil From Bubble Guppies Coloring Sheet:
Gil and Molly are the closest friends as also the co-host of the show. Molly has a soft corner for Gil and calls him 'Gily' lovingly. They are both the main characters of the show and they are mostly together in all the series. It is believed that both have a crush on each other.
Nonny Driving The Car:
Wearing his helmet, Nonny is attempting to drive the car, though very cautiously and you can say by looking at his face that he is not really enjoying it. Though he is not an action Guppy, with his willingness to learn and try new things with his friends supporting him, generally comes out a winner.
Molly And Paints:
Donning the painter's coat, Molly is seen here trying to paint her house in the sea. She is a fearless Guppy full of grit and determination. It is because of this nature that she is not scared to try her hand at some tasks that are difficult for Guppies her age.
Snail:
One of the side characters, the Snail has a large hard shell on its back. They undertake the service worker roles in Bubble Guppies episodes like hospital workers, construction workers, chefs, and lots more. In this picture, the snail character is doing the work of a referee flagging off a race.
Deema And Gil:
Both, Deema and Gil have a common thread – they both love dramatics – singing and dancing. They love airplanes, have the same blue color eyes, and are good friends with each other.
Deema And The Car:
In this picture, our pretty damsel is seen frolicking around a car. Since she is too fond of singing and dancing, she must be humming aloud a tune to match her steps. Not to forget that she must be enthralling the audience with her funny jokes, silly acts, and comical faces.
All Guppies Practicing For A Play: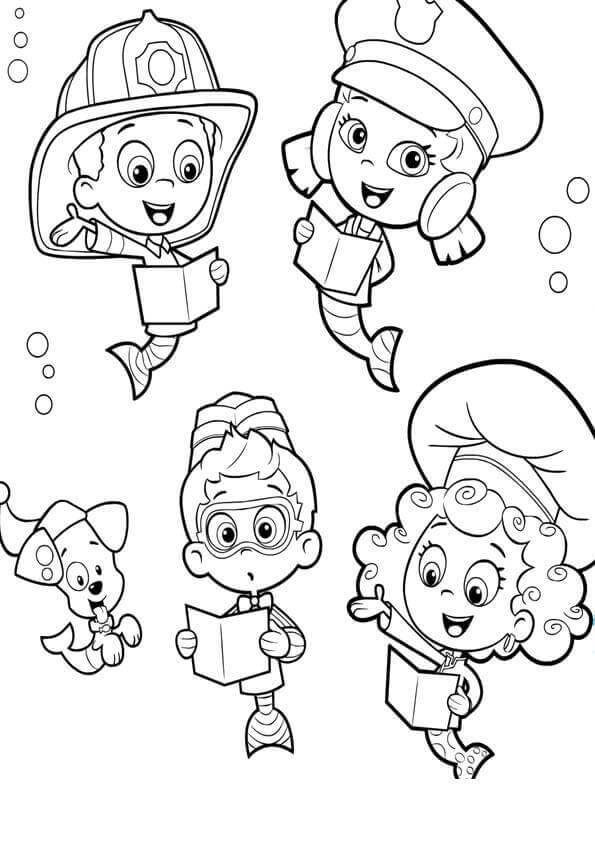 Melodramatic Deema paired with the composed Nonny and the adventurous Gil with our determined leader Molly; all the four are practicing for a school drama with Gil and Deema looking extremely confident, Nonny unsure and Molly super comfortable. Bubble Puppy is busy watching them.
Wow! That was quite a lot. The Guppies though have different personalities, bond with glee, and are always curious about things around. They are an exciting lot and their happiness is infectious. Catch up with their spirit to make the Bubble Guppies coloring pages printable as colorful as possible. And don't forget to share your favorite Bubble Guppies coloring pictures with us by commenting below.