Greetings friends! It is play time and today we are playing Baseball. Baseball is a team sport played with 9 players in each team, which evolved from the older bat and ball games that were played in England. In North America, the modern version was developed and later it was widely recognized as the national sport of the U.S. Many people describe baseball to be America's "national religion". Not only in America, baseball has widely spread its wings in Asian countries like Japan too. Let us learn about this passionate game with our free printable baseball coloring pages. You can find our collection of free baseball coloring sheets to print below.
30 Free Printable Baseball Coloring Pages:
B For Baseball:
As B is for Ball, B is also for Baseball. A game played with a bat and ball, baseball has 2 teams and each team takes turns batting and fielding. A game is comprised of 9 innings and at the end, the team with the highest number of runs wins.
Baseball Bat And Ball Coloring Page:
A baseball bat is made either of wood or metal used to hit the ball. Bats today, weigh about 0.94kg to 1.0kg. Heavy isn't it? A ball while, on the other hand, features a rubber or cork center, wrapped in yarn with two strips of white horsehide or cowhide, tightly stitched together.
to join this conversation on GitHub. Already have an account? Sign in to comment Footer © 2023 GitHub, Inc. Footer navigation Terms Privacy Security Status
Baseball Color By Number Coloring Page:
Follow the numbers and colors written in front of it to fill the sheet with blissful colors. Like, color the sky blue as the number written before the color is 8. Color the tresses forest green as the number written before the color is 6 and so on.
Peter The Catcher:
Seems like Peter is ready is to catch the ball thrown by the pitcher and stop the opposite team from scoring a run. He is a catcher, like a wicket-keeper in cricket.  A catcher, as he is behind the home plate, can see the whole field and therefore direct the other players to the best position.
Baseball Coloring Page For Girls:
Pam is a huge baseball fan and is a really great player too. Many people discourage her saying baseball isn't for girls but she does not listen because she knows there is nothing a girl can't do. Women's baseball is played in several countries and she hopes to play for a professional team.
Baseball Coloring Page For Kids:
Tim here is trying to catch the ball that the opposite team's batter has hit very hard. He is trying to save a run for his team by catching it. He is full of thoughts as to whether or not he will be able to catch it. And if he cannot, what will his teammates say.  Do you think he can catch the ball and save a run? Color him in.
Baseball Is World: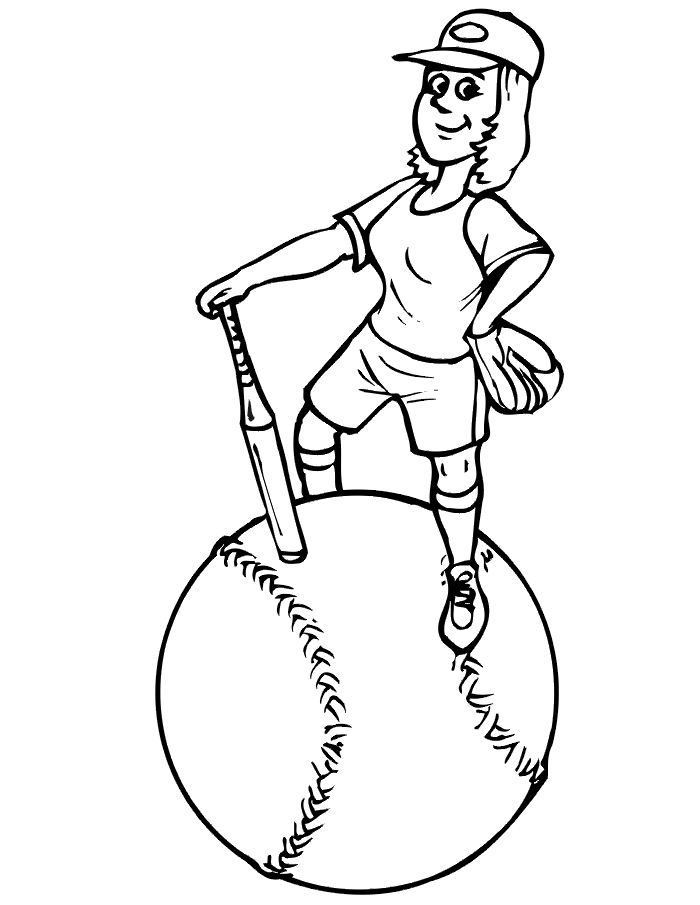 For many people, especially in the U.S, baseball is their whole world. It is the national sport of America but it is not recognized by the law. The highest governing body of baseball is World Baseball Softball Confederation (WBSC) and the most famous league is Major League Baseball (MLB). Every baseball player as a child thinks of playing for his favorite MLB team. Do you?
Doggo Baseball Coloring Page:
This dog is named Kipper. He is a baseball fan and a player like his owner. Kipper has been trained by his owner to be an amazing player. Playing in the position of catcher, he has developed a basket of skills. Is he not looking like a professional MLB player in the uniform and the cap and glove? Color this cute doggo.
Baseball Coloring Page: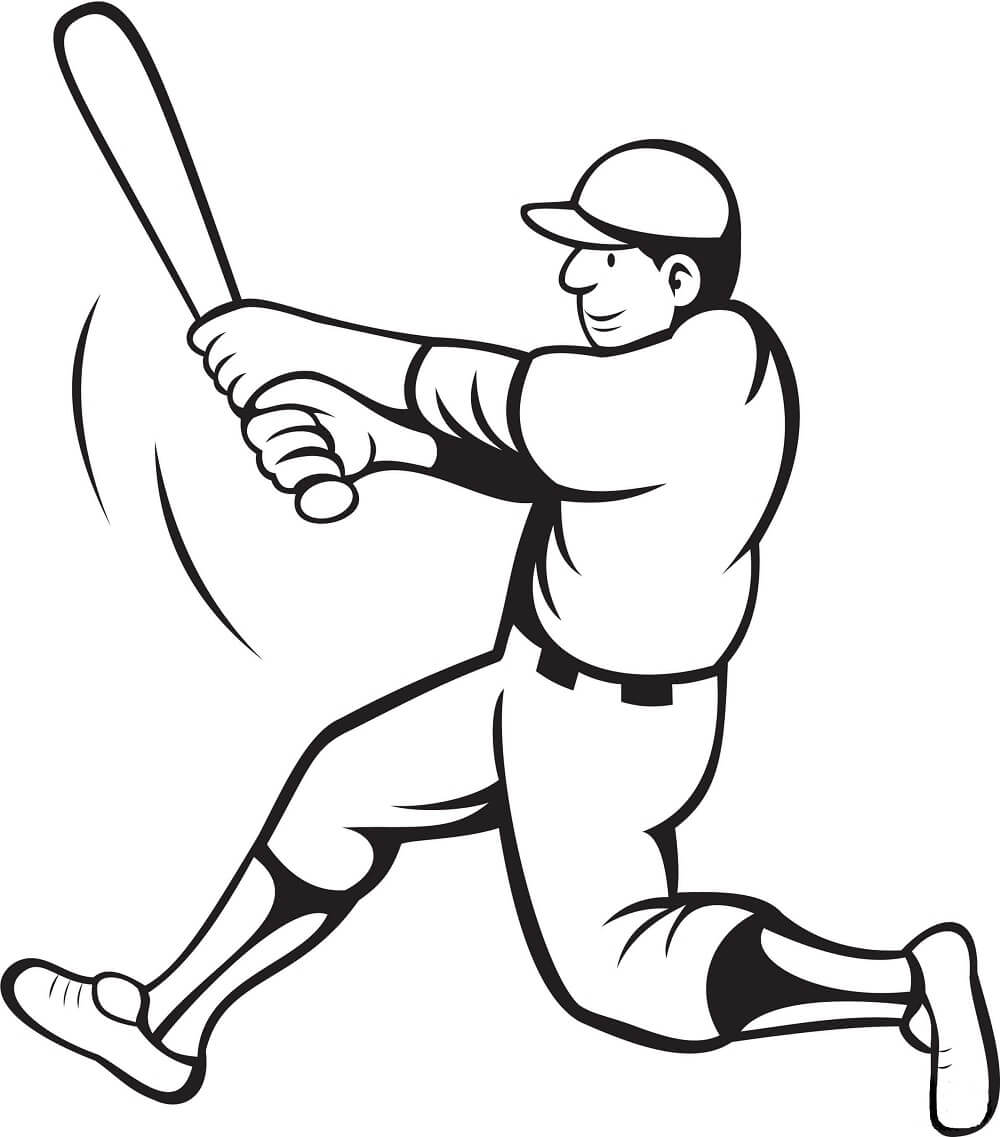 Tom is a batter and has to face the opposing pitcher. He hopes to hit a home run for his team so that they win the match. There are different types of hitters- power or puller hitters, switch or pinch hitters, etc. Which type of hitter is Tom? Think about it while coloring him.
Baseball Ball Coloring Page:
A baseball ball has a rubber or cork center wrapped in yarn. An important quality of the baseball is the stitching that holds together the covering of the ball. After a ball has been pitched, these raised stitches catch the air and cause the ball to turn slightly on its way to the catcher. Whether the ball turns to the right, left or downward, depends on which direction, and how fast, the stitches have been made to spin by the pitcher.
Baseball Coloring Page For Preschoolers: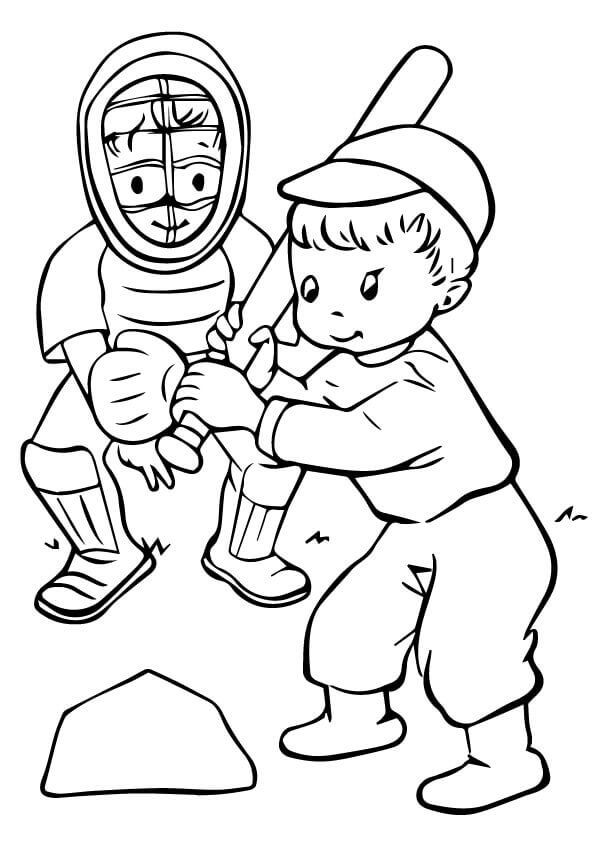 Justin is on strike and his friend, Mark is in the opposite team playing in the position of catcher. Justin wants to prove his worth to his teammates while Mark wants to live up to his reputation of the best catcher. Who do you think will go home feeling satisfied after this match? Will it be Justin by hitting a home run or will it be Mark?
Baseball Diamond Coloring Page: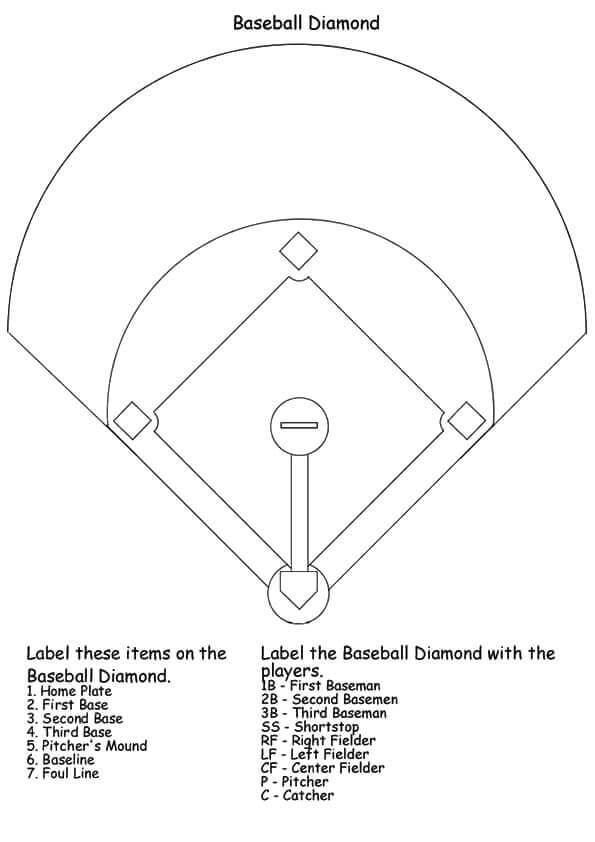 Let's test your knowledge. How much do you know about the baseball field? Mark and number the positions and players accordingly. Hint: The three corners of the square, in counterclockwise order from home plate, are first base, second base, and third base.
Baseball Essentials Coloring Page:
Every sport has some essentials that are necessary if one wants to play. Like in basketball it is the ball and the court, in baseball it is the bat and ball. Mostly made of wood or metal, baseball bats can be a bit heavy as compared to bats of cricket. These are often used as club-like weapons. A baseball ball, on the other hand, is either made of rubber or cork wrapped in yarn.
Baseball Field Coloring Page: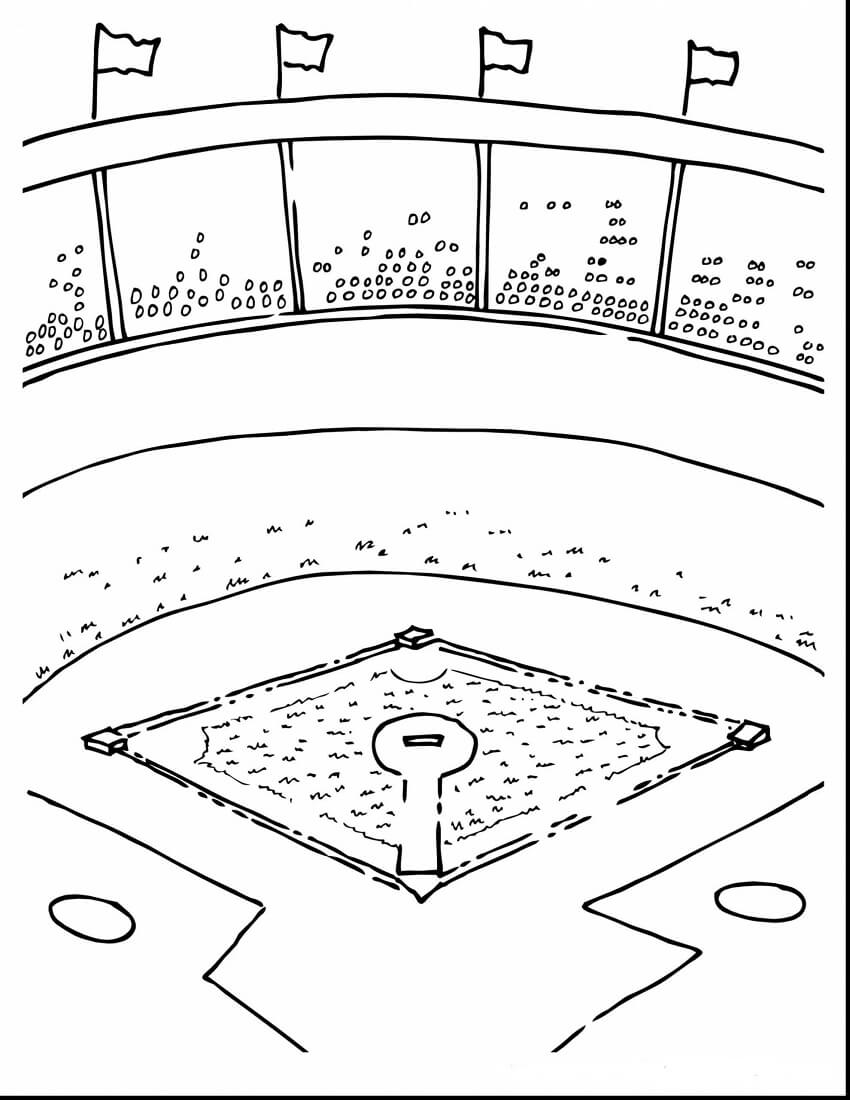 A baseball field is also called a ball field or baseball diamond upon which the game is played. The starting point of action on the field is the home plate which is a 5-sided slab. The other 3 corners of the square are first, second and third base. This is the infield. The distance between the bases is 90 feet.
Baseball Gloves Coloring Page:
Another equipment necessary for playing baseball is a baseball glove or a mitt. It is made of leather which helps players of the defending team to catch or field the ball. The gloves come in different sizes. A glove is measured by starting at the top of the index finger of the glove. These gloves have become quite specialized, with position-specific patterns.
Baseball Player Coloring Page: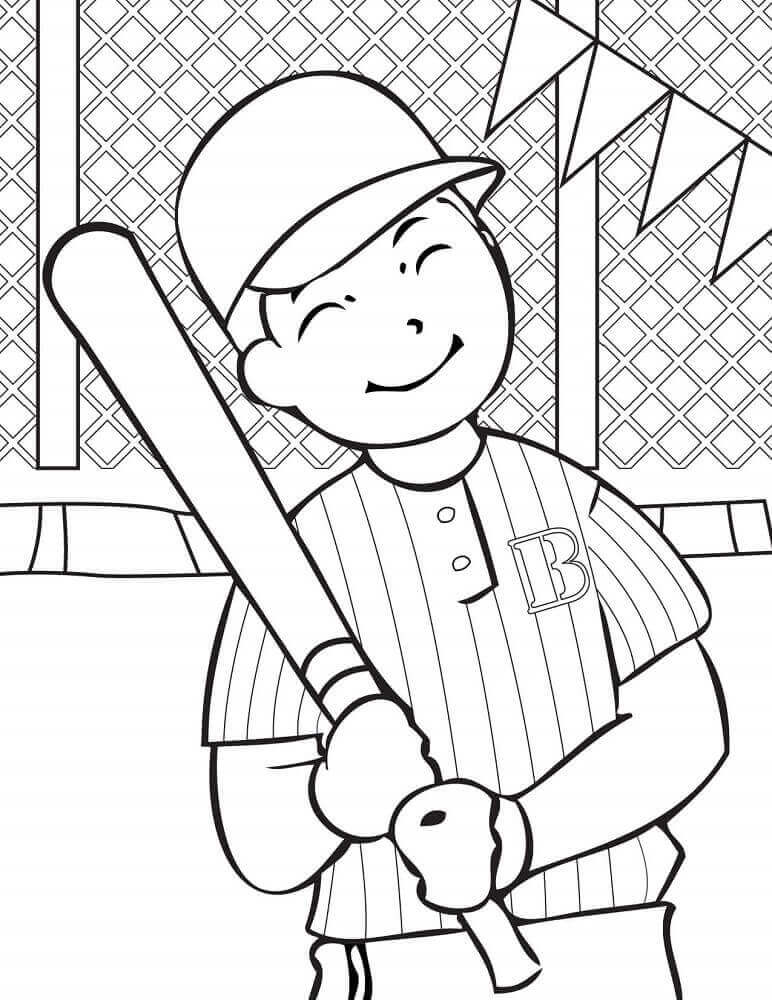 Baseball is a game of statistics and timing. Players are required to know the situation of the game and make decisions according to it in order to give best chances for the team to win. Like every sports player, a baseball player must be physically fit. Also, a player needs to have analytical skills to analyze the game and take quick decisions.
Baseball Batter Coloring Page:
A baseball batter is the one who faces the hitter and scores a run. A batter should know all the hitting techniques so as to aim the ball anywhere in the field. These techniques take an entire career to master but a player must have a basic understanding of these so that a player can perform these if necessary.
Care Bears Baseball Coloring Page:
Who isn't a fan of Care Bears? These multi-colored bear characters are just difficult to hate. This is Daydream Bear as you can tell from the belly badge- a heart with a ring around it surrounded by small stars. He is trying to catch the ball, stop a home run maybe. What do you think; will he be able to catch it?
Chicago Cubs:
Based in Chicago, Illinois, the Chicago Cubs compete in MLB as a member of the National League Central Division. The Cubs were formerly known as the White Stockings. Few of their nicknames include the Cubbies, the North Siders, and the Loveable Losers.  They have won 3 World Series titles. Color the Cubs.
Cute Baseball Coloring Page: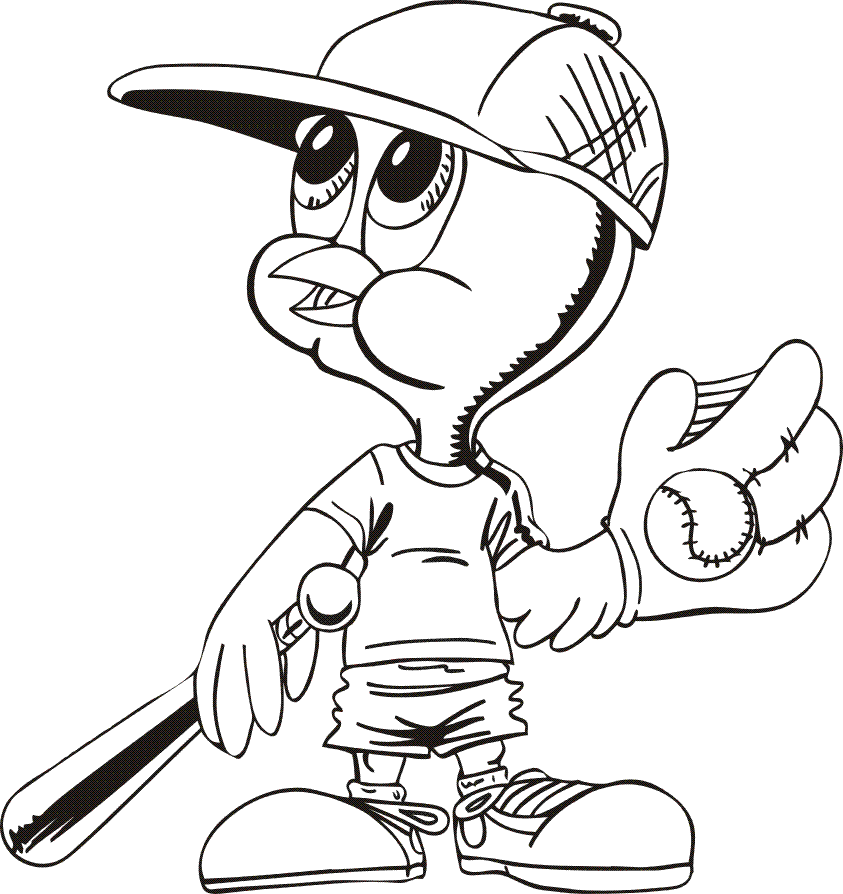 Don't you think this cute little guy looks like Tweety? Yes, Tweety the yellow canary from the Looney Tunes show. Everybody loved his high pitched yet cute voice. He never fails to make us fall in love with him, like here as well. The sight of him wearing a glove, a baseball hat and holding a bat is just too much to handle. Color him cute.
Disney Baseball Coloring Page:
Donald Duck, a duck everyone loves and adores. He is most famous for his semi-intelligible speech in which sound is produced from the inner cheek rather than the larynx and his mischievous personality. He is ready to play baseball, are you ready to color him? You better be because he is too eager to play.
Confident Henry:
This is Henry, yes the batter. He is extremely confident of the fact that he will hit a home run in this match. He has been practicing a lot. Do you think he will hit a home run and help his team win or will he have to practice more?
Chris Is Ready:
It is 5:00 pm, that means it is play time, time to go out and have fun with friends. Chris is ready to go out and play baseball with his friends. Playtime is the most awaited moment for Chris because he loves playing baseball, for that reason he has his own bat and ball. Color his emotions with blazing hues.
Goofy Baseball Coloring Page:
Another Disney character hard to resist is Goofy. This tall, long-eared dog can be clumsy but is clever in his own unique way. He loves to try new things and today he will try to play baseball. Although he has never played it, he is very confident about it. Color him with bright shades.
Minnesota Twins Coloring Page: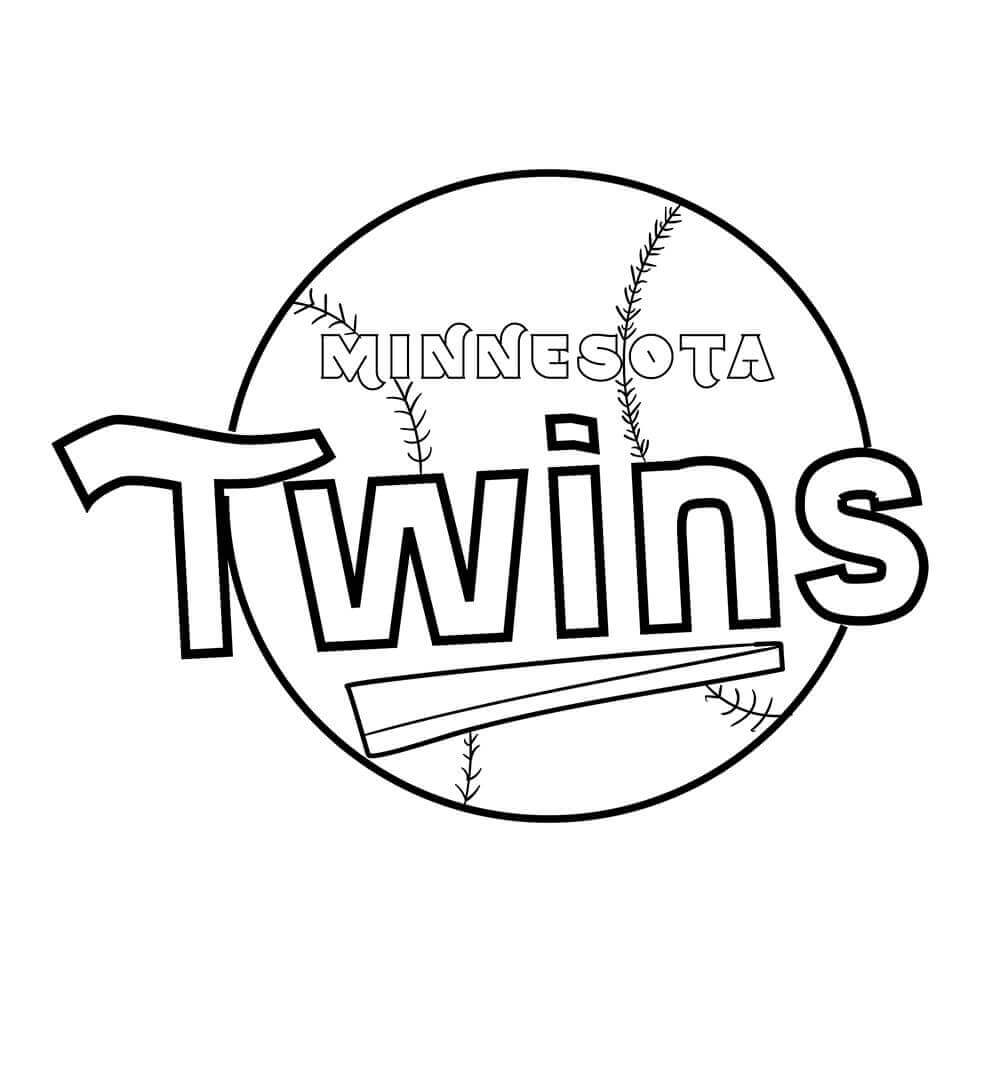 An American professional baseball team based in Minneapolis, Minnesota, Minnesota Twins compete in MLB as a member club of the American League. The Twins are also famous by the name of Twinkies. They have won 3 World Series Titles. Let's color The Twins.
Olympics Baseball Coloring Page:
Out of many games played in Olympics, baseball is one of them. Unofficially debuted at 1904 Summer Olympics, baseball became an official Summer Olympic sport in 1992. The last event was played in 2008 Summer Olympics with South Korea taking the gold. Cuba has a total of 5 medals in this event with 3 gold and 2 silvers, the highest yet.
Patrick Playing Baseball: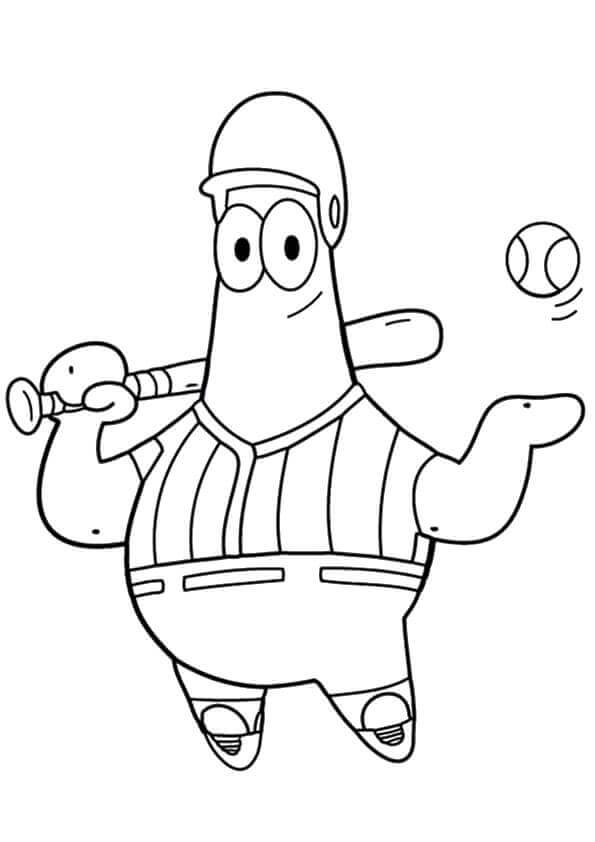 Patrick, best friend of SpongeBob has a new interest; baseball. Ever wondered what Patrick does after SpongeBob leaves for work? He plays baseball with other creatures of Bikini Bottom. Seems to be overweight, maybe he can lose some of his chubbiness. Color this starfish happy.
Pooh Playing Baseball: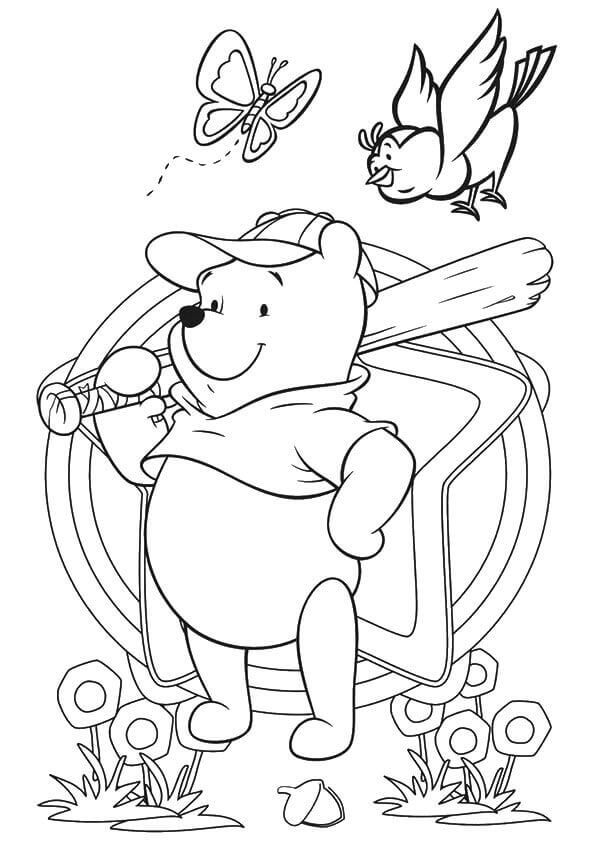 Winnie the Pooh is the new baseball star. Getting his nutrients from honey, not only is he healthy but surprisingly agile although he seems to be "fluffy". He always has his friends Tigger and Piglet to practice with, maybe that's the reason for his success-his friend's support and encouragement.
Realistic Baseball Coloring Image:
This is one of the most realistic baseball coloring images. Baseball has its deepest roots in America. It also has its roots in East Asia. The game is played between 2 teams with 9 innings and no timer or clock, so the game can last up to 8 hours! An inning is over when either of the team gets 3 outs. Let's fill this sheet up.
Tigger Playing Baseball:
A very good friend of Pooh, Tigger is also a baseball fan. Maybe they are practicing a lot together. Tigger is trying to improve his throw. He wants to make sure his throw is powerful and fast enough to confuse his opposite player. Color this cute yet talented tiger named Tigger.
Like any other sport, baseball teaches us a lot of things other than being healthy. It teaches us important life lessons-self-discipline, coordination, team spirit, the list is endless. Baseball is an interesting game and you would love it if you like throwing. If you are a fan and going as a spectator, then do not forget to buy a hot dog. Did you know hot dogs are the most popular ballpark food item? Do not forget to get these baseball coloring pictures printed and color them with your unique imagination. And don't forget to share your favorite baseball coloring pages printable below.