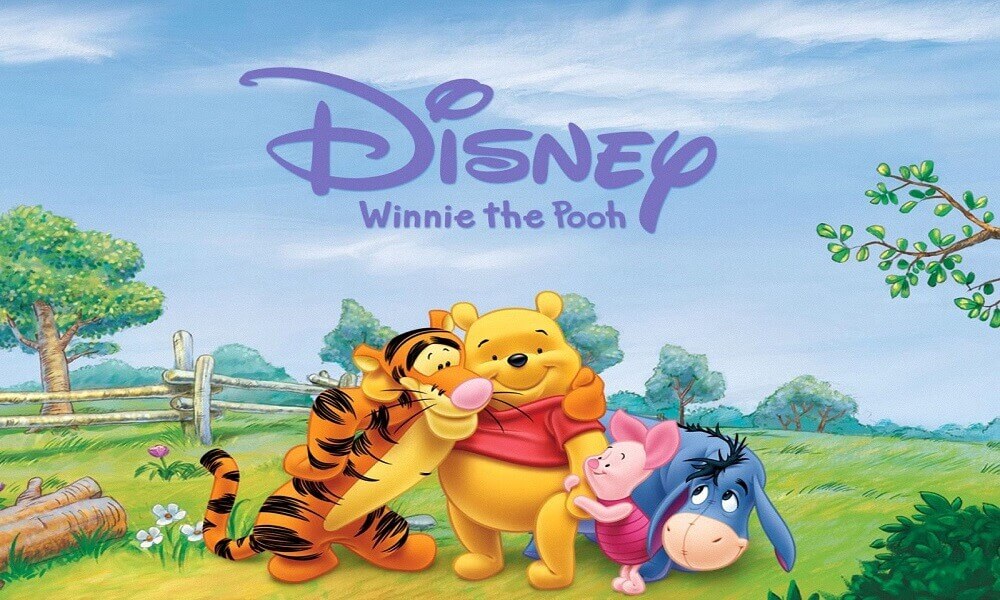 Winnie-The-Pooh is a popular fictional character created by English author A.A. Milne in 1926. The stories were later adapted to be presented as films. In 1961 Walt Disney Productions bought the rights for the production of animated movies and television series. Winnie's character is based on a teddy bear that Milne's son Christopher Robin owned. He was named after a black bear at London Zoo who was so called because its owner came from a place called Winnipeg in Canada. The stories are set in the backdrop of Ashdown Forest in England. Winnie the Pooh is so popular that there's even a day celebrated in his name, National Winnie The Pooh Day, celebrated every year on 18th January. Winnie is a super friendly animal, a talented poet, and extremely fond of 'Hunny'. His best friends are Christopher Robin and Piglet. Scribble Fun presents here 30 free printable Winnie the Pooh coloring pages capturing the various moods of Pooh and his friends. Check out our Winnie the Pooh coloring sheets below.
30 Free Printable Winnie The Pooh Coloring Pages
Baby Pooh Coloring Page: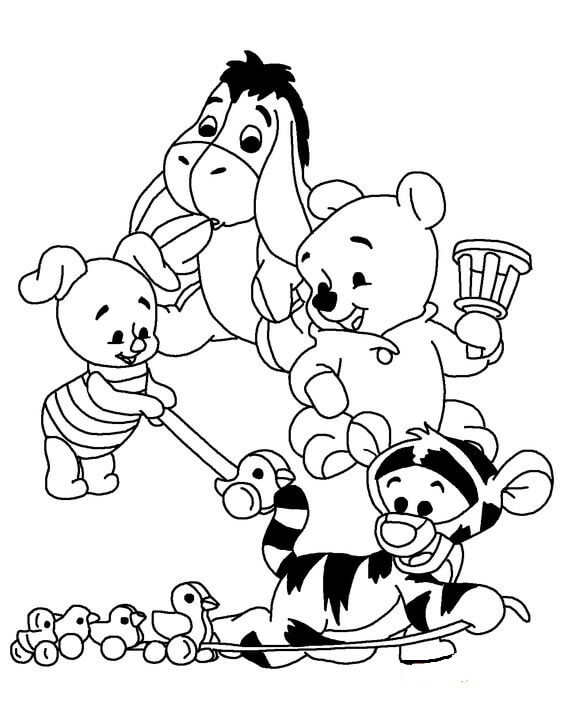 Let's start the journey for this session the natural way – Winnie the Pooh as a baby surrounded by his friends. We all know that 'childhood' is all about having fun and making memories – it's the most beautiful phase of one's life. As quoted by the famous American actress and singer, Lisa Whelchel – "There is something about childhood friends that you just can't replace".
Christopher And Pooh Coloring Page:
Birthdays are special days in everyone's life. We all love to party and make merry on our birthdays. This picture depicts Christopher and Winnie celebrating the former's birthday. It needs splashes of colors to make it look real. Don't forget to notice the birthday cap on Christopher's head, gifts all around, the decorations on the walls, and also Christopher showing off his muffler which must be a gift from someone special. 
to join this conversation on GitHub. Already have an account? Sign in to comment Footer © 2023 GitHub, Inc. Footer navigation Terms Privacy Security Status
Christopher Robin And Pooh Coloring Page:
"A friend in need is a friend indeed". That's what Christopher, Winnie, Piglet, and Kanga are doing to save Roo from hurting himself. Roo loses his balance on the tree, and as soon as his friends realize, they jump in to hold a sheet of cloth underneath to save him from having a bad fall. That's why we all need friends who are dependable, don't we?
Classic Winnie The Pooh Coloring Page:
Look at the glee on Winnie's face. He just adores honey. In fact, his house and cupboards are all full of honey-filled jugs. And how much he despairs when the honey is finished, and he goes about looking for honey at her friend's place. Remember the time, he got stuck in Rabbit's doorway because he was all blown up with eating so much honey!! 
Cute Pooh Coloring Page: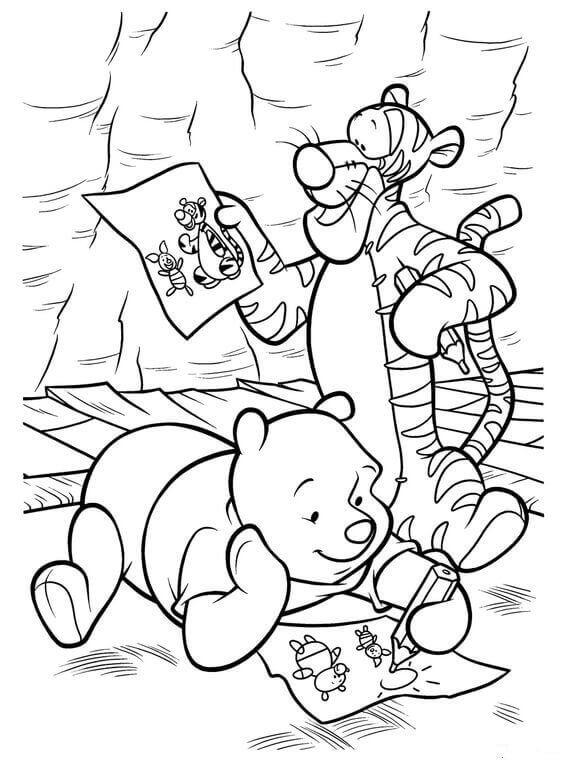 Both friends, Winnie and Tigger, are spending their time creatively. What better thing to do than sit under, the shades of the trees, hum a song, draw pictures of friends and color them. Just shows that friendship is also about doing simple things in life.
Eeyore And Piglet: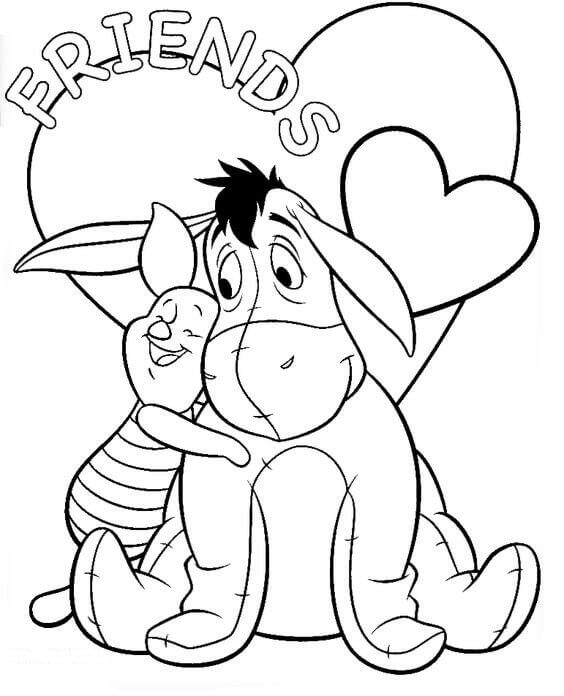 Pooh's best friend, the ever-nervous Piglet is seen here bonding with Eeyore, the cynical donkey. What a combination! On one hand, the timid tiny Piglet gains courage when in Pooh's company, the donkey on the other never ventures to be daring because he is so very unenthusiastic. Nonetheless, let us celebrate this significant hug between these two with shades of pink and blue!!
Winnie With Tigger, Kanga and Roo:
When friends Pooh, Kanga with Roo, and Tigger are in the woods looking for an adventure, they are disrupted by something moving in the bushes. They are all caught unaware discussing amongst themselves and pointing towards the location of the sound. Who would now be brave enough to discover what the commotion was all about?
Winnie With His Friends: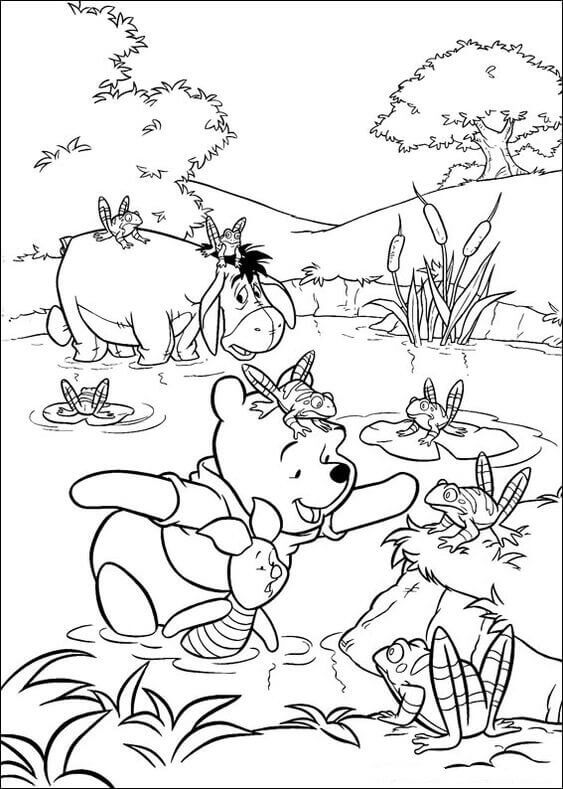 What a spectacular scene this is! Pooh, Piglet, and Eeyore have gone for a bath in the lake, and what awaits them there? A group of friendly croaking frogs jumps onto Eeyore's back and Pooh's head. Piglet, of course, is scared to death, and Eeyore's grumpy too. But who seems to be enjoying all this? Our dearest darling Winnie-The-Pooh of course!
Funny Winnie The Pooh Coloring Page:
Who is the heartless being who's done this to our friendly sweetheart Pooh? Who had the heart to do so? He is struck by a toy arrow on his bottom. Someone's for sure has played a naughty trick but dear, our innocent little Pooh is so dumbstruck by this unexpected show of aggression.
Pooh's Birthday Coloring Page:
This picture needs all your bright and sparkling colors as it is Pooh's birthday and he is all smiles. His happiness knows no bounds as he sees the honey jar full of honey. It's like a dream wish that has been fulfilled by his friends. Come; let's make this merry event colorful and a never-to-forget an occasion in Winnie's life.
Lumpy And Roo Coloring Page:
That big smile on both, Lumpy and Root's faces say it all. The excitement on their faces is worth noticing. With a harness around his neck, Lumpy doesn't mind being guided by Roo as they run in the green woods. Color the elephant in lavender and the tuft of hair on his head in purple. Roo is to be colored in any shade of brown with pink ears.  
[Related: Elephant Coloring Pages ]
Piglet And Kanga:
Piglet hates taking a bath in clean water. Instead, he loves a mud bath in which it can roll around until it is all covered in mud. Evident from this picture, Piglet is all wet from the foam bath and is quite alarmed at her current state. Kanga, on the other hand, does not differentiate in her show of motherly love between Roo and Piglet and is enjoying displaying her affection for Piglet. 
Piglet And Pooh:
Seems like the two best friends, Pooh and Piglet have made a playhouse for themselves. Piglet seems proud of their feat, but Pooh looks tired and worn-out. Are they now going to their other friends to show them their model? Whichever way, the forest looks lush green with bright flowers. Do your best to brighten up the buddies' spirits! 
Piglet And Winnie: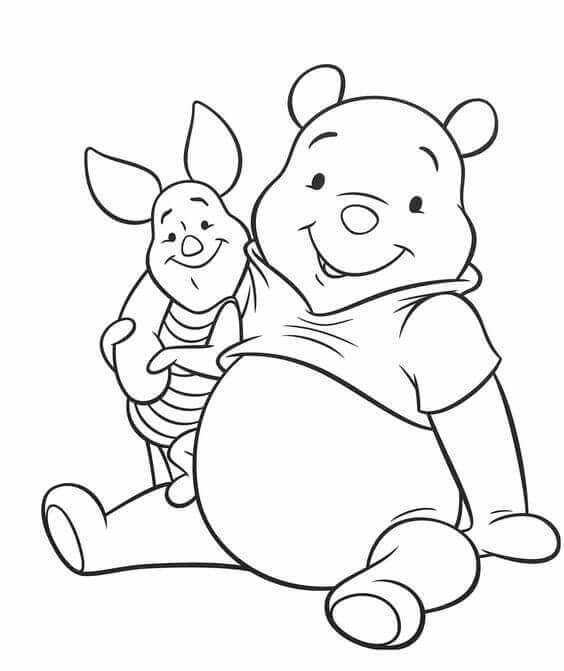 Don't we just love these two characters bonding so well with each other? And should we not learn from them that friendship is beyond size, species, the color of the skin and personality traits. That look on their faces is an indicator that peaceful co-existence is what makes life beautiful and worth living.
Piglet: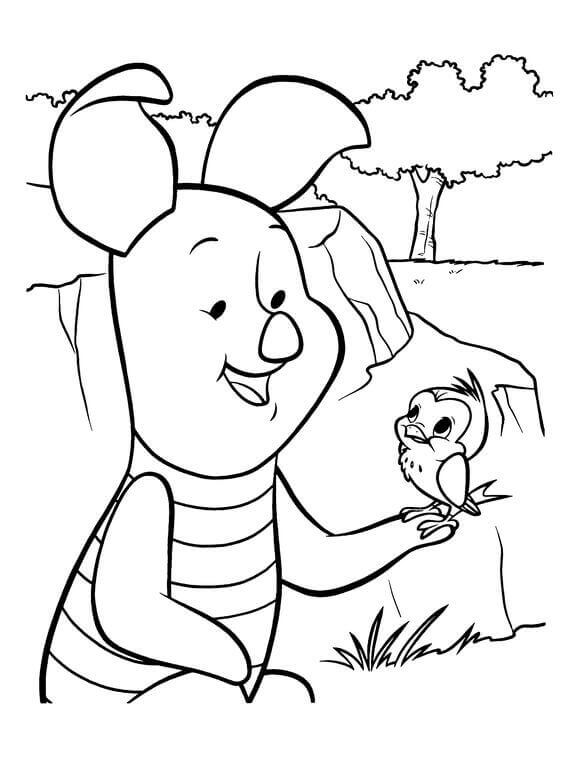 Winnie's best buddy other than Christopher is Piglet. In the book series, pink-colored Piglet is a timid animal. In the Disney series, he has been shown to be kind-hearted and shy by nature. But with Winnie's support, Piglet gains enough confidence to face critical situations bravely. Piglet lives in a beech tree and loves to eat hay. Noteworthy aspect is that he loves cleanliness and sings very well. 
Pooh And Friends Coloring Book:
With all his friends around, Pooh is overjoyed to see so many honey jars spilling over honey. There is no hiding his excitement. But look at the Tigger who is really annoyed having to carry Pooh's honey jars. Roo is enjoying leaping and jumping over the jars, but Piglet is bored, and the ever grumpy Eeyore is confused with all the commotion around. 
Pooh And Piglet Coloring Page: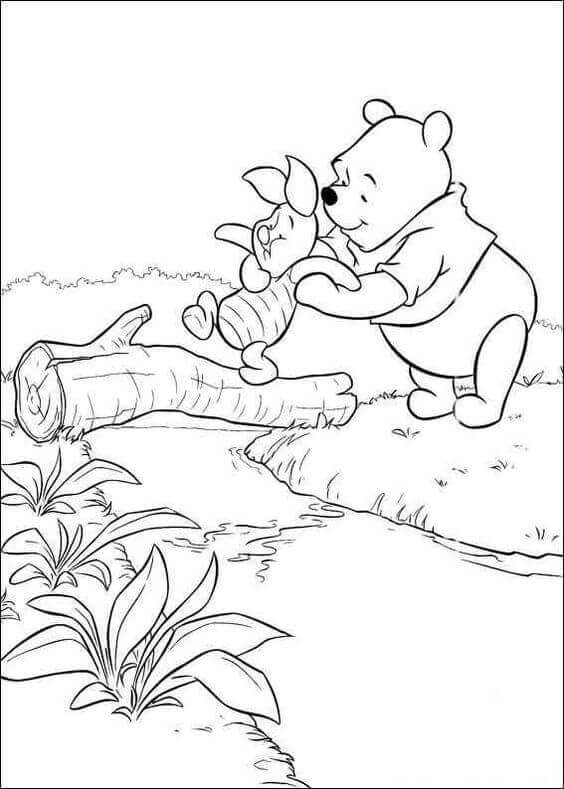 Pooh and Piglet have again come out with flying colors on their friendship test. Kudos to Pooh to help his tiny friend cross the lake! It needs a good heart and lots of courage to think of ways to help your friends.
Pooh And Tiger Coloring Page: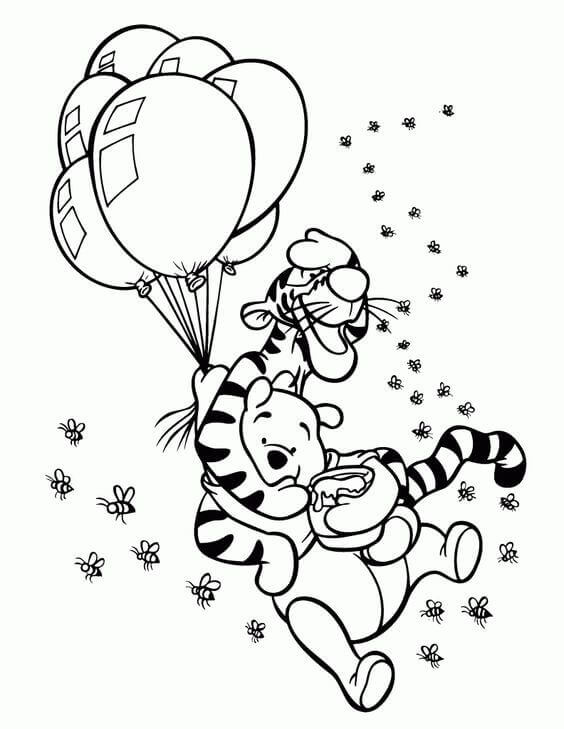 The ever-playful Pooh and Tiger are at it again. Both of them are merrily crazy and love to try new tricks. Look at them trying to fly by hanging onto the balloons. And all the while they are clinging to each other so that they do not fall. And the best part – Pooh is sticking to his honey jar as if it's his lifeline.
Pooh Birthday Surprise:
This is what Pooh would love to do all his life. Sit with his honey jar and keep licking the honey dripping out with his huge tongue. And to top it, it's his birthday today! Kids, join the dots to complete the Pooh drawing and then use your best colors to give it a realistic look. 
Pooh With Honey Coloring Page: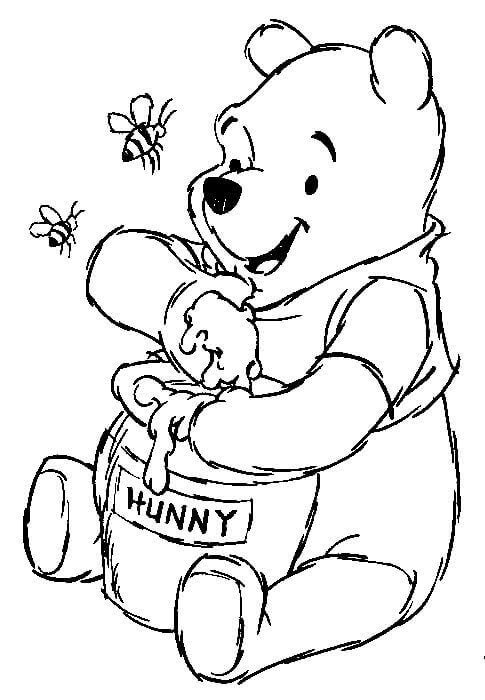 With no care in the world, Winnie-The-Pooh is all focused on finishing the honey. Let your creativity color this picture with diverse colors just to differentiate it from all the other pictures.
Roo:
After the run in the woods, Lumpy whole-heartedly looks at giving Roo a well-deserved bath. As a baby elephant, he can use his trunk to take in lots of water at one go and then sprinkle the same like a shower. That's exactly what he is doing in the picture, and Roo simply loves the experience.
Sleepy Pooh:
We all know that Pooh loves his sleep and honey. He can sleep all day long with short breaks where he licks honey. Kids color the bedroom like the way you would want yours to be but take care not to upset Pooh, as he might not like his young fans to disturb his sleep. This coloring sheet is perfect for autumn or fall.
Pooh And Friends On An Outing:
It looks like Winnie with his friends are off for a picnic in the woods. Accompanying him are Tigger, Piglet, Eeyore, and the Rabbit. The smart Rabbit uses binoculars to locate an apt place with all his friends pointing towards the direction that seems like an ideal place.
Winnie The Pooh And Friends Posing:
This is a group picture of the entire gang of Winnie the Pooh. Like we have class photographs at school, isn't it? In the front row from left to right, you have the Rabbit, Winnie, Piglet, and Eeyore with Roo on his back. In the back row from left to right you see the Owl, Tigger, and Kanga bending over Roo with motherly affection.
Pooh Celebrating Birthday:
Sing the birthday rhyme for Winnie as you lend colors to this picture where he is celebrating his birthday. 
[Related: Happy Birthday Coloring Pages ]
Winnie The Pooh Characters Coloring Pages: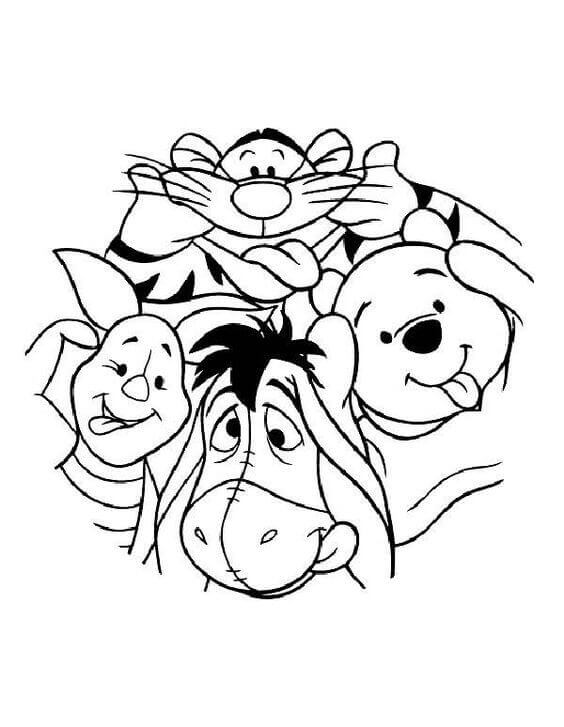 The four friends – Eeyore, Piglet, Winnie, and the Tiger are sticking out their tongues in this picture. They are looking cute, so maybe they are posing for a photo. Else they could be doing so to look like comics to irritate one of their friends. 
Winnie The Pooh Easter Coloring Page:
Winnie is dressed up and is going to the Easter party. Did you notice him carrying the Easter basket with all goodies like chocolates, candies, and eggs?
Pooh Easter Coloring Page:
Easter is an event when even the pessimistic Eeyore is looking forward to celebrations. He accepts the Easter basket from Winnie and tries to guard it against others as he wants to relish the goodies by all by himself. 
[Related: Easter Coloring Pages ]
Pooh Having Honey Coloring Page: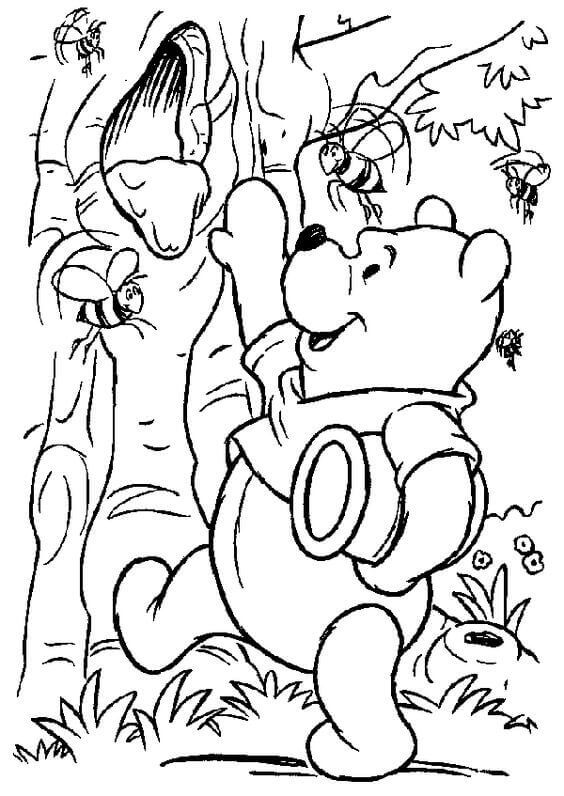 Pooh again at this favorite past time – collecting honey from the honey bees. Don't forget to color the honey and Pooh in different shades of brown. 
Pooh, Roo And Kanga Coloring Page:
Kanga's character is based on a stuffed toy. She is a female kangaroo and a doting mother to Roo. Kanga is an unassuming character, full of motherly affection for all around her. She is over-protective to her playful and happy-go-lucky son, Roo.
Get, set, and go Kids! Your favorite book character with his group of friends is here for you to download and start coloring. Why wait then? Do let us know whether you have liked our choice of free printable Winnie the Pooh coloring pictures or not and in the next series which book character would you like us to feature here. And don't forget to check out our Captain America coloring pages.