Easter, the bright and beautiful holiday, commemorates the resurrection of Jesus three days after his death. This cheerful holiday is celebrated during the spring season when the sun smiles and shines high in the sky, and everything is bright and full of colors. The blooming flowers spread colors everywhere, and the warmth that the sunlight brings fills our hearts with love and safety. Below we have got our young readers free printable Easter coloring pages that they are sure to love. Apart from Easter eggs, and bunny and chick coloring pages, we've also got you religious Easter coloring sheets. So stay tuned!
Free Printable Easter Coloring Pages:
Easter Bunny Coloring Page
This Easter, get some bunny love with this Easter bunny coloring page. The bunny got you a special card and loads of love. He just doesn't have enough colors to color them. So he thought that you could color him and the card on the occasion of Easter.
Easter Egg Competition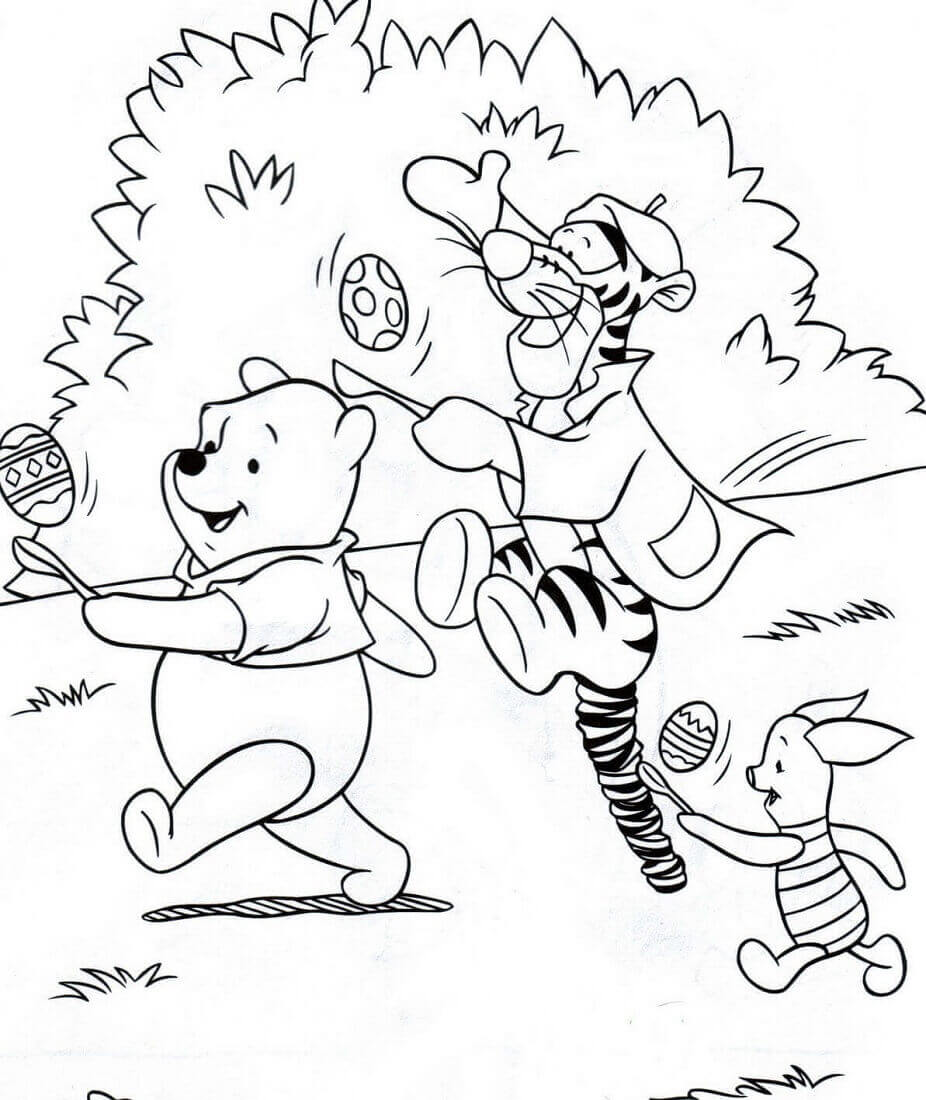 Here's a cute Disney Easter coloring page for our readers. Pooh, Tiger, and Piglet are taking part in a competition this Easter. They have to carry the eggs on the spoons in their hands till the finish line. The eggs bounced all the way to the finish line, and they all were busy keeping it on the spoon. We don't know who won, but they seem to enjoy the competition a lot.
to join this conversation on GitHub. Already have an account? Sign in to comment Footer © 2023 GitHub, Inc. Footer navigation Terms Privacy Security Status
[ Read: Easter Egg Coloring Pages ]
Disney Easter Coloring Page: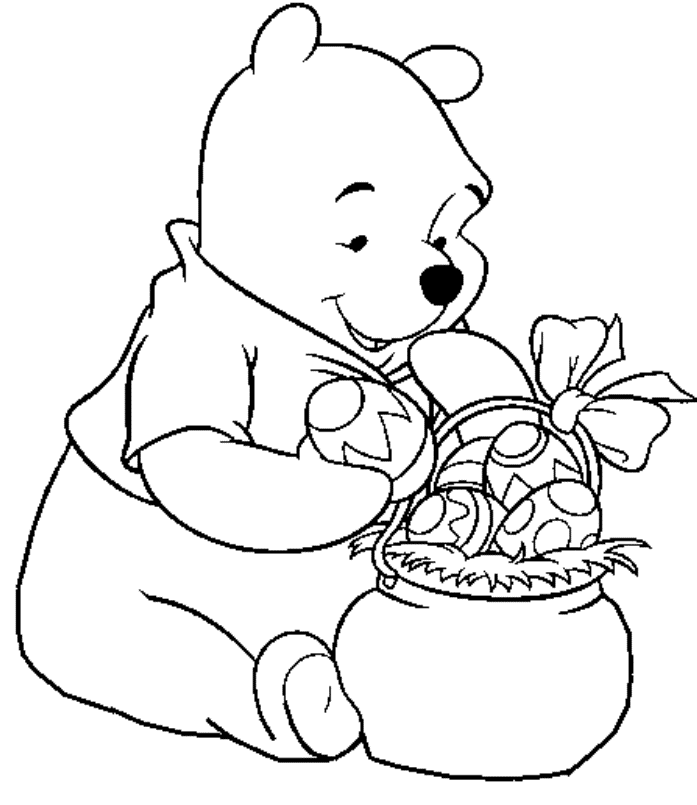 Pooh is keeping his decorated Easter eggs in the basket he bought for the holiday. He went to the market and got the best colors to decorate his eggs. He beautifully decorated the eggs and then carefully kept the eggs in the basket to show everyone his work.
Easter With Dora The Explorer
Dora, the explorer, is going to her grandmother's home for this Easter. She wanted to spend some time with her granny before she leaves for another adventure. She met her granny three years ago, and now when she received a letter from her asking her to come to celebrate Easter with her, she couldn't refuse. She knew that granny was alone and needed her to feel happy on this Easter.
Easter Bunny Coloring Page:
Maria is a very kind bunny. She feeds all the hungry people and helps everyone who's in the problem. When the spring season started, she knew that Easter is not far away. So, she went to the market and bought some chocolate eggs and edible colors. She then carefully colored those eggs and stored them in her fridge. On the day of Easter, she invited all the poor birds who were her neighbors and gave them chocolate.
[ Read: Easter Bunny Coloring Pages ]
Juggling Easter Eggs And Bunny Coloring Page
This is Juggler Bunny. He performs for Easter Circus as a Juggler. He juggles the colorful Easter eggs to entertain the audience. As he is a perfectionist, he never broke an egg in his career. All the kids and other people love him a lot.
Color By Number Easter Coloring Page: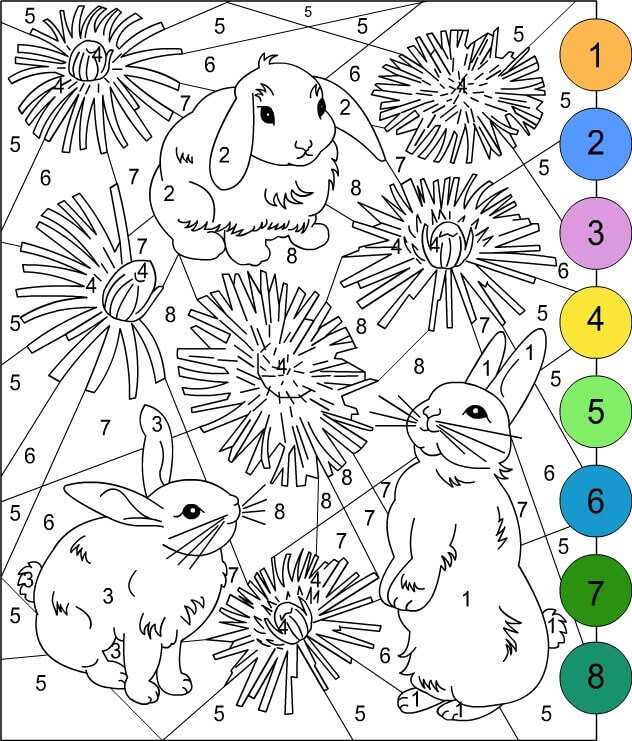 This is a color-coded Easter bunny coloring page for you. Take out all of your colors and then carefully look at the picture. There's a color guide on the side. Just color the assigned area taking help from the color guide, and soon you will have one of the best Easter coloring pages.
Easter Bunnies Are Very Kind
Easter bunnies are known for their kindness as they leave eggs for the poor people around them. They have always helped the hungry people by giving those eggs. So, will you be the same as the Easter bunnies and color this bunny just similar to the colors of spring?
Happy Easter Card Coloring Page:
Here's a  happy Easter coloring page for you to fill. This simple Easter card has an Easter bunny that looks bright and wonderful with all those flowers. You can simply color this card and give it to your loved ones to wish them a very happy Easter.
Spring Plus Easter
This is a perfect Easter coloring page for you. For Easter, there are decorative eggs. And as Easter is celebrated during the spring season, there are many different types of flowers in it as well. You know about the colors of spring, right?
Spring-Themed Easter Eggs
We got some special eggs with beautiful spring-themed patterns for you to color. Just think of it as your own Easter egg basket. Color it with all the creativity and crayons in your box. Then you can gift it to some of your friends as an Easter present.
Count The Chocolate Eggs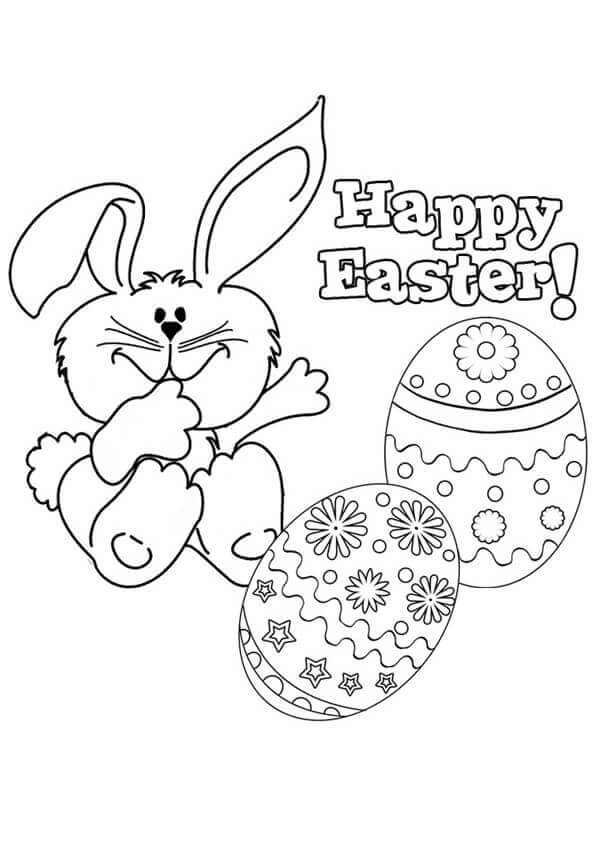 This is one of the cutest Easter bunny coloring pages. Baby bunny got two chocolate Easter eggs from his parents, and he totally loves them. He usually gets just one egg a year, but this year he got two eggs, and his happiness knows no bounds. Also, his relatives and friends will give him one egg each. Can you tell us how many eggs will he get in total? Count while you color these beautiful chocolate eggs.
Easter Duck Coloring Page:
Taffy is a frizzy duckling. She was born just a few days before Easter, and she is happy to see so many colors. There are the colors of spring to make the baby happy. Her neighbors have also brought some colorful eggs as her birthday present. Taffy is a kind duckling too. She knew that you are yet to get an Easter egg, so she brought one with you. You can color it and keep it as a present.
Easter Egg Hunt Coloring Page:
Image Source: spoonful.com
There are many eggs hidden in this picture. As the kids are playing the Easter egg hunt, it is your chance to win as well. All you have to do is find the eggs and color them. The one who finds the most number of eggs and colors it the best will win. Are you ready for the hunt?
Packing The Easter Eggs Coloring Page:
The bunny couple is packing the Easter egg basket, which they do every year. They buy eggs from the market and bring them home to color them. The whole bunny family sits down and color the eggs in bright colors. When they are colored, they are left out to dry. After they have dried, they are packed in a basket and distributed to the poor and needy around the neighborhood.
Easter Balloons Coloring Page: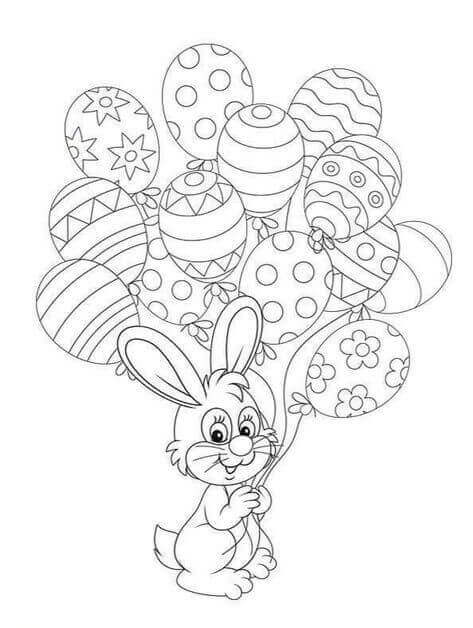 Mark is scared that the eggs will break if he tries to color them. He thinks that eggs are too fragile to be colored. But he loves Easter and wanted to celebrate it anyway. So his parents went to the market and got him some Easter-themed balloons. He was very happy to see them, but then he noticed that they had no colors in them. He doesn't have the colors to color the balloons. Will you help him by coloring the balloons?
Easter Flowers Coloring Page:
Mona the sheep and Von-von the Bunny loves Easter. It is their favorite festival. But they are too young to handle an egg without breaking it. So when Mona's mother saw them sad, she asked them to make an Easter basket of flowers. She told them to run to her flower garden and make the coolest and prettiest Easter flower basket.
Easter Lamb Coloring Page
Derek and Shaun have been best friends since they were in first grade. They are very mischievous and love to play pranks on their friends and families. For this Easter, they have planned a prank as well. They have filled some eggs with chocolate. So when the people will start to color them, light pressure will break the egg thus pouring the chocolate out.
The Easter Mandala Coloring Page:
This is a bunny and Easter egg mandala. They are decorated in a sequence. Color each one of the eggs with different colors. Match the colors of Easter eggs with the bunny they belong to. You can then gift this mandala as a present to someone on Easter.
Kora Visits Her Relatives
How cute is this Easter coloring sheet? Kora the bunny is going to visit her relatives in other towns. As her mother is ill and her father has to take care of her, Kora was entrusted with the responsibility to take the Easter eggs to her relatives as a part of the tradition. She has carefully packed them in baskets and put colorful ribbons on the handle. She is ready to go.
Magical Easter Eggs
These are magical Easter eggs as they have the power to make people happy. They have been hidden in the dark corners of the earth in fear that they might get stolen by the bad people. The greatest magician of all time wanted you to restore these eggs and spread happiness in the world. He wants you to color them so bright that everyone becomes happy at the sight of it.
Magic Eggs Are On Fire!
The evil has finally found the magic eggs, and he has set them on fire. It is in your hands to save the happiness of the world. All you have to do is paint the fire blue, and the fire will turn into water. Don't forget to color the eggs for the Easter as well.
Easter Egg Hunt For Animals
The animals have decided to Easter egg hunt for themselves. They have hidden it in the grass and the trees. The Easter bunny has already found one, helps other animals in finding their Easter eggs as well. Just color them with bright colors, and they will know where the eggs are.
Pappy Bunny On Card
Pappy Bunny is happy as he gets to give the poor and needy some food for this Easter. He asked his parents to get some chocolate eggs so that he can share them with his friends who can't afford to buy chocolates. His parents were very happy to see compassion and kindness in their son. This gesture inspired them, and they made this year's Easter greeting card with Pappy's photograph on it.
Happy Easter Coloring Page:
This is a happy Easter coloring card that you can gift to your loved ones. They will be happy to see a card made by you just for them. But before giving it to them, you will have to color them. That bunny needs to be colored before it is gifted.
What Does The Easter Eggs Mean?
Easter is the festival that celebrates the resurrection of Jesus and fertility. In this season, the flowers bloom to their best, and they are brightly colored by god. Eggs represent the hope for new life and spring is the sign of fertility.
Jesus' Resurrection Coloring Page
Jesus was resurrected on the day of Easter. He was kept in a tomb behind a heavy boulder, but one day he magically came back and met his disciples. He told them that there is still some hope left in the world and they can still dream to be happy.
Help The Pony Win A Challenge
Here's a cute My Little Pony Easter coloring page for you. This pony's parents hid many chocolate eggs all around their neighborhood for her to find. She then took out her special Easter basket and went out in search of those eggs. She has already found three of them and her time is almost over. She needs to color them before she can win the challenge. Help her out by coloring the eggs while she looks for more hidden eggs.
Kind And Helpful Taffy
Taffy Benetton loves all the animals. She feeds them every day and makes sure that they are safe from the cars that pass by the road in front of her home. She loves the Bunny that lives in a hole near her home, and he reminds her of Easter that is soon approaching.
He Is Risen Coloring Page:
To celebrate the waking up of Jesus after three days, the Christians celebrate Easter as it shows them the sign of hope. This card tells that there is still so much to hope for in this world.
New Decoration For Easter
This year, the townspeople decided to do something new to decorate the church for Easter. So after a lot of discussion and debates, they decided to change the candle holders. Instead, they got some egg shaped candle holders and it looked ready for Easter.
Religious Easter Coloring Sheet:
This Easter coloring image depicts the scene when the heavy boulder was removed to take the body of crucified Jesus. The people found nothing and they were shocked. Later, they came to know that Jesus was seen by the needy in the markets. He gave them the gift of hope after the resurrection.
Religious Easter Coloring Page: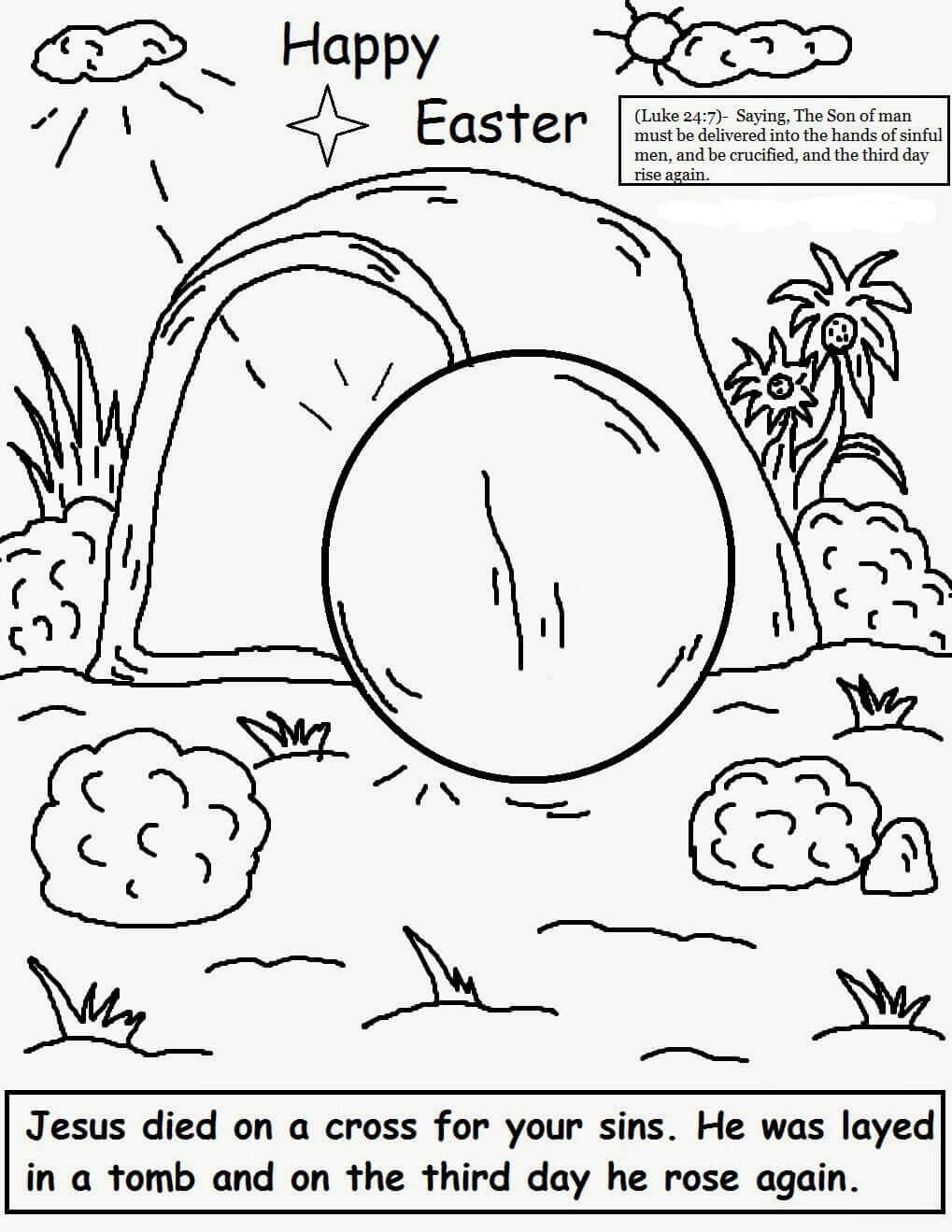 It was a very heavy boulder that was kept to save the body of Jesus after he was crucified. But as he had magical powers, he was able to move the boulder alone from inside. He then went out to help the people who needed him.
Hope Lives On
When we say Jesus is alive, the hope still lives on. He was able to do something that no one thought he would be able to do. But after three days of being crucified, he roamed on the streets and later went to heaven to his father.
Seeking Jesus' Blessings
This is the time when Jesus magically resurrected and went to the market to help people. All the sobbing, sad and hopeless people were happy and hopeful to see him again and seek his blessings. Mary, especially, couldn't control her tears of happiness.
This was our compilation of free printable Easter coloring pages for you! We hope you guys liked it. If you do, then don't forget to print and color our Easter coloring sheets! For more amazing coloring pages, keep yourself hooked with us.