You guys have no idea how popular, "Animal Jam", launched by National Geographic Society, in association with WildWorks is? You do? Of course, you would, since it's you guys who love this exciting game so much and have made it one of the fastest-growing online children's portals in the world. In this game, kids and even teens, learn and discover facts related to zoology using the features of the game, such as social interactions, parties, adventures, and mini-games. Apart from games, this brand has spawned several kinds of merchandise as well, such as children's books and figurine toys. If you are one of those kids who is a major fan of Animal Jam and wish to take the craziness a bit further, we'd suggest you have a look at our free printable Animal Jam coloring pages. Once you go through our National Geographic Animal Jam coloring sheets, you won't be able to stop yourself from printing out all of them.
Free Printable Animal Jam Coloring Pages
Greely The Alpha Wolf:
The Animal Jam coloring page features Greely, the Alpha for Wolves, introduced in 2010 as one of the six alphas. Even though Greely was introduced in 2011, we did not see him appear in the game until 2013. Greely is a bluish-gray wolf with yellow eyes. He wears gold cuffs and chains to beautify his appearance.
[ Read: Wolf Coloring Pages ]
to join this conversation on GitHub. Already have an account? Sign in to comment Footer © 2023 GitHub, Inc. Footer navigation Terms Privacy Security Status
Cheetah With Its Child:
This coloring page features the Cheetah, an animal from the members-only land, challenging its child for a race. Both the cheetahs have an amber colored body with purple, yes purple, not black, spiraling spots all over their body. Even their ears look quite unique as they are square in shape.
Animal Jam Characters Recycling:
If you want to learn or teach your child a bit or two about recycling, this Animal Jam coloring sheet would definitely come in handy. The owl, koala, and squirrel have collected the items to recycle, thereby cleaning the forest in the process.
Animal Jam Summer Carnival Coloring Page:
We have never seen a tiger as cheerful in a summer carnival like this one. He seems to be enthralled by something, something probably in the sky. In the background, the penguin is running with balloons. Fill this coloring sheet with vibrant colors so that it livens up like a real carnival.
The Lion With His Family: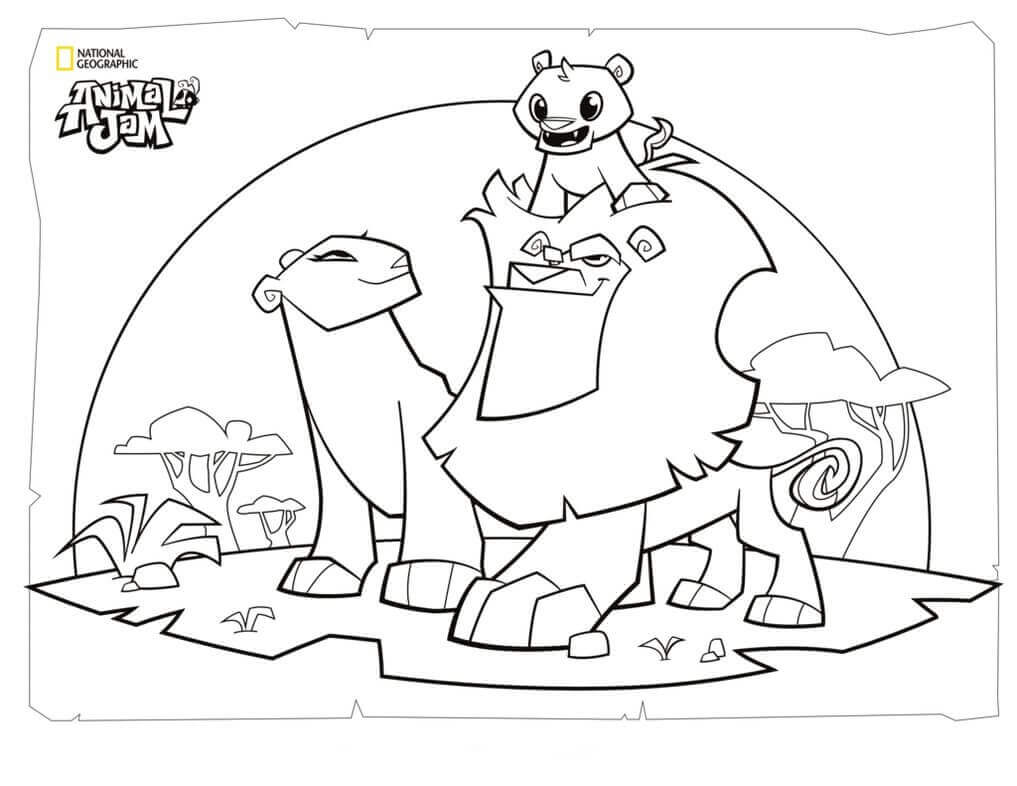 This Animal Jam coloring sheet features the lion with his mate and child. The lions, including the cub, are believed to be the first animal to arrive at Jamma through the membership card. Furthermore, there's no other version of a lion in this game, except the lion and the cub.
Otter:
How cute does this otter look in this coloring sheet? Very cute, right? The otter, a land and ocean animal, was introduced in this show in 2014 and won millions of hearts soon after its introduction. This slender otter is a dark amber-colored with black paw pads and a beige underside. He has pure black eyes, which have a hint of mischievousness in it.
Penguin:
This Animal Jam coloring page features the penguin, a land and ocean animal introduced in 2012. It's light navy blue in color with emerald eyes and a light underbelly. Paint it in the same shades to make it lifelike.
[ Read: Penguin Coloring Pages ]
Sir Gilbert: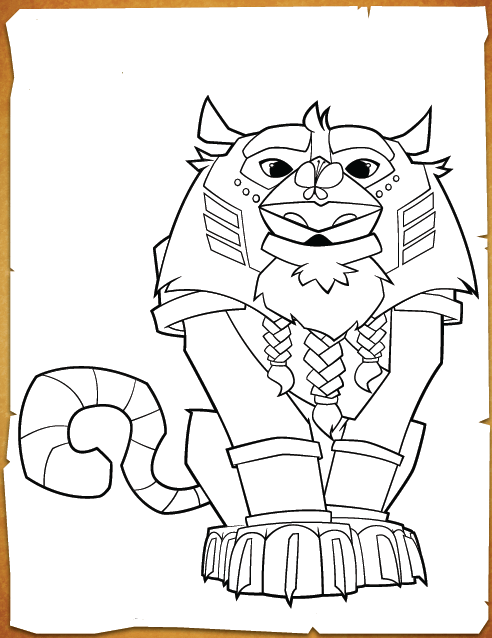 The handsome tiger you see here is Sir Gilbert, the Alpha for Tigers introduced in 2010. This large, orange tiger has flecks beneath his eyes, whisker markings, and beard tied in three braids. He wears a red cape and has a blue sash fastened around his arm. He wears cuffs on all four legs.
[ Read: Tiger Coloring Pages ]
Animals Having Fun:
The baby animals seem to be having loads of fun playing in this Animal Jam coloring picture. This absolutely adorable coloring sheet features a baby tiger, a baby lion, a baby bird, a baby cat, and a baby fox. The baby fox seems to be leading in this game.
Animal Jam Halloween Coloring Page: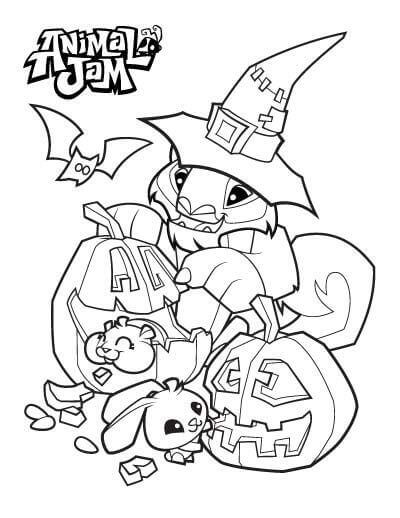 This coloring sheet features the core characters of "Animal Jam" having fun. The bunny is carving the jack-o-lantern, the squirrel is eating from the pumpkin, and the tiger is posing with the witch's hat. The flying bat is adding the perfect spooky element.
Animal Jam Ocean Coloring Page:
This coloring sheet features the underwater world of Animal Jam. There's a beautiful underwater castle and crabs are coming out of its main door. Does this castle belong to Ariel? Give this coloring image some beautiful tropical hues to make it stand out.
[ Read: Ocean Coloring Pages ]
Animal Jam Activity Sheet:
This Animal Jam activity sheet shares some fun facts about sea turtles, along with the coloring image of the same. It says that green sea turtles, weighing around 350 pounds, are the largest sea turtles in the world. These herbivore animals feed on seagrasses, algae and can easily live up to 50 years in the wild.
Peck:
The sassy bunny you see here is Peck, the Alpha of the Bunnies. She's a purple and plum-colored bunny who wears a bell-like earring on one of her ears. She has magenta eyes, side-swept bangs, and lilac bands around her arms and feet. She may look cute and cuddly but is very feisty and loud.
Rabbit And Fox Having A Day Out On St. Patrick's Day:
Now that's a rare sight! It illustrates a rabbit and a fox having tea on St. Patrick's Day. The fox is serving the tea to the rabbit, which suggests that he's the host. And the clover patterns on the tea set would make it look beautiful when filled with different shades.
Animal Jam Printable:
Here's another Animal Jam activity sheet featuring some fun facts about gray wolves. Gray wolves belong to the family of dogs, which also include coyotes, jackals, foxes, and of course, dogs. They work together as a pack to their young ones and hunt for food. And they almost never attack humans, which is really amazing.
Aren't these free printable Animal Jam coloring pages exciting? After compiling these Animal Jam coloring pages, we feel like visiting the zoo and staying with the animals, even if it's for a small amount of time. Don't you feel the same? And don't forget to print out all our Animal Jam free coloring sheets. In the meantime, you can even check out our Octonauts coloring pages.