Hello kids! We have almost reached halfway mark of 2019. Hope the year so far has been good for you. At least better than the year the tigers have been having. Since 1986, the International Union for Conservation of Nature (ICUN) has listed the tiger as Endangered on their Red List. To let you know more about this majestic animal, today we have brought for you an informative and entertaining collection of free printable tiger coloring pages.
Tigers are the largest species among the cats or Felidae family and can be easily identified by their vertical dark stripes all over their bodies. They have reddish-orange fur and lighter toned underside. This regal creature is the national animal of countries like India, Malaysia, Bangladesh, and South Korea and has inspired several fictional characters, including Shere Khan from "The Jungle Book" and of course Richard Parker from "Life Of Pi". Let's discover more about this animal through this fun and informative collection of tiger coloring sheets to print.
32 Free Tiger Coloring Pages Printable
A Cute Baby Tiger:
To start off this collection, we have a cute little illustration of a baby tiger, also known as a tiger cub. You can see the distinct vertical stripes all over its body. And the eyes look so innocent and endearing, don't they? Print this page and take your time capturing this look with your coloring skills.
to join this conversation on GitHub. Already have an account? Sign in to comment Footer © 2023 GitHub, Inc. Footer navigation Terms Privacy Security Status
Cartoon Tiger Greets With Open Arms:
Here's a glimpse into the world of a cartoon tiger. Appearing as friendly as your best friend, this cartoon tiger here is greeting you with wide open arms. Welcome him back with equal feelings by printing and coloring this illustration with special colors.
Tiger In The Circus:
Tigers have been part of the circus crowd for a long time. Here is one particular tiger doing a trick jumping through the hoops, with the trainer standing by its side. Fill in wonderful and colorful details in this illustration.
Connect the Dots Tiger Activity Sheet:
The time now for an activity related to the tiger with this connect the dots illustration. Follow the outline properly and you will end up with a beautifully sketched and wonderfully colored tiger illustration.
Cute Tiger Reading "The Jungle Book":
A coloring page full of imagination. A cute tiger cub reads the famous book with a tiger as the main antagonist, "The Jungle Book". This 1894 book written by Rudyard Kipling has been adapted into series and films, most recently in 2018 "Mowgli" which was a darker and closer adaptation of the book than the Disney versions.
Daniel Tiger And His Lil Sister Baby Margaret: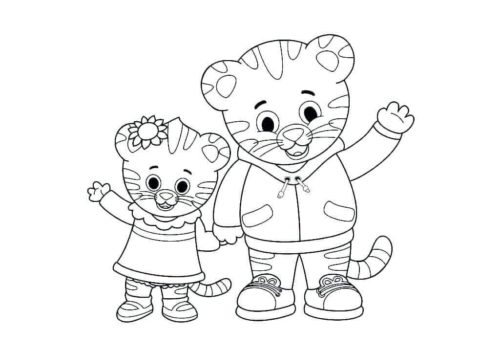 Here's the wonderful sibling duo, Daniel Tiger and Baby Margaret, part of animated Canadian-American series, Daniel Tiger's Neighborhood. The series is based on the tiger family – Daniel Tiger, Dad Tiger, Mom Tiger, and Baby Margaret, who joined the cast in the second season – and other neighborhood creatures.
Elephant And Tiger, Playing Together:
Two of the most powerful animals in the wild are here together on this coloring page as being friendly to each other. The little elephant and the little tiger are playing together in this illustration, running around having fun.
A Tiger In Motion:
One of the strides that the tiger takes when it starts to leap and run after prey. Notice the position of the hind limbs and those of the front limbs. Print this cool illustration and bring out the details in thrilling colors.
Funny Tiger, Wearing Sneakers:
A fun illustration trying to humanize the tiger while adding an element of humor on this coloring page is this tiger who sports a pair of sneakers on his two hind limbs. The tiger seems to be having much difficulty trying to adjust to the shoes.
Indochinese Tiger – Endangered Southeast Asian Tiger:
As majestic as this tiger looks, sadly the Indochinese tiger species are on the decline and categorized as Endangered by the International Union for Conservation of Nature (ICUN) since 2008. Inhabiting the Southeast Asian region, the Indochinese tiger or Panthera tigris Tigris are fast approaching the Critically Endangered mark.
The Roar Of The Tiger: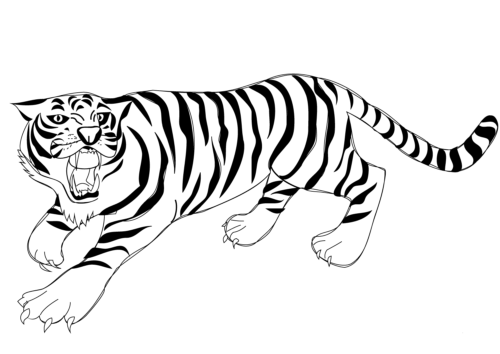 Announcing its supremacy, this tiger looks every bit aggressive especially with its loud roar. Did you know that the roar of a tiger can be heard as far as up to 3 kilometers away? It is a warning sign to all its enemies and if the prey is near, then it has no chance of escape.
A Tiger On A Tree: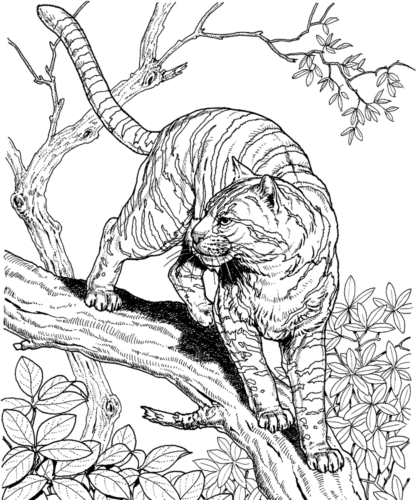 Tigers are big cats and like smaller domestic cats they are also able to climb trees. But only on rare occasions, when the trees have low hanging branches as illustrated on this coloring page. This tiger and its surrounding have been drawn so realistically. Make sure to bring out the life-like details with your coloring skills.
Saber Tooth Tiger – The Extinct Cat:
If this illustration seems familiar to you, maybe it's because of the popular Ice Age movies. Diego is a Saber Tooth tiger that plays one of the lead characters in the Ice Age franchise. Saber Tooth tigers were apex hunters, an extinct species with prominent long front canine teeth which they use for precision hunting.
Shere Khan From "The Jungle Book":
Who doesn't know of the inimitable tiger, Shere Khan from "The Jungle Book", Mowgli's arch nemesis? Looking every bit intimidating and powerful in this illustration, do your absolute best to bring out the details of this Bengal tiger with your colors.
South China Tiger – Critically Endangered:
Another marvelous tiger population, the South China Tiger once occurred in southern China but is believed to be possibly extinct in the wild. Listed since 1996 as Critically Endangered on the ICUN Red List, the South China tigers are part of breeding and training efforts to reintroduce them in the wild.
Sumatran Tiger – Critically Endangered:
Sadly, the news is no better for the regal Sumatran tiger, found in Sumatra island of Indonesia. Much like the South China tigers, since 2008 Sumatran tigers are also on the Critically Endangered ICUN Red List and are believed to be on a declining trend.
T for Tiger Coloring Page:
Helping you name an animal starting with "T" is this coloring page. You must already know the answer to an animal that starts with the letter "T". Yes, you are absolutely correct, it is
"T for Tiger".
A Tiger With Her Cub:
The baby tigers or the tiger cubs depend on their mothers to look after them. The mother takes care of her cubs until they are two years old. After that, they venture out on their own.
Tiger Coloring Page For Kids:
Keeping the design and the drawing simple enough for young kids, this coloring page features a tiger illustration any kid will be able to color. Print this page and grab your black and orange colors to reveal the true colors of this tiger.
Tiger Coloring Page For Preschoolers:
If you have just begun your preschool, then this easy illustration should be perfect for you. The tiger is looking cute here and it needs your simple coloring skills to bring out its true personality.
A Cartoon Tiger Cub:
Even this illustration should be easy to color. This cartoonish tiger cub looks so adorable with its big, innocent eyes staring into you. Print this page and give it the tiger's distinct color patterns.
Put On A Tiger Face:
You can print this coloring page and fill in the proper color details in this illustration of a tiger face. Once you are done coloring it, you can cut out the face and wear it as a face mask by tying a thread to it.
Tiger Tries On A Turban:
Looking every bit royal in its demeanor, this tiger has found and managed to put on a regal turban on its head. Print this coloring page and give it some royal treatment with your colors.
Tiger In A Zoo:
Most countries that have a tiger population do not have them in the wild but in a well-maintained breeding and training program. There are several programs that have been initiated to help rewild the tigers. Most remain in zoos like this particular tiger, well-protected from the poachers or illegal wildlife hunters.
Tiger Pouncing On Its Prey:
After stealthily stalking its prey, then sprinting in a measured run, the tigers pounce on their prey when they get near enough. Showcasing that moment of full-bodied attack is this powerful illustration. Print this coloring page and bring out this thrilling moment with some exciting colors.
Tiger Praying For Its Survival:
A fun illustration to say something serious. Presenting a human quality to the tiger, this illustration details a tiger praying on its bent limbs for its survival. With only about 4000 of them remaining in the world, this tiger's prayer is a cry for help to save them from extinction. You can read, inform and spread awareness to do your part in safeguarding the tigers.
Tiger Reading A Book:
After a highly recommended conservation from the other little tiger who was reading "The Jungle Book", this tiger has decided to read the book as well. Look at how engrossed it is in reading the book with its head resting on its paws. It has already reached the halfway point of the thick book.
Tiger Resting In The Forest:
Tigers like most other predators do not hunt unnecessarily if it has already had its meal. Having just had a large meal, this tiger has found a shady place in the forest to lie down and rest. It seems like the hunting was particularly tiring today. Print this coloring page and capture the lethargy in the tiger's expression with your coloring skills.
Tigers Surveying Their Territory Together:
Tigers are generally solitary in nature and highly territorial, requiring a large area of home ranges for their sustenance. Here you can see a female tiger and her grown-up cub surveying their territory. Pretty soon the cub will be leaving the home range of its mother to find its own territory.
Tigger From Winne The Pooh:
Here's another example of a fictional character inspired by the tiger. Unlike Shere Khan, Tigger in the world of Winnie The Pooh is a positive character. Writer A. A. Milne had based it on one of the stuff animals of his son, Christopher Robin Milne. The smiling face on Tigger is charming, to say the least. And it is striking an entertaining pose as well. Capture the expression and stance of this charming tiger with your fun colors.
Vitaly – Siberian Tiger From Madagascar 3:
Part of the 2012 animated feature Madagascar 3: Europe's Most Wanted, Vitaly is a Siberian tiger who is part of a circus, but a fire accident made him lose all his confidence. The original team of the Madagascar lead by Alex, the lion encounters him and others during their journey.
The Year Of The Tiger: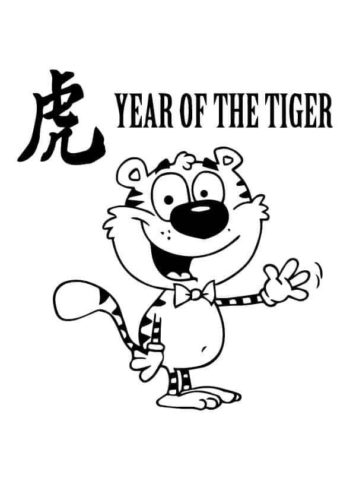 Part of the Chinese zodiac with a 12-year cycle under the Chinese calendar, the tiger is the third in the list of 12 animals. Currently, this year is the Year of the Pig. The next Year of the Tiger begins on February 1, 2022.
With that illustration about the Year of the Tiger, we have come to the end of this collection of tiger coloring pages printable. Since the beginning of the 20th century, there has been a marked decrease in the tiger population around the world and it is said that they have lost at least 93% of their historic range. It is estimated that only between 3000 – 4000 mature tiger population remains in the world today, according to 2015 census. You can spread awareness about their conservation, bringing an end to their poaching and protecting their habitats. This interesting collection of tiger coloring pictures printable can help you to spread this message, by doing this activity in school and with your family and friends.