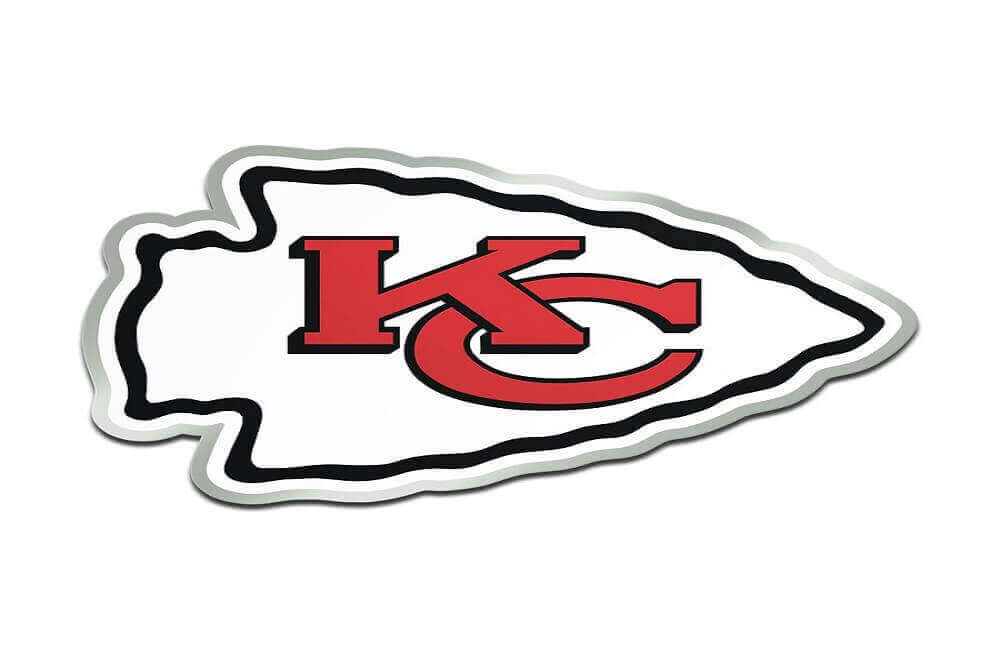 Congratulations, Chiefs supporters! Your team has qualified for the 54th Super Bowl against the San Francisco 49ers, which is scheduled to be held on 2nd February 2020 at Hard Rock Stadium. There are high chances that the Kansas City Chiefs will emerge as the winner this time and a majority of viewers want the same too. We don't really know who will win, but to help you contain the excitement until the match, we've got you all a collection of free printable Kansas City Chiefs coloring pages. So stay tuned!
14 Free Printable Kansas City Chiefs Coloring Pages:
Kansas City Chiefs:
We're kicking off the list, with this finely lined coloring page of this stupendous American football team. Based in Kansas City, Missouri, this professional football team was founded by businessman Lamar Hunt in the year 1960. Valued at over $2 billion, the team is currently managed by Hunt's son, Clarke.
Chiefs; The Wordmark!

This is a pretty simple coloring picture featuring Chiefs, which is a wordmark of Kansas City Chiefs. We would suggest you use red for the letters and keep the background white. If you want, you can add a bit of glitter and sequence to it and use it as a poster. It will make a cool craft as well.
to join this conversation on GitHub. Already have an account? Sign in to comment Footer © 2023 GitHub, Inc. Footer navigation Terms Privacy Security Status
Kansas City Chiefs In Super Bowl!
Kansas City Chiefs are in the Super Bowl, so we had to include this coloring sheet. But this isn't the first time Chiefs have qualified for the Super Bowl. In fact, they were the second AFL team to defeat a full-fledged NFL team, Minnesota Vikings in Super Bowl IV. That's quite an achievement in my opinion.
Kansas City Chiefs Logo:
Here's a neat coloring picture of the Kansas City Chiefs Logo. Did you know? Kansas City Chiefs was initially a charter member of the American Football League. It was first named Dallas Texans and assumed their present name when they relocated to Kansas City.
Minnie Mouse Cheering For Her Favorite Team: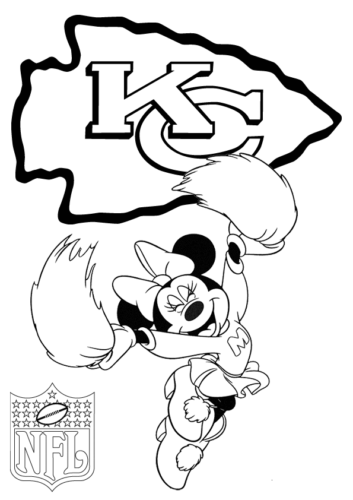 Our favorite Minnie Mouse has come all way from Mickey Mouse Club to cheer for her favorite team during Super Bowl. We wonder who is Mickey supporting this time? Since we don't see both the mice together, is it safe to assume that Mickey has sided with the San Francisco 49ers this time?
Kansas City Chiefs Helmet:
Don't forget to fill the lovely helmet of Chiefs'. Kansas City Chief's helmet has the signature arrowhead design with the letters 'KC' embossed on it and of course, grey facemask bars. It's said that their design is inspired by the 49ers logo. Oh, the irony!
Kansas City Chiefs Mascot- K.C. Wolf:
The wolf you see here is no ordinary wolf. It's K.C. Wolf, the official mascot of Kansas City Chiefs. K.C. Wolf was introduced as a successor for Warpaint, Chiefs' first mascot, which was a horse, in the year 1989. The present mascot was named after "Wolfpack", a group of zealous supporters and fans who would always sit in the bleachers at Municipal Stadium and root for the team.
Kansas City Chiefs Player:
Here's a simple coloring sheet of a Chiefs player giving his best to win for the team. Some of the notable players of this team are Patrick Mahomes, Chad Hanne, Matt Moore, and LeSean McCoy. Now, it's up to you what you want to make out of this figure.
Kansas City Chiefs Uniform: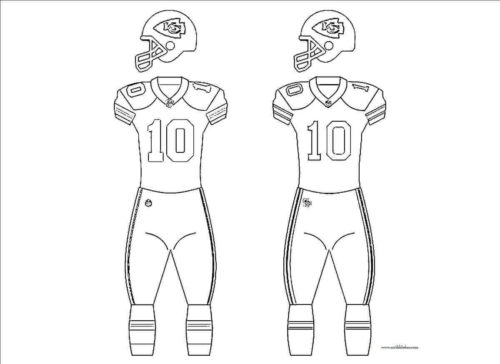 This coloring sheet features the handsome uniform of the Kansas City Chiefs team. The primary colors of the uniform are red, gold and white. Since there are two uniforms featured, you can use red for the t-shirt and white for pants for one image, and white for the t-shirt, and red for the pants for the other image. The helmets must be red.
SpongeBob Rooting For Kansas City Chiefs: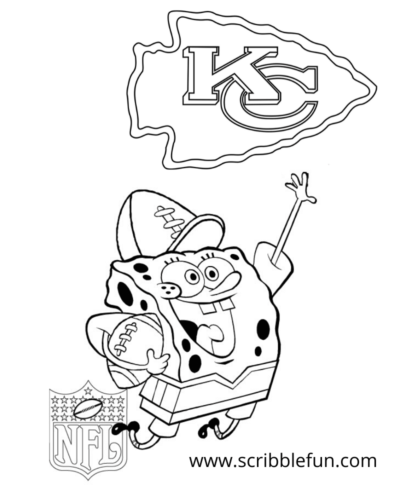 When Minnie is here, how can SpongeBob be far behind? Yes, we know they are not from the same world, but what binds them is their love for sports. SpongeBob has always been very active when it comes to sports. We have seen him attending several games, especially the NFL ones.
K.C Chiefs Headdress:
The headdress is of immense importance to Native Americans, so it was but obvious that the club would include it in their logo. But recently, they prohibited their fans from wearing the ceremonial headdresses to "to gain a better understanding of the issues facing American Indian communities in our region".
Kansas City Chiefs Old Logo:
This one is so nostalgic and special for true KC Chiefs fans as it features the oldest logo of the football. It's one of the rarest coloring pages on the internet so print it out soon.
Kansas City Chiefs Alternate Logo:
This is the coloring page of the alternate logo of the Kansas City Chiefs and it looks awesome in our opinion. What do you think about it?
Super Bowl 55 Coloring Page:
This year again, KC Chiefs has secured a place in the finals and will play against Tampa Bay Buccaneers. Who do you think will win this time? Not trying to spoil it for you, but the defending champions are a favorite.
[ Related: Tampa Bay Buccaneers Coloring Pages ]
We really hope you had a gala time filling these Kansas City Chiefs' coloring sheets. If you want, you can even collect all these Chiefs coloring pictures to create NFL coloring book, or even gift the same to your friends or family. It will surely be a treat for them.