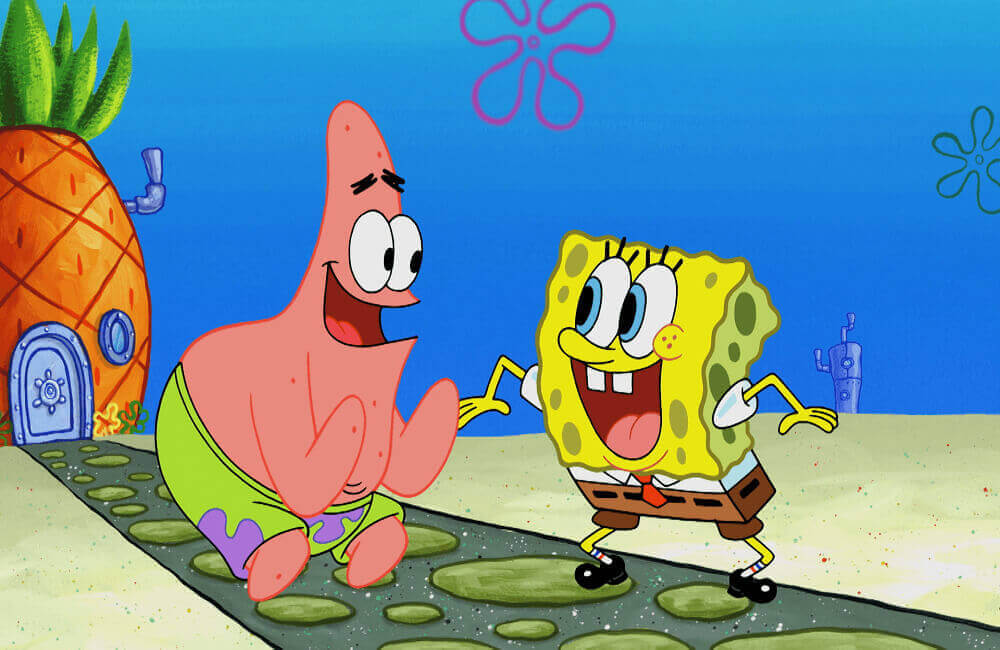 Greetings kids! Hope you are having a great summer. To make it even better, today we have a collection of printables inspired by one of the most popular animated television series, SpongeBob SquarePants. Yes, we've got you free printable SpongeBob coloring pages.
Created by Stephen Hillenburg, SpongeBob SquarePants is a television series that premiered in 1999 on Nickelodeon. SpongeBob SquarePants is also the main character in the series which chronicles his life as well as his friends like Patrick, the pink star-fish in Bikini Bottom, a fictional underwater city. 
The series has garnered both critical as well as commercial success and went on to win several awards. Two feature films have already been made and released, first in 2004 simply titled, "The SpongeBob SquarePants Movie", and its sequel, "The SpongeBob Movie: Sponge Out Of Water" in 2015.
to join this conversation on GitHub. Already have an account? Sign in to comment Footer © 2023 GitHub, Inc. Footer navigation Terms Privacy Security Status
Let's dive deeper into this underwater world through this collection of SpongeBob SquarePants coloring sheets to print.
30 Free SpongeBob SquarePants Coloring Pages Printable
SpongeBob SquarePants Floating, Gary Watching:
Living in the submerged pineapple in Bikini Bottom, SpongeBob SquarePants is floating around in his house. He seems to be enjoying his day today, while his pet snail, Gary, rolls his eyes thinking SpongeBob is going crazy. Print this page and color it in fine detail. Don't miss SpongeBob's legs sticking out at the bottom.
SpongeBob, Squidward, And Mr. Krabs Come Crashing:
SpongeBob works in Krusty Krab restaurant owned by the cunning Mr. Krabs, along with Squidward, an octopus working as a cashier. They seem to have had a bit of an accident crashing into some picture frames. While Mr. Krabs and Squidward are a little traumatized by it, SpongeBob looks as happy as ever! Appreciate his smile even in hard times, by printing and coloring the page in great detail.
Gary and SpongeBob Goes Underwater Unicycling: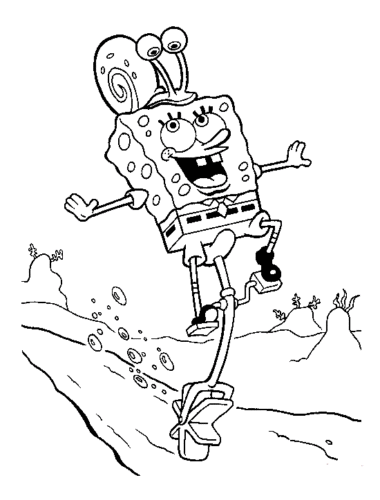 Always optimistic and enthusiastic, SpongeBob SquarePants, is happy to travel in a unicycle as he has still not managed to pass and get his driving license. Exploring the wonderful world of the Bikini Bottom, SpongeBob takes along his pet snail Gary with him for his ride by placing him on top of his head. Fill this cute illustration with joyful colors.
Gary – The Pet Snail Of SpongeBob SquarePants:
SpongeBob's pet snail, Gary has the vocal characteristics of a cat, as he doesn't talk but meows like a cat which is understood by all. Unlike SpongeBob, Gary is practical and always helps him see things clearly and reasonably.
Always Happy SpongeBob:
It will be hard to find SpongeBob without his laughter and infectious smile no matter where you see him, in a series or a film. He is always exuding great joy and enthusiasm. In stark contrast to his dull appearance resembling a cleaning kitchen sponge, his optimism is exuberant.
Krabs, Owner of Krusty Krabs Restaurant:
Eugene Krabs, known to all as Mr. Krabs is the owner of a fast-food restaurant in Bikini Bottom, called Krusty Krabs. He is the business-minded employer of SpongeBob who obsesses over money and equally dots on his daughter, Pearl a teenage sperm whale.
Patrick The Starfish And SpongeBob Play A Funny Game:
SpongeBob's best friend is Patrick, who is a pink starfish and lacking a little in intelligence compared to his age. Together with SpongeBob they always end up getting in some trouble or the other. Look at him trying to transfer a signal from his wireless to SpongeBob who seems to have an antenna placed on his head.
Patrick Is Working, Today He Is Painting:
Not being as smart and quick as his best friend SpongeBob, Patrick has not managed to find a permanent job. Instead, he takes up any temporary jobs that he can find. Like today, he got the opportunity to work as a painter and he is all geared up to start painting the house of his client.
Patrick Star – The Pink Starfish:
Living two houses from his best friend SpongeBob, Patrick Star is always in a jovial and fun mood. Yet like the characteristics of the real starfish who are slow and peaceful most of the time but can exhibit aggression at times, Patrick Star also gets angry sometimes. But he is looking as happy as ever in this illustration which you can print and color accordingly.
Plankton – Owner Of The Chum Bucket:
A planktonic crustacean, Plankton owns the unsuccessful Chum Bucket restaurant which is across the Krusty Krabs. His restaurant's failure is the result of the food they produce, which is made by using chum. A remarkable inventor, Plankton is always on a lookout to outdo the Krusty Krabs, yet never succeeds.
Sandy Cheeks – Texan Squirrel Playing Underwater Football:
Sandy Cheeks is one of the unique inhabitants of the Bikini Bottom. Being a squirrel from Texas originally, she lives underwater using a diving suit to breathe and resides in a glass dome that is filled with air. Sandy is a scientist and an inventor who loves to explore the world. Always athletic and energetic, here she is playing a game of underwater football.
SpongeBob And Sandy Cheeks Lands On The Moon:
After SpongeBob discovers Sandy Cheeks' rocket that she plans to take to the space to explore, he persuades her to take him too. Finally, after much persuasion, they both seem to have landed on the moon. The excitement on both their faces is pretty evident.
SpongeBob Plays Halloween, Plankton Is Screaming:
Celebrating the autumn festival in full fervor, SpongeBob does a great job of scaring everyone. The illustration full of sinister-looking carved-out pumpkins, swollen moon, and flying bats, is added by the play acting of SpongeBob who has managed to terrify Plankton.
SpongeBob With His Pet Gary:
Sharing a comfortable and enriching relationship with each other, SpongeBob is hugging Gary tightly in this coloring page, even though it's making the snail a bit uncomfortable. The coloring page displays the strong affection SpongeBob has for his pet.
SpongeBob And Mrs. Puff On A Boatmobile:
Always the best when it comes to the theoretical aspect of learning to drive at Mrs. Puff's Boating School, here SpongeBob tries his luck again at the practical application. He has always failed to drive as he panics, leading in his failure to get a driving license.
SpongeBob Wearing A Christmas Hat:
SpongeBob is normally always enthusiastic but during festival times he looks full of joy. Like during Christmas, he spreads around Christmas cheers everywhere he goes, making sure people are having a great time.
Patrick And SpongeBob Visit An Injured Squidward:
When SpongeBob hears about Squidward being hospitalized, he is quick to visit him along with Patrick Star. That's what good friends do, they help and console each other in difficult times. Looks like it was a serious accident as all of Squidward's tentacles are bandaged heavily.
SpongeBob And Patrick Take Squidward Jellyfishing:
When the injured Squidward recovers enough to move about in a wheelchair, SpongeBob and Patrick plan to take him fishing to cheer him up. Jellyfishing is SpongeBob's favorite pastime. Look at them all going wild trying to catch the jellyfish.
SpongeBob Gets Hypothermia:
This illustration shows one of the few times when a brutal cold has got SpongeBob into situations when he was freezing, getting to the point of hypothermia. You can feel the cold just looking at this illustration of SpongeBob with the trembling mouth and shivering body. Print this page and comfort him with some warm colors.
SpongeBob And Patrick Explore Bikini Badlands:
Bikini Badlands is a dry and rocky desert where SpongeBob and Patrick are taking a cool journey. They are on a scavenger hunt looking for something Squidward wanted when they interrupted his day having nothing to do. They are here looking for a sandwich only found in Bikini Badlands.
SpongeBob Drilling, His Whole Body Shaking:
Small and tiny in size, SpongeBob finds a task like drilling can prove to be difficult. His whole body is shaking along with the drill, as he tries his best to finish the job quickly. Reward him for his dedication to his work and his immense effort with some wonderful colors.
SpongeBob Celebrates Easter:
SpongeBob enjoys festivities and like how he enthusiastically celebrated Christmas in the earlier coloring pages, here he is preparing himself for Easter, a day marking the resurrection of Jesus Christ. Like SpongeBob who is diligently decorating his house, print this page and carefully color this illustration.
SpongeBob Making Patties:
It is a very busy day for SpongeBob today at his workplace, Krusty Krabs restaurant. He works as a fry cook and he has been frying patties the whole day. As the order comes in one after the other, SpongeBob is busy making patties like a machine in the kitchen. You must have felt the same when loaded with homework from all the teachers in a single day.
SpongeBob Plays Football, Heads A Ball:
When he is not busy working, SpongeBob enjoys fishing and playing sports like football. This cool illustration captures a moment during the match when SpongeBob heads the ball to score a terrific goal. Print this page and give it your best coloring skills.
SpongeBob Singing A Song:
SpongeBob enjoys singing as well, picking up the microphone and belting out his favorite songs when there's a party. With his enthusiastic personality, it is not surprising that he can be the life of a party. Bring out the charms of the singing sensation SpongeBob by printing and coloring this page.
SpongeBob Tries Skating:
Ready for any new adventure, SpongeBob is trying out a new sport today. He is delving into the world of skating. After a lot of practice, SpongeBob even tries out some stunts like lifting his legs off while holding the skate with his hand. Print this page and fill it with adventurous colors.
SpongeBob SquarePants Jellyfishing And Fun Playtime With Patrick:
SpongeBob uses a big net with a handle for fishing, one of his favorite hobbies. He runs after the jellyfish and tries to catch them in his net, eventually releasing them again. He often finds himself running after the creatures in joy, even while walking around with Patrick, his starfish best friend.
SpongeBob SquarePants Characters Coloring Page: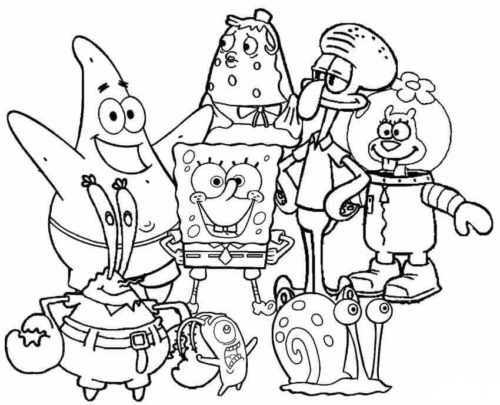 Since you have now dived into the world of Bikini Bottom and met several of its characters, here is your chance to showcase your memory power. Print this page and color each of the characters illustrated here and write their names at the bottom. Make sure to color them in great detail, right down to the minute color of their attire.
SpongeBob Celebrates His Birthday With A Huge Cake:
SpongeBob's friends have decided to throw him a huge birthday party, decorating the place with balloons and ordering a huge cake. You can see SpongeBob's eyes widening with joy seeing the cake. He is even wearing a conical birthday hat. Print this page and send him your birthday wishes by coloring him and the cake in brilliant colors.
Squidward Tentacles Makes SpongeBob Scrub His Bathtub:
SpongeBob's colleague and neighbor, Squidward Tentacles always come up with something or the other to make things difficult for SpongeBob and Patrick. But they never realize his intentions. Although he has recovered from his injuries, Squidward pretends that he cannot exert too much pressure and lets SpongeBob to the dirty work of scrubbing his bathtub.
This brings us to the end of today's underwater collection of SpongeBob SquarePants coloring pages to print. The highly-rated series on Nickelodeon has received several awards including Emmy Awards, Annie Awards, and BAFTA Children's Awards. With over 240 episodes, SpongeBob SquarePants is also one of the longest-running shows on Nickelodeon. There is even a third movie in the making right now titled, "The SpongeBob Movie: It's A Wonderful Sponge", which is set to release in May 2020. So, you can look forward to several more adventurous of these wonderful characters in the coming days. Meanwhile, get to know them better through this collection of SpongeBob SquarePants coloring pages printable.