They could be under your beds. Or hiding in the closet. They can be scary or often mistaken but lovable characters. You may have heard or read about them in stories, or even watched them in movies. What are we talking about? Monsters! We are going to be taking a look at monsters in today's collection of free printable monster coloring pages.
From folktales and legends to creatures created by the authors and filmmakers, monsters have been a part of our lives and culture for ages. Different cultures have their own monsters that are feared and revered at the same time. Let's get to meet and greet them through this interesting collection of monsters coloring sheets to print.
25 Free Monster Coloring Pages Printable
Chupacabra, "Goat-Sucker" From The Americas:
Starting off our monster collection today is a mythical creature from the land of the Americas. Chupacabra, when translated literally means "goat-sucker" in Spanish and is actually a combination of two words, chupar – to suck and cabra – goat. The name is given because it is believed that these creatures are known to suck the blood out of livestock. You can see the long teeth on the creature in this illustration, what you cannot see are the pointed spikes on its back.
to join this conversation on GitHub. Already have an account? Sign in to comment Footer © 2023 GitHub, Inc. Footer navigation Terms Privacy Security Status
Cookie Monster, The Muppet From Sesame Street:
From that scary legendary creature, we are now taking a look at quite an adorable monster from Sesame Street. Called Cookie Monster, he is incredibly into food, even the kind of things that are inedible in real life. But his favorite kind of food is, you guessed it right – cookies. Even among all the kinds of cookies, he simply loves chocolate chip cookies. You can think about this yummy cookie while you print and color this page.
Cute Monster Giving Big-Toothed Smile:

Giving you a wide, big-toothed smile is this cute monster on this coloring page. You can see it grinning with all its teeth showing. Be sure to color all the details of the monster, including those curled up horns and tufts of hair on the head.
The Cyclops, The One-Eyed Monster:
We are now heading to Greece with this monster illustration. Part of the Greek mythology, the Cyclops, as you can very well see here on this coloring page, are one-eyed monsters. Scary looking isn't it?
Frankenstein And His Monster Creation:
Written by Mary Shelley, "Frankenstein" chronicles the work of a scientist named Frankenstein who manages to create a giant human out of different parts – humans and animals. Once the creature comes alive, he abandons it abhorred by the monster he created.
Two-Toothed Fluffy Monster:
Just like a soft toy, this monster is so fluffy you could hold it like a teddy bear. If you notice, you will see it has just two teeth, one on the upper jaw and another on the lower jaw. Funny looking monster, isn't it?
Furi Monster Is Sad:
This particular monster is part of a game created in 2008, Moshi Monsters. The game lets you choose a pet monster, a virtual pet monster to be precise. You have six options and one of them is Furi depicted in this illustration. It looks sad. Cheer it up by giving it warm colors.
Godzilla And King Kong – The Giant Monsters:
Two of the most well-known monsters in any media, and both as giant as a monster could get, Godzilla and King Kong, have come together on this coloring page. They seem to be having a great time bonding together in the illustration. Print this page and fill it with some incredible colors.
Happy Birthday To The Monster:
Even monsters have had to be born or created on a particular day. This funny little monster is no different. It has even got a cute little birthday cupcake with a tiny lit candle. Help this tiny monster celebrate using your colors.
Headless Horseman Monster AKA Dullahan:
Another legend of a monster is illustrated on this coloring page. This is the Headless Horseman having its origin in the Irish folklore. Also referred to as Dullahan, you can see how creepy it looks without its head, as he rides the horse. Bring out the scary aspect of this creature when you are coloring it.
Loch Ness Monster Coloring Page:
The Loch Ness is an important water body in the Scottish Highlands. It has achieved legendary status over the years thanks to the folklore about the Loch Ness Monster. The water monster is said to possess a long neck with its humps visible above the water, just like the illustration here. Render the monster some authenticity with your coloring skills.
Medusa – The Snake-Haired Greek Monster:
One of the popular female monsters in Greek mythology, Medusa is easily identified by her hair. As you can see in this illustration, instead of hair, Medusa has snakes, live poisonous snakes growing out of her scalp. Anybody who makes eye-contact with her immediately turns to stone. Print this coloring page and bring out the dangerous look of this snaky monster with colors.
Mike, Sulley's Partner Monster From Monster Inc.:
In the commercially successful film Monster Inc., we get to see different monsters who are assigned to scare every kid in the world. Sulley is the best scarer and Mike is his partner as well as his best friend. Give this funny little monster some cool colors.
Furry Monster Coloring Page:
Smiling little furry monster is here to greet you on this coloring page. You can see those shining eyes and smiling wide face, and of course the fuzzy fur on it.  Print this coloring page and give this illustration of a monster endearing colors.
One-Eyed, Funny Yet Weird Monster:
After a furry little monster, here we have a weird, but still kind of funny, monster. That disproportionate huge eye and long, slender limbs, all these physical aspects attribute a strange and somewhat funny feeling.
Cute Looking Monster:
Taking inspiration from an animal, the illustration has come up with an endearing monster on this coloring page. It's a cute monster that has the head of an elephant or a pig. You can try to figure it out as you color this illustration.
Monster Going To School:
Even monster kids have to go to school. This particular monster is so excited to head to his class, holding a pencil and a book. Give it some encouragement with your fun colors.
Monster Heading To Office:
Once they are done with school, much like us, this monster is all set to get working and heading to the office.
Monster Performing Experiment:
With curious and devious little minds, monsters are always looking to find new ways to scare. That's what this monster is doing by performing experiments.
Three-Eyed Monster Running And Hunting:
This three-eyed monster is running around as it goes hunting, trying to find prey to scare. You can help it look scarier or adorable with your coloring skills.
Monster With Uneven Eyes:
Does this sluggish looking monster on this coloring page scare you? Or does it make you laugh simply looking at its uneven eyes? Find some fun colors for this strangely funny monster.
Scary Monster Coloring Page:
It only takes one look to know that this one is actually quite scary. The elongated reptilian eyes and ears, long bifurcated tongue, this dragon-like scary monster needs equally scary shades of colors.
Sulley From Monster Inc. Coloring Page: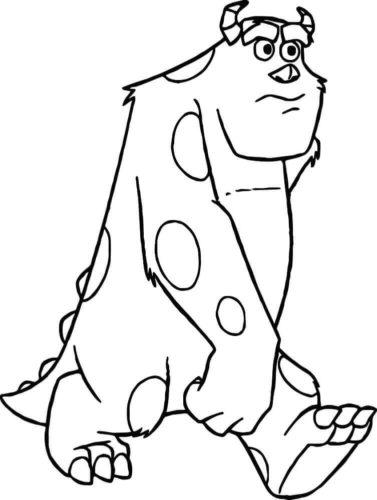 After Mike from Monster Inc., you can now see the monster who is regarded as the number one scarer, Sulley on this coloring page. Monster Inc. employs monsters to scare the kids around the world and Sulley being huge and burly always scores high although at heart he is really kind.
When Tree Turned Into A Monster:
This is exactly what happens when trees decide to go ahead and become a monster. You can see how the branches turn into creepy hands and the trunk becomes the face with a giant mouth. Print this coloring page and fill colors on each part of this tree monster.
Werewolf, The Man-Wolf Monster:
Another widely popular monster, werewolf, has invaded the folklore as well as media like literature and movies. Werewolves are human beings who are cursed to turn into a werewolf on a full moon night. Normal humans get infected when bitten by a werewolf or get deeply scratched by one.
With that full moon cursed monster, we have come to the end of this interesting collection of monster coloring pictures to print. I hope you didn't get too scared by some of the creepier monsters. If you did, hopefully, the cuter, funnier and adorable monsters were able to make you laugh and smile right away. Since most of these monsters have their origin in folklore and ancient cultures, you might have read about them in stories. Or they might have reminded you of the stories your grandparents told you – the ones with legendary and mighty creatures.