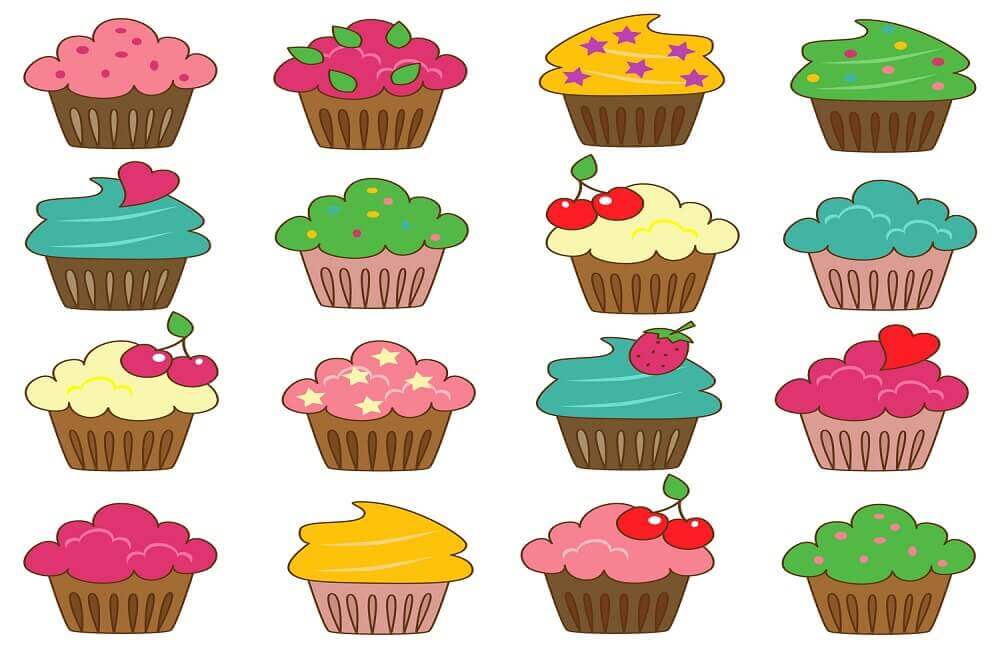 A lot of things have the ability to make us happy when we are little kids as the world is a place full of wonder and there's no limit to our joy. The list gets smaller as we grow older. But some things always fill us with joy, whether we are young or old. Like the sight of a rainbow after the rain. Or beautifully decorated rows of cute and delicious cupcakes. Cupcakes! That's exactly what we've got for you today; a collection of free printable cupcake coloring pages.
Cupcakes are just like cakes. Only they are much smaller and easier to bake. You can say they are the tiny versions of cakes. You just need a small amount of batter and a small aluminum or thin paper cup to bake. Cupcakes can be of any flavor you like and can have different toppings and decorations like fruits or candies. You can even have fillings inside the cupcakes like the chocolate lava cakes that ooze out melted chocolate once you slice them open. Let's discover more about these tiny little cakes through this delectable collection of cupcake coloring sheets to print.
35 Free Cupcake Coloring Pages Printable
1st Birthday Cupcake:
It might not be possible for anyone to remember what their first birthday celebration was like since we are so young. But if it was anything like this nicely decorated first birthday cupcake on this coloring page, you can be sure it was simply awesome. Regale in this celebration by printing and coloring this page in festive colors.
to join this conversation on GitHub. Already have an account? Sign in to comment Footer © 2023 GitHub, Inc. Footer navigation Terms Privacy Security Status
A Plate Full Of Cupcakes:
It's not just one but it's a plate full of cupcakes. More like a plate full of happiness, right? You can give each of them a different flavored color with different toppings. Or you can color all these cupcakes in the same colors of your favorite flavored cupcakes.
A Berry Cupcake Is A Tasty Cupcake:
Berries and cupcake is a tasty combo. Question is: What kind of berry are we talking about? Looking at the illustration of this cupcake with the berry used as a topping, can you guess what kind of berry this is? It does look like blueberry or blackberry. But it could even be a wild berry. Print this coloring page and give this cupcake the color of your favorite berry.
Birthday Cupcake Coloring Page:
Unlike the first birthday cupcake, this birthday cupcake comes with plain frosting. You can add your own colorful decorations to this cupcake to make it birthday special.
Bunny With Cupcake: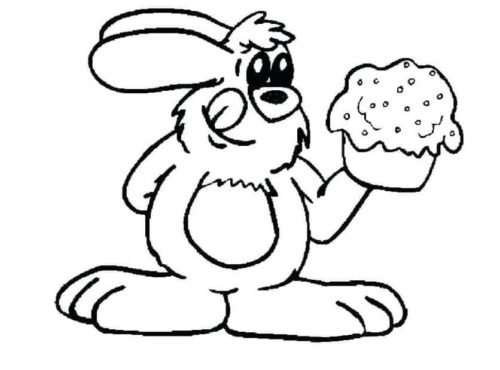 Poor bunny is having a hard time resisting biting into the cupcake. Look at him licking his lips as he poses with the cupcake for the photographer. Reward him for not giving in to his temptation by filling this illustration with colors.
C For Cupcake:
Time for the alphabet lesson. Keeping with today's topic, the letter we are learning is C and C is for Cupcakes. The cupcake illustration looks so tasty, doesn't it? Fill it with colors to make it more appetizing.
Christmas Cupcake Coloring Page:
No matter what the festivities, you can never have enough cupcakes. This Christmas special cupcake comes with festive decorations. Make sure to give this cupcake the colors of Christmas – red and green.
Cupcake Coloring Page For Adults:
You will find it easy to color this illustration if you have some experience coloring. The realistic-looking range of cupcakes needs special detailed coloring skills. Don't forget to color the fruits and flowers too.
Cupcake With Cherry On Top:
Look at the icing dripping off from the cupcake. Tempting, isn't it? What's more enticing is the cute cherry on top. Print this incredible cupcake and give it some tasty colors.
Cupcake With Floral Decoration: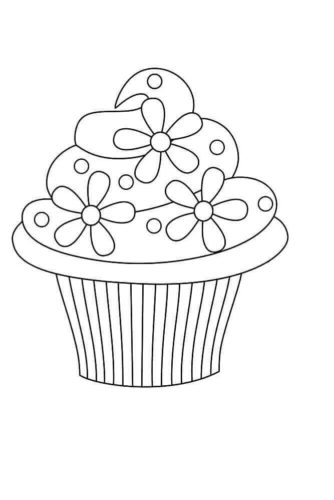 This freshly baked cupcake looks more appealing thanks to the exceptional floral decorations. The decorations are handmade using icing sugar and cream.
Lots Of Cupcakes On Display:
It's teatime. And cupcakes go perfectly well with tea. There's a lot of different flavors available for you on this display tray. Print this coloring page and give each cupcake a unique color.
Apple-Flavored Cupcake:
This cupcake celebrates one of the most popular fruits in the world – apple. There's also dollops of icing and a special apple replica on top.
Cupcakes Coloring Sheet:
You can turn this coloring sheet into a poster. Maybe gift it to someone who owns a bakery or simply loves cupcakes. These rows of cupcakes are waiting for your colors to look deliciously irresistible.
Well-decorated Cupcakes:
This particular cupcake is going all-in with its classy decorations. You can write your name on the tag tied to the cupcake. Print this page and fill the amazing swirls and the crown stick decoration with colors.
Cute Cupcake Coloring Page:
As if a cupcake isn't cute already, this cupcake illustration adds an extra dose of cuteness with the adorable face drawing. Add some colors to make it cuter.
Doc McStuffins Cupcake:
Have you seen the children's animated series, Doc McStuffins? It is about Dottie "Doc" McStuffins, who dreams of becoming a doctor and fixes broken toys and dolls. This special cupcake is dedicated to the series with a special decoration of Dottie's face on top.
Easy Cupcake Coloring Page:
In case you are new to coloring and not very confident about your skills, this coloring page is just the right one for you. Print this page and color this easy cupcake, by making sure that you color within the lines.
Fruity And Lovely Cupcake:
You will fall in love with this yummy cupcake. It has a swirly topping with tiny decorative sugar hearts and cherry to give it a fruity top. Fill this lovely cupcake with loving colors.
Fruit Cupcake: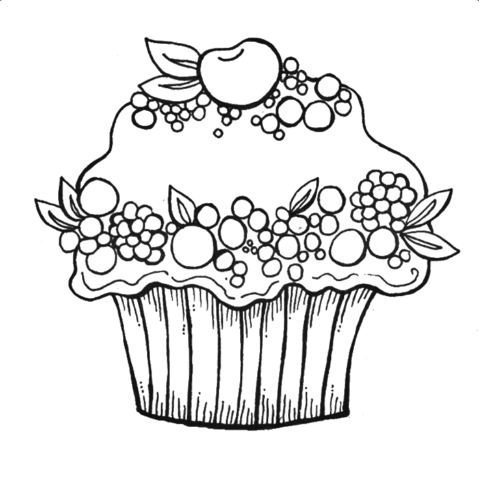 Can you guess the flavor of this cupcake? Yes, it is a fruity-flavored cupcake. Look at all those decorations of fruits. We can definitely see some grapes and mangoes. Print this page and color all the fruits after you have identified them.
Halloween Cupcake:
The proper icing and decoration have made a cute cupcake into a scary little Halloween cupcake. Be sure to give this pumpkin-flavored cupcake orange and brown colors.
Hello Kitty Cupcake Coloring Page:
No one will be able to eat this cupcake. Inspired by Hello Kitty, this cupcake is too adorable and cute to be eaten. Print this coloring page and give this Hello Kitty cupcake a splash of beautiful pink color.
Let's Learn How To Make Cupcakes:
Once you have your batter ready, which comprises flour, egg, sugar, and milk along with any additional flavoring you like, you can scoop them into little paper cups as shown on this coloring page. You can place them in the tray and bake them in the oven. Your cupcakes will be ready in a few minutes. Be sure to take help from your parents or someone older in the kitchen.
Kawaii Cupcake:
Inspired by the Japanese Kawaii concept that is loaded with cuteness, this special cupcake will win your heart over. Look at that cute little face decoration. It even has wings and swirls resembling a curly hairstyle. Give each of these elements your best colors.
Mickey Minnie Cupcake:
A clever illustration paying tribute to Disney's Mickey Mouse and Minnie Mouse. Instead of a face decoration, the artist has created cupcakes representing their famous ears. You can tell which one represents Minnie by the lovely bow decoration on the cupcake.
Minnie Mouse On A Cupcake:
If you had trouble imagining Minnie Mouse in the earlier illustration, here on this coloring page you can clearly see her. The delicious cupcake pays tribute to Minnie Mouse with her face decoration at the top.
Monster High Cupcake:
You can find one of the fashion dolls from the Monster High franchise posing with a cute little cupcake in this illustration. Created by Mattel, Monster High, as the name suggests is a fashion doll line inspired by the monster movie and other such similar characters. Print this coloring page and give this "monster" doll a set of grungy colors.
Owl Cupcake:
With those big eyes staring at you, how can anyone not find this owl cupcake adorable? The decorations are on point on this owl cupcake – the feathers look real but not as real as those round, dark eyes. Give this cute owl cupcake some of your best colors.
Pusheen Cupcakes: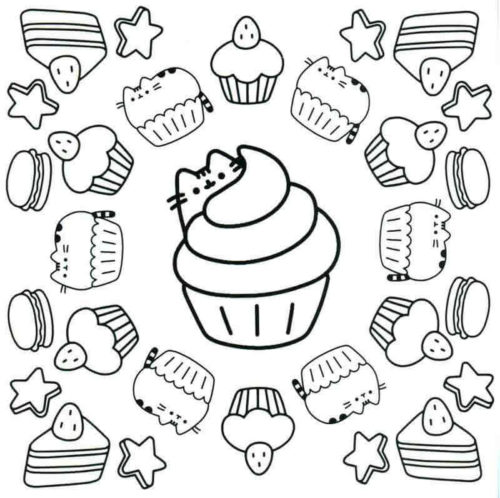 This illustration was definitely created by a Pusheen fan. The famous female cat which worked its charms on its readers of the comic strips. Created by Claire Belton and Andrew Duff, Pusheen has grey short hair. How many Pusheen can you find on this coloring page? You can work on coloring all the Pusheen cupcakes and a few cake slices, while you try to come up with the answer.
Shopkins Cupcake Coloring Page:
Moose Toys manufactures cute and tiny collectible toys inspired by the various grocery items called Shopkins. This illustration showcases one such toy from the bakery section – Cupcake Queen. Print this coloring page and be sure to color this graceful cupcake in her famous colors, golden yellow with pink eyes and blue frostings.
Starry Cupcake:
It's a starry night on this coloring page. The stars are shining bright as decorations on this perfectly baked cupcake with a cherry on top. Play with your imagination and fill up this starry cupcake with bright colors.
Strawberry Cupcake Coloring Page:
This artistically created illustration looks like a part of a story. There are strawberries everywhere on this coloring page. Who is this sitting on top of a strawberry cupcake? It looks like a little girl but she has wings. Is she a strawberry cupcake fairy? Think of the storyline while you print and color this page with strawberry inspired reddish colors.
Strawberry Cupcake:
Strawberry is one of the most loved flavors in the bakery business. It's sweet yet a little tart. This cupcake is full of the goodness of strawberries, from its sweetness to the sourness. Print this coloring page and give this strawberry cupcake reddish pink shade of colors.
Sugar Skull Cupcake:
The edible sugar skull is seen in abundance during the Day of the Dead, a Mexican festival that celebrates the ancestors by offering prayers and feasts. If you have watched the animated film "Coco" then, you will surely know which festival we are talking about and the kind of feast that takes place. The sugar skull on this cupcake looks cute thanks to the elegant bowtie. Give this sugar skull cupcake some gothic yet pretty colors.
Unicorn Cupcake Coloring Page:
Perhaps one of the most loved mythical creatures, if not the most loved, unicorns inspires a feeling of goodness and joy inside us. And when you put on a unicorn decoration on a cupcake, everything feels happy and joyous. Give this unicorn, rainbow colors on its horn and fill the rest of the illustration with your favorite colors.
Valentine's Day Cupcake Coloring Page:
In a couple of weeks, the world will be celebrating Valentine's Day on February 14, 2020. Here's a special cupcake illustration to prepare for the occasion. What color should be given to this cupcake? Yes, you are right. When it comes to love and matters of the heart, it has to be red. Print this coloring page and fill this loving Valentine's Day cupcake with red color.
On that loving note, we have come to the end of today's yummy collection of cupcake coloring pictures to print. I hope you had a delicious time filling in all the colors in all these wonderful illustrations of cupcakes. If you haven't yet eaten a cupcake, you can try one that is made up of your favorite fruit flavor. Or better still, you can ask your parents to bake a few cupcakes and help them in the preparation. You can enjoy munching on those delightful cupcakes while you are coloring this collection of cupcake coloring images.