Playing with toys may seem like simply having a fun time; away from studies and books. But if you are playing with toys like Lego, it's not just fun but there is a lot of creativity and imagination involved. Perhaps, that's why Lego is one of the most popular toys in the world. In fact, it's the leader in building toys. You can learn more about it through this creative collection of free Lego coloring pages printable we have for you today.
You must have played with Lego toys. Do you remember your first Lego toy? Your parents might have bought you one to play with as a young kid or maybe you got into Lego by yourself after watching the blockbuster Lego movies and series. No matter how you got into Lego, one thing is for sure: it never gets boring. Because the possibility is endless with Lego toys, due to the most fascinating feature of the Lego bricks – they all fit together. Lego bricks from different sets and those purchased in different years can fit together effortlessly – that's the engineering marvel of the Lego company.
Started in 1935, Lego initially consisted of wooden toys. It was only in 1958 that the company patented its modern Lego brick design, the bright and colorful plastic building blocks. Aside from the Lego bricks, there are also other parts like wheels, plants and more, to help you build an entire city. Let's get started with our journey through this fascinating collection of Lego coloring sheets to print.
33 Free Lego Coloring Pages Printable
Blaze Firefighter And His Firetruck: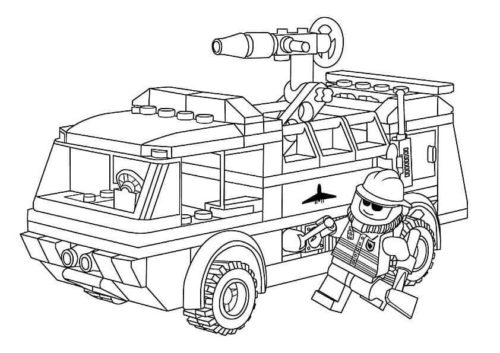 Firefighters save us during any untoward incident involving fire. In order to do this, they have to wear protective gear and the firetruck is loaded with water to douse the fire. Here's Blaze Firefighter who is also a Master Builder, coming to the rescue of those trapped during a fire accident.
to join this conversation on GitHub. Already have an account? Sign in to comment Footer © 2023 GitHub, Inc. Footer navigation Terms Privacy Security Status
Lego Boatman Passes Under The Bridge:
It's a bright and sunny morning in this scenic small town. A Lego Cowboy prepares his horse for his morning ride. While a Lego Boatman, riding his boat, passes under the bridge next to the house. Print this coloring page and bring out the beauty of this illustration with your coloring skills.
Lego Abraham Lincoln & His Gettysburg Speech: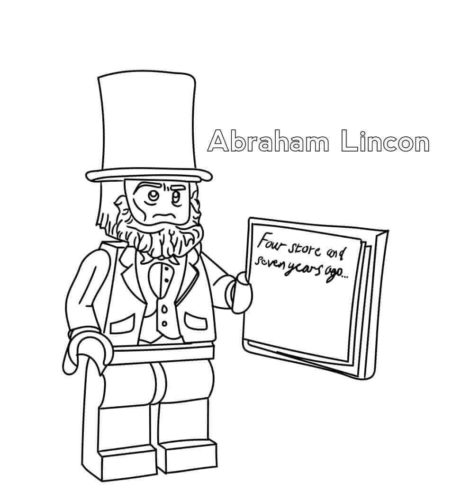 The Lego version of the sixteenth president of the United States of America, Abraham Lincoln, is seen here holding a notepad scribbled with the words, "Four scores and seven years ago…". This is in reference to President Lincoln's speech at Gettysburg in 1863, referring to 1776 i.e. 87 years ago at that time when the Declaration of Independence was signed. Just like a dozen is used for a quantity of 12, a score refers to 20.
Lego Animals Coloring Page:
Can you identify these Lego Animals on this coloring page? Looks like a mother hen and her chick. Or do you think it's a duck and her duckling? Let your imagination run wild. Print this illustration and color the elements and the animals accordingly.
Lego Marvel's Avengers: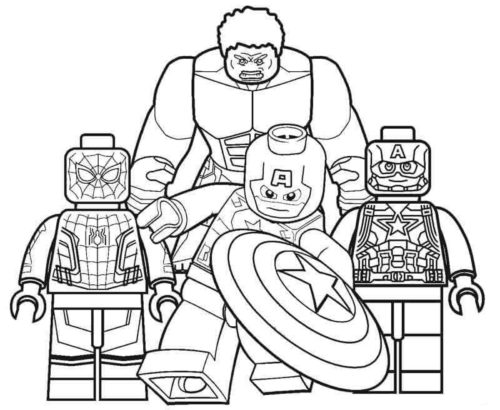 There's Lego Captain America in the front with his shield. The giant Lego Hulk standing tall at the back. Can you guess who are the remaining other two members of this Lego Marvel's Avengers illustration? Hint: check out their costume. Once you get the answers, start coloring each of them in their respective colors of their costumes.
Lego Batman Coloring Page:
The legendary DC Comics hero, the Batman is also available in a Lego avatar. In fact, Lego Batman has a Lego movie too. Titled as "The Lego Batman Movie", the 3D animated movie features Batman fighting to defeat Joker with the help of Robin and Barbara, daughter of Gotham city's police commissioner.
Constructing A Lego City Railway Station:
The Lego City theme lets you work on building a whole new city, complete with every detail like houses, airports, roads and more, just like a real city. Here in this illustration, you can find the ongoing construction work of a railway station. Bring alive every detail of this illustration with your colors.
Lego City Police Helicopter Service:
In case of any emergency, the Lego police helicopter gets ready to intervene – be it chasing criminals from above or rescuing people – it's always on standby to help. Print this coloring page and fill in appropriate colors.
Lego Airport – Lego Airplane Getting Fuel Recharged:
Just like cars and bikes need to go into the gas station to refuel when the fuel is low, the airplanes also need to get their fuel recharged. This Lego Airport scene illustrates how an airplane gets its fuel in order to be able to fly. You might have noticed such a scene during your visit to the airport.
Lego Western And Lego Cowboys In Action:
From city life on the earlier pages, we now move on to the western country lifestyle in Lego style. This action-packed illustration shows Lego bandits trying to attack a horse-carriage full of treasure being led by the Lego policemen. Their guns are already up in the air. Give this action scene some of your thrilling colors.
Lego City Police Chasing Criminal:
The police action continues. This time it's the Lego City Police on a motorboat chasing a criminal who seems to think he can escape the police by rowing away. The policeman has taken out his handcuffs to restrain the criminal who is about to get caught.
Lego Medics And Ambulance Medical Truck: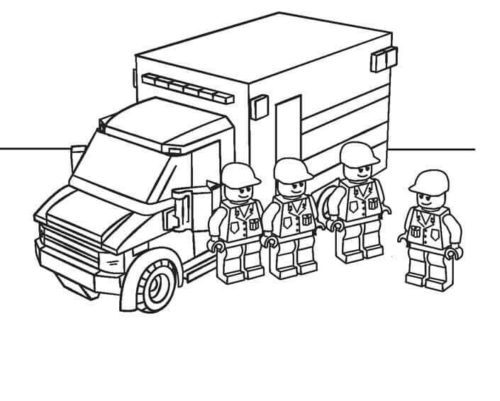 Lego Emergency medical team is on standby on this coloring page. The paramedics are getting briefed by their superior as they line-up against the Lego Ambulance. You can give this medical team the color of the paramedics in your own city.
Lego Darth Vader:
An iconic movie franchise that revolutionized the world of movies and science-fiction forever is the Star Wars. Representing the Lego Star Wars theme on this coloring page is Lego Darth Vader, one of the most popular characters from the movie franchise.
Lego Lady Doctor:
If you have paramedics and emergency services, then how can you not have doctors? Yes, Lego also has nurse and doctor toys to help you understand and learn about the medical field in a fun way. Say hello to this Lego lady doctor here and greet her with joyful colors.
Lego Duplo Coloring Page: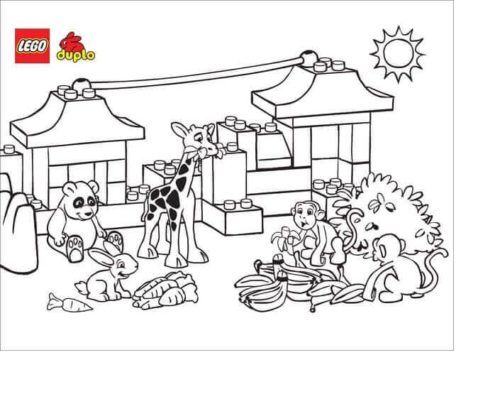 Created for the kids aged between 1.5 to 5 years, Lego Duplo sets are best suited to enable them to start on an adventure of building. As illustrated on this coloring page, Lego Duplo comes with blocks that help you make animals and more.
Lego Harry Potter Coloring Page:
Get onboard the wizardry and witchcraft broom ride with this Lego Harry Potter coloring page. While Harry Potter and Hermione Granger are ready with their wands in their hands, Ron Weasley is finding it difficult to keep his pet rat safe from Hermione's cat.
Lego Lizard Man:
Who do we have here in this jungle? It's Lego Lizard Man! He looks a little lost here. There's even a volcano erupting in the background. Fill this odd illustration with bizarre colors.
Lego Man Coloring Page:
This is how a Lego figurine looks like without accessories of any characters or personalization of any kind. The head has a stud on top and the hands come with "C" shaped fingers for holding or carrying things.
Lego MetalBeard – Robot Pirate: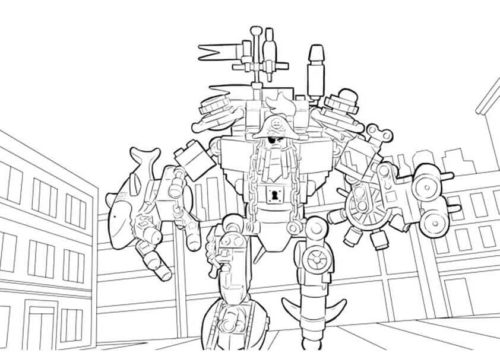 Originally just a simple Lego pirate, MetalBeard is a humungous looking robot pirate, as you can see on this coloring page. Fill this remarkable illustration with detailed coloring.
Lego Nexo Knights – Queen Halbert:
The feisty, brave and super-confident Queen Halbert is part of Cartoon Network's 3D animated series, Nexo Knights. Lego Nexo Knights is the Lego theme featuring the story and the characters.
Lego Nexo Knights – Royal Soldier:
The story of the Lego Nexo Knights takes place in the Kingdom of Knighton. The Royal Soldiers serve the Knightonia Royal Family. Give this detailed illustration of one of the Royal Soldiers some realistic colors.
Lego Ninjago Coloring Page:
Inspired by the Japanese ninjas, the Lego Ninjago theme was introduced in 2011 and made into a successful film, "The Lego Ninjago Movie" in 2017.
Lego Police:
Part of the Lego City Police playsets, this Lego police vehicle is waiting for your expert coloring skills so that people can know it's a police car.
Lego Robin – Batman's Loyal Sidekick:
Helping Batman fight the crimes and criminals in the city of Gotham is his ever-dependent and utterly loyal sidekick, Robin.
Lego Spider-Man, Lego Joker and Lego Flash: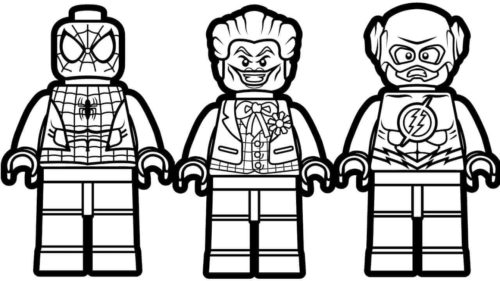 It's your lucky day! Because in a single coloring page you are getting three iconic figures – two superheroes and a supervillain. Give each of them, Lego Spider-Man, Lego Joker and Lego Flash their trademark colors.
Lego Star Wars:
The world of the Star Wars comes alive in the official Lego Star Wars theme. Print this dramatic illustration showcasing a few of the memorable Star Wars characters and fill it with futuristic colors.
Lego Statue Of Liberty:
Lego pays tribute to America's architectural marvel and a symbol of freedom, the Statue of Liberty. Give deserving colors to this intricately detailed interpretation.
Lego Superman:
The Man of Steel, Superman, apart from being a superhero is also a Master Builder in the Lego world. The Lego illustration of the DC superhero even manages to aptly recreate the Superman curl.
Lego Thanos:
One of the most powerful supervillains in the Marvel Comics world, Thanos wreaks havoc for the Avengers trying to save the world from his devious plans. Doesn't he look just as villainous in this Lego avatar?
Sensei Wu From Lego Ninjago: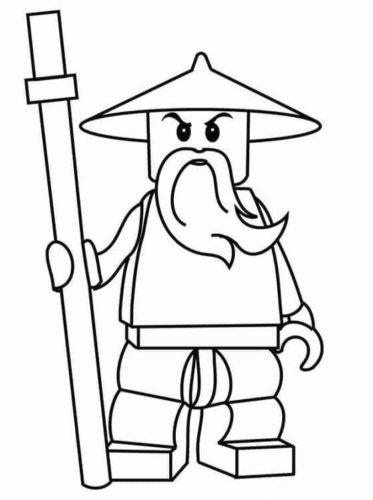 Sensei Wu or Master Wu is part of the Lego Ninjago theme who plays the master or mentor to the ninjas. Give this imposing Lego figurine, a set of authoritative yet fun colors.
"The Lego Movie" Coloring Page:
The first movie in the Lego franchise was simply titled "The Lego Movie" and released in 2014. You can find several of the characters from the movie waiting for your colors in this illustration.
Unikitty From "The Lego Movie":
Combining the characteristics of a cat and a unicorn, the Unikitty is a cat with a unicorn horn. She rules Cloud Cuckoo Land, a secret place somewhere in the sky. While she looks cute and optimistic if you make her angry her dark and terrifying side can come to the fore.
Vitruvius – Blind Old Wizard:
The wise and old wizard, Vitruvius is also blind. When most doubted Emmet's abilities, it was Vitruvius who showed faith in him and believed he would be able to save the world. Print this coloring page and give this illustration of one of the most important members of the Master Builders, its deserving colors.
On that wise note, we have come to the end of today's interesting collection of Lego coloring pages to print. Did you know that the Lego company suffered major setbacks during its initial years? The company's factory was destroyed in the fire, twice. This was one of the main reasons that contributed to Lego's decision to stop making wooden toys. They worked on creating something with plastics, which came to be known as Lego bricks. The development of these plastic Lego bricks is seen as key to engineering innovation. The Lego bricks have studs on top and tubes at the bottom. They join together, forming a sturdy and strong connection required for construction, yet at the same time, they easily come apart. This is what makes Lego toys so versatile. It's not just the kids but several adults enjoy building with Lego bricks, including engineers and innovators. There are several Guinness World Records for incredible structures built using Lego bricks. You might even find your parents taking an interest in this collection of Lego coloring pages printable. Perhaps, you can organize a coloring session for the next family time together.