Hey there pals! It is time to learn about a season that is a farmer's favorite. Any guesses? Yes, it is the rainy season or Monsoon. It is also known by the name "Green Season". The scene around in this season is just mesmerizing. It is like a gift from nature and God us. But of course it kind of grows on us after sometime. The rainy season may mean different things and it depends on which part of the world you live in. The amount and intensity of rainfall also depend on the geographic location. Let's learn about this season with our free printable rainy day coloring pages. You can check out our list of rainy day and rainy season coloring sheets to print below.
35 Free Printable Rainy Day Coloring Pages
Care Bears Rainy Day Coloring Page:
Care Bears are having fun o this rainy day it seems that is why they are out playing. Most parents are reluctant to send their children outside during this season but it is hard to resist. Isn't it fun to play in a puddle of water? We have Friend Bear, Tenderheart Bear, Bashful Heart Bear and others enjoying this day.
Lilly Enjoying Her Day Coloring Page: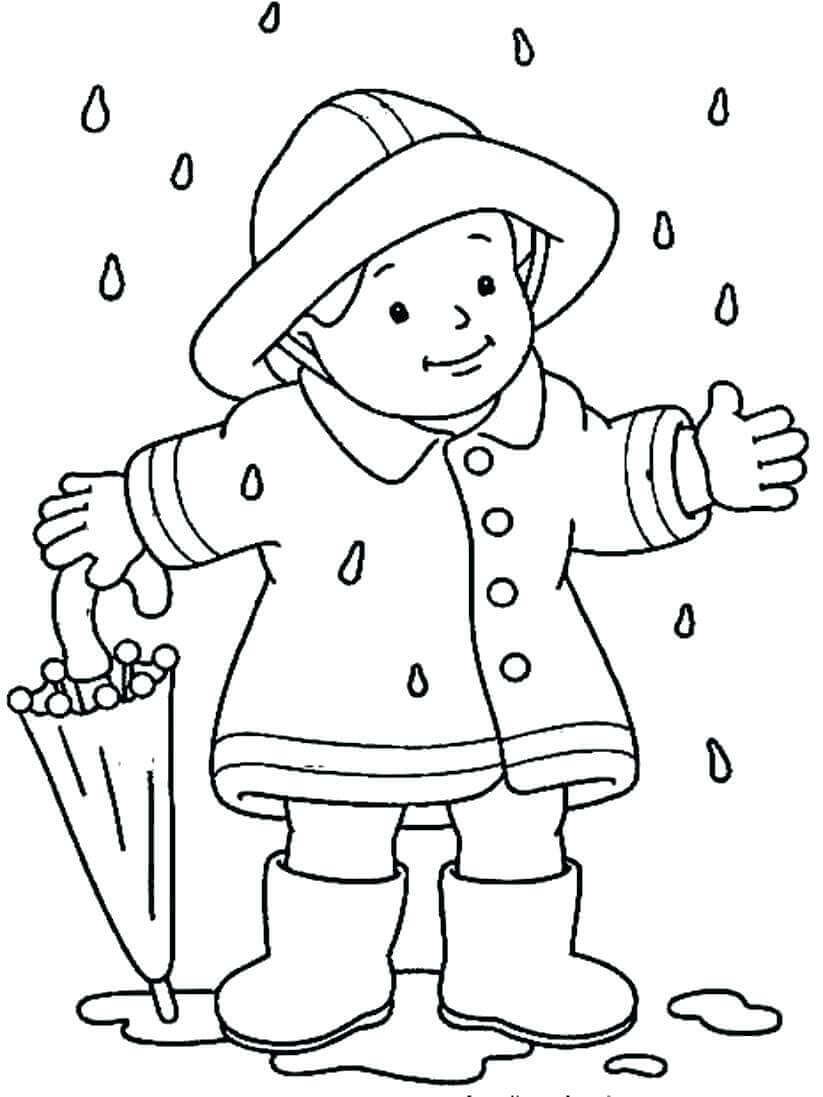 Lilly is 10 years old and is enjoying this day. Rainy season is one of her favorites as she gets to wear her raincoat and carry her umbrella. Odd but she likes it. Color her cute.
to join this conversation on GitHub. Already have an account? Sign in to comment Footer © 2023 GitHub, Inc. Footer navigation Terms Privacy Security Status
Cute Rainy Day Coloring Page: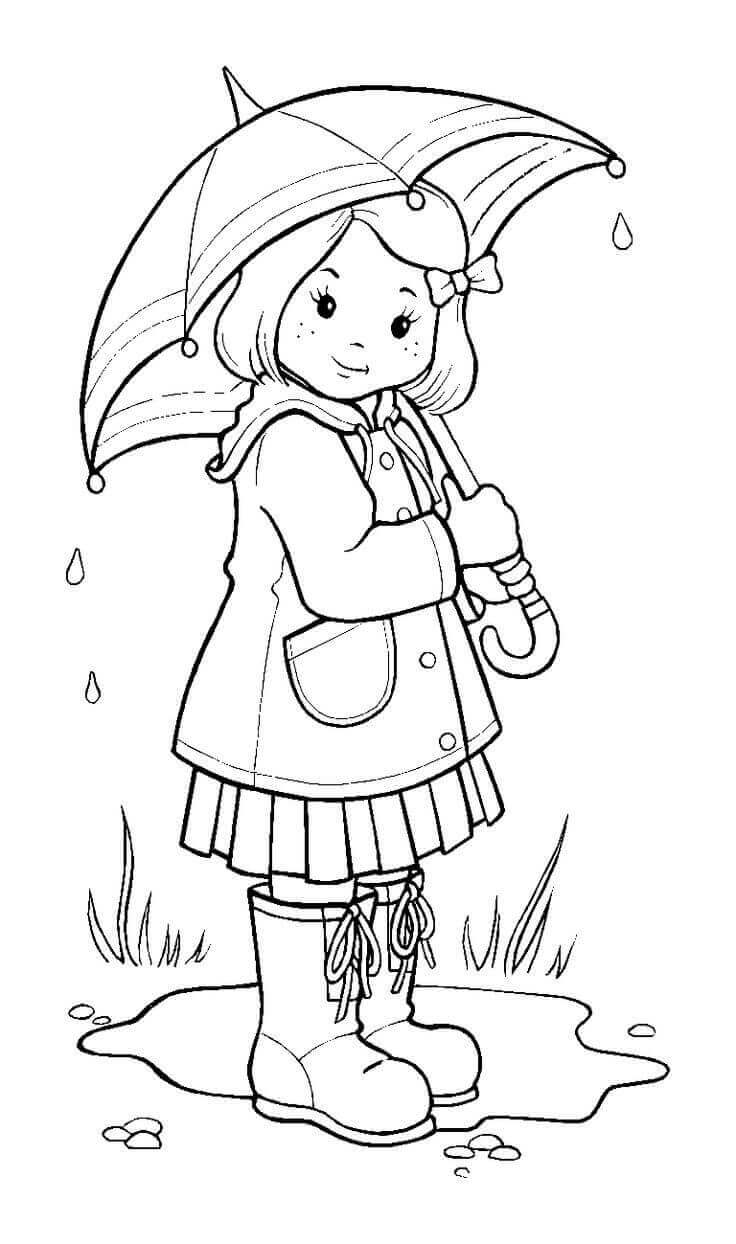 Ash is out to run some errands and a rainy day does not stop her. She likes walking in the rain as she thinks one gets to see the best of nature in the rainy season. This is because she does not live in the tropical region, if she lived there it would have been difficult for her to get out.
Duck In the Rainy Season:
Ducks are usually aquatic birds and that is why they love water. Like this duck, Steve is especially fond of the rainy season. He loves to play in puddles of water or walk in. Color this duck with your imagination.
Frog And Rain Coloring Page: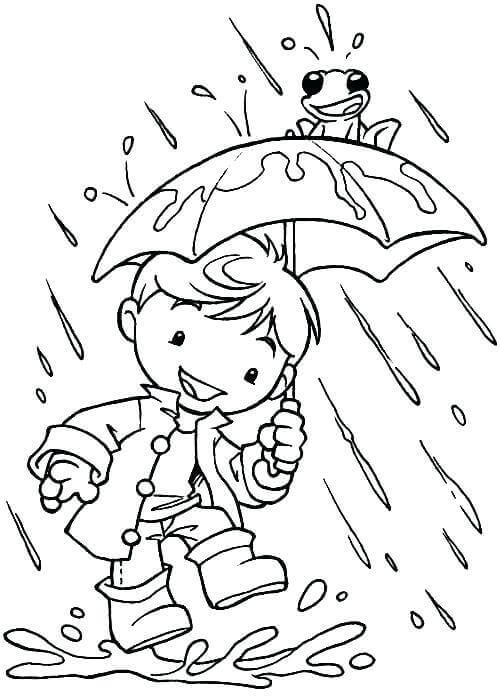 Frogs are the most seen reptiles in this season. The reason why they are seen in this season is that they lay their eggs in water and the possibility of finding water everywhere is in this season only. This frog on this kid's umbrella seems quite excited on this rainy day. Color these two cute creatures happy.
Free Printable Rain Coloring Page: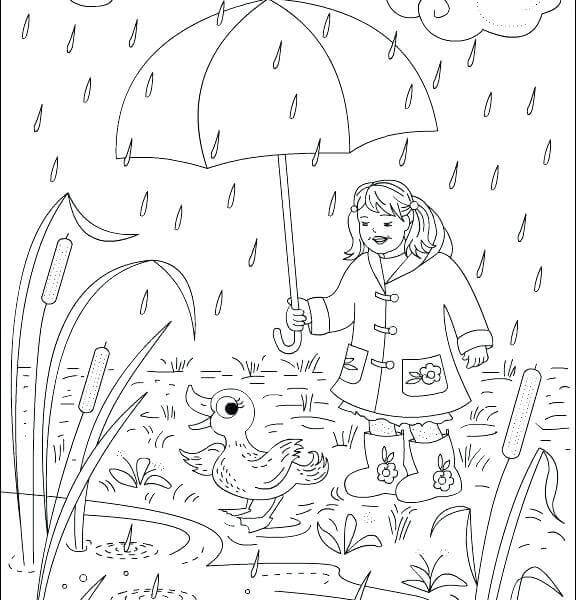 A rainy day is a day full of beautiful sights- water everywhere with animals and greenery. Leah is awestruck by the scene before her while she was going back home. A duck so happy in rain is something her innocent heart enjoys. Color innocent Leah with bright colors.
3 Kitties Sitting On A Pane:
These 3 kitties are siblings who a few moments earlier were quarreling but stopped after they heard something hit the window. It was rain after all that was hitting the window. Now they are just sitting on the window pane admiring the scene.
Printable Rainy Day Coloring Page: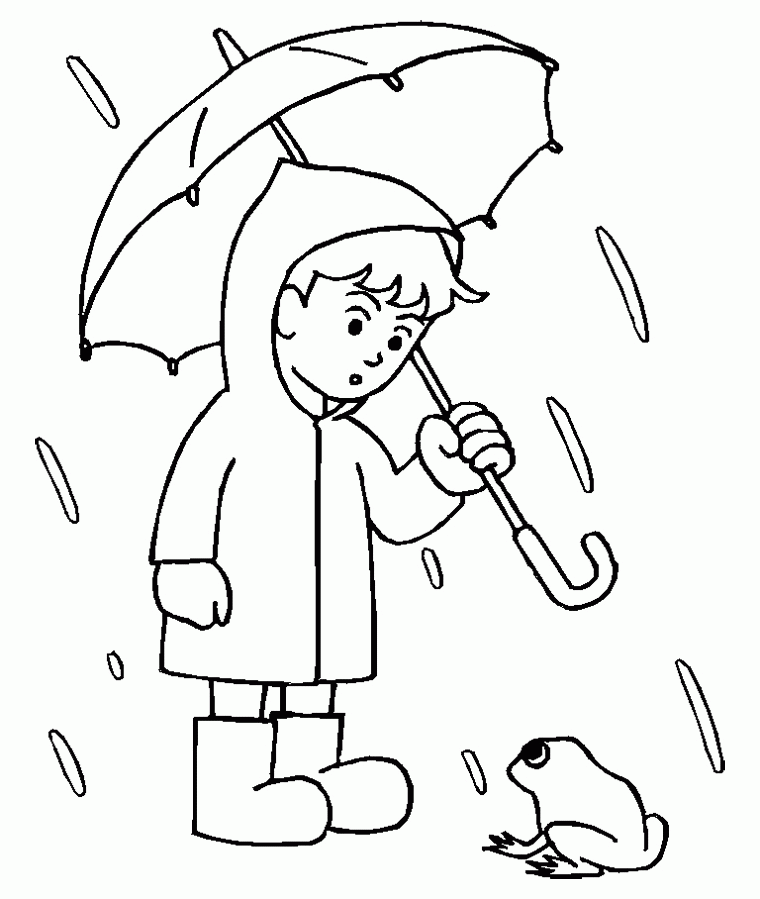 Tim is amused to see a frog in front of him. He does not know where it came from on this rainy day. He is puzzled to see how this frog is out in this rain without any raincoat or umbrella. Little does he know that frogs don't wear those. Color this amused yet puzzled Tim.
Hello Kitty Rainy Day Coloring Page:
The most loved cat of all Hello Kitty is playing in such nice weather, but in her house and not outside. She is having a tea party it seems which of course cannot be done out in such rain. The weather is pleasant though to drink hot tea. Color this kitty enjoying the tea party.
[ Read: Hello Kitty Coloring Pages ]
Muppets Enjoying Rainfall Coloring Sheet:
These puppet characters here called The Muppets are enjoying the rain too. They are dancing. Elmo with his friend is in a fun mood. A rainy day may either be blue and depressing or beautiful and fun. It all depends on one's perspective. Elmo, as we know, is very enthusiastic and thus enjoying this rainy day. Color them happy.
My Little Pony Rainy Season Coloring Page:
My Little Pony is a toy line for girls. The ponies have a colorful body, mane, and a unique symbol on either one or both sides which are referred to as "cutie marks". This pony has a duck with an umbrella as her "cutie mark." She too is carrying an umbrella. Color her with bright hues.
[ Read: My Little Pony Coloring Pages ]
Paddington Bear Enjoying Rainy Day Coloring Page:
Paddington Bear is a friendly bear from Peru. He has an endless capacity for innocently getting into trouble, but he is known to try so hard to get things right. Hope he does not get in trouble while enjoying this rain. Let's color this polite and friendly bear.
Pooh And Piglet Enjoying Rainfall:
Pooh and Piglet are best friends.  You enjoy something, even more, when you are with friends, in this case, it is Pooh and Piglet enjoying the rain. There is something magical in rainfalls, the smell of rain itself takes you to another place.
[ Read: Winnie The Pooh Coloring Pages ]
Rain Boots Coloring Page:
Rain boots, as the name itself suggest, are worn in the rain as they are waterproof. These are often made from rubber or Polyvinyl Chloride (PVC) which protects the wearers from heavy showers and puddles. Color these 2 pairs of rain boots which always help you when needed.
Rain Rain Go Away: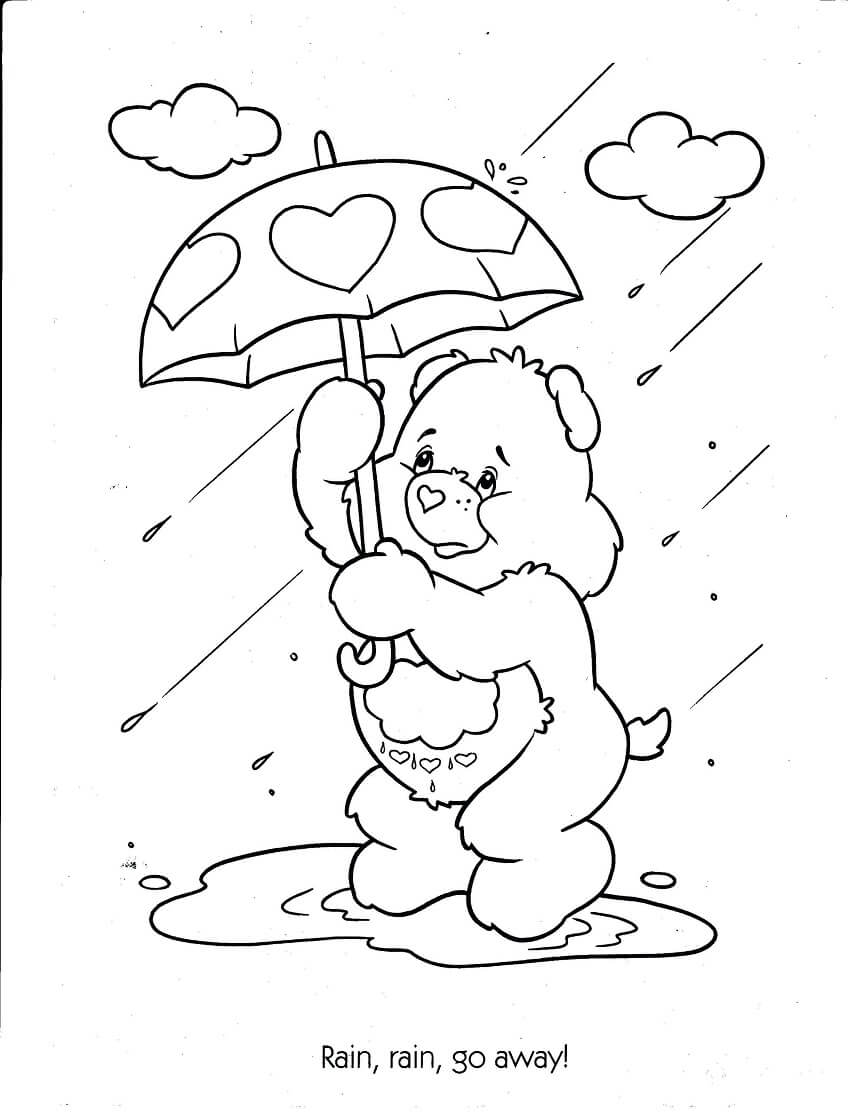 How good are you with your nursery rhymes? Let's see. Do you remember this rhyme? "Rain, rain, go away come again another day." This little Care Bear is singing this too, he wants to play today and thus urges the rain to come another day. This is the feeling everybody experiences during rainy days.
Rainfall Coloring Page:
Rainfall is the amount of precipitation usually measured by the depth. Clouds are formed when invisible water vapor in the air condenses into water crystals. When these clouds get heavy and can no longer hold the condensed water vapor, it rains.
Rainy Day Coloring Page For Adults: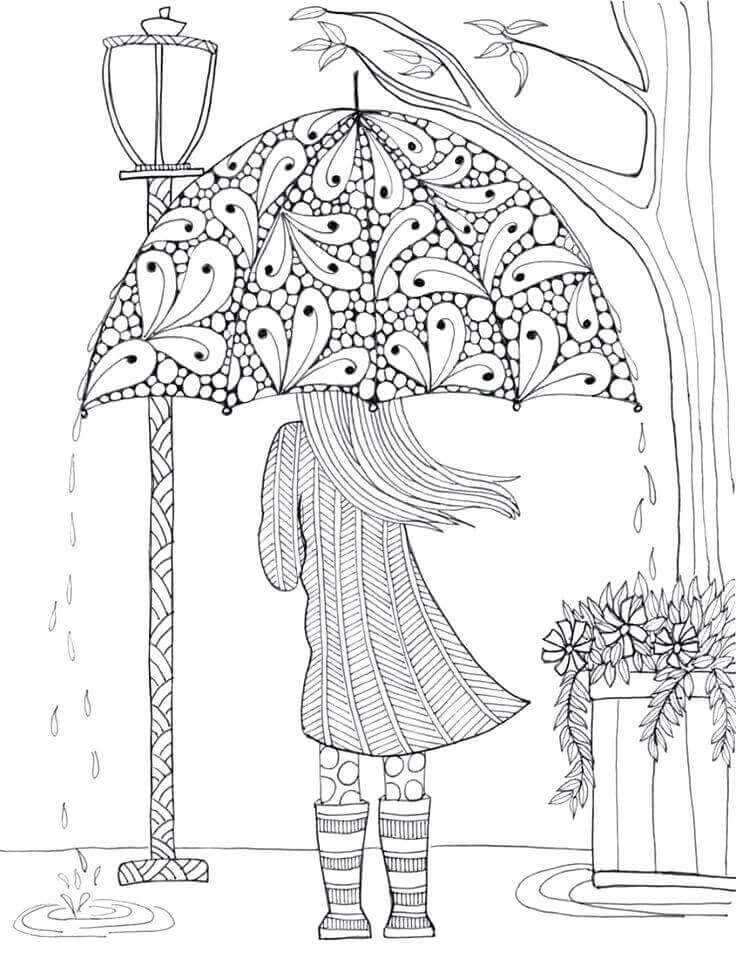 Take a break from your busy mundane life and have fun coloring this sheet. It has both, intricate and simple designs for you to color and relax your mind. So grab a beautiful set of colored pencils or crayons and fill this sheet with your imagination.
Mickey Mouse Rainfall Coloring Page:
The world-famous Disney character, Mickey Mouse enjoys rainfall too. He knows just how to go out and have fun in the rain. An umbrella is always there with you to protect you from rain and getting wet. Mickey too is aware of that and that is why he is missing the fun because of the rain.
[ Read: Mickey Mouse Coloring Pages ]
Rainy Day Coloring Page For Toddlers: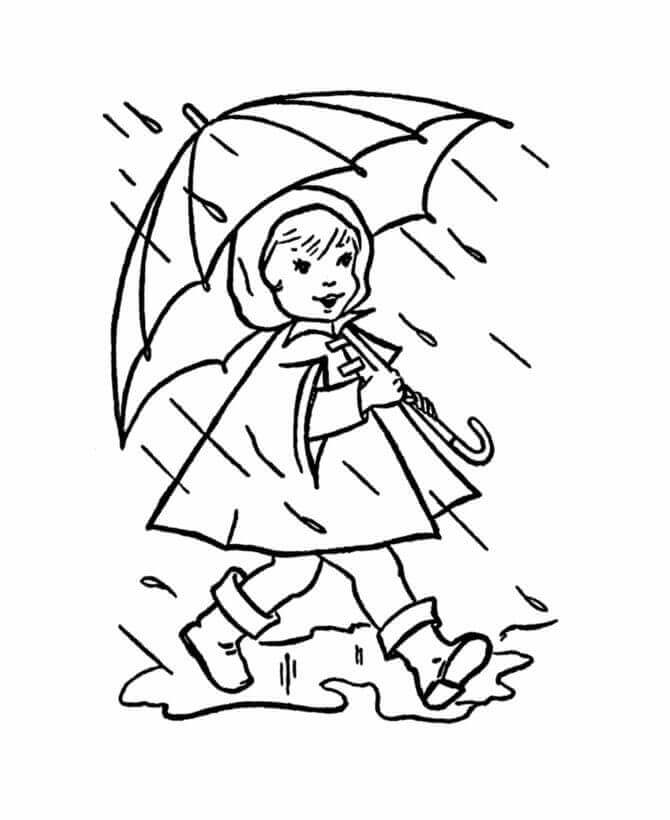 Mary is happy to go out in the rain. She is wearing a raincoat and also carrying an umbrella with her. She is going to her friend's house for a doll tea party and nothing tastes better than hot tea on a rainy day.
Jimmy Doesn't Want Rain:
Jimmy doesn't particularly hate rain but it makes him sad when it rains in the evening; the time when he goes out and plays with his friends. He has to wait till the rain stops and if it does not stop, he will miss his play-time today. Color sad Jimmy.
Donald Duck Happy In The Rain:
As carefree as he is, Donald Duck enjoys everything equally and enthusiastically. He is enjoying rain here in his new raincoat and rain boots. He is showing them off without any hesitation. Isn't he looking adorable? Color this lovely Disney duck.
[ Read: Donald Duck Coloring Pages ]
Leaf And Rain Coloring Page: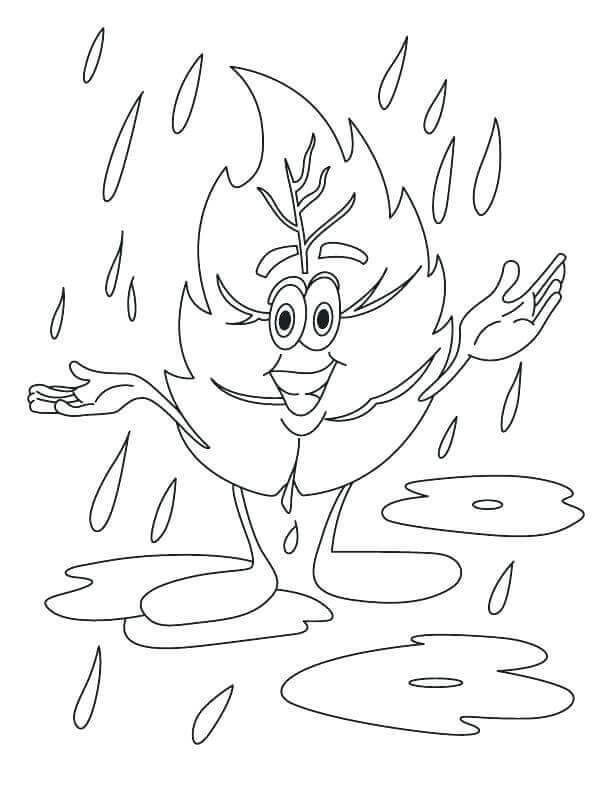 This little leaf here enjoys rain more than anybody, even you or anybody else. You want to know why. It is not because it gets to drink hot tea or eat hot food or have fun playing in puddles but because it is the rain which helps him grow, strong and big. What milk is for you, rainfall is for this leaf.
[ Read: Leaf Coloring Pages ]
Jumping In The Puddle: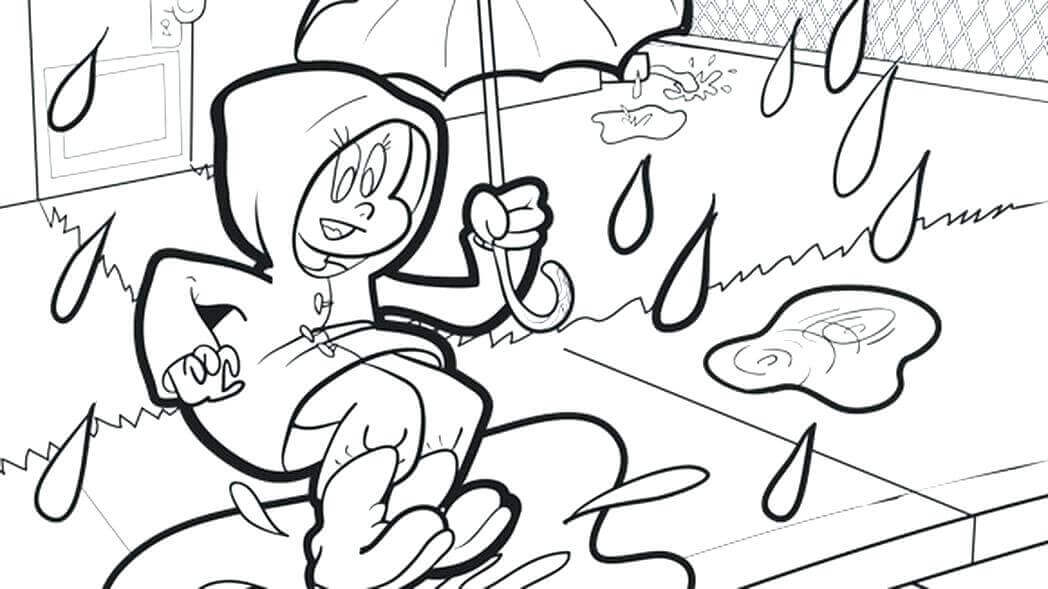 Let's be honest we all love to jump in puddles during rainy days and so does Laila. Sure puddles have mud and all but her rain boots will protect her from it; that is what rain boots are for. Color joyous Laila.
Bill And Elliot Walking In Rain:
Bill is the younger brother while Elliott is the older sister. They are walking back to their house from school. This rainy season is surely trouble during such times. Look how sweetly Elliot is holding her umbrella above her brother's head to protect him from the rain. Isn't it cute, the sibling love? Color them with shades as lovely as their relation.
Taking A Stroll In Rain: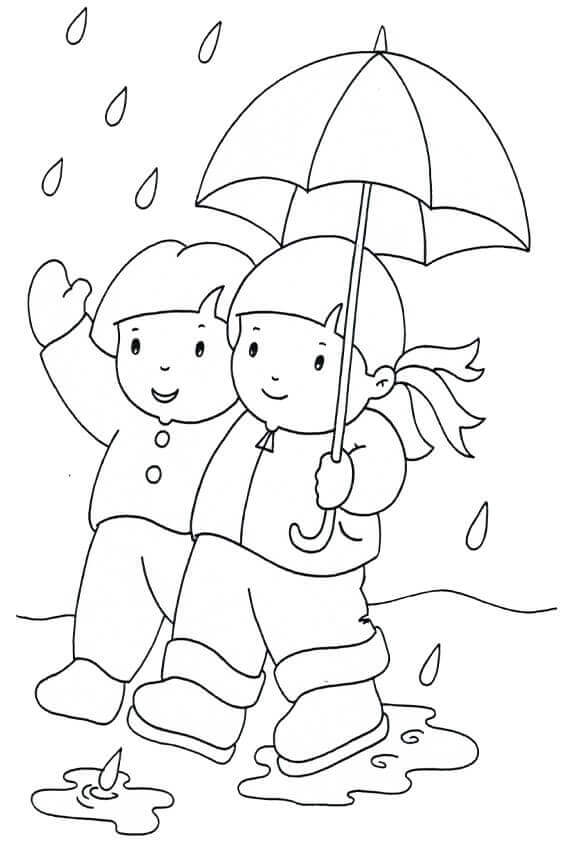 Jenny and Justin are taking a stroll on this rainy day, they just finished their work and thought of relaxing outside when it started to rain. This didn't stop them, instead, they took an umbrella and got out. Sure being in rain for long will make you ill but you need to enjoy it.
Hiding Under A Mushroom:
Mushrooms and other plants are really useful for reptiles and various creatures during the rainy season. They work as umbrellas for them. Like in this picture, Mr. Insect is taking a shelter under this gigantic mushroom on this rainy day. He was going to an important meeting, as you can see from his outfit when it started to rain.
The Twins And Their Bunny: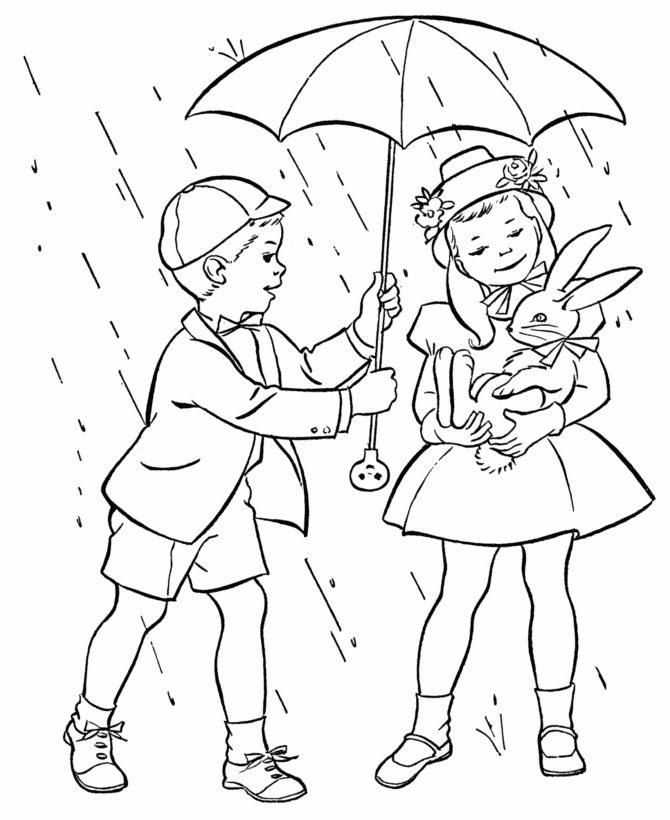 Len and Liam are twins and thus share a very unique bond. They are always together no matter what the occasion is. They have a pet bunny and they take care of it together. They are protecting their bunny from the rain. Liam is holding the umbrella above the bunny's head as he is afraid it might catch a cold and fall sick. Color this trio.
Frank And Eddie In Rain Coloring Image:
Eddie is going for a walk with his master, Frank. Knowing how much Eddie loves walks, Frank took him for one, even on a rainy day. Can you see how happy they both are? Color them blissful.
Rainy Season Coloring Page:
Before it rains, the temperature rises, and the entire weather becomes humid and sticky. A few spells of rain surely help lower the temperature but after that it again becomes humid. Mr. Hawk here desperately wants the temperature to fall down and thus pulling the lever down.
Rainy Season Coloring Sheet For Kids:
Rainfall in the wet season is mainly due to daytime heating which results in thunderstorms. Since rainforests have rainfall spread evenly throughout the year, they do not have a wet season. In tropical areas, when the monsoon arrives, high daytime high temperatures drop and overnight low temperatures increase.
Camping On A Rainy Day:
Camping on a rainy day surely is adventurous but it has its own cons. Rain is good for crops and plants but has its problems too. Not only it disrupts our daily lives but also harms nature by the way of floods, soil erosion, malaria, and other diseases. Hope they both are aware of this fact.
[ Read: Camping Coloring Pages ]
BFFs Enjoying Rain Coloring Page: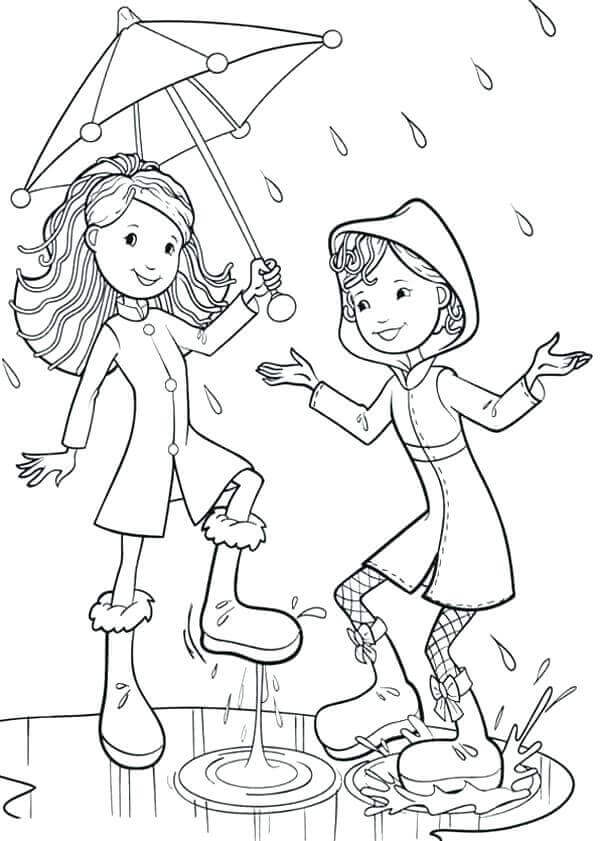 BFFs-Best Friends Forever, this is what Nat and Wanda are. They everything together; cry together, fight against something together, celebrate together, enjoy together, and whatnot. Like here, they are enjoying the rain together. Color these BFFs.
Rainy Weather Coloring Page:
The main highlight and the most beautiful part of the rainy season is the rainbow. Made of seven colors a rainbow is also called VIBGYOR; it represents the 7 colors of the rainbow namely- Violet, Indigo, Blue, Green, Yellow, Orange, and Red. The sight of the sun, rain, and the rainbow is just breathtaking. Have you ever seen a rainbow?
Strawberry Shortcake Rainy Day Coloring Page: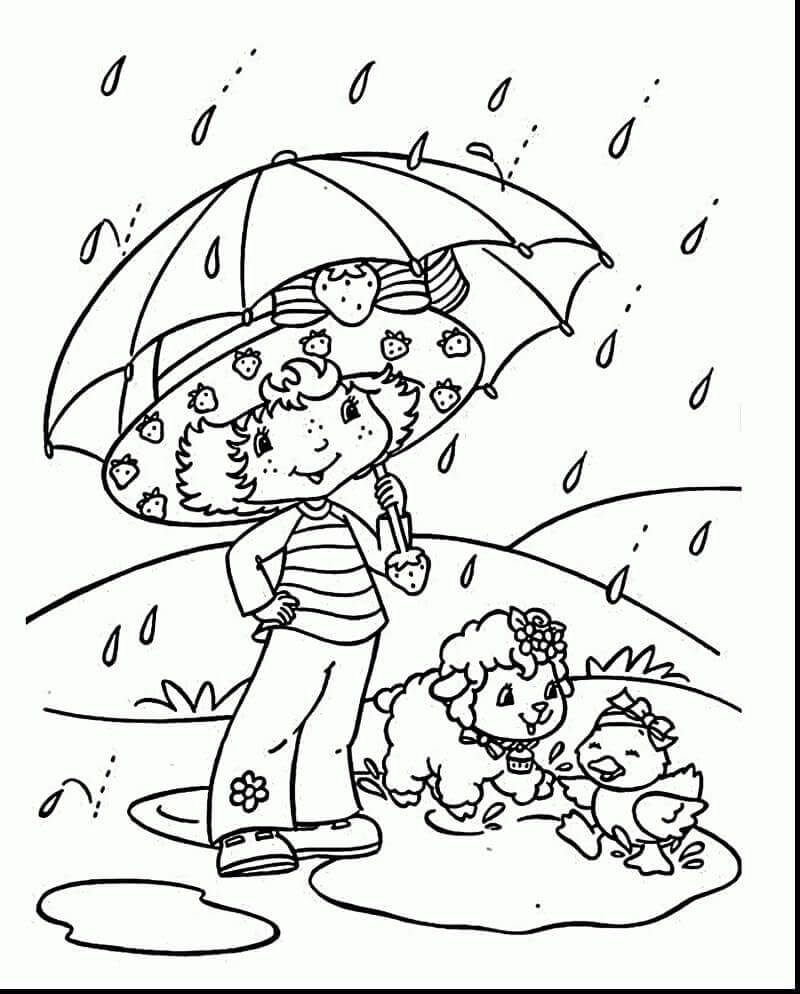 Miss Strawberry Shortcake is having fun on this rainy day it seems. Always wearing clothes with strawberries on it, Miss Shortcake is holding an umbrella here and she looks "berry" happy. With her are her friends. Color them happy.
Tom And Jerry Rainy Day Coloring Page:
Seems like Tom and Jerry are up to some mischief. Even if they are not, they always end up getting in trouble. But now they are accompanied by Nibbles, Droopy, and Barney. Color these extremely cute characters.
As it is said "Every coin has two faces", the same applies to rain too. Apart from the fact that monsoon is essential for earth and nature, it can sometimes be problematic. But always enjoy the best parts of things. When does the monsoon or rainy season arrive in your country? Ponder over it while filing these free rainy day coloring pages printable below. And don't forget to share your favorite rainy season and rainy day coloring pictures by commenting below.