Hello, young readers. Today, we've got you a collection of free printable Scooby Doo coloring pages. Scooby-Doo belongs to an animated cartoon series produced initially by American Hanna-Barbera productions and later by Warner Bros. Animation. From being a television serial, it was later adapted as made-for-TV movies and theatrical films. Immensely popular amongst children and teenagers, the series features 5 main characters – Fred Jones the leader, danger-prone Daphne Blake, Velma Dinkley the sharp analyst, Norville Rogers the ever-hungry 'Shaggy' and the main hero, the talking dog character that belongs to the Great Dane species named Scooby-Doo who shows courage only when in danger.
The show was ranked as the fifth Greatest TV Cartoon of All Times by the TV Guide in 2013. Today there are comic books available in the market based on the series and lots of merchandising items like board games, lunch boxes, coloring books, records, underwear, breakfast cereal, toys, action figures, car decorations, dog food and much more.  Let us discover the various characters and situations with our free Scooby Doo coloring sheets to print.
30 Free Printable Scooby Doo Coloring Pages
Daphne And Fred From Scooby Doo Coloring Picture:
An attractive teenager, Daphne is the fashionista in the series. As a youngster, she was always at risk of getting herself into dangerous situations as she is more conscious of her clothes getting dirty or developing creases and folds rather than the difficulties around. As she grew up she trained herself in karate and other self-defense techniques which made her gain more confidence. As seen in this picture, here she is posing with Freddie.  At the forefront of all investigations, Fred generally pairs with Daphne to look for clues. He is a good looking boy though he dominates Shaggy and Scooby from time to time.
to join this conversation on GitHub. Already have an account? Sign in to comment Footer © 2023 GitHub, Inc. Footer navigation Terms Privacy Security Status
Daphne and The Monster: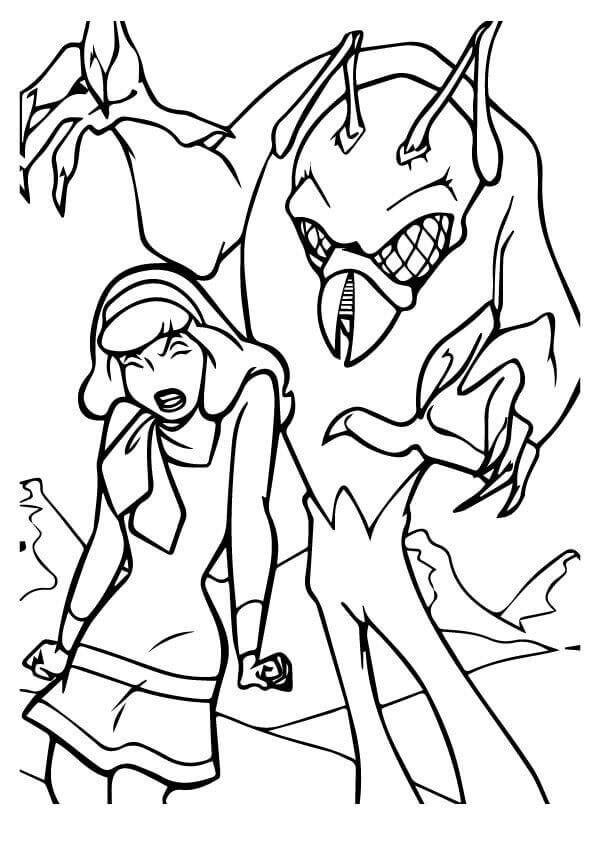 In this coloring page, Daphne is seen here to be really frightened by one of the 13 powerful ghosts released from the Chest of Demons unknowingly by Scooby and Shaggy. This was during a trip that Mystery Inc. was taking to Honolulu and Daphne's plane had lost it on their way to Tibet.
Perplexed Fred Jones From Scooby Doo Coloring Image:
Though Freddie is the leader of the Mystery Inc. and is well-known amongst his gang members for his courage, he also has his moments of cowardice. Like when he has to search for clues on his own, or look for Scooby and Saggy alone. Though he acts as if he is fine with it, he actually is worried and nervous about being unaided in haunted houses and forests.
Norville And Scooby-Doo Crushing The Monsters Coloring Page: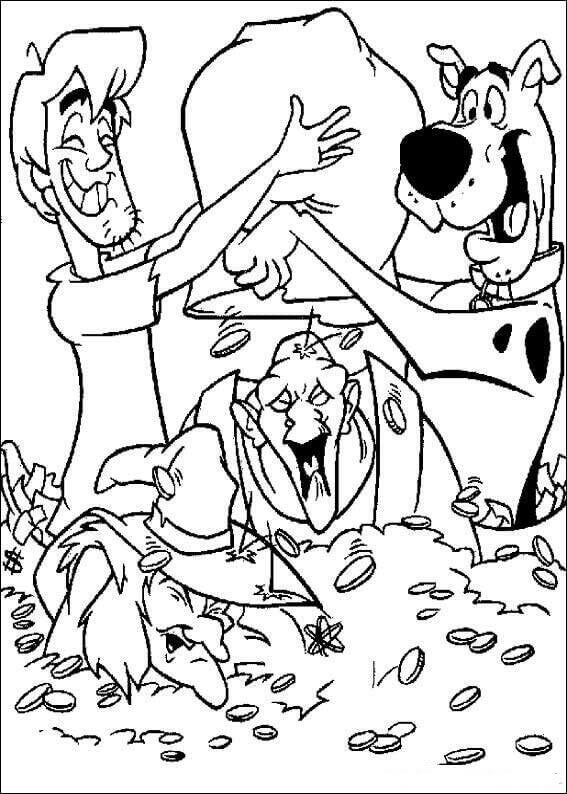 Norville and Scooby go hand-in-hand, through thick and thin, in everything that they do. Scooby, the talking Dane is owned by Norville. Both have an insatiable appetite and are the biggest cowards though they go for all investigations and trips together.  But, in the end, it is generally this twosome that is able to hunt out the demons and monsters, whether accidentally or halfheartedly. Here too they have gleefully uncovered a demon and are now striking him down with all their force.
An Alarmed Scooby-Doo:
Scooby here is being chased by one of the ghost characters and he stands on his hind legs to keep himself out of reach of the monster.  You can clearly see that he is scared out of his wits but he is still trying to tackle the situation.
Velma Has A Fall:
The detective that she is, Velma Dinkley is too fond of solving mysteries, is very clever, and not the person to be easily fooled by a hoax. She keeps on losing her spectacles and her vision without her specs is minimal. In this picture, she is seen crawling on the floor searching for her glasses which are actually in the hands of the demon.
The Trio Of Scooby Doo Coloring Sheet:
Whenever the Mystery Inc. is busy cracking a mystery or investigating for clues, Freddie, Daphne and Velma form a group and go searching in one direction and Scooby and Shaggy go the other way. Here too, the former three members have formed a trio and are looking out for some evidence.
The Five Friends In One Frame: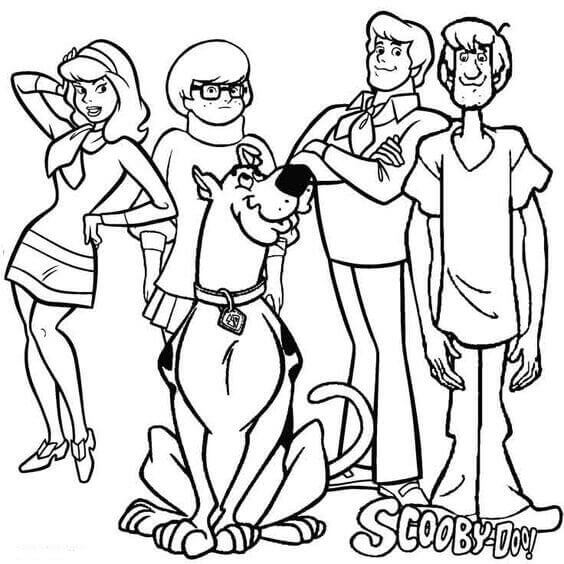 All the five members of the gang have teamed up together for a group picture. Color Fred in his typical white sweater over a blue shirt and blue pants; Daphne's favorite dress is the green scarf with purples dress, shoes and headband; Velma is in her orange color T-shirt and red skirt; Shaggy in his favorite green V-neck shirt and brown bell-bottom pants and Scooby is brown from top to bottom with patches of black here and there.
Lego Scooby Coloring Page:
The Lego Group, the Danish brand that makes Lego-brand toys consisting majorly of interlocking plastic bricks has launched all the characters from Scooby-Doo. The toy versions are in their preferred colored dresses under the Lego brand. You can watch videos of these toy characters on the Lego brand website pertaining to all the characters in different mystery situations.
Shaggy And Velma:
As Norville watches on, Velma creates voodoo dolls to interrupt a voodoo or black magic ritual that the evil creatures were doing to trap the gang in a dark tunnel. Velma is able to successfully cause the creatures to be free of their curse and disintegrate before finally resting in peace.
Scared Scooby-Doo Coloring Page:
One of the title pictures from the episode on Zombies Island, our dear Scooby-Doo is seen here trying to run as far away from the haunted castle on the top of the mountains. With human skulls and bones around, this dog is having a bad day amidst ghosts and zombies.
A Scared Scooby Calming Shaggy:
Norville is almost weightless that all the other members of the gang except Daphne can pick him up. Something has upset Norville immensely and he has jumped onto Scooby's arms looking for some consolation. Scooby too seems scared and taken aback at Norville's gesture but is still trying his best to hold onto him and calm him.
Freddie Pulling Up His Friends: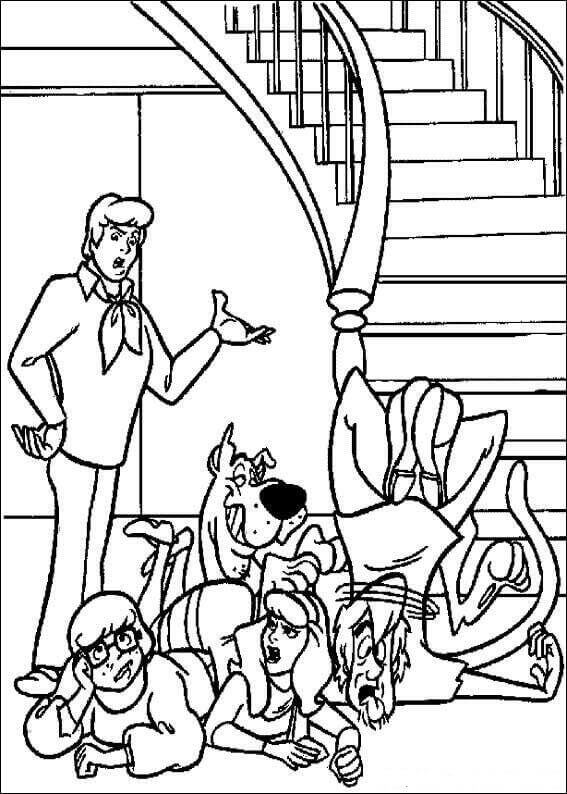 On a track to resolve a mystery, Daphne and Velma are seen getting bored as they lay on the ground for something interesting to happen. Shaggy, on the other hand, has had a clumsy fall. Fred seems to be in one of his dominating moods trying to pull up his friends and Scooby is enjoying all the mess around!
The Trio Discovers New Equipment:
On a trail to solve a mystery, this trio consisting of Fred, Daphne, and Velma discover some new tools to help them crack the case. Whenever investigating any case these three always stick together sending Shaggy and Scooby to find other leads.
A Christmas Gift: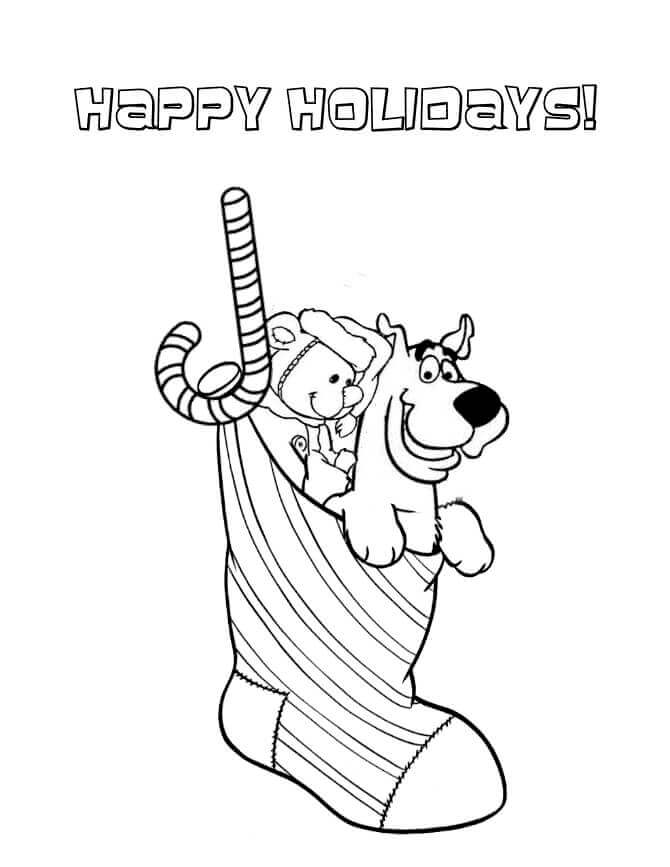 Look, a kid has got some lovely gifts this Christmas. A Scooby-Doo soft toy hanging in the socks by the bedside of a young child! Imagine yourself to be that child. Color the Scooby-Doo just the way you would want your Christmas gift to be.
The New Santa In Town:
It is Christmas time and Scooby doo is the new Santa in town. He is dressed up with the red Christmas cap and wearing the red fur jacket that Santa wears while distributing Christmas gifts to all the kids in the town.
Norville Being Chased By A Monster:
Seen in this picture Shaggy is showing his true colors. He is a bit dimwit and is really afraid of demons, monsters, and ghosts. He is trying to escape the grasp of the monster that doesn't seem in the mood to give up the chase easily.
Scared Norville:
Norville also called Shaggy is running petrified for his dear life from one of the 13 Ghosts that seem hell-bent to crush his bones and squeeze his life out. But considering that Shaggy is a really good runner on the tracks, he will obviously be able to escape from the clutches of the giant ogre successfully.
Gleeful Norville & Scooby-Doo:
Norville is a superb athlete and a tremendously good gymnast. This has helped him and Scooby-Doo defeat two terrible ghosts. Helped by Fred, these two are simply enjoying pulling down the frightening demons one by one.
What Have They Discovered Here: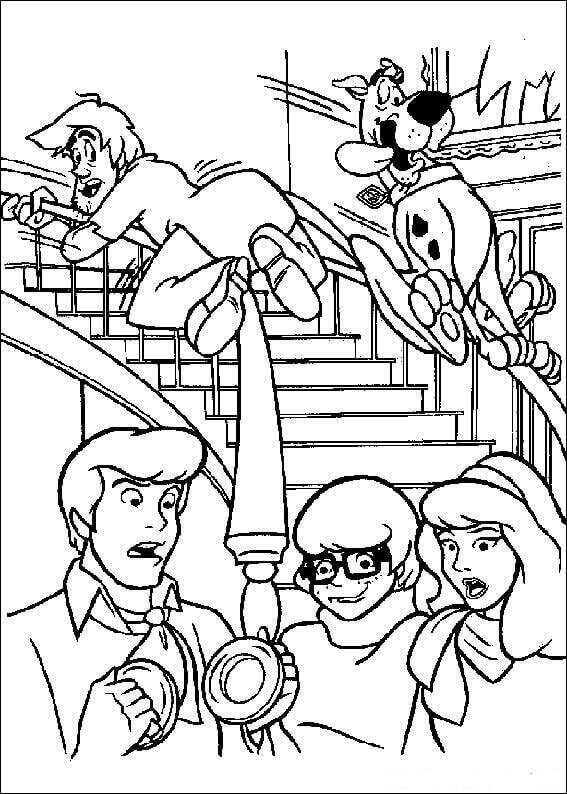 On an investigation routine, on one hand, Scooby and Shaggy seem to have fun as they lay on the long staircase, on the other the trio group led by Fred seem to have stumbled across something not so pleasant, in fact by the look on Freddie's and Daphne's face it seems to be something terrifying.
Caught The Ghost:
This picture is a depiction of a series where the gang is investigating a case of a group of ghosts who are terrifying the residents of a city. The group led by Fred discovered that it was actually a case of a fake ghost stories because some bad men of the city were dressing like ghosts to take control of a certain part of the city.
The Gang At The Laboratory:
This picture depicts Mystery Inc. at a laboratory in Baltimore, Maryland where they land up to see the magic formula by which rotten food is converted to fresh food. Velma, the nerd that she is, is the most inquisitive in finding more details related to the chemical reaction.
The Monster About To Grab Scooby:
There comes another of the 13 ghosts to grab the frightened Scooby. This picture needs the right colors to make the talking Grand Dane's panic look more realistic.
The Mystery Machine Coloring Sheet: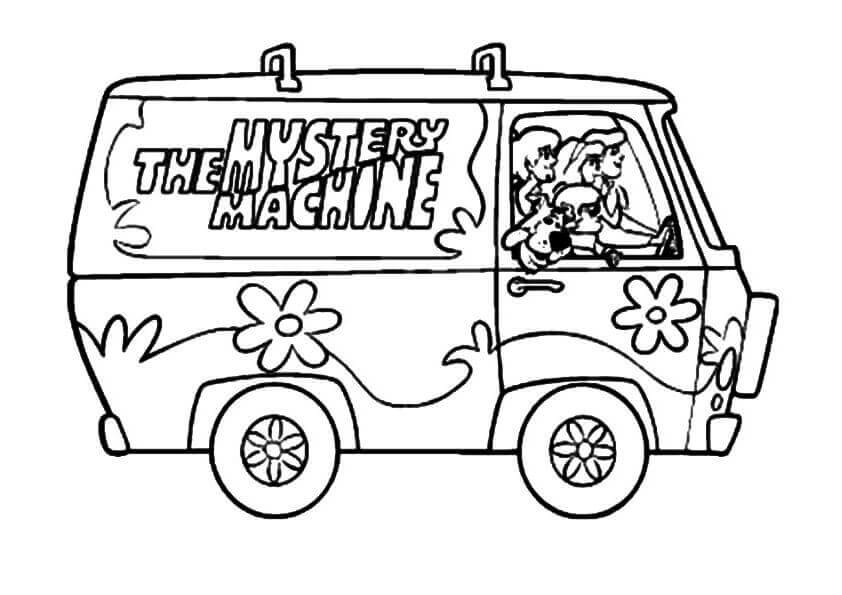 Color the Mystery Machine in light blue with a horizontal green colored strip all around the van. Color the flowers on both sides in orange color. Each side of the machine has the Mystery Machine painted in orange. There is a spare tire on the front of the van with 2 roof racks jutting out of the top of the vehicle to store important items.
Mystery Machine Coloring Page: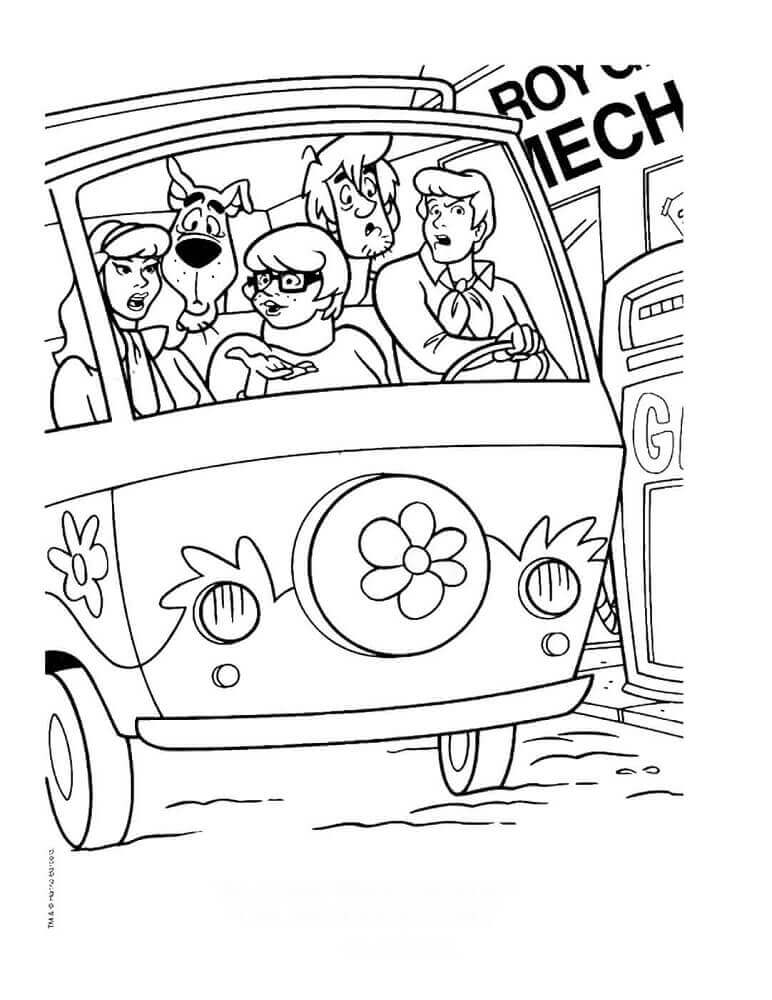 This is the machine that has helped the gang travel all over the world. Fred is the owner of the vehicle though he lent the machine to Scooby and Shaggy for a few years when they wanted to travel for adventures. The vehicle is adaptable to different situations as it has some special powers to change as per the required circumstances.
Shaggy From Scooby Doo Coloring Page:
The simpleton Shaggy as fondly called by his gang is an important member of the Mystery Inc. and is also the one who owns Scooby-Doo. This light-weighted lanky boy is characterized by a huge appetite especially for dog-food called Scooby snacks, though basically, he is a vegetarian.  Though he is terribly petrified of demons and ghosts he has helped solve many cases along with Scooby by mistake. 
Scooby The Surfer Coloring Page:
This coloring page is from the popular 2005 series in which the gang travels to Hawaii on a prepaid surfing trip being organized by a company named Goha Aloha which wants Daphne to design a new line of swimsuits for them. There again they face a case of evil demons trying to disturb the Hanahuna Surfing contest. After much twist and turns, they are successful in uncovering the secret behind the mystery, and in the event, Scooby who participates in the surfing race is declared the winner of the contest.
Scooby And The Zombie Island Coloring Page:
This coloring page is from a very popular movie theme that was released in 1998. In this film, all the five characters meet up after a gap of many years to probe a case of ghosts haunting the Bayou Islands. Though the gang started the investigation as a fake case of ghost sightings, this was the first time that the Mystery Inc. encounters cursed cat creatures who are real ghosts. It is finally Velma who use Voodoo dolls to end the curse and let the ghosts disintegrate to avenge the deaths of the zombies.
Scooby's Nephew Scrappy Coloring Page:
Scooby's nephew Scrappy-Doo also participates along with Mystery Inc. to solve some issues. Scooby is highly protective of little Scrappy and also tries to guard him against a monster or a ghost by standing on his hind legs, something that Scooby does a lot with passing years. In order to shield his nephew from any dangerous fiend, Scooby always keeps running behind him.  Color him in earth brown colors.
Velma Dinkley Coloring Page:
The ever-curious girl, hunting to solve mysteries, Velma is the genius of Mystery Inc. In this picture too she is seen observing some event through the binocular lenses. Her active mind and wittiness help the gang get out of trouble even if it means putting herself in the character of a monster, which she did once to help out her friends.
Though diverse yet unified in their endeavor to unmask evil, the gang members of Mystery Inc. are surely too interesting. As you unravel the hidden characteristics of the five members, color these Scooby Doo coloring pages printable to unfold their fascinating adventures and exciting journeys. Don't forget to share your favorite Scooby-Doo coloring pictures by commenting below.