Hey guys! Hope everyone is well. After all, it is time to be in a festive mood right now! Halloween is just around the corner. October 31st is almost here. Excited? I am. So we've got you a collection of free printable Disney Halloween coloring pages.
It is customary and almost common to see ghosts, apparitions, witches, and otherworldly beings roaming about on a Halloween night. Not the real ones, that would be very scary. Halloween is the time when you dress up as your favorite ghost in order to blend in with the real ghosts who according to folklore enter the mortal world on this day. And to save ourselves and confuse these haunting creatures we become ghosts ourselves. But are all ghosts supposed to be bad? Don't you remember Casper? Or the Canterville ghost, who eventually found good in himself? So, this Halloween let us dress up as some happy ghosts! Let us dress up as Disney's ghosts. Disney characters always look cheerful, even when they're dressed up as ghosts! I sense that you don't believe me. Let us find out if I am speaking the truth or not by filling these Disney Halloween coloring sheets to print.
30 Free Printable Disney Hal
loween Coloring Pages
Pluto's Candies:
Pluto, or Pluto, the pup, is a medium-sized, yellowish with a tinge of orange color, short-haired dog with long black ears. He is Mickey Mouse's pet. No other animal can match the cheerfulness of this orange creature. He is almost always full of life. Dress up like Pluto this Halloween for trick or treating.
to join this conversation on GitHub. Already have an account? Sign in to comment Footer © 2023 GitHub, Inc. Footer navigation Terms Privacy Security Status
Pooh, The Honey Bear: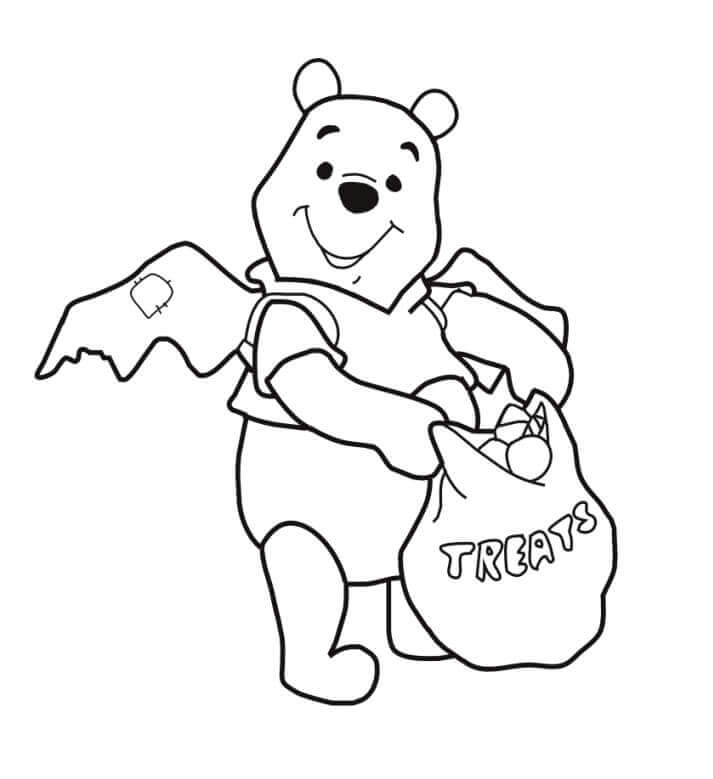 The yellow bear and he loves his honey. Pooh is one of the most beloved Disney characters of all time. He is soft, cuddly, and always smiling! Oh, and don't forget the jar of honey he always has with him. Those tiny paws have seen some sweet natural delight. Dress up like him this Halloween and get all the honey-flavored candy for yourself.
[ Related: Pooh Coloring Pages ]
Maleficent Daisy Duck Coloring Page:
'Maleficent' means someone who is capable of evil or someone who can cause others harm. But Daisy Duck as harmful? Is it likely? Well, Maleficent Daisy seeks to protect her kind from humankind. So, her evilness is a matter of perspective! But she would never harm humans, she just wards them off from her home. Color this not so evil character.
Dalmatian Disney Halloween Coloring Sheet: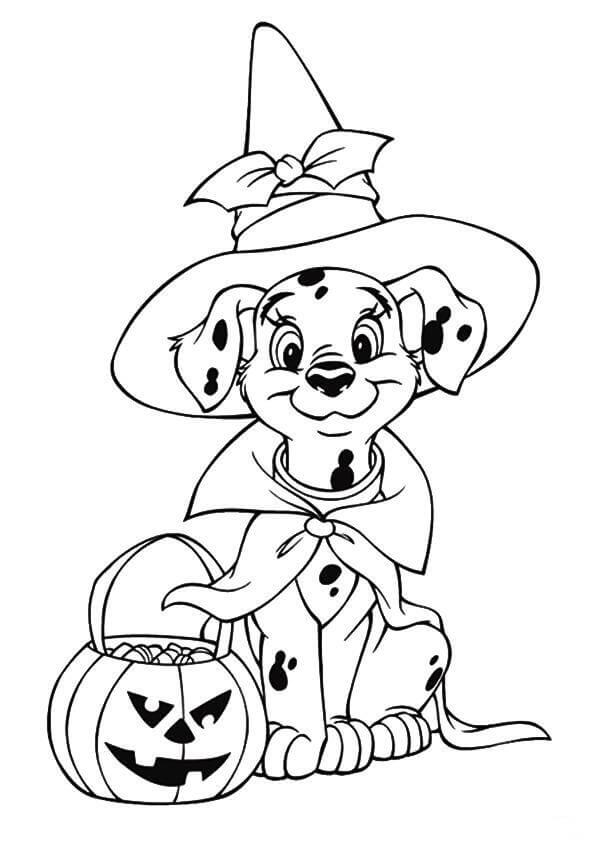 A dog is a man's best friend. And a dog that is a Disney character is the man's most cheerful best friend. Have you seen '101 Dalmatians' by Disney Productions? Get off the couch and watch the movie. And this Halloween you will surely have your own dalmatian trick or treating with you. Color him black and white.
Minnie Mouse And The Pumpkin:
Minnie is a joyful character, playful and musical. But she is naughty as well. She is always in some kind of trouble. It is like trouble attracts her. And today she seems to be riding a possessed Halloween pumpkin. Pray that she doesn't crash! Before you call Mickey to rescue her, color her well.
[ Related: Minnie Mouse Coloring Pages ]
Pluto Is Scared: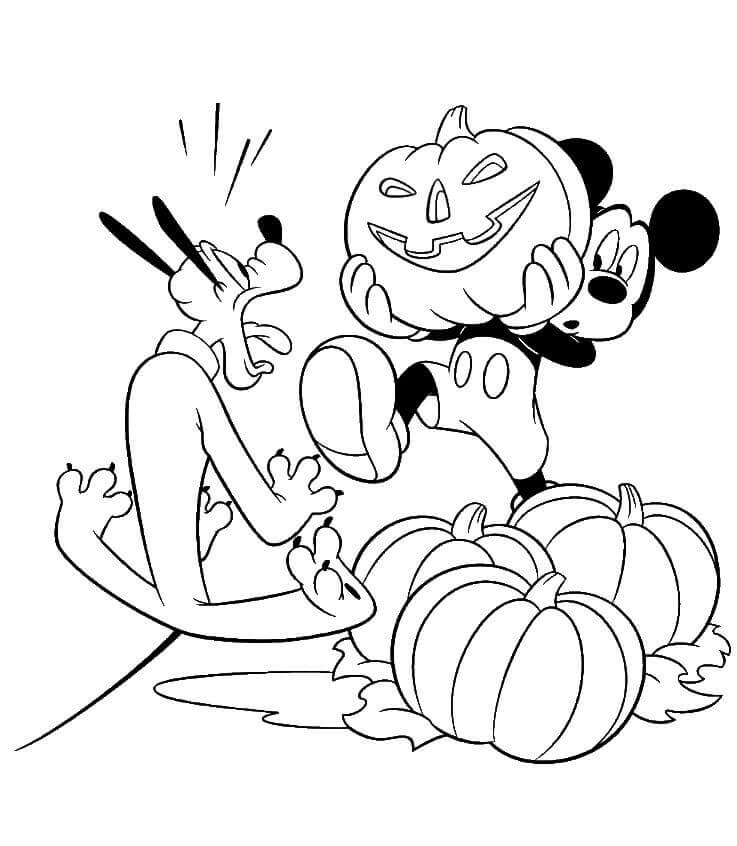 Halloween is the time when you get to flaunt your pumpkin carving and knife skills. But sometimes your creation can be too realistic. Look at what happened to Pluto! Mickey carved the pumpkin so well that he got scared to watch a floating pumpkin head and screamed his wits out. Can you carve that well? Color this and find out.
Pirate Pluto:
Even pirates celebrate Halloween! And their dogs too. Pluto is angry because he didn't get any bone flavored candy. But how do pirates celebrate Halloween? Do they go ship to ship trick or treating? Ponder over this question while coloring the angry Pluto and do not forget to draw him a bony treat.
Snow White's Seven Dwarves Disney Halloween Coloring Page:
As per the 1912 screenplay of Snow white, the names of the dwarves are Blick, Flick, Glick, Plick, Quee, Snick and Wick. Dwarves love to celebrate. They are great musicians and their feasts are fun to attend. Let us dance and play and sing with these tiny little happy creatures this Halloween.
Mickey Mouse, The Pirate: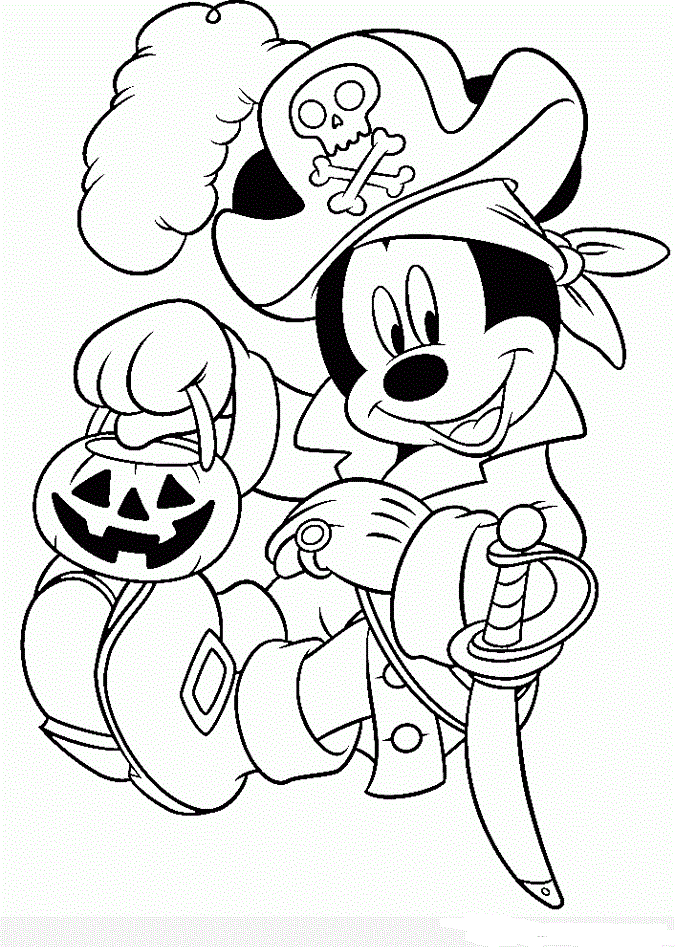 Do you think Mickey like the other pirates would loot others' treasures? Maybe he will loot all your candy this Halloween and hide it in his secret bunker. See that ring in his pinky finger? It holds the location of his secret candy stash! Color this page well and let us look for the hidden treasure together.
[ Related: Mickey Mouse Coloring Pages ]
Hide And Seek On Halloween:
Play hide and seek with your friends this Halloween. Disguise yourselves like Disney characters, but seek the people with real names. Let us see who can identify your real identity. The last one standing wins! Color Mickey and Minnie's hide and seek Halloween night before you dawdle along.
Candy Rush Donald Duck:
Run people run! The friend who has become Donald Duck is quacking his way to your candy. He has hidden in the large pumpkins. Watch your trick or treat baskets. Or end up disappointed! Secret tip: Look for quacking pumpkins! Color him before he gets your candy.
Eeyore:
Any guesses as to what Eeyore likes? But he loves to eat thistles. Thistles are flowers with purple sharp leaves. Eeyore has mostly been portrayed as dull and gloomy. Let us light his life up to this Halloween. Make some thistle candies especially for him. Dress like him. Accompany him in trick or treating. Color him so well that he smiles by the time you finish!
Beauty And The Beast Disney Halloween Coloring Page: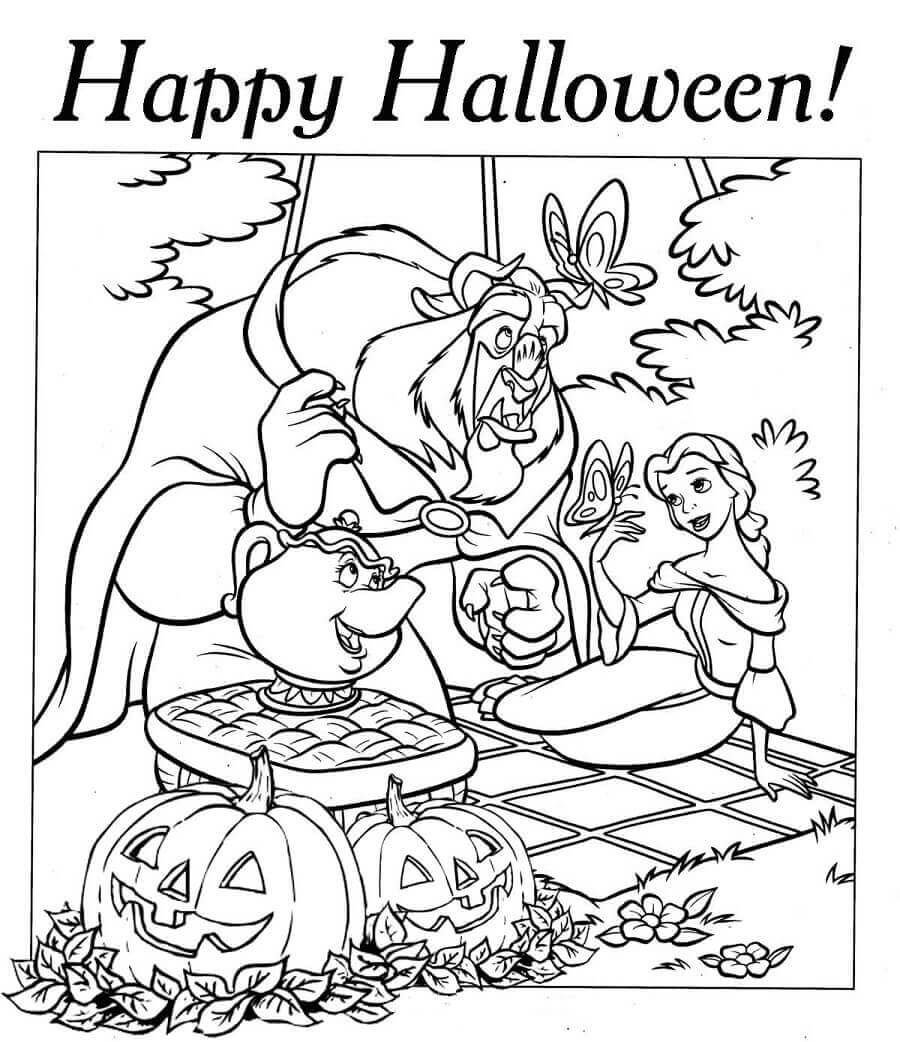 Disney recently created the latest version of this movie in 2017. The story goes like this: Belle, the beauty, played by Emma Watson, is a girl from a small village. Her father has been locked up in a dungeon by the savage creature. As the story progresses, that the creature is actually an enchanting prince, who has been cursed. Color this beautiful love story.
Pluto And The Cat: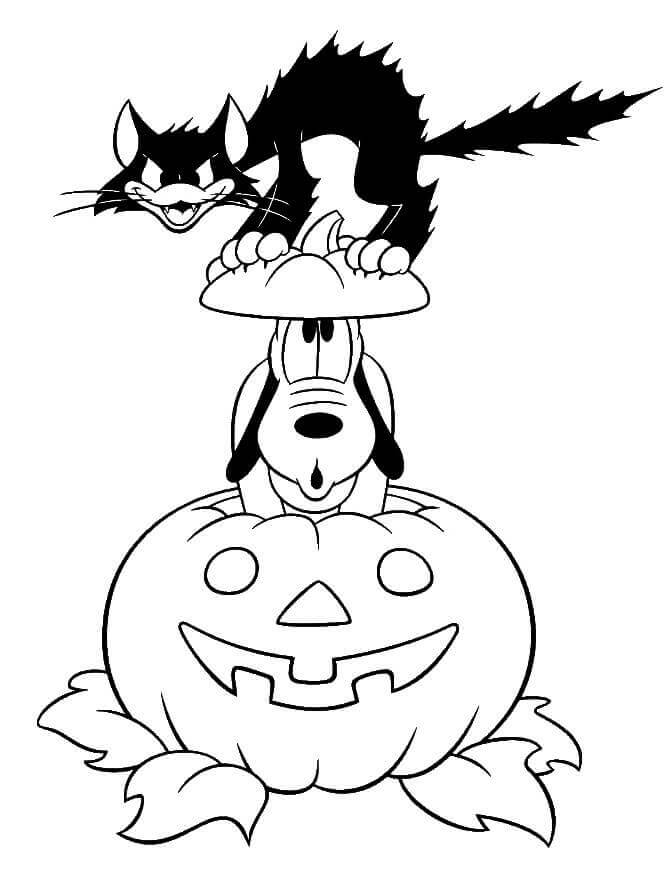 Halloween nights have their own share of bullying. But aren't cats afraid of dogs? Well, every once in a while, comes a cat that can take on any dog. And this Halloween Pluto has just found that cat! He is being bullied into a pumpkin. Should we help him? Or should we color him first? I vote for coloring! Let us begin.
[ Related: Cat Coloring Pages ]
Snow White Celebrating Halloween Coloring Page:
The fairest in all the lands, this Disney Princess is the sweetest, most gentle and a pure-hearted fairy. She loves and respects all the creations of God. She did not lose faith in life even when she was abandoned to the woods. And today she has made the woods her family. Such is the power of love! Celebrate Halloween with Snow White and her wild friends by coloring this page well.
Winnie, The Pooh, And The Piglet Disney Halloween Coloring Page:
Piglet is yet another anthropomorphic character of the 'Winnie, The Pooh', series. He is shy, suffers from anxiety, and extremely timid. But he is incredibly creative and especially innovative. Let us dress up as butterflies and bees, just like Pooh and Piglet, and celebrate Halloween with innocence.
Donald The Devil:
Donald Duck can be evil too! He may not steal your candy but will lure you with some. Beware because once you go into his lair, there is no escaping. He will make you her servant and will make you work his evil plans. If you want to save yourselves, color him funnily and decrease his powers.
[ Related: Donald Duck Coloring Pages ]
Baby Mickey Mouse And Pluto Disney Halloween Coloring Page:
Remember your childhood? Full of innocence and happiness. Let us revisit those days by choosing our then favorite costumes this trick or treat. My favorite is 'The Wizard'. Waving my wand everywhere and doing easy card tricks for some treats. Let us have some fun with baby Mickey and Pluto while coloring them.
Pluto Is Afraid Of Bats:
You did some pretty scary and realistic decorations this Halloween. Especially the ceiling! Those bats hanging there on the top look almost real with their dull black color, shining eyes, and the little colonies they have formed. Because of you, Pluto is a bit scared now. Look at him trying to save himself. Enjoy coloring this page.
Piglet is timid, shy and lacks any kind of bodily strength. Yet he is innovative enough. Look at how beautifully he designed this costume! A dragon with a bag, but instead of the egg, the kids are the candies. How thoughtful! Color piglet green and intense so that he keeps smiling the way he does.
Mickey Mouse Skeleton:
One of the best and simplest ghost impersonations is becoming a skeleton. You have just risen from your grave today and what is left of you is just the bones. Trade Secret: Wear a neon skeleton suit, because that way you would glow in the dark and truly look haunted. Join Mickey in this adventure and color him well.
Mickey Mouse And The Gang Halloween Coloring Page:
Mickey together with Donald Duck and Goofy has planned an exclusive Halloween party and guess what you guys are invited! Plan your dress right now, stitch it and get going. The theme for this Halloween is 'Greek Monsters and Gods'. Are you ready to smash some pumpkin! Begin coloring.
Minnie And Mickey: The Witch And The Wizard: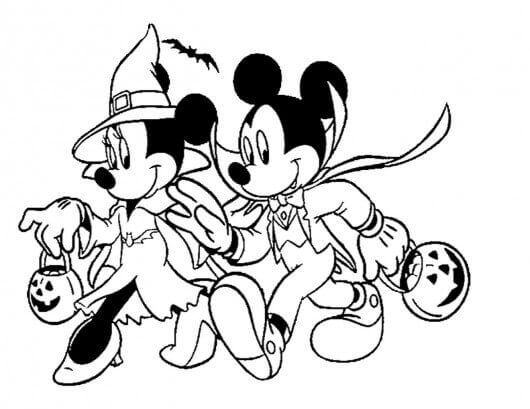 It is now your turn to distribute some sweets. Have a special box full of unique treats to be given only to that one who performs the best trick! Mickey and Minnie Mouse are the show judges. They are going to review the performances. So, prepare some cool tricks lest you should go empty handed. Color this page before you start preparing your magic trick.
Shy Minnie Mouse:
Minnie Mouse is a great entertainer as a character on the show. But even legends can shy away sometimes. Minnie was given a compliment on her 'tricking' for a 'treat' and everyone loved it. The 'Candy Giver' gave her a compliment and look now she is shy. Color this down-to-earth character well.
Beautiful Minnie Mouse Halloween Coloring Page: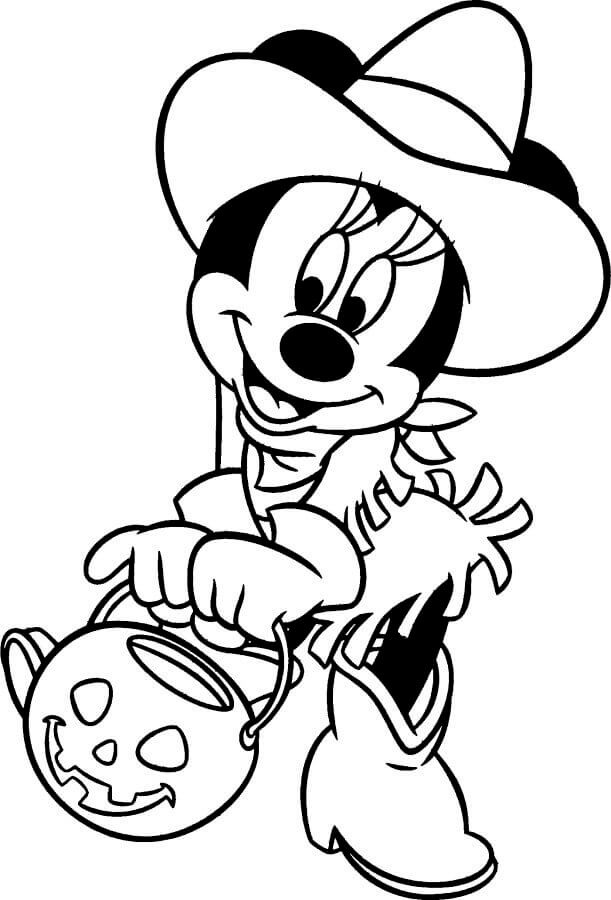 Minnie's full name is Minerva Mouse. Fun Fact: Minnie was initially voiced by Walt Disney himself. Yes, a male voiced a female cartoon. How interesting! Just like Minnie. Looks like this Halloween she has decided to be a cowgirl. Color Minnie in her favorite red, white and blue colors.
Tigger As Zeus:
Looks like Tigger chose to be Zeus this Halloween. After all, he possesses the trident. Maybe he seeks vengeance upon the undead and he is here to strike them with his strong jolts of lightning. Or maybe he just wants to scare people so that they give him more candy. After all, even tigers have a soft spot and sweet tooth for candies! Color him like the Greek God he has dressed up as.
Princess Tiana:
Princess Tiana is the ninth Disney Princess but she is the first African-American princess. A feminist, she is extremely intelligent. With a charming personality and a dream to be independent, she has the vision to open her restaurant someday. Looks like the very first theme of the restaurant will be Halloween. Color the princess majestically in a flowing blue gown.
Rosetta Tinkerbell: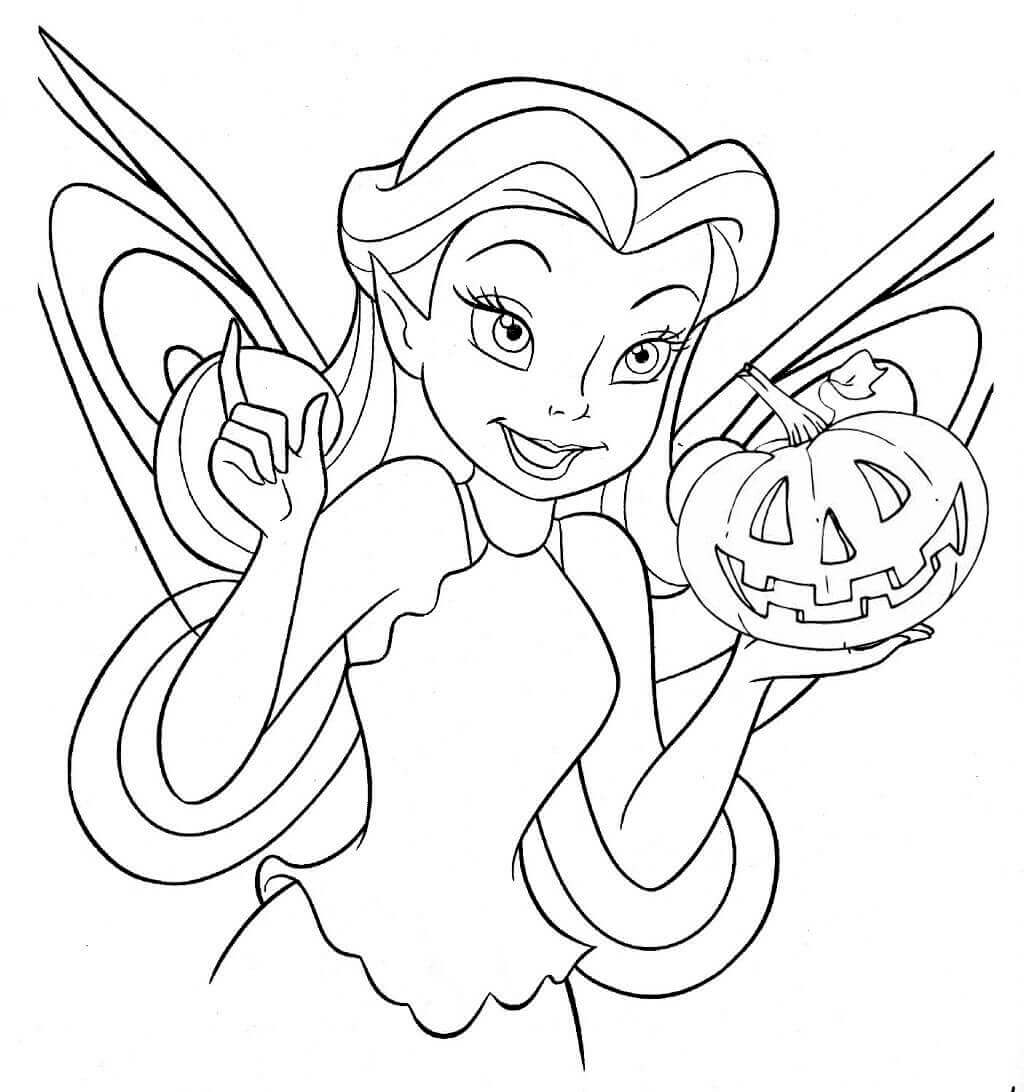 Hey, it is Peter Pan's sidekick Rosetta Tinker Bell or just, Miss Bell. Extremely cute fairy, she has a sassy character and she is extremely hot-tempered. Take special care while coloring her.
Tinkerbell's Halloween Celebrations Coloring Page:
Ready to celebrate Halloween with a flying princess? I am! But hey make sure you pack your candy containers well, otherwise, it will rain sweets this Halloween. Color her in the air.
Halloween Printable Poster Coloring Page:
Invite friends this year for a Disney themed Halloween party with this Disney Halloween coloring sheet. Print this poster, paint it well and hang it outside your door to let them know the party has begun.
I hope the above Disney coloring pictures to print brought a rush of childhood memories. Color these Disney Halloween coloring images printable with your parents and you will discover the joy of family bonding over old cartoons. Get ready for a blast on October 31st. Happy Halloween guys!