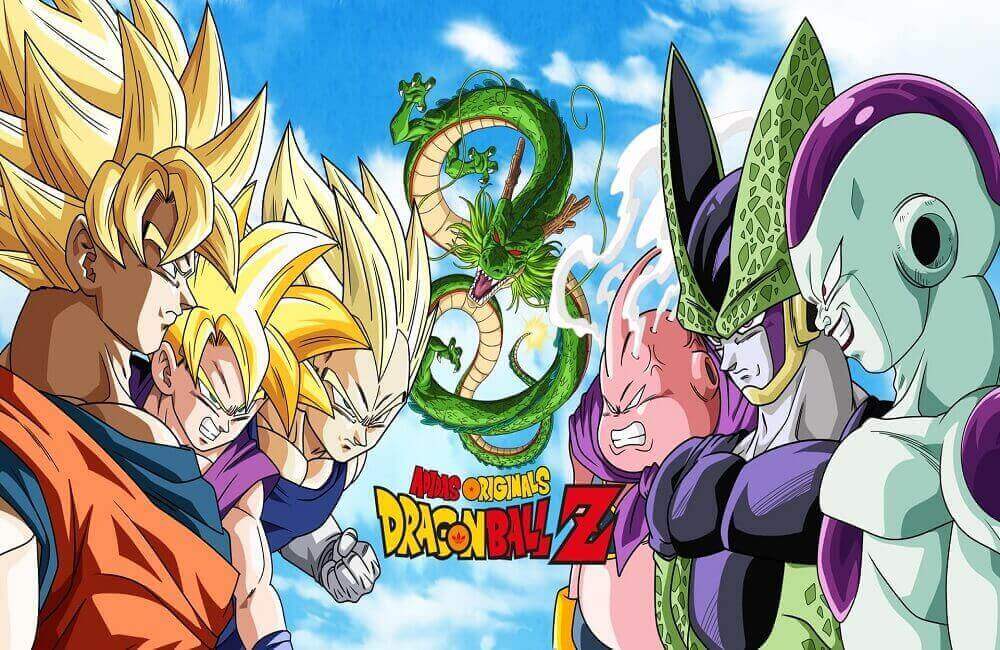 It's time to summon all your superpowers, we are taking you along for an adventurous ride full of martial arts. This journey will take you to the land of Japan and all the characters are part of the Japanese anime world. We are bringing you a collection of coloring pages inspired by the internationally acclaimed Japanese anime series. Yes, we've got you a free printable Dragon Ball Z coloring pages.
Written by Akira Toriyama, the manga was turned into anime series and has spawned a world of Dragon Ball franchise around the world. The story follows the adventures of Goku, from a young martial arts student to a fighter defending the Earth along with his friends. The anime series produced by Toei Animation is in several parts, first two parts titled as Dragon Ball and Dragon Ball Z are based on the manga, while the rest are original stories written as sequels to the anime. Let's start this journey and witness the heroes fighting with incredible powers against menacing aliens and other villainous creatures, through this fantastic collection of Dragon Ball Z coloring sheets to print.
34 Free Dragon Ball Z Coloring Pages Printable
Baby Dragon Ball Z Coloring Page:
Starting off the journey is this powerful action pose from the Dragon Ball Z series beautifully illustrated on this coloring page. Capture the pose and the movement like the closing left fist and the summoning power of the open right hand with your coloring skills.
to join this conversation on GitHub. Already have an account? Sign in to comment Footer © 2023 GitHub, Inc. Footer navigation Terms Privacy Security Status
Baby Goku From Dragon Ball Z:
The main protagonist of the anime series comes to you in his younger version on this coloring page. Son Goku or simply Goku is a strong warrior and fights to defend his home Earth, although it is later known that he is an alien race called Saiyans.
Bulma From Dragon Ball Z:
Greeting you from this illustration is the innovative and pretty Bulma from Dragon Ball Z. She was first seen as someone who befriends Goku, hiring him as a bodyguard because she wanted to have his dragon balls.
Chiaotzo From Dragon Ball Z Coloring Page:
As the first part of another martial arts group, Chiaotzo or Chaozo and Tien Shinhan, become good friends with Goku. A human with white skin, Chiaotzo is not very strong but has other powers with which he can fight his enemies, like telepathy and psychokinesis.
Dende Dragon Ball Z Coloring Page:
Dende, hailing from the planet Namek, eventually becomes the guardian deity of planet Earth. You can see in this illustration the powerful stance he has and why Goku asked him to guard Earth. Did you know that Dende can heal as well? Yes, he got that power from his father, the Great Elder.
Dragon Ball Goku Throws A Fireball:
When Goku is fighting, he is as fierce as he can get. Here he is utilizing one of his power moves, throwing a fireball to attack his enemies. Be sure to give this action-packed illustration a lot of love with your brilliant coloring skills.
Goku's Granddaughter, Pan From Dragon Ball GT:
The Dragon Ball series pans across generations, which is how you get to Pan, the granddaughter of Goku in one of the series, Dragon Ball GT. Born to Goku's son Gohan and Videl, Pan is a mix of human and alien or extraterrestrial known as Saiyans.
Dragon Ball King Piccolo:
Here's one of the main villains in the Dragon Ball series, King Piccolo. He looks formidable and also has a scary appearance, doesn't he? Draw all your strengths and invest carefully in filling in strong colors in this illustration.
Characters From Dragon Ball Z:
This illustration gives you an introduction to some of the main characters in the Dragon Ball Z series. Can you identify who is who? Once you make them out, be sure to diligently color each one of them according to their characteristics.
Gotenks – Fusion Of Goten And Trunks:
One of the important themes in the Dragon Ball series is that of two characters combining and forming a single individual through fusion. Gotenks, as illustrated here on this coloring page, is the individual being formed when Goten and Trunks merged using fusion technique.
Kid Gogeta – Fusion of Goku and Vegeta:
Here is another example of a fusion of two beings. After Goten and Trunks merging to form Gotenks, this illustration showcases a fusion of younger characters, Kid Gogeta, formed when baby Goku and Vegeta merged.
Kuririn Krillin, One Of Goku's Best Friends:
One of Goku's best friends who is always there with him through thick and thin is Kuririn Krillin. An expert martial artist, Kuririn Krillin was at first Goku's rival as he also studied under Master Roshi along with Goku. Print this page and give this flying action pose some thrilling colors.
Majin Buu, Magical Villain From Dragon Ball:
While most genie-like creatures are seen as good, this particular "magical" creature is one of the villains in the Dragon Ball series. Known as Majin Buu, you can see how his features resemble a genie. This illustration shows him in his Kid Buu version.
Mystic Gohan, First Son Of Goku:
Raised very protectively by his mother Chi-Chi, Gohan grew up focused completely in his studies. But over time, due to the increasing troubles faced by the Earth, Gohan followed in his father Goku's footsteps and went on to become a great fighter.
Dragon Ball Z Super Buu Coloring Page:
The most destructive and powerful version of Majin Buu is the Super Buu. Created by the evil Bibidi, Majin Buu existed long before the world you see in the Dragon Ball series. Super Buu is a powerful villain formed when Majin Buu absorbs the personified evil aspect of his personality.
Super Saiyan, Advanced Saiyan Transformation:
Saiyans is the name of the extraterrestrial species Goku belongs to and Super Saiyan is a transformation that the species and hybrids can take, to become better and evolved versions. Saiyans are great warriors and have superhuman abilities which become enhanced in Super Saiyans.
Younger Super Saiyan From Dragon Ball Z:
After the adult Super Saiyan, you can take a look at a younger version of Super Saiyan in this illustration. To become a Super Saiyan, the species and hybrid need to have a particular number of S-Cells.
Super Vegeta From Dragon Ball Z:
Searching for Dragon Balls, the prince of Saiyans, Vegeta ends up on Earth and fighting with Goku, who has become the guardian of his adopted planet. Here you can see the transformation assumed by Vegeta to become Super Vegeta.
Uranai Baba, The Fortuneteller Old Witch:
Sister of Master Roshi, Uranai Baba is a powerful and all-knowing old witch who can see glimpses of the future, find where the lost things can be found and also bring back the dead for a day from the afterlife. She makes use of the last power to bring back warriors to fight for her. As seen in this illustration, Uranai Baba travels by riding on a floating crystal ball.
Yamcha, From Desert Bandit To Goku's Ally:
At first, going through life being a desert bandit, Yamcha's life changes when he encounters Goku and Bulma. From trying to steal from Goku, he eventually becomes one of his allies and learns martial art under Master Roshi.
Emperor Pilaf Of The Pilaf Gang:
One of the enemies of the Earth with an evil plan to rule the world, Emperor Pilaf wants to achieve his ambitions by taking hold of the Dragon Balls. Leader of the Pilaf Gang, he certainly looks devilish in this illustration. Make sure after you print the coloring page to give him blue colors.
Fasha, Saiyan Warrior From Dragon Ball Z:
A powerful warrior of the Saiyan Army, you can see Fasha's strength even in this simple posture. When you print this coloring page and start coloring, be sure to bring out the fierce look of this female warrior through your colors.
Fat Buu, Another Form Of Majin Buu:
Here is another one of Majin Buu's forms. Among all the different forms, Fat Buu is considered to be one of the weakest forms of Majin Buu. But he is still a strong fighter when it comes to others. Print out this coloring page and fill it with adventurous colors.
Dragon Ball Z Coloring Page:
Reaching out for you on this coloring page is an exciting poster from the Dragon Ball Z series. Give this full of action illustration some of your best adventurous coloring skills.
Gogeta From Dragon Ball Z:
While you had earlier seen the kid version of Gogeta, here is Gogeta in its adult form. Gogeta is a form that is achieved when Goku and Vegeta merged. He looks formidable, doesn't he?
Gohan From Dragon Ball Z:
While growing up without much exposure to martial arts because of his protective mother, Chi-Chi, Gohan becomes a powerful fighter like his father Goku when he becomes an adult.
Goku In His Super Saiyan Form:
Some of the members of the Saiyan people can take an advanced form known as Super Saiyan. Like Goku here in his Super Saiyan form. This is possible when the member has enough S-Cells needed in his body.
Fighter Kid Goku From Dragon Ball Z:
Even as a kid, Goku was extremely talented and a great fighter. One look at this illustration will tell you how great a fighter he was. Print this coloring page and give it an impactful color scheme.
Kid Goku Having Fun On Cloud:
While training hard and fighting with might even as a child, here is Kid Goku having some silly fun riding on a cloud. Those big eyes are enough to tell you how much he is enjoying being on a cloud.
Kid Trunks From Dragon Ball Z:
When we first see Trunks, he is a great fighter and a stranger to all. It is only later that the truth about him gets unfolded. Trunks is Vegeta in the future who has come back in time to warn Goku of the arrival of Androids.
Raditz, Goku's Older Brother:
Looking for his brother who had gone and disappeared a long time back, Raditz comes to Earth. A Saiyan warrior, Raditz wants his brother Goku to join him in his mission to conquer other planets as their homeland is no more. But Goku refuses as he is the guardian of the Earth now.
Super Saiyan 4 Coloring Page: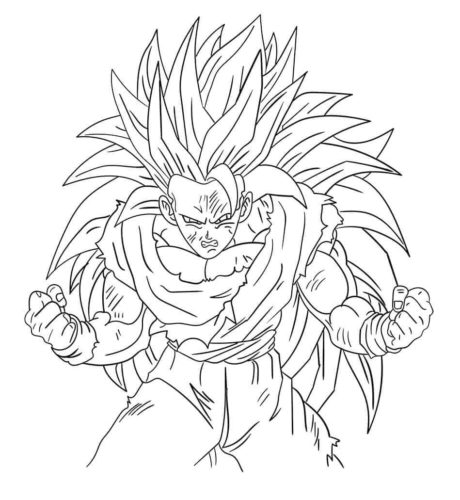 There are several versions of the Super Saiyan form, and they are denoted by a number. Super Saiyan 4 form, as illustrated on this coloring page, is achieved by combining the Super Saiyan form along with the Great Ape form.
Teen Kuririn Krillin:
Here's another look at Kuririn Krillin, this time when he was a teenager. Having a bald appearance, Kuririn Krillin is an expert martial artist and one of Goku's best friends.
Trunks From Dragon Ball Z:
When Trunks journeys back in time to warn Goku about the invasion by Androids, he stays behind with Goku and others for a while. He goes back to this time only after joining them in combating the Androids.
We have now reached the end of this action-packed collection of Dragon Ball Z coloring pictures to print. I hope you had a great time bringing to life these incredible warriors and characters from the immensely popular Dragon Ball series. Well-loved by audience and critics alike, Dragon Ball, Dragon Ball Z, and all the other titles in the series are frequently listed among the best anime series in the world and its characters are showered with immense love as well. This is one collection you need to bring in your group of friends to color. Without delay, print out this Dragon Ball Z collection of coloring images and have a blast coloring these powerful warriors and their enemies with your friends.