Greetings children! From first snow and snowflakes to warm clothes and fireplace, Winter has already set in. You must be overflowing with holiday excitement these days. Soon, you will find people building a snowman in front of their houses. Speaking of the snowman, we have a special collection of coloring pages printable for you today, dedicated to Frosty The Snowman.
First released as a song and later adapted into a television special, Frosty The Snowman is an animated Christmas special that had its premiere broadcast in the year 1969. It tells the adventures of a snowman who comes to life and with the help of young friends, makes his way to the north pole, in order to avoid melting in the heat.
Produced for the television by Rankin/Bass production, the animation in Frosty The Snowman was created by the Japanese studio, Mushi Production.
You might have caught this Christmas special on television, which has been shown every year since it first aired. If not, then let us take you through this animated world with this collection of Frosty The Snowman coloring pages to print.
to join this conversation on GitHub. Already have an account? Sign in to comment Footer © 2023 GitHub, Inc. Footer navigation Terms Privacy Security Status
27 Free Frosty The Snowman Coloring Pages To Print
Karen Riding On Flying Frosty:
It looks like Frosty is flying as he slides in the snow. Frosty is giving his little friend Karen a ride on his back, as they try to escape the villainous magician Hinkle. Professor Hinkle failed to do his magic and threw away his hat which landed on a snowman Karen and her friends were building, turning him alive. Since then he has been chasing them to take his hat. You can capture this thrilling moment in colorful details.
Christmas Tree With Frosty, Karen, And Friends: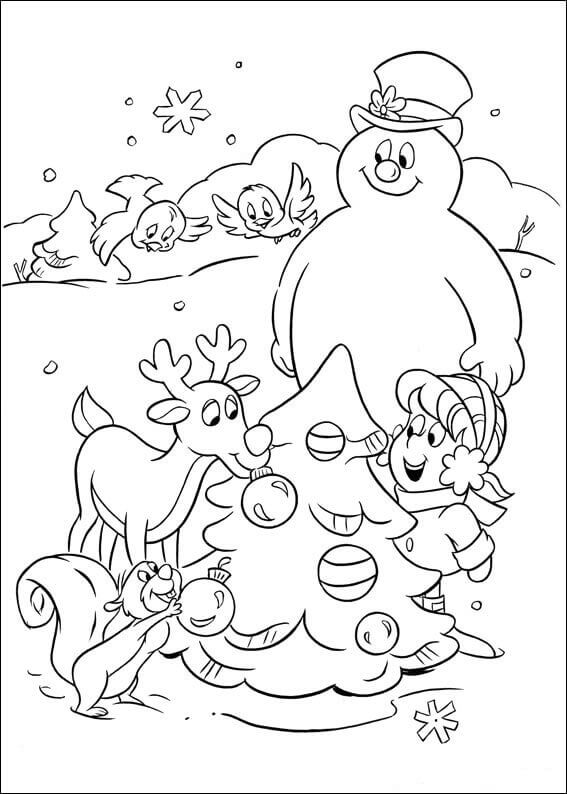 On their adventures, Frosty and Karen met several other animals who helped them and became good friends. Remember, we should always help those in need. Look, how they are having a good time, decorating this little Christmas tree.
Skating Champions, Frosty and Crystal:
Although they are far from their destination, Frosty and Crystal always remember to appreciate the journey and make the most of what life has in store for them. You can see they have decided to do an impromptu skating on a frozen lake they found along the way. Bring their happiness to colorful life by printing and coloring this page.
When Frosty Met Santa:
This is how happy Frosty the Snowman looked when he met Santa. Our Father Christmas welcomed him with open arms and invited him to share a ride on his sleigh. Doesn't it look like such a fun and adventurous thing to do? Celebrate their happiness with them by coloring this joyful illustration in festive colors.
[ Related: Santa Claus Coloring Pages ]
Greetings From Frosty The Snowman:
This is the exact moment when the hat Professor Hinkle threw away in frustration after a failed magic trick landed on Frosty the Snowman and made him real. You can see how excited he was to come alive. Print this page and fill it with exciting colors.
Frosty Running, Hinkle Chasing:
When Hinkle took away his hat after it made Frosty come alive, it was the bunny in the hat, Hocus Focus, who brought it back to Frosty and Karen. They had been running ever since, even getting on a refrigerated boxcar to travel north. But as illustrated here, Professor Hinkle had been riding on the caboose of the train. No wonder Frosty along with Karen and Hocus Focus got down, leaving Hinkle hanging.
Karen and Frosty Jumping And Playing:
Having successfully evaded Hinkle, Frosty and Karen are indulging in some fun celebratory playing. Karen is so athletic. Look at her jump so high! If you like to play outside in the park and enjoy running around, then you must be fit like Karen too. You can print and give this illustration some fitting colors.
Temperature Rising, Frosty Melting:
On their journey, Karen was getting cold and needed to stay warm. Frosty had suggested she could warm up in the greenhouse and was giving her company for a while when Hinkle arrived and locked the door. The rising temperature started to melt Frosty. Make him feel better by printing and giving him some of your cool colors.
Frosty The Snowman Juggling Snowballs:
When Frosty first came alive, he wanted to do everything he could not do before. Like playing around in the snow just like he had seen the children play. And make his own snowballs and learn to juggle with them. He is a quick learner and looks like an expert already. Congratulate him by printing and coloring this page.
[ Related: Snowman Coloring Pages ]
Professor Hinkle's Magic Is Terrible:
Trying to impress the children with his magic without disciplined hard work and preparation, Professor Hinkle failed terribly at his tricks. Instead of making things appear in order, everything came out from the hiding place. Take this as a warning to always prepare for your tests or any presentations. As they say, there is no shortcut to success. Put your hard work to use in coloring this scene as well.
Karen Is Sick, Frosty Is Worried: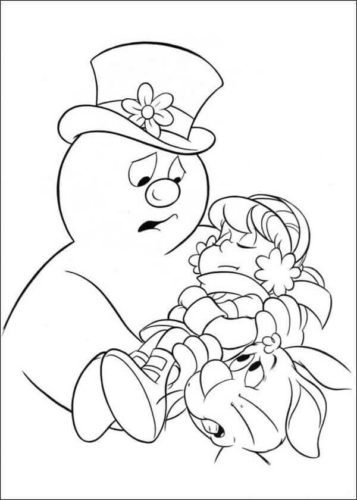 To keep Frosty from melting away Karen had journeyed together with him and Hocus Focus inside a refrigerated boxcar. The cold temperature made her sick and this worried Frosty. She had been a good friend to him and he felt like he was failing to take care of her. Encourage him to never give up by printing and coloring this page with some warm colors.
Hocus Focus, The Bunny In The Hat:
Upset by his failed magic, Hinkle had thrown his hat. You can see Hocus Focus, the bunny, trying to get out as the hat spins around in the air. Print and color this funny scene with happy colors.
Frosty The Snowman Finds A Train:
After brainstorming about which place would be best suited for Frosty so that he doesn't melt, Karen and Hocus Focus had decided on the north pole. Here they have all arrived at the train station, and they look so happy to have found a train with a refrigerated boxcar. Add colorful details to this illustration by printing and coloring this page.
Frosty The Snowman Plays With The Children:
As soon as he came alive, Frosty took no time to start playing with the children, including little Karen who had given him his name. All the children are excited to be playing with a real snowman for the first time in their lives. You can join in the fun by printing this page and adding exciting colors.
More Fun With Frosty And The Children:
After playing the train game, the children have now shifted to "Ring-a-round the roses" and have made Frosty the central figure. The joy and laughter on their faces must remind you of your own playtime with friends. You can print and color this page now and later, show them to your friends.
Frosty The Snowman And Karen Are Best Friends:
Frosty The Snowman and little Karen make such good friends. They are always making each other laugh and are always there for each other when one of them is in need. You must always choose friends like Frosty and Karen, who are there for each other through the good and the bad times. Appreciate this special bond of friendship by giving it your best colors.
It's Freezing Inside The Train:
Knowing it will be cold, Karen still decided to travel in a refrigerated boxcar to keep Frosty from melting in the heat outside. You can see how worried Frosty looks as he notices Karen shivering in the freezing cold inside the compartment. Comfort him with warm colors.
Hinkle Takes His Hat Away:
After he threw his hat and it landed on Frosty, turning him alive, Professor Hinkle immediately took his hat away despite the children pleading him not to do so. He was bitter that he couldn't do magic and cunningly happy that his hat somehow did some magic to make Frosty alive.
Clueless Hinkle, Hocus Focus Escapes Trouble:
While Hinkle is celebrating his success in getting his hat back, Hocus Focus runs away with the hat before being noticed. This bunny in the hat is sure very fast on his feet. You can add an adventurous tone to this illustration by printing and coloring this page in exciting detail.
Frosty The Snowman Is Alive Again:
After escaping Hinkle, Hocus Focus took the hat to Karen who immediately put it back on Frosty's head. Sure enough, Frosty The Snowman came back to life again.
Birthday Card From Frosty And Friends:
Frosty The Snowman with Karen, Hocus Focus, and other friends are giving you a chance to show your friends how much you care for them on their birthdays. Here is a special birthday card with wishes from them, which you can print and color. You can write your own messages at the back or turn this into a folded card with your wishes written inside.
[ Related: Birthday Coloring Pages ]
Hocus Focus, "The Bearded Bunny":
Like most children, Hocus Focus also loves playing with the snow. And while playing with it, he has found himself with some snow stuck to his face. Doesn't he look like a bunny with a long beard? Almost like Santa's beard! Print this page and give this fun little bunny some colorful treatment.
[ Related: Bunny Coloring Pages ]
Hinkle Takes His Hat, Karen Gets Mad:
After Professor Hinkle noticed what his hat had done to Frosty, he grows bitter and sees an opportunity. He rushes to get the hat back, turning Frosty to a simple snowman. Karen first pleaded softly but when Hinkle didn't listen, she feistily fought for her friend. Isn't Karen such a faithful and loyal friend? You must be having such best friends too. You can think of them as you print and color this extraordinary illustration.
Feisty Karen Fights for Frosty The Snowman: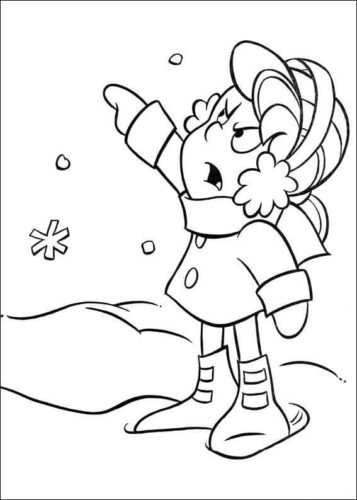 Standing up for your friends, especially when they are unable to so themselves, is an admirable quality to have in a friend. Karen does just that when Hinkle snatches away the hat which had given life to Frosty The Snowman. Since Frosty could not speak for himself, Karen knew she had to stand up for him and his chance to be alive.
Karen And Friends Make A Snowman:
This wonderful story began when little Karen was building a huge snowman along with her friends. You can see her carefully giving him a proper shape, while one of her friends sweeps away extra snow from the snowman. When they decided to name them, it was Karen who came up with the name Frosty. And thus, began the adventures of Frosty The Snowman.
Karen Cries As Frosty Melts:
Trapped without escape in the greenhouse, Frosty melted and turned into a puddle. When Hocus Focus arrived with Santa, they found Karen over a puddle. Thankfully, Santa reassured that even in a puddle, Frosty's essence lived. As soon as the door was opened, the cold wind and snow blew, turning Frosty back into a snowman. They dropped Karen back to her house as Frosty went along with Santa, promising to come back on every Christmas Day.
Profession Hinkle Devising A Plan: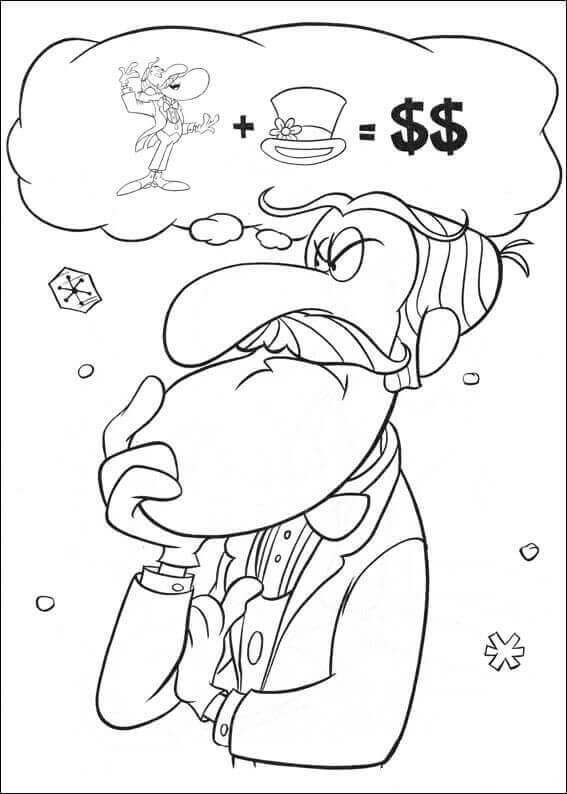 Our actions have consequences that affect not just us but others as well. The moment frustrated Professor Hinkle saw how his hat brought Frosty to life, his cunning brain devised a plan. And his action to take his hat back at any cost, affected other lives, particularly Karen, who fell sick while running from him and Frosty, who melt away before being revived by Santa. Always be kind and be aware of your actions and their consequences.
On that note of action, we conclude our amazing journey into the world of winter and snow through this collection of Frosty The Snowman coloring pages printable. We are already into December and closing in on the Christmas festivities. Time to bring out old Christmas ornaments and Christmas lights, and start practicing making your own snowman. If you make it right, maybe you will get your own special Frosty The Snowman!