There are only a few animals that can rival the cuteness and adorability factor of pandas. One of them is certainly the bunny – looking so fluffy and cuddly, everyone wants to hold them and pamper them. Today, you will get a chance to see them doing adorable things through our collection of free printable bunny coloring pages.
Bunnies refer to both rabbits and hares, two similar species of the family Leporidae. Bunnies have been a part of our popular culture, whether through the media of arts or festivities like Easter. They have been part of books like those written by Beatrice Potter about Peter Rabbit and Benjamin Bunny, or in Lewis Carroll's Alice in Wonderland, cartoon characters like Bugs Bunny and several other works of art like the Oscar-winning 2016 animation film "Zootopia" and the live-action 2018 movie "Peter Rabbit". Let's go down the rabbit hole and discover more about this wooly creature through this collection of bunny coloring sheets to print.
30 Free Bunny Coloring Pages Printable
Baby Bugs Bunny Playing:
Before he grew up to be a lot nonchalant and carefree, baby Bugs Bunny was as eager as a bunny could be. Here he is doing a classic ball trick, rotating a ball on the tip of his finger.
to join this conversation on GitHub. Already have an account? Sign in to comment Footer © 2023 GitHub, Inc. Footer navigation Terms Privacy Security Status
Benjamin Bunny Coloring Page:
After taking the world by storm with her Peter Rabbit stories and illustrations, Beatrice Potter came up with The Tale of Benjamin Bunny. It was an instant hit as well.
Bird Looks Happy, Sitting On Bunny:
Seeing this ball of fur in the flower garden today, this little bird decided to check out the bunny's cozy fur by sitting on its back.
Bunnies In A Group Are Called:
What do you call a group of bunnies? Well, many things actually. They can be called a colony or a nest and even a herd.
Bunnies Playing, Mommy Watching: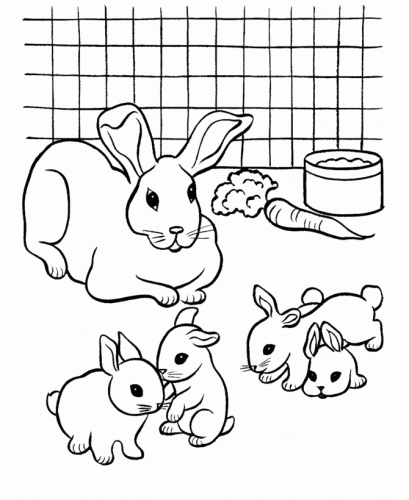 The cuteness quotient on this coloring page is skyrocketing high. Just look at those tiny little bunnies playing with each other as their mother bunny watchfully looks at them.
Bunnies Heading Home After Collecting Easter Eggs:
An important part of the Easter festivities narrative is the Easter bunny. They help in collecting the Easter eggs, decorated and beautifully painted.
Bunny Love Is In The Air:
It's an outpouring of love and warmth on this coloring page with these two bunnies in love. Their affection for each other has already filled the air around them with feelings of love. Celebrate their love by adding your special loving touch of colors.
Bunnies Playing, Bunnies Jumping:
Active and agile by nature, here are two athletic bunnies making the most of their free time. They are playing around by jumping over each other from behind. Fill the illustration with some energetic colors.
Bunny Coloring Page For Preschoolers:
If you are still in preschool, do not worry, we have a bunny colouring page just for you. This simple upright bunny illustration with a bare outline should be easy enough yet full of fun for you to color.
Bunny Girl Holding A Flower:
Dressed so smart, this little bunny girl is having a fun time in the garden today. To make her outfit and styling pop, even more, she has plucked this lovely little flower. Add some fun colors to make her look her best.
Bunny Sits Down And Wait, It's Time To Eat:
He may not remember to do the chores assigned by Mommy Bunny, but this little bunny never forgets his dinner time. Right on dot, he sits down like a dutiful son, waiting patiently for the meal of tasty, juicy and crunchy carrots.
Mommy Bunny Cooking:
Here is Mommy Bunny working hard for the dinner. She has a little smile on her face, as she has noticed her otherwise naughty bunny son, sitting quietly at the dinner table.
Bunny Looking Pretty In The Garden: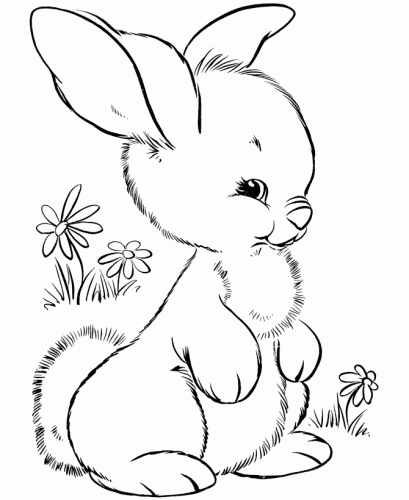 Going out for her daily morning walk, this bunny makes her regular stop at the garden nearby. Today she witnesses a third flower blooming after the two that she found blooming yesterday.
Bunny Eating Lettuce:
Besides carrots, one of the other favorite meal of a bunny is the lettuce. Chowing down on fresh, green and crunchy lettuce, this bunny is having a good meal today. Add flavors to this coloring page with your spicy and tasty colors.
Lion, Hedgehog, And Bunny, On A Fun Train Journey: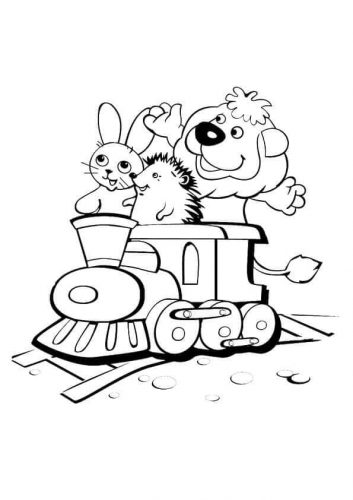 In the real wild, you would never these three creatures sharing the same ride or same space. But on this fun and happy illustration, these three animals – lion, hedgehog, and a bunny – come together to enjoy a fun train ride.
Make A Cute Bunny Poster:
With this large illustration of a bunny that fills up space on this coloring page, you can create an attractive bunny poster. Print and color this illustration, add some proverbs or funny lines to create your bunny poster.
Little Bunny Holds Her Carrot Like A Treasure:
When she was given the carrot, this little bunny was so happy that she spend a long time just holding it. You must have had some similar food experience, like a beautiful birthday cake that looked too good to cut or eat.
Bunny With Papa Rabbit Looking For Carrots:
The little bunny having grown up now is joining Papa Rabbit to hunt for food today. Here you can see how the elder is telling the little one about the process.
Cartoon Bunny, Flat And Funny: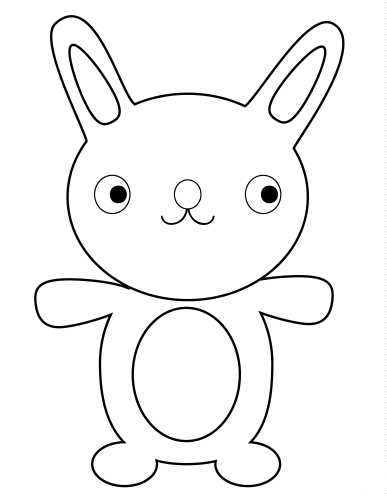 It seems like this bunny has become flat and pasted on this coloring page. Just like you see in the cartoons when an animal hits the wall and looks funny when it falls flat on the ground.
Greedy Bunny Has Eaten Too Much:
As the proverb says, excess of everything is bad. It proved the same for this greedy bunny who went on munching and eating when he saw a field full of lettuces. Now, it has blown up like a huge balloon.
Bunny Workers Wait In Line, During Lunch Time:
Working in the farm factory, these bunny workers are waiting patiently in a line as they wait their turn to get their lunches.
Connect The Dots Bunny Activity Sheet:
After the bunny workers, now it is your time to be patient. With this bunny activity sheet, you will have to carefully connect the dots to reveal the giant prize this bunny has won.
Cute Bunny Rabbit Wearing Accessories:
Taking inspirations from the humans around her, this cute bunny has learned to accessorize. Look at that fancy ribbon hair clip on her head. Give her marks in colors for her fashionable efforts.
Naturally Cute And Adorable, This Is Bunny Girl:
Looking naturally cute with those big eyes and a curled tuft of fur on the head, this bunny girl is leaving no stone unturned to be as adorable as she can. Make her effort rewarding by printing the page and filling the illustration with colors.
Easter Bunny With Flowers And Eggs: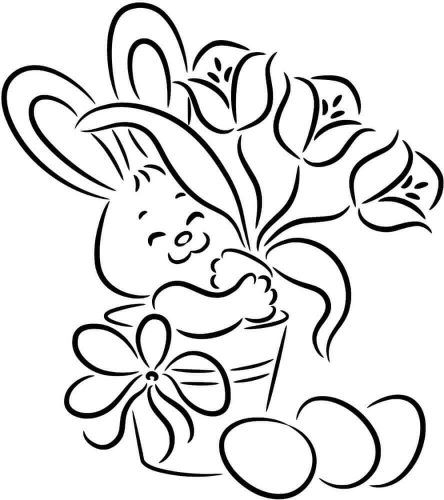 Along with the Easter eggs, this Easter bunny is making sure the basket looks as beautiful as ever. To achieve his goal, he has decided to add some lovely flowers to the Easter basket.
Easter Bunny And Her Well-Decorated Egg:
Having won several art competitions, this year during Easter this talented Easter bunny decided to paint an Easter egg herself. She has done an awesome job, hasn't she? Congratulate her by giving her a colorful round of applause.
Fluffy Bunny, So Warm And Fuzzy:
Nothing describes a bunny better than the word "Fluffy". Go creative with your coloring skills by coloring each letter with different colors.
A Bouquet Of Flowers From Bunnies:
To appreciate your efforts on coloring this collection of bunny coloring pages, this observant bunny has brought a bouquet of colorful flowers for you. But it needs your help to color the flowers.
Bunny Says, Nice To Meet You:
Thanking you for the visit today, here is a cute bunny saying how nice it was to meet you.
Goodbye From Mommy Bunny And Her Babies:
It's farewell time from the Mommy Bunny and her adorable bunch of baby bunnies as well.
On that apt note, we have reached the end of this cute collection of adorable bunny coloring pictures to print. We hope you had a happy smile on your face and truly enjoyed your time coloring this collection. Like these soft, cute and fluffy bunnies giving so much love, affection and joy to us, always remember to spread some positivity and happiness around you wherever you go. When you make someone else truly happy to be around you, you will feel doubly happy yourself. Just like how wonderful you feel seeing your best friend smile and how your parents beam with joy when you are happy.