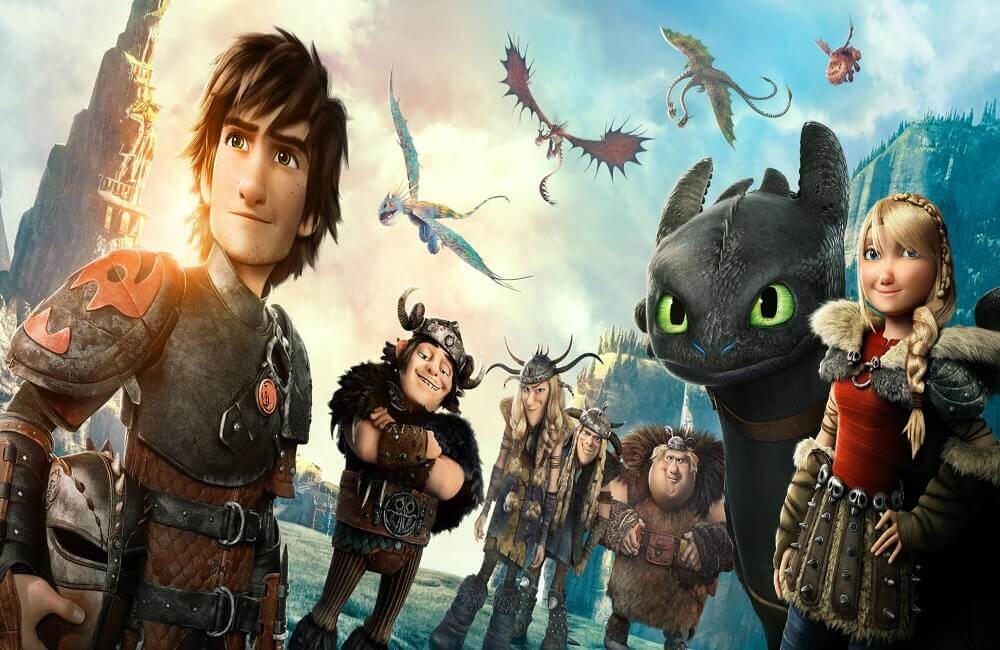 When you think of animated stories, do you wonder about fantastical tales or do you dream about adventures? Maybe, you like elements of fantasy, action, and adventure. If you do, then you will definitely enjoy today's collection of coloring pages, inspired by the fantastical world of Vikings and dragons in How to Train Your Dragon.
Based on the book by Cressida Cowell, "How to Train Your Dragon" film franchise started in 2010, introducing the unlikely teenage hero Hiccup and his chance encounter with a rare Night Fury dragon. The story takes place in a mythical world where Vikings fight dragons, with many becoming dragon slayers. Hiccup, a lanky boy, son of the chief, has no warrior potential. Even when he finds a dragon, he is unable to kill it and becomes its friend instead.
Read: Dragon Coloring Pages
to join this conversation on GitHub. Already have an account? Sign in to comment Footer © 2023 GitHub, Inc. Footer navigation Terms Privacy Security Status
Produced by DreamWorks Animation, all three films in the franchise have been critically and commercially successful, praised for its animation, character design, and story content. Let's get flying right into this adventurous journey through this collection of How to Train Your Dragon coloring pages printable.
32 Free How To Train Your Dragon Coloring Pages Printable
Astrid All Grown Up: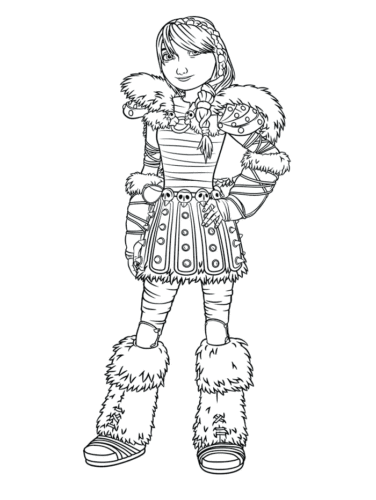 Among the young generation of the Vikings in Berk, Astrid Hofferson is the best Viking warrior. Belonging to Clan Hofferson of the Hooligan tribe, Astrid starts off as a girl with a strong personality who grows up to be more spirited and fun. You can see her all grown up in this illustration.
Astrid Riding Her Dragon, Stormfly: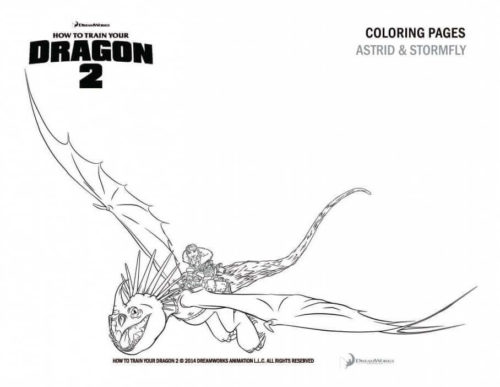 Astrid finds friendship, camaraderie, and deep bonding with a Deadly Nadder dragon whom she calls Stormfly. Here you can see her skillfully riding on Stormfly in an illustration taken from the second installment of the film franchise.
Young Astrid From How To Train Your Dragon: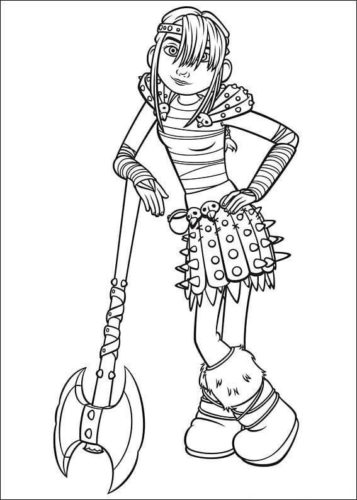 After seeing her adult avatar, here is a look at the young, smart, and strong Astrid. Astrid has always been a very talented warrior, but she was a little too serious when she was young. Print this coloring page and fill it with confident colors.
Barf And Belch From How To Train Your Dragon 2: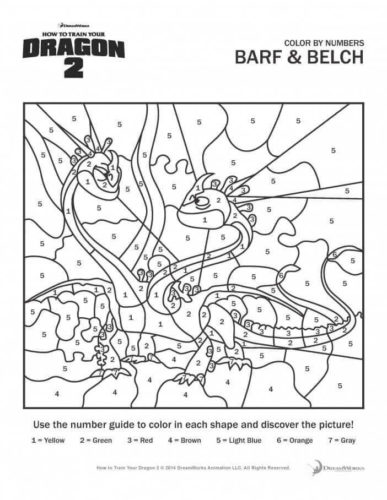 Starting off an activity for How To Train Your Dragon collection is an illustration of Barf and Belch, a two-headed dragon. The two heads of the dragon work uniquely – one produces a green gas which the other lights it on fire. Fill each numbered section with the corresponding color to discover the full illustration.
Deadly Nadder Dragon:
You can get a closer look at Deadly Nadder, the type of dragon that is ridden by Astrid. In order to train these dragons, the right approach is to gently smooth down the spikes starting from the tail, or to scratch its chin.
Dragon Riders From How To Train Your Dragon: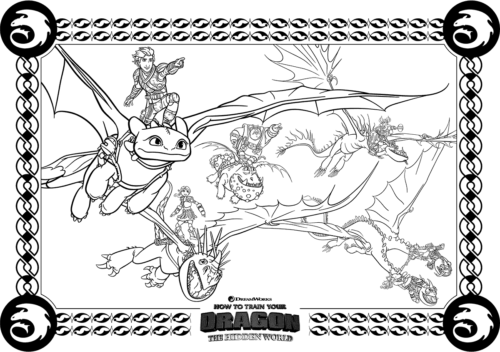 The young Vikings who changed the world by becoming Dragon Riders. Hiccup leads the charge riding on Toothless, closely followed by Astrid with Stormfly and all the rest of the gang. Color this How To Train Your Dragon illustration and turn into a cool poster.
Fishlegs Ingerman From How To Train Your Dragon: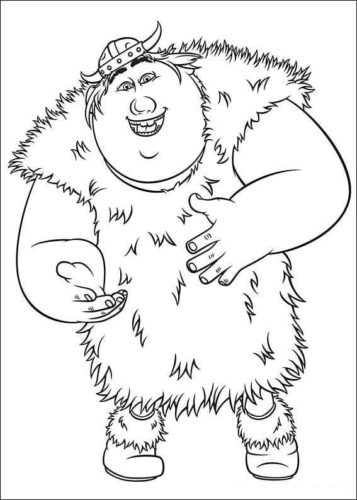 We can have a lot of friends but it's not easy to find a true friend. Luckily for Hiccup, he found himself a group of people at a very young age who went on to become his true friends. One of them being Fishlegs Ingerman, built big, not as courageous but has a vast knowledge of dragons.
Dragon Riders Of How To Train Your Dragon:
Here we have the whole group of young Dragon Riders who are also close friends. There are Hiccup and Astrid as well as Fishlegs. Can you identify the others in the illustration? Print this coloring page and fill each character with their different colors and details.
Gobber The Belch From How To Train Your Dragon: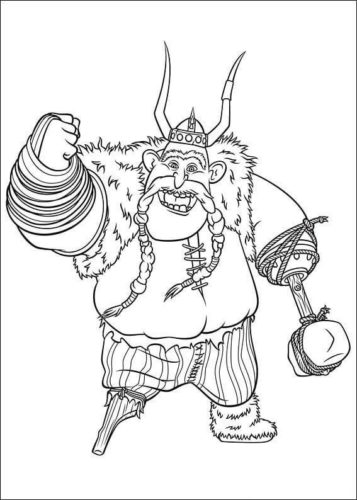 Full of fun and wisdom, Gobber the Belch is the blacksmith of Berk and has a wooden stump as his right foot. He is the closest friend of the Viking chief, Stoick and over time also becomes a mentor for Hiccup. You can see his lively and fun personality coming through this illustration.
Gronckle, Bulky And Short-Winged Dragon:
Gronckle is a bulky kind of dragon with short wingspan, which makes it difficult for it to move with the same speed or master flying maneuvers like the other dragons. They are able to produce a special iron known as Gronckle Iron, which they regurgitate after eating a specific combination of iron ore and rocks. The dragon that is ridden by Fishlegs Ingerman is a female Gronckle.
Hiccup As A Grown Up:
In the first film, we see a lanky boy who is grappling under the weight of being the son of the great Stoick, the chief. Through his adventures, he becomes more confident and shows all the signs being a good leader, as seen in the second installment of How To Train Your Dragon.
Hiccup And Astrid Activity Sheet: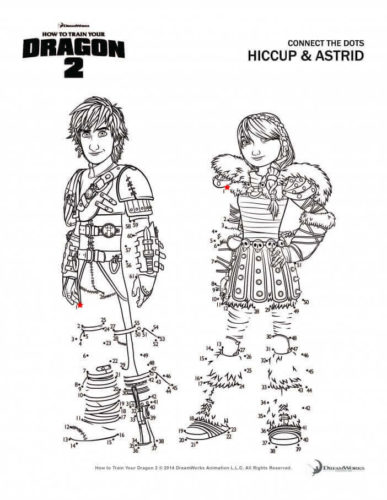 The foundation of Hiccup and Astrid's relationship is a strong friendship that is built on trust and respect. They have a mutual fondness for each other and are always there to help each other out in any situation. Time now for you to help them finish this activity. Connect the dots according to the numbers and fill in relevant colors to complete this illustration of the duo.
Hiccup And Astrid, Ready For Battle: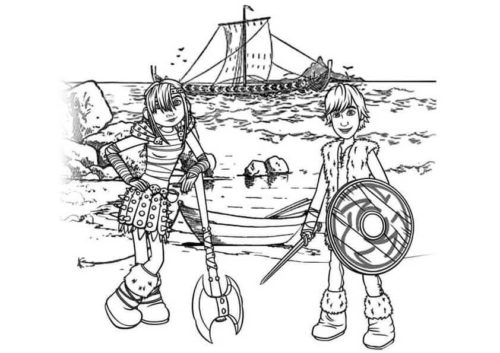 Here's a coloring sheet of Hiccup and Astrid, fully armored and ready with their weapons as if they are about to get into a battle. Looks like they are going to be fighting the enemies aboard the ship in the distance. Print this coloring page and get both of them battle-ready with your coloring skills.
Hiccup And Toothless Activity Sheet:
After the coloring activity with Hiccup and Astrid earlier, we now have Hiccup with Toothless, the friendship that changed the world. Once you print this coloring page, simply connect the dots according to their number in ascending order and add colors to finish the activity successfully.
The Adventures Of Hiccup And Toothless:
Toothless is the last of his kind, a Night Fury dragon who ends up with a broken tail wing during his encounter with Hiccup. With this inventive mind, Hiccup fixes the tail and also builds a contraption that helps him to ride Toothless.
Hiccup, The Unlikely Hero:
The story of Hiccup gives you an idea about how you don't need to look or be a certain way to be a hero. A hero can be anyone, as long as they are brave, courageous, and care for the people. With his empathetic heart and inventive mind, Hiccup manages to bring peace between the dragons and the Vikings of Berk.
Hiccup Haddock III:
Our favorite Viking and the hero of How To Train Your Dragon's full name is Hiccup Horrendous Haddock III, but he is simply known as Hiccup in the town. Always ready to defend the peace that he brought between dragons and humans; Hiccup readily fights to free any enslaved dragons in other parts of the world.
Hideous Zippleback, Two-Headed Dragon: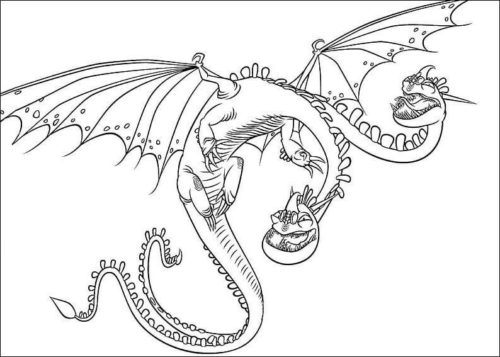 The Hideous Zippleback is the kind of dragon that is ridden by the twins in How To Train Your Dragon. Their unique characteristics are the two heads they possess. While they are extremely sly, they can also get clumsy, especially when the two heads get entangled due to distractions.
Hookfang, Monstrous Nightmare Dragon: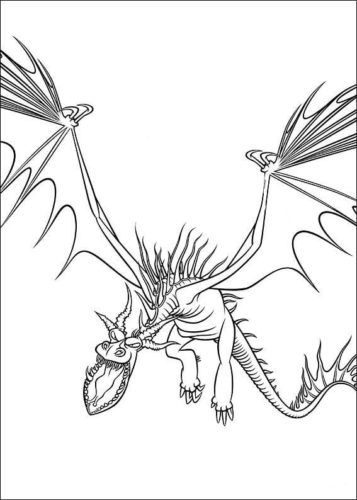 The dragon pair of Snotlout Jorgenson, Hookfang belongs to the type of dragon known as Monstrous Nightmare. They are quite big, measuring about 61 feet in length and boasting a wingspan of around 68 feet. Print this coloring page and give this magnificent dragon some majestic colors.
How To Train Your Dragon 2 Coloring Page:
The second film in the How to Train Your Dragon franchise was released in 2014 to great acclaim. Written and directed by Dean DeBlois, the film starts five years after the first one. In the film, Hiccup discovers an old family member while fighting off a formidable enemy who wants to rule the world by controlling the dragons.
How To Train Your Dragon 3 Coloring Page:
Titled as How to Train Your Dragon: The Hidden World, the final film in the franchise revolves around the introduction of a new character, a female Light Fury, and the future of the Vikings of Berk as they head off in search of a dragon utopia called "The Hidden World".
The Dragon Rider Friends Of Hiccup And Astrid:
Hiccup's journey and adventures would not have been possible without the support of Astrid as well as the other Dragon Rider friends illustrated here on this coloring page. There's Snotlout, Fishlegs, and the fraternal twins, Ruffnut and Tuffnut. Fill these characters with joyful colors.
Toothless – The Night Fury Dragon: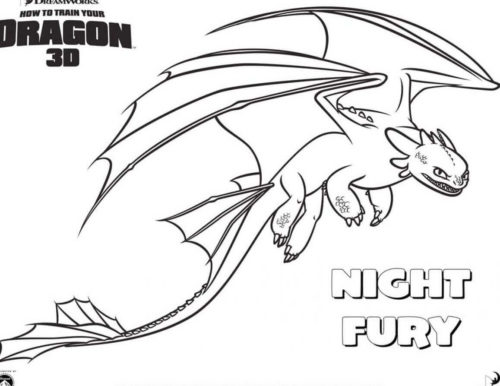 Night Fury dragons were hunted down to extinction until Toothless was discovered by Hiccup. He was named Toothless as Hiccup thought that he had no teeth at first, which were later discovered to be retractable.
How To Train Your Dragon – The Hidden World:
The third and final film of the trilogy, How To Train Your Dragon: The Hidden World, explores the theme of home and where we belong. Troubled by the growing dragon population that overcrowds Berk, Hiccup sets out to discover a new home "The Hidden World", while Toothless meets his potential mate, a female Light Fury, closely related to Night Fury.
Toothless Meets His Mate, Light Fury:
Toothless was the only Night Fury and therefore had no prospect of having a family of his own, but the encounter with a female Light Fury changes all that. Being closely related to the Night Fury dragons, Light Fury bears close resemblance to Toothless.
Ruffnut And Tuffnut From How To Train Your Dragon:
The ever-arguing fraternal twins, Ruffnut Thorston and Tuffnut Thorston belong to the Hairy Hooligan Tribe. While they keep on fighting with each other, like any siblings they always end up being friends again. However, in no time another argument follows.
Snotlout Jorgenson From How To Train Your Dragon:
After Fishlegs and the Thorston twins, we now have the last member of the close-knit dragon rider group of Hiccup and Astrid. Here's Snotlout Jorgenson, looking as charming, if a little arrogant, as ever.
Stormfly, Deadly Nadder Dragon:
Belonging to the Deadly Nadder dragon type, Stormfly is the dragon companion of Astrid. As seen in this illustration she looks quite fierce. However, she can be equally playful too. Print this coloring page and give this incredible dragon your best coloring skills.
Terrible Terror, Smallest Dragons:
Terrible Terror may be the smallest of the dragons, but they are no less dangerous. They have an arrow-shaped tail tip, small horns, spines, and large yellow eyes. You can tell when Terrible Terror dragons are about to spit some fire, by the hissing sound they make.
Toothless Activity Sheet:
You know it's Toothless by simply looking at the head and those eyes. But to fully discover him you will need to finish this fun activity sheet by filling each numbered section according to their respective colors.
Toothless And Hiccup From How To Train Your Dragon:
Hiccup and Toothless gave each other's lives a certain purpose when they found each other. With each installment of the film franchise, a new dynamic of their relationship was revealed. Give these faithful friends some loyal colors.
Toothless Flying High:
Toothless, the remarkable and unique dragon is taking flight in this illustration. Being a Night Fury, Toothless possesses incredible speed and aerodynamic skills including some features which even he isn't aware of until discovered by chance.
On that note of chance, we are concluding this exciting collection of How to Train Your Dragon coloring pictures. Whether you have seen the films or not, we hope you have an incredible time coloring these brave Vikings and the formidable dragons. In case you want to dive deeper into their world, you can watch the television series or even play the adventurous video game.