Whether it's in sports, films, or other areas, some rivalries become legendary. Be it Arnold Schwarzenegger and Sylvester Stallone, Messi and Ronaldo, or DC and Marvel Comics, their rivalries have created phenomenal work. However, the rivalry we are going to be talking about today in our collection is iconic in the world of animation. We are talking about Tom and Jerry!
Created by William Hanna and Joseph Barbara for Metro-Goldwyn-Mayer (MGM) in 1940, the "Tom and Jerry" cartoon showcases the comic fights between Tom, a house cat, and Jerry, a mouse, with each one of them coming up with plots to outdo one another. Grey and white, Tom is large, energetic, and intelligent but often reckless, whereas Jerry is small but exceptionally witty. This makes for an adventurous and action-packed rivalry between the two. Let's witness this dynamic duo in action through this collection of free printable Tom and Jerry coloring pages.
40 Free Tom And Jerry Coloring Pages Printable
Tom And Jerry In An Explosive Fight:
to join this conversation on GitHub. Already have an account? Sign in to comment Footer © 2023 GitHub, Inc. Footer navigation Terms Privacy Security Status
Nothing illustrates the relationship between Tom and Jerry better than this duel sequence. Both of them are going at it with equal enthusiasm, making use of anything and everything they can get their hands on.
Jerry Hits Tom:
Although small, being a mouse, Jerry is equally strong as Tom. Here he kicks Tom for troubling him. It must have been a powerful kick, judging by the loud scream of Tom in pain.
Jerry Is Tom's Lunch Today:
Tom is enjoying his lunch today, much more than on any other day. Why? Because he has entangled Jerry in a bowl of spaghetti. But fret not, Jerry is too clever to be eaten by Tom.
Jerry Riding On A Seahorse:
After skillfully escaping Tom's bowl of noodles, Jerry is trying to relax by riding on a seahorse. A seahorse is an underwater creature that gets its name because of its resemblance to a horse. Jerry is able to control his breath quite well in the water.
Jerry Watching TV And Eating Popcorn:
Watching TV can be something of a struggle, especially when you have two rivals trying to watch different programs. While Tom had gone for a bathroom break, Jerry takes his place, even eating his popcorn, infuriating Tom. You must have had similar experiences at home too.
Sailor Tom and Jerry:
Going on a grand sea journey, Tom and Jerry have taken up jobs as sailors. But Jerry is given tasks to clean the deck while Tom is acting like a captain.
The Never-ending Banter:
There is no end to the rivalry between Tom and Jerry. Just when you thought they have run out of ideas to tease and trouble each other, they come up with something new. Like Jerry throwing sweets at Tom.
Tom About To Smash:
Finding Jerry hijacking his spot on the couch in front of the TV, Tom has gone to extreme measures here. Look at that giant hammer he is holding ready to smash the TV. Stop him by filling this illustration with calming colors.
Tom And Jerry As Friends:
Even with all that fighting and pranking each other, Tom and Jerry do manage to find quite a few moments of peace and harmony. In this illustration, you can see Jerry resting on Tom's head and both of them enjoying each other's company.
Tom And Jerry At The Beach:
We have another one of those harmonious moments between Tom and Jerry. On this beautiful Summer day, they are both relaxing at the beach, and drinking some cool drinks.
Read: Beach Coloring Pages
Tom And Jerry Building A Snowman:
One of the few Christmas celebrations where Tom and Jerry were working together. During the holiday this particular year, they gathered around to build a cool-looking snowman. Print this coloring page and fill it with festive colors.
Tom and Jerry Finding Gifts Under The Christmas Tree:
After all that hard work building a snowman, Tom and Jerry eagerly waited for the next morning. Up early, look at both of them trying to find the best Christmas presents for themselves under the well-decorated Christmas tree.
Read: Christmas Tree Coloring Pages
Jerry Does Martial Arts On Tom:
Having newly learned martial art, Jerry does not tolerate any teasing from Tom. As soon as Tom was trying to prank him, Jerry maneuvers his expert martial arts move and splat, Tom hits the ground.
Jerry Hits Tom's Face:
Still trying to trouble Jerry, Tom now finds himself in extreme pain as Jerry pulls on his whiskers. Ouch! That must have hurt. Try to assuage their fighting by filling this illustration with peaceful colors.
Tom Playing Nice With Jerry: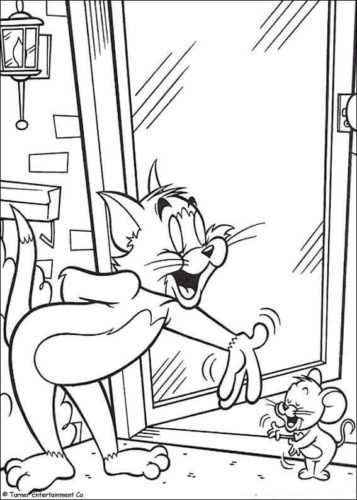 Something seems fishy with this illustration. Tom is playing suspiciously nice with Jerry. Perhaps, it is just one of those lovely days when they are at peace with each other. Welcome this change by coloring this illustration.
Tom Leaves Jerry Outside:
Aha! There you go! Tom was playing nice with Jerry to get him outside. And then he quickly gets inside and slams the door on poor Jerry. Look at Tom coolly whistling away as he shuts the door.
Tom And Jerry Meet At The Corner: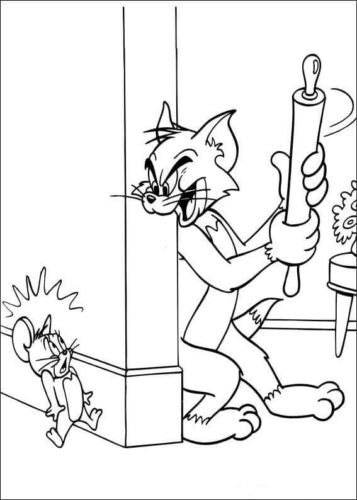 When it comes to trying to outsmart each other with pranks and tricks, any corner in the house can be extremely dangerous. Here's Tom catching Jerry completely by surprise jumping out of a corner ready to chase him.
Tom And Jerry Eating Fruits:
Thankfully, this illustration is one of those rare friendly ones. With so many fruits at their disposal, Tom and Jerry happily forget their rivalry, sharing the different fruit varieties among themselves. They are starting off with a slice of juicy watermelon.
Tom And Jerry Enjoying Music:
After filling their tummy with delicious fruits, Tom and Jerry have decided to enjoy the rest of the evening. Their idea of a good time is playing music and dancing around. Feel the musical vibes on this coloring page and fill it with rhythmic colors.
Tom And Jerry Fight In The Garden:
Alas! The peaceful and fun time could not last for long. As soon as Tom and Jerry went out to play in the garden the next morning, their rivalry got the better of them. Both of them look ready to throw some punches.
Tom And Jerry Having A Picnic:
What do we have here? On a pleasant day, Tom and Jerry decide to keep their fight at bay and enjoy a wonderful picnic instead. The food spread is simply appetizing, to say the least.
Tom and Jerry Having Ice Creams:
On their way home from the picnic, Tom and Jerry even decided to buy some ice creams. Look at them trying to finish their ice cream cones before it melts away. Quickly print this coloring page and finish coloring before it melts.
Read: Ice Cream Coloring Pages
Tom And Jerry Playing Tennis:
When you are rivals, for the most part, playing any sports can turn into an extremely competitive match. As you can clearly see on this coloring page. In no time, the leisurely game of tennis turned into a hyperactive one between Tom and Jerry.
Tom Raking Leaves, Jerry Spooks Him:
While Tom was tasked with raking the leaves that filled the lawn, Jerry has decided to play a prank on him. While Tom was moving the leaves into a pile, Jerry suddenly jumps out of it, completely catching Tom by surprise.
Tom And Jerry Swimming:
Once all their respective chores were done, Tom and Jerry have decided to relax the rest of the evening by swimming around. While Jerry prefers the simple float, Tom uses his giraffe float.
Tom And Jerry With Christmas Gifts:
The best thing about Christmas for Tom and Jerry, aside from the festive treats, is the Christmas gifts. Look at both of them completely immersed in their gifts. You must be experiencing this every holiday season at home too.
Read: Christmas Gifts Coloring Pages
Tom And Jerry With Their Friends:
It's a rainy day. Tom and Jerry had gone out to meet their friends when it started to rain. While Tom covers himself under his umbrella, Jerry playfully uses his as a boat on a puddle of water. Color this interesting scene with amusing colors.
Read: Rainy Day Coloring Pages
Tom Bitten By A Crab:
Jerry successfully manages to prank Tom to step on a crab who gets completely taken by surprise. Now, the crab has bitten his toe and he is running in pain, trying to get it off. Look at the laughter on Jerry's face.
Tom Chasing Jerry:
Jerry had it coming after that prank. Tom is looking annoyed as he chases Jerry. But Jerry is completely unperturbed. He is still laughing, thinking about how he managed to prank Tom with the crab.
Tom Cooking, Jerry Looking:
Feeling hungry after all the chasing around, Tom and Jerry decide to have a truce for lunch. Tom puts on his chef hat and gets cooking, while Jerry silently watches, perched atop Tom's hat.
Tom And Jerry Getting Ready:
Sometimes, having a fun night out is necessary. Both Tom and Jerry are getting ready for a night out dinner after their homemade lunch. Jerry smooths his hair while Tom puts on a few puffs of the perfume.
Tom Applies Sunscreen On Jerry:
On a sunny day, one of the best things to do is basking in the sunlight. On one such bright day, Tom and Jerry are having a good time in the sun. Tom even helps to apply sunscreen on Jerry's back.
Read: Summer Coloring Pages
Tom Hits Himself With A Yo-Yo:
With a Yo-Yo you can never know when it hits you right back, especially if you are distracted. Jerry has got the perfect hang of his Yo-Yo but Tom trying to outdo Jerry ends up hitting himself with the Yo-Yo.
Tom Is About To Fall:
Tom doesn't know he is headed for a fall. He is too busy interacting with the old man to see that Jerry has uncovered the manhole. Try to warn him if you can as you fill the colors in this thrilling illustration.
Tom Is In Danger:
Tom simply can't seem to stay out of danger, especially when he is involved in a constant rivalry with Jerry. Out fishing on the sea, Jerry has managed to hang Tom by the line, tempting an angry shark.
Tom Playing Ukulele:
Now that he has managed to survive the dangerous situations, Tom is happy to put on his entertaining hat. Playing his ukulele with great style, Tom is glad to have a truce with Jerry who is enjoying the music perched on the hat.
Tom Showing Jerry The Newspaper:
The news isn't good this morning. Jerry is literally shaking, reading the headline in the newspaper that Tom is showing him. Print this coloring page and render some comforting colors.
Tom Trying To Fly A Kite:
On a clear and breezy day, Tom is attempting to fly a kite. He has skillfully attached the thread and is trying to test the wind. Give this illustration some free-flowing colors to help Tom fly the kite.
Truce Between Tom And Jerry:
After helping Tom avert a manhole disaster, the old man has even managed to achieve a truce between Tom and Jerry.
With that truce between Tom and Jerry, we have also reached the peaceful end of this adventurous Tom and Jerry collection of coloring sheets. After being featured in over a hundred shorts and series, Tom and Jerry starred in their first feature-length film in 1992. Since then, the fighting duo has featured in several movies with a new film planned for release in 2021.