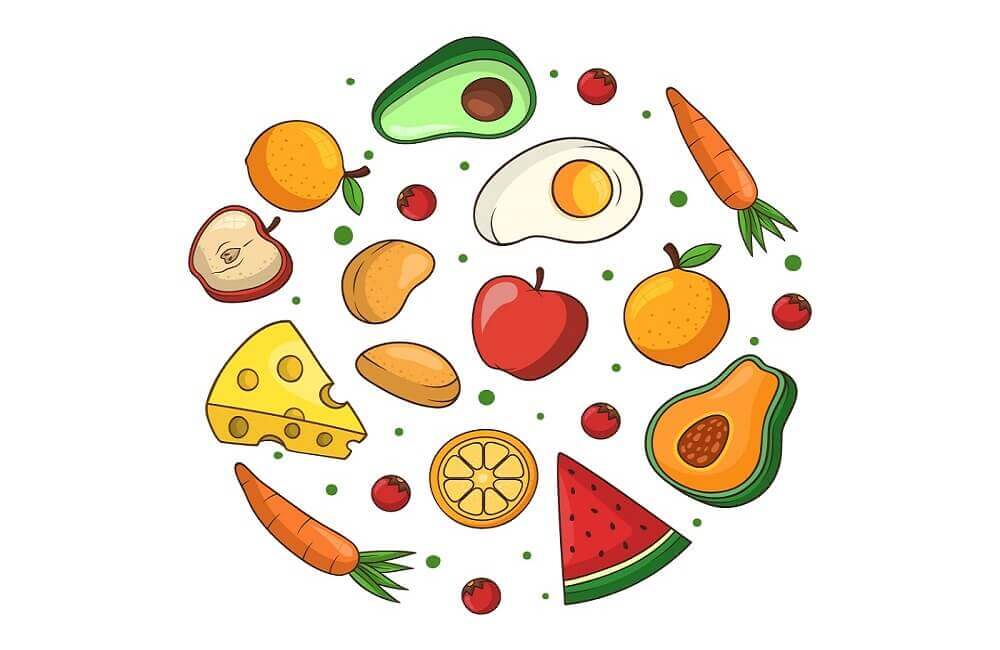 Have you ever wondered what keeps us alive? If you have, then you must be knowing that there are three basic necessities in life – air, water, and food. Without any one of these, we are unable to sustain ourselves. Today, we bring you a collection that is inspired by the most delicious of the three – food.
What is food actually? Well, food can be described as a source of nutrition for any living being to sustain life. Or in simple terms, everything that is edible can be considered as food. So, yes, food is whatever you eat or drink, from the morning breakfast to lunches, dinners to snacks. There are different varieties of food available worldwide; each culture and country have their own unique food traditions. If you ask your parents, you might find out some special family food recipes that have been passed down the generations.
Usually, food is either sourced from plants or animals. Like vegetables and fruits are of plant origin whereas milk or meat is sourced from animals. Unlike the olden times of hunters and gatherers, getting food has become much easier and faster than it has ever been. Like how you can crave for something now and get it delivered in just a couple of hours. Let's delay no further and get munching on this tasty collection of free printable food coloring pages.
to join this conversation on GitHub. Already have an account? Sign in to comment Footer © 2023 GitHub, Inc. Footer navigation Terms Privacy Security Status
35 Free Food Coloring Pages Printable
Half An Apple:
We are starting off our collection with one of the most popular fruits – apple. Depending upon the different species, apples can be crunchy or soft, green, or red. Here on this illustration, we have half an apple, allowing you to see the seeds inside.
Read: Apple Coloring Pages
As Red As A Beet: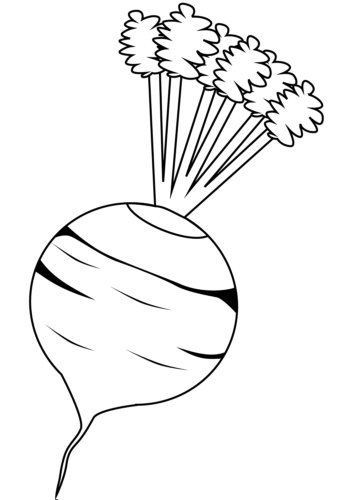 Have you eaten a beetroot? You must have, either as part of a vegetable roast or as a salad component. If not as a vegetable maybe indirectly, as an ingredient in cakes or muffins. As illustrated here, beetroot is round and grows underground, while the shoot with leaves remains above ground.
Bird Enjoying A Drink:
Looks like the summer heat has got this little bird too hot to fly. Like a cool summer, drinks give us comfort, the bird has also found itself a chilled glass to dip itself and relax. Print this coloring page and fill it with refreshing colors.
Some Bread And Bagels:
One of the oldest food items known to man is bread, which, simply put, is a baked dough. Along with it we have another historical bread product on this coloring page, a bagel, that has its origin in Poland. Unlike bread, a bagel is boiled before getting baked.
A Quick Breakfast:
Time for a quick, simple, and tasty breakfast. A cup of hot chocolate, buns, and hot dogs. Sounds like a delicious breakfast, doesn't it? Print this coloring page and turn this breakfast spread into a wholesome and colorful illustration.
Green Leafy Cabbage:
Leafy vegetables are healthy and full of nutrients. One of the common leafy vegetables is cabbage. While most of the cabbages found are leafy green, some are red or purple or light green/whitish in color. Cabbages are shaped oval or round. Give this cabbage any of the mentioned colors you prefer.
Three-tiered Decorative Cake:
Desserts form the sweet range of food and among the desserts, none is as popular and eaten worldwide as a cake. After all, even when we are too young to eat, we still end up with birthday cakes. This one here is a special one –  consisting of three tiers with floral decorations.
Carrot, The Orange Vegetable: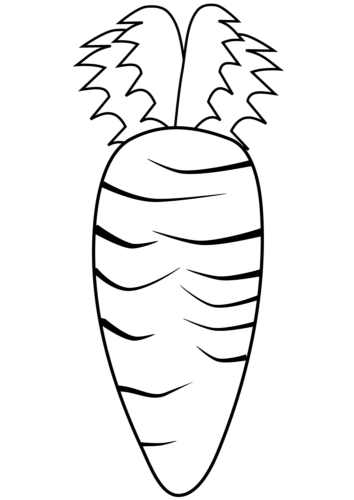 Here's another root vegetable. Unlike beetroot, a carrot is usually orange in color and tapered in shape. The usual carrots we eat are a form of another species, the wild carrot, Daucus carota.
Cartoon Pretzel Looks Worried:
Something has got this poor little pretzel in a knot. Look at that confused and worried expression on its face. Maybe it's just how a pretzel feels. After all, a pretzel is a baked pastry shaped like a knot.
Celery On The Run:
Celery – one of the oldest vegetables is also a marshland plant. It is crunchy, long, and fibrous with leaves at the top. But this particular celery is running scared today. Maybe it saw something spooky. Help soothe his nerves by filling this illustration with colorful details.
As Hot As A Chili:
If you have ever had something spicy at home or at school, then you know just how hot chilis can be. This one seems quite big and spicy, doesn't it? You can make it into a red or green chili or any other color of chilis you have seen.
Chowder – Soup or Stew:
As you can see in this illustration, a chowder is a kind of soup or stew. There are mainly two different types of chowder – seafood or vegetable. This one here is a special seafood chowder made of fish.
Coffee Beans:
Coffee has become a staple beverage for almost everyone in the world. You must have seen your parents have a cup every morning. While you may have seen grounded coffee in a bottle, here you have the coffee beans – seeds of the plant known as Coffea.
Cold Drink For Summer:
When you are playing out in the heat of summer days, it can get tiring. Sipping on a cold, icy drink like this lemonade here, is just the perfect thing to cool oneself down. Print this coloring page and fill this refreshing drink with colors.
Read: Summer Coloring Pages
Time To Decorate This Cute Cupcake:
Cupcakes are like tiny cakes that you can enjoy as snacks, anytime you want. You can turn this illustration into your favorite cupcake – strawberry, vanilla, chocolate, or any other flavor you like.
Read: Cupcake Coloring Pages
Fish Ready To Be Cooked:
One of the most abundant seafood is fish. Living in the water, fish are aquatic animals without any limbs and use gills to breathe. Fish needs to be cleaned thoroughly; scales removed and gutted. You can cut it into pieces or as illustrated here, cook it as a whole.
Read: Fish Coloring Pages
A Crateful Of Vegetables:
This is not just a crateful of vegetables. It is also a crate full of nutrients. So, make sure to eat your veggies whenever your parents cook them at home. For the time being, fill this illustration with colorful veggie surprise.
Crunchy French Fries:
French fries are long diced strips of potatoes that are deep-fried. Mostly found in several fast-food joints, French fries are perhaps a food item that is consumed across different cultures and continents. What's the best type of French fries? Yes, the crunchy ones!
Sweet Like Lollipops:
Most children end up having a lollipop when growing up. A lollipop is a sugar candy put on a stick and eaten by either sucking or licking them. They can be of different shapes and flavors. Illustrated here are some oval and round lollipops for you to color.
Sipping On A Milkshake:
There are several different drinks, especially cold drinks, available during summer days. One of the tastier ones is a milkshake, which combines milk and ice-cream with different flavors. Give this chilled and dripping milkshake some of your cool colors.
Layering Like An Onion:
Onion is one of those vegetables that has a pungent smell and emits a tear-inducing liquid. You might have seen people crying while cutting onions. One other thing about onion is that the whole bulb is actually layers upon layers of onion skin. 
A Heart-Shaped Pear:
After the rather smelly onion, we have a delicious fruit for you to color – pear. This particular pear is shaped like a heart with an elongated end. The fruit grows on pear trees and shrubs. The fruit is light to dark green and becomes yellow when over-ripened.
Sweet And Sour Like Plums:
Belonging to the genus Prunus, plums are another kind of fruit. Unlike the pear which is a bit grainy, plums are juicy and taste sweet and sour at the same time. Plums come with a smooth stone or seed inside, as seen here on this illustration. Fill the skin with red and the inside pulp with orange colors.
Time For Some Popcorn:
What's the best snack while watching a movie? Popcorns! Look at those crunchy popcorns packed inside that paper bag. Print this coloring page and give this entertaining snack some of your lively colors.
A Giant Pumpkin:
If you are familiar with Halloween, then you will surely know about pumpkins. There are so many pumpkins during Halloween that it is impossible to ignore. But pumpkins are not just for decorations. They are a tasty vegetable – from stews to pies and roasts, there are several ways to eat this vegetable.
Read: Pumpkin Coloring Pages
Roasted Turkey For Thanksgiving:
Celebrated in November shortly after Halloween, is the Thanksgiving holiday. One of the great traditions of the holiday is Thanksgiving dinner. This illustration shows the dish without which a Thanksgiving dinner is incomplete – a roasted turkey.
Read: Turkey Coloring Pages
A Stack Of Sandwich:
Sometimes, a sumptuous stack of a nutritious sandwich is enough to fill our stomach for lunches or dinners. Here we have a delectable illustration of a sandwich. Print this coloring page and fill it with nutritious, tasty colors.
Smoothie Coloring Page:
When you have such a big sandwich you will need to wash it down with a tasty drink. Made from fresh fruit and some milk, yogurt, or ice cream, maybe this smoothie will quench your thirst. Give this illustration the proper colors of your preferred smoothie ingredients.
Bubbling Like A Soda:
How can you tell a soda from water? It's always bubbling with excitement. Soda is a carbonated, sweet drink that fizzes or bubbles. Somebody has spilled a can of soda here. Try your best to clean up with your smooth coloring skills.
A Bowl Of Soup:
Nothing tastes better when we are famished between meals, like a bowl of comforting soup. More so, if we are sick, a soup can not only be tasty but just the kind of food we need. Here we have a soup with veggies and prawns for you to color.
Spaghetti Is Ready:
Rice and bread are a major staple diet in several countries around the world. In most other places, especially in Europe, pasta is eaten regularly. Here's a glimpse of traditional Italian cuisine – a bowl of spaghetti.
Salt The Steak:
One of the most loved meat pieces is steak. To cook, it is seasoned well with pepper and salt, as illustrated on this coloring page, before either being grilled or pan-fried. Print this coloring page and fill it with some meaty colors.
Juicy Red Tomato:
A fruit that is eaten as a vegetable, tomato is green in color before turning red as it matures. It can be eaten raw or cooked and is used in several other food varieties like the ketchup, tomato sauce, and puree.
Waffle With Ice Cream:
Waffle is similar to a pancake in its ingredients but cooked and shaped differently. There are several different ways to eat a waffle, but nothing beats the combo of waffles with ice cream. Print this coloring page and fill it with a combination of sweet and crunchy colors.
Read: Ice Cream Coloring Pages
As Cool As Yogurt:
Milk is used for several different food products and they are all delicious. Like this chilled yogurt illustrated here that has been flavored with some fruits. Yogurt is a result of the bacterial fermentation of milk.
On that cool note, we have come to the end of this "foodilicious" collection of food coloring sheets printable. Hope you enjoyed bringing the different vegetables, fruits, and other food-inspired coloring pictures alive with your colors. Over the years as human civilization progressed, food has become an industry in itself and carefully monitored by different agencies to ensure it is up to the mark and in compliance with accepted health and other standards.