Disney Pixar's Luca has just been released online and is getting raving reviews from all over the world. To be honest, it was quite expected. The plot looked really promising from the trailer itself and secondly, it's made by Pixar, which is well known for making some really awesome and heart-tugging animated movies. Set in Portorosso, a small town in Italian Riviera, "Luca" is a deeply emotional, funny, and entertaining story about friendship and acceptance. The story revolves around Luca and his friend Alberto, the sea monsters who dream of exploring the world above the waters all the time. Luca's mother even warns him about the repercussions, but he does not pay any heed to it and gets out of the water to explore the beauty of the land.
We won't spoil the story much for you now, so let's get to our collection of free printable Disney Pixar Luca coloring pages and activity sheets.
14 Free Printable Disney Pixar Luca Coloring Pages
Alberto And Luca On Their Scooter:
Luca and Alberto are totally obsessed with Vespa scooters. Since they can't get one, they create their own scooter. But it failed to work after one or two rides. Hence, the duo decides to go to Portorosso to get the real thing. But buying a Vespa requires money. Hence they decide to take part in a race that will win them the money and which they can use to buy a Vespa of their own.
to join this conversation on GitHub. Already have an account? Sign in to comment Footer © 2023 GitHub, Inc. Footer navigation Terms Privacy Security Status
Luca And Alberto Having Ice Cream: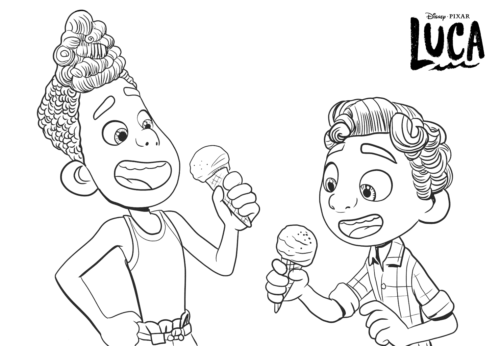 How sweet is this illustration of Luca and Alberto having an ice cream? Disney Pixar's "Luca" is a summer film in the truest sense. It literally celebrates this bright and cheerful season, as shown in this coloring picture. Just look at their expression? It's pretty clear they are having ice cream for the first time and are loving it.
[Related: Ice Cream Coloring Pages ]
Alberto Scorfano Coloring Page:
Meet Alberto, a sea monster Luca befriends en route to the land. Alberto, also a sea monster has been an ardent fan of human life. He affiliates Luca with all the fundamentals of human life, such as gravity, walking, and even his favorite Vespa, which can take people anywhere they want to. Alberto acts as an alter ego to Luca. Unlike hesitant Luca, Alberto is reckless, fearless, and never afraid to try new things.
Luca, Alberto, And Giulia Coloring Page:
The movie "Luca" celebrates friendship through the three central characters, Luca, Alberto, and Giulia and we must say it looks very natural and organic. On this coloring page, we see Luca, Giulia, and Alberto riding on the coveted Vespa.
Luca Activity Sheet:
Vespa is at the very center of this movie, so how could we not include an activity sheet featuring the scooter. This activity sheet is special as it will allow kids to have their own Vespa. The activity sheet features all the spare parts of Vespa scooter, which kids have to attach to build a scooter. Since the activity sheet requires cutting, we would suggest asking an adult for help.
Luca Poster Coloring Page:
This coloring picture is based on the poster of this movie. It basically narrates the concept of the movie. The image shows Luca half in water and half outside, and how different he looks in both places. Luca and his brethren transform into human form when they are on the land. But if they get wet even a bit, it will blow their cover. Do we need to say more now?
Giulia Coloring Page:
Meet Giulia, the charming and outgoing tritagonist of the movie "Luca". Appearance-wise, Giulia is typical Italian with red, curly hair, slightly tanned skin, and brown eyes. She didn't have a lot of friends in town and was often a target of bullies. But when Alberto and Luca show up, she teams up with them to show the bullies their place. Giulia dresses quite like a 50s teen, in blue jeans, beanie, t-shirt, and sandals.
Luca And Alberto As Sea Monsters:
Here's a wonderful colouring page of Alberto and Luca in their sea monster form with both land and sea life in the background. Luca, Alberto, and all the sea monsters have a bright and vibrant appearance with extremely fine detailing. So make sure you show the same depth while coloring this image.
Luca With His Friends:
Here's another image of Luca, Alberto, and Giulia having fun in the small Italian town. The illustration depicts Luca cycling away and Alberto and Giulia running behind him. They still look very happy for Luca.
Luca As A Sea Monster:
Here's a coloring sheet of Luca in his sea monster form. Luca is an undersea fish-herder and lives with his parents in the sea, deeply scared by the local fishermen. But Luca is an adventurer in the heart. He is highly intrigued by the jetsam and flotsam and wishes to explore the land at least once.
Luca Paguro Coloring Page:
Here's a coloring page of Luca in his human form. As a human, Luca has brown eyes, fair skin, and dark brown, wavy hair. He appears in the movie wearing blue shorts and an ivory shirt but is barefoot all the time. You can see the kind of curiosity he has for the human world in his eyes itself. But still, he looks a bit worried. Maybe he is still scared of the humans?
Luca, Alberto, And Giulia On Italian Lane:
Pixar has done full justice to the beautiful Italian Riviera in this movie. It has a dreamy vintage feel since it's set in the 50s, with beautiful pastoral pastels spattered everywhere. Everything is so bright and colorful, making it a perfect summer movie for kids. In this coloring image, we see Luca, Alberto, and Giulia roaming on Italian lanes.
Massimo:
Meet Massimo, the father of Giulia and one of the recurring characters in the movie. Alberto and Luca are very scared of Massimo because he is a highly skilled fisherman who kills anything that swims. And he is quite huge and bulky physically and is excellent with a knife too, which makes the duo feel intimidated even more.
Machiavelli On Massimo's Shoulder:
This coloring picture shows Massimo with Machiavelli on his shoulders, exactly how he appears most of the time in the movie. Did you notice even Machiavelli has a mustache, just like his master? Both Massimo with Machiavelli look very scary and intimidating, but both of them love Giulia a lot.
We hope you enjoyed our collection of free Disney Luca coloring pages. Some of these Luca colouring pages are released by Pixar themselves and some are inspired by the characters of the movie. Let us know your favorite Luca coloring page among all by commenting below.