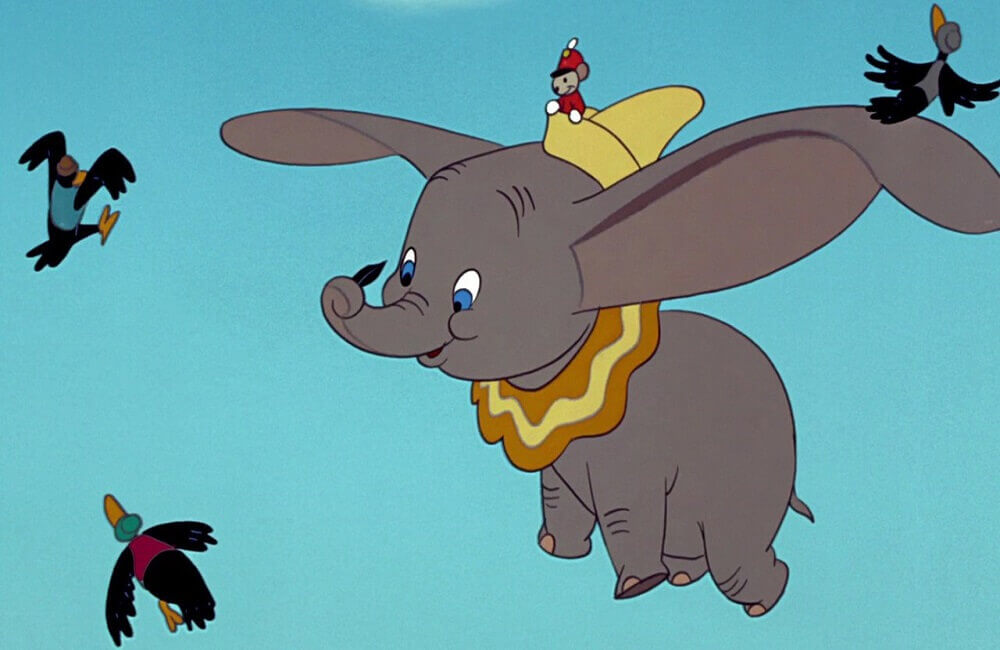 Good day children! March is here and soon you will get to enjoy the yearly Summer movie extravaganza. This year Disney is bringing back another of its animated classic, "Dumbo" into live-action remake, much like "Cinderella" and "The Beauty and the Beast". You guessed it right, today we have got for you a collection of free printable Dumbo coloring pages.
First released in 1941 and much loved by all, Dumbo is a story of a young elephant with big ears, turning him into a joke in the circus where he works. With the love of his mother and encouragement from his friend Timothy Q. Mouse, he discovers his large ears enable him to fly. The 2019 live-action remake is directed by Tim Burton and is set to release on 29th March across cinemas worldwide. While you wait for its release, let's dig deeper into the world of the flying elephant with this collection of Dumbo coloring sheets to print.
25 Free Dumbo Coloring Pages Printable
Timothy Q. Mouse Seeks Help From The Crow:
When Timothy Q. Mouse found himself and his friend Dumbo on top of a tree after accidentally drinking water that had alcohol in it, Timothy had figured that Dumbo is able to fly using his extraordinarily large ears. He is here asking help from crow so that Dumbo believes in himself enough to take the leap and fly.
to join this conversation on GitHub. Already have an account? Sign in to comment Footer © 2023 GitHub, Inc. Footer navigation Terms Privacy Security Status
Donald And Daisy Duck Flying High, Riding On Dumbo: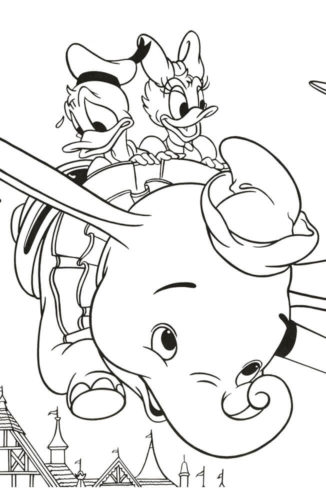 After overcoming his fears, Dumbo is finally able to soar high in the sky. Looks like he is confident enough to even take others on a ride with him. Here we have Donald Duck and Daisy Duck enjoying looking at the world from a high vantage point, riding on the back of Dumbo.
Dumbo With Bow-Tied Ears: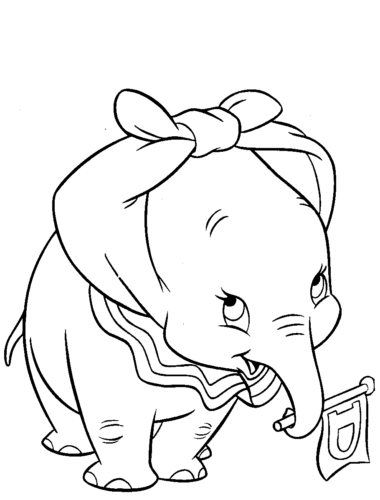 Taking his cuteness quotient to another level, this adorable illustration of Dumbo will make you smile with happiness. Doesn't he look so cute with his large ears tied up in a bow on top of his head? He is even holding a cute little flag to welcome all the visitors to the circus for the night.
Standing On Two Feet, Dumbo Does Ball Tricks:
Working in the circus, Dumbo is made to do tricks for the crowd. One of the popular acts he gets to be a part of is the ball trick. Here you can see him trying to balance himself on his two hind legs as he does tricks with the giant ball using his snout. Applaud him for his act by printing and coloring this page.
Dumbo Falls In A Puddle: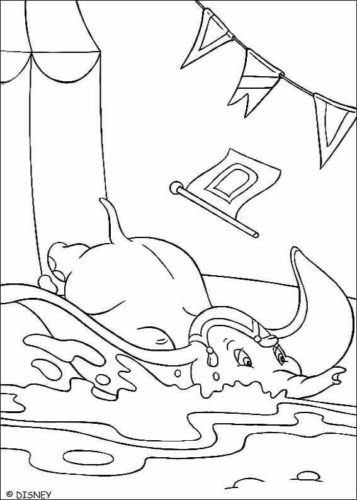 After a storm hit the town, everyone in the circus helped in tidying up the place. Later they were readying for a parade but somehow Dumbo tripped on his ears and fell in a puddle, getting himself muddied up.
And Mrs. Jumbo Checks On Little Dumbo: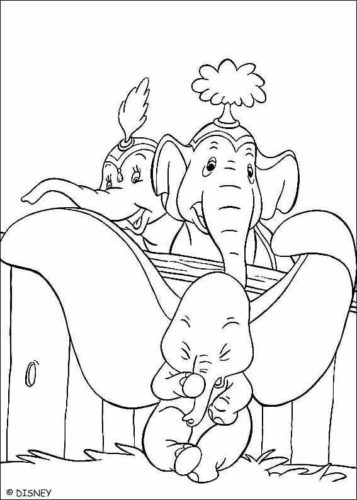 As Dumbo was born with large ears, Mr. and Mrs. Jumbo always made sure to check on him in case he gets into some trouble. Looks like little Dumbo is doing just fine, taking a quick little nap, resting himself against the fence. Parents always worry about their children. Be sure to always inform your parents whenever you head out of the house so that they do not worry.
Little Dumbo Wearing A Cute Hat:
As he rests for the day, little Dumbo is not sleepy at all. He spends his time playing with this snout, blowing air into the ground, while waiting to fall asleep. Wearing a tiny little hat on his head, doesn't Dumbo look so charming?
When Dumbo Learned To Fly:
This was after Dumbo had managed to fly when Timothy and the crows helped him, telling that holding a magic feather would make him fly. Even he is finding it hard to believe that he can actually fly.
Dumbo And Timothy Have A Good Time At The Circus:
Dumbo had found fame as a solo clown act, jumping from a height into a large container filled with pie. But he never liked his job. That was also why Timothy always tried to make Dumbo laugh with this silly antics. It seems to be working. They both look blissfully happy.
Jumbo Teaches Dumbo To Read:
One of the early childhood memories of Dumbo is the bedtime stories when his mother, Mrs. Jumbo would read to him. As he began to grow up and learn how to read, she would encourage him to read instead. Here she supports the book for Dumbo as he gets engrossed reading the book.
Dumbo Enjoys His Bath:
This must remind you of your own bath time, playing with the bubbles in the bathtub. Even Dumbo is the same. He enjoys his bath time, splashing soapy water everywhere!
Dumbo Holds His Flag: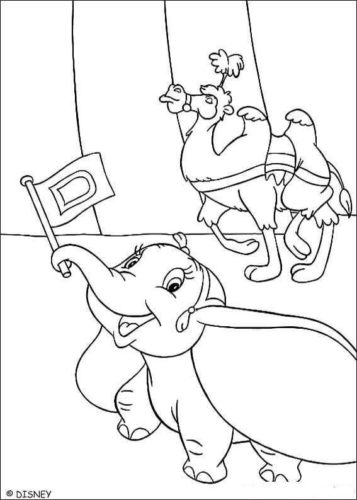 In the circus, Dumbo has his own tiny flag which he likes to carry around whenever he goes. He makes up his own race with the double-humped camel and cheers up heartily when he passed it. For Dumbo, even playing alone is fun.
Dumbo With Knotted Ears: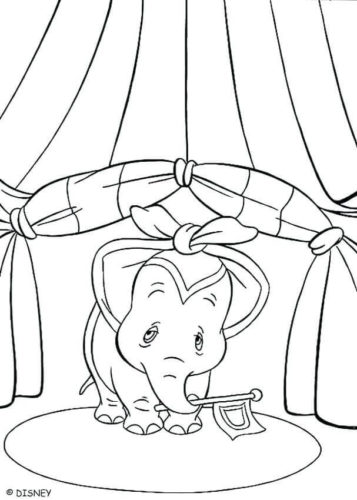 Greeting the people who have come to see the circus, Dumbo holds his flag and welcomes with knotted ears. Since he tends to trip on his big ears, the owner decided on making him tie his ears in a knot.
Jumbo And Her Son Dumbo At The Circus:
Mrs. Jumbo had her son Dumbo in the train on the way to the circus. A stork had come to deliver it to her. As they both arrive at their destination, Mrs. Jumbo seems anxious about how Dumbo would manage in the circus.
Dumbo And Timothy – Best Friends For Life: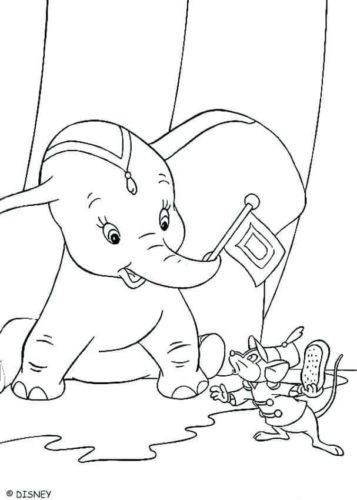 While everyone else made fun of Dumbo, even the other elephants, he had a loyal friend in Timothy Q. Mouse. Timothy never gets tired of making Dumbo laugh. You must have such great friends too. Make sure you are always good with each other.
Dumbo's Flying Circus:
When Dumbo finally succeeds in flying by believing in himself, he gains lots of popularity and his life in the circus along with his mother's become a lot better. Seems like Dumbo is planning his own circus with his friend Timothy, named "Dumbo's Flying Circus".
Disney's Dumbo Poster: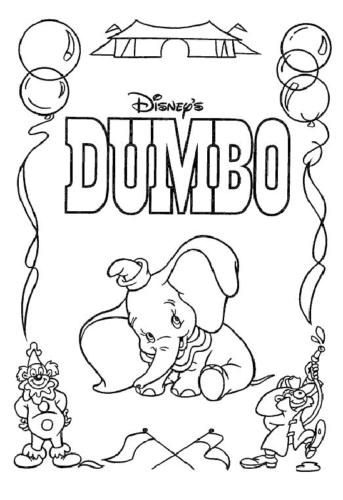 Disney's 1941 animated movie, "Dumbo" was a simpler film compared to their other ventures but turned out to become a major hit. "Dumbo" was Disney's fourth animated feature film and it went on to win an Oscar for Best Original Score.
Happy Dumbo Tries To Fly:
After he flew with the help of Timothy and the group of crows, he has been jumping around in joy. Unable to contain his excitement he keeps leaping as if trying to fly.
Timothy And Crow's Flying Lesson For Dumbo: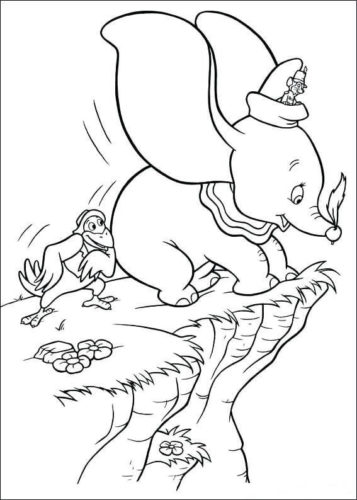 As happy as he was afterward, during the flying lesson from the crows and Timothy, Dumbo was really scared to take the leap. He kept hesitating, standing on the edge of the cliff.
Stork Has A Delivery For Mrs. Jumbo:
Mr. Stork here is on a tight schedule. He flies swiftly to make it to Mrs. Jumbo while she is still on the train on her way to the circus.
Jumbo Bathing Dumbo:
No matter what others said, Mrs. Jumbo did not pay any heed to them. She loved and pampered her child. You can see her lovingly bathing Dumbo in this illustration.
Little Dumbo With His Mother, Mrs. Jumbo:
Being in a new place, little Dumbo would never leave the side of his mother Mrs. Jumbo. She made sure to look after him while he adjusted to life in the circus.
Scared Dumbo Stuck On Top Of A Building:
Doing stunts in the circus was tricky for Dumbo. Especially his solo act where he had to jump into a huge pie container from the top. He is here practicing his stunt while the owner prods him to jump.
Timothy Q Mouse – Dumbo's Loyal Friend: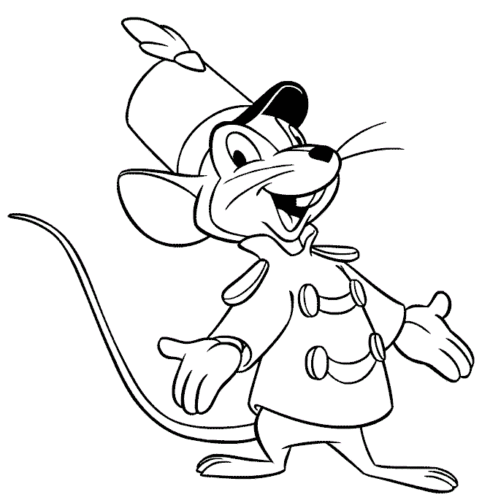 A good friend makes life a lot more interesting and adventurous. Dumbo didn't have many friends. In fact, he only had one, Timothy Q Mouse. Together they were the best of friends and life was always fun and exciting.
Timothy Teaching Dumbo How To Fly Using "Magic Feather":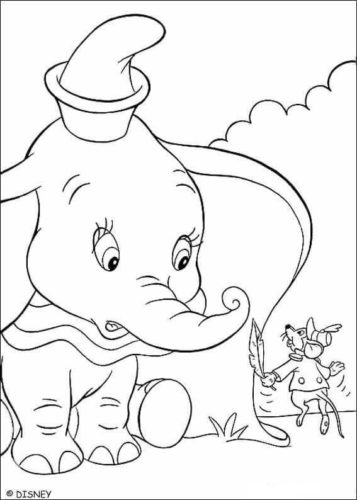 Since Dumbo didn't believe he could fly at all, Timothy played a psychological trick on him. He gave him a "magic feather" which would make him fly. Sure enough, the trick worked, and Dumbo flew.
With that magic trick, we have come to the end of our collection of Dumbo coloring pages printable. If you haven't seen the old movie, ask your parents or teachers to organize a screening or plan for the upcoming new release. There are a lot of important life lessons in this film, like how being different and unique is something to be celebrated and having true friends, even just one, make life wonderful. You can explore these lessons and more together through movie screening or through this collection of Dumbo coloring pictures to print.