Good day kids! After the wonderful collections of coloring pages of various animals, wild and domesticated, we are back with a collection about a Disney animated feature film and this time we have free printable Disney Lilo and Stitch coloring pages. The film showcases the Hawaiian culture and the importance of family along with quirky, adventurous and endearing twists and turns including aliens.
Released in 2002, Disney's Lilo & Stitch relates the unlikely friendship and bond between the two main characters, Lilo – a young Hawaiian girl who lives with her elder sister after their parent's sudden death and Stitch – an alien illegally made by a mad scientist Dr. Jumba Jookiba, exiled to an asteroid but happens to escape to earth.
Finding Stitch in an animal shelter, Lilo gets her sister Nani to adopt him and through several ups and downs teaches Stitch the meaning of family, enabling him to finally defy his destructive and chaotic programming nature.
Let's discover more about this unlikely duo and their incredible adventure through this collection of Disney's Lilo and Stitch coloring sheets to print.
to join this conversation on GitHub. Already have an account? Sign in to comment Footer © 2023 GitHub, Inc. Footer navigation Terms Privacy Security Status
30 Free Lilo And Stitch Coloring Pages Printable
Captain Gantu – The Militant Giant:
The United Galactic Federation had imprisoned Dr. Jumba and exiled his Experiment 626 or Stitch. On learning Stitch is on earth, they sent Jumba and an executive Pleakley to capture him. When they fail, the Federation enlist the help of the militant Captain Gantu. In appearance, Gantu is like a whale, muscular and standing 20 feet tall.
David From Lilo And Stitch, Surfing Without A Glitch:
David is a colleague and a close friend of Nani who helps her out whenever she is in need. He is also caring towards Lilo. A great surfer and lover of the ocean, David is always there to cheer both the sisters through their trouble. You can see from this illustration the excellence of his surfing skills.
Lilo And Stitch Never Miss A Chance, To Learn The Hula Dance: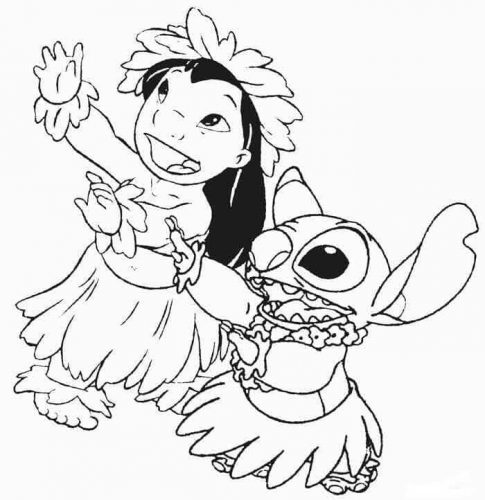 Lilo has a keen interest in hula dancing but she has trouble learning the nuanced movements at the hula school she is attending. In finding Stitch, she also found a partner to practice her dance with. Look at them dancing the hula dance.
Mischievous Stitch Drinks His Milk, And Makes A Pillow Of Lilo:
After getting his bottle of milk, Stitch finds Lilo sleeping flat on her stomach. Being mischievous as ever, Stitch throws a pillow on top of Lilo and properly rest himself against her, turning her into a pillow for himself. Print this coloring page and fill this funny illustration with some jovial colors.
Jumba Jookiba Gets Hold Of His Experiment 626 – Stitch:
On learning the United Galactic Federation had sent Captain Gantu, Dr. Jumba Jookiba takes the matter in his hand and decides to capture Stitch himself. After escaping from Gantu, Stitch runs around to find help to rescue Lilo who was still trapped. But Stitch gets taken by Jumba instead.
Leroy, Stitch's Evil Clone Tries To Fool Lilo: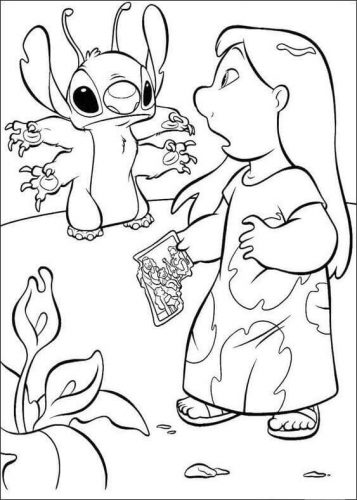 Introduced in the third part of the Lilo & Stitch franchise "Leroy & Stitch" released in 2006, Leroy can disguise himself as Stitch by changing his fur color from red to blue. Changing into Stitch, Leroy tries to fool Lilo, but she gets to know because Stitch wears a necklace, she had gifted him.
Leroy, The Evil Twin Has Guns Firing:
Having an evil ambition, another crazy scientist, Dr. Hamsterviel had kidnapped Dr. Jumba Jookiba and forced him to create an evil version of Stitch using the same template. Hamsterviel named this evil twin of Stitch as Leroy. Unlike Stitch who is blue, Leroy has red fur and a deeper voice.
Lilo And Stitch – Unlikely Bond:
When Stitch had landed on earth, he found himself in an animal shelter. To escape getting caught by the United Galactic Federation agent and his creator Jumba, Stitch adapts himself as a dog to get adopted by Lilo who seemed to like him. Since then, they have formed a great bond.
While Lilo Tries To Teach Him, Stitch Throws Tantrum: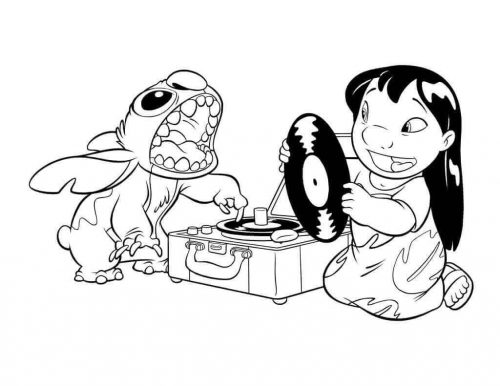 Lilo found Stitch in the shelter and thought he was a dog that had been mistreated because of the way he looked. But his mischievous and chaotic nature caused lots of problems for her. You can find Stitch throwing a tantrum while Lilo tries to show how to work the record player.
Lilo And Stitch Relaxing On Hammock Swinging: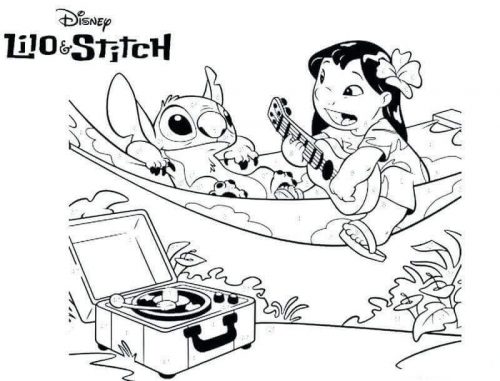 After their disagreement, Lilo and Stitch have already made up. They are enjoying a relaxing day in the sun, with the record player playing as Lilo joins in singing and playing her ukulele. Tired and calm, Stitch is looking relaxed as well, swinging on the hammock.
How Stitch Became Lilo's Family:
Lilo met Stitch at a difficult time in her life. She and her elder sister were left orphaned by the sudden death of their parents. This interesting collage of their family photograph during the happy times and of Stitch, beautifully captures how Stitch slowly became a part of the family.
Lilo And Stitch Enjoying Summer: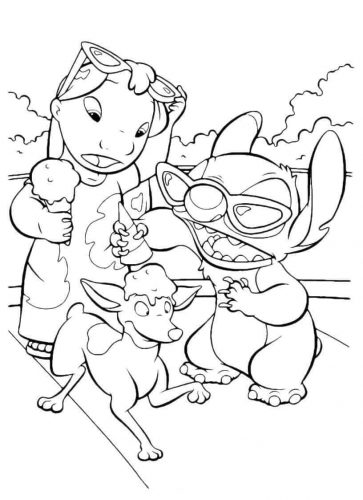 Who doesn't like a bit of sweet, cold and yummy ice-cream on a warm summer day? Lilo and Stitch are out in summer and having a great time eating some delicious ice-cream. Stitch is looking so playful in this fun illustration.
Lilo And Stitch Glide, Going On A Bike Ride:
In Lilo's company, Stitch begins to control his chaotic energy and channel it towards doing fun and positive things. Just like going a little adventure, enjoying a fun ride on a bike with Lilo who is smiling wide with her hair blowing in the air. Give your best and thrilling coloring skills to this adventurous illustration.
Lilo And Stitch Hugging, Sharing Their Feelings: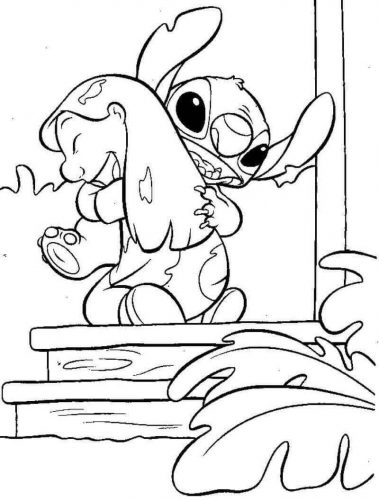 After all the trouble and adventure, they go through together, from being captured and escaping, Lilo and Stitch had cemented their bond. When they finally can see each other again, having been rescued they hug each other.
Lilo And Stitch Learning As Nani Takes Them Surfing:
Like any newcomer not knowing how things might turn out, Lilo and Stitch are carefully clinging onto the surfboard as Nani takes them out to the sea. As experienced a surfer as Nani is, she smoothly glides on the water surface. Print this page and highlight all the different expressions on each one of them.
Lilo Says Hello To You:
Here's taking a closer look at Lilo. A young girl with a highly spirited and somewhat eccentric personality. Something that contributed to her having not many friends. But it is for these same qualities that she ends up getting a great friend, a family in Stitch.
Lilo Enjoying At The Beach: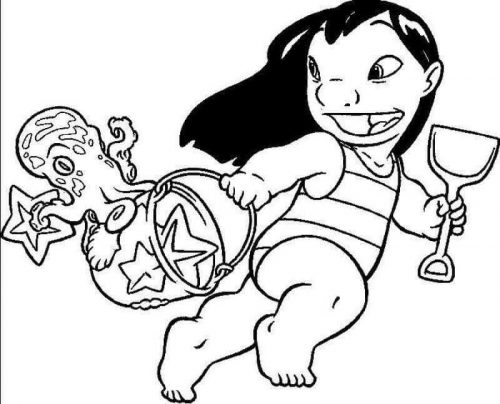 Lilo is getting into the summer spirit. She is out on the beach ready with her shuffle and bucket to make some sandcastles. Looks like an octopus is interested in her castle and has clung itself to the bucket to be able to see what she has made. Give all the bright and summery colors to this fun illustration.
Lilo Gets A Phone Call:
Some surprising news must have been related to Lilo. She looks a little shocked as she listens intently on the phone. You can console her by giving her some warm and comforting colors.
Lilo Petrified Of Stitch
During the initial days when he pretends to be a dog, taking refuge in Lilo and Nani's home to hide from the agents, Stitch remains chaotic and agitated. Throwing random tantrums and acting wildly around the house. His antics seemed to have disturbed both Lilo and Nani this time around. Carefully capture this dramatic illustration with your edgy coloring skills.
Lilo Reading To Stitch, Before They Sleep: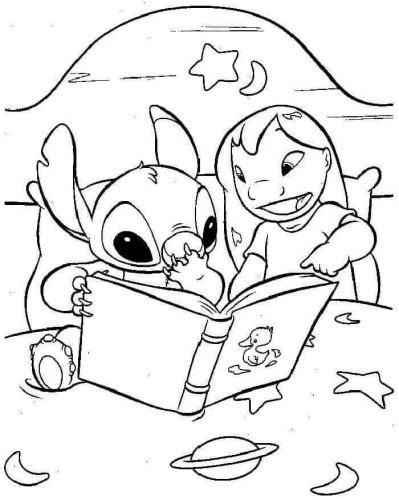 Continuing their bedtime tradition of stories, Stitch and Lilo are here again tonight concentrating completely in another engaging story before heading off to sleep. Print this coloring page and color it with soothing colors.
Lilo And Stitch Rescue Each Other:
Lilo tried to save Stitch from Captain Gantu and got caught along with him. Somehow, Stitch escapes and goes out looking for someone to help him rescue Lilo from the clutches of Captain Gantu. After much explanation, with the help from Jumba and Pleakley, he finally rescues Lilo.
Lilo Swimming Underwater:
Lilo decides to explore the ocean today. As she swims beneath the surface, she is filled with wonders looking at the magnificent world of fishes, corals and other living and non-living things underwater. Capture all the wonders of the creatures and environment in the water and Lilo's reaction with your colors.
Lilo Makes A Start, Teaching Stitch Some Art: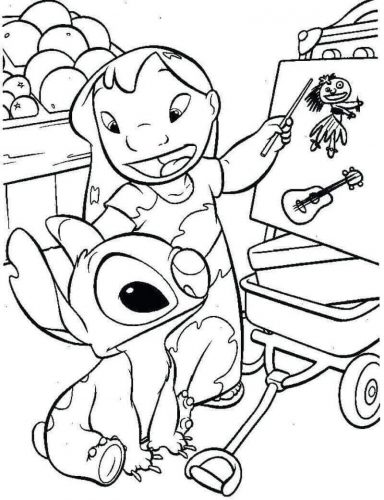 Part of Lilo's efforts to calm and comfort Stitch was to teach him several different things, especially arts like music and painting. Today, she shows Stitch how to draw some beautiful art. Give this art lesson, the much-needed splash of bright and happy colors.
Lilo Holds A Big Fish:
Looks like Lilo has found a big fish and is comforting it in a warm embrace. She seems conflicted about the fish. On one hand, she enjoys a great fish meal but on the other, she is sad about the fish. Perhaps that is why she is treating it with respect and showing her gratitude.
Lilo With Her Rag Doll "Scrump":
Lilo loves her doll that she made herself by combining different, almost odd parts and materials. The result is a rag doll green in color with different sized button eyes, oddly stitched mouth and straw for hair. Print this page and color the doll as well as Lilo with your choicest colors.
Lilo Laughs With Nani, Being Together And Happy:
The initial days living together after the death of their parents were chaotic for Nani and Lilo. Nani couldn't manage to maintain a job with Lilo and Stitch creating trouble for her. This kept them at odds with each other. However, they soon come to see and understand each other better. Here they sit down together, sharing thoughts and feelings as a happy family.
Nani, Lilo, And Stitch – A Family: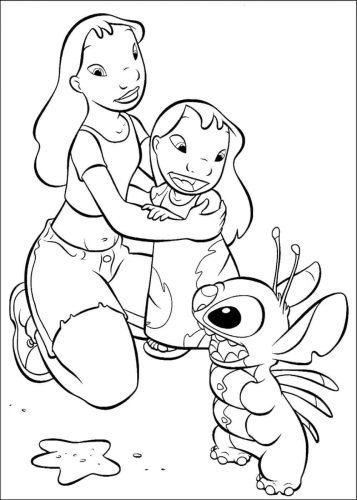 During his stay, Lilo teaches Stich about 'ohana which means a family, concept that includes family members that are adopted as well. It is through this lesson and living with them that Stitch defies his destructive nature, becoming a family together with Nani and Lilo. Print this page and fill it with lots of happy colors.
Stitch Looks Sad Leaving Lilo's Bed:
After hearing a great story from Lilo for the night, Stich bids her goodnight and leaves her bed to sleep on his bed. He feels sad that the story ended so soon. You must also be enjoying storytelling time with your parents or even at school. And like Stitch, feel sad when a story comes to an end.
Stitch Sleeps With Joy, Holding Lilo's Toy:
After a hard day's fun and adventure, Stitch goes to peaceful sleep holding on to Lilo's rag doll, Scrump. Although he detests the dog most of the time, tonight it comforts him to sleep. Print this coloring page and fill this curious illustration with soft colors.
Stitch Learns To Play Ukulele:
Under Lilo's constant care Stitch begins to adapt well in his new life. He has even learned how to play the ukulele properly. The task had frustrated him earlier when he had broken one out of frustration. Reward this change in him by printing this coloring page and filling it with joyful colors.
On that rewarding and playful note, we conclude today's special collection of Disney's Lilo & Stitch coloring pages printable. The film was a critical and commercial success when it released nearly two decades ago, collecting over 273 million US dollars. It was even nominated for Oscars or the Academy Awards. Hope you enjoyed this collection and also learned the great value of family and friends portrayed in the film, through the concept of 'ohana – a family you are born with and the one you find for yourself.