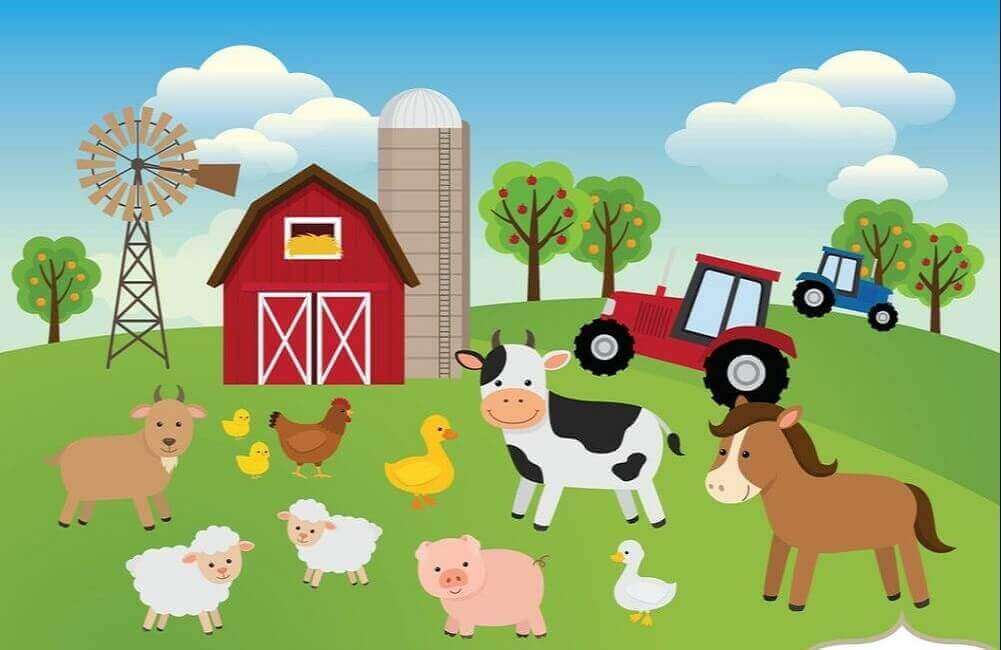 Good day children! Hope you are doing well and enjoying the simple things in life. Talking about simple things, today we have brought a collection inspired by a more simplistic way of life. Simplistic but not in any way easy. Today's collection is all about farm life in the countryside. If you enjoyed filling up our earlier collections of farm animal-inspired coloring pages, then you will have a blast filling these free printable farm coloring pages.
In simple terms, a farm is a land where food is grown, like plants, crops and animals or livestock are raised. The people who own and take care of the farm are called farmers. You must have seen rows of corns, sunflowers or other crops and vegetables or animals like sheep, cattle grazing on the meadows in the countryside. If not in real life, then at least in pictures, videos and on television and films.
So, gear up for an adventurous farm ride with this wholesome collection of farm coloring sheets to print.
30 Free Farm Coloring Pages Printable
A Beautiful Farm: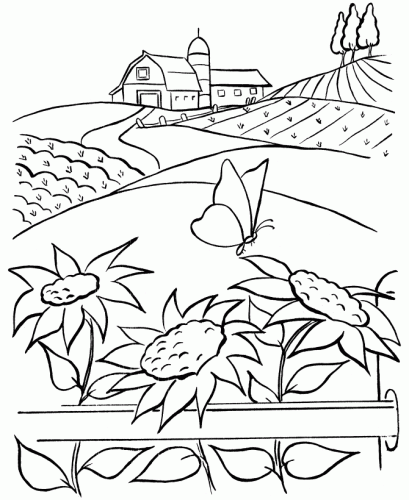 We are starting our collection with an illustration of a peaceful and serene looking farm. From this angle, you can see the vast expanse of the farm that spreads over several plateaus.
to join this conversation on GitHub. Already have an account? Sign in to comment Footer © 2023 GitHub, Inc. Footer navigation Terms Privacy Security Status
A Complete Farm Scene:
Let's now get a closer look at the farm with this illustration. You can spot different animals feeding and a few farmers involved in doing their specific farm duties.
Color By Number Barn:
A barn is a shed used for storage or shelter for animals on the farm. You can help color this barn as well as its environment by following the instructions.
Cattle And Horse Grazing Under A Giant Tree:
When you stay on a farm, you are bound to be surrounded by nature, especially huge trees like this. A couple of cows and a horse are busy grazing on the grasses here.
Kid Enjoys Feeding Chickens:
Little kid is having a fun time helping with the chores around the farm. Being young and small, he is tasked with feeding the chickens who are happily eating the grains away.
A Big Cow In A Dairy Farm:
This one is a dairy farm. How can we tell? Because of the big cow illustrated at the front of the coloring page. Several products are derived from a dairy farm, from milk to all its products like cheese, etc.
Dinosaurs As Farmers:
Here's a funny illustration full of imagination. Dressed as farmers, these are not humans but a dinosaur family. They are into sunflower farming; you can spot the large sunflowers behind them. Have fun filling this page with quirky colors.
Dog Rummaging Farm Produce:
Naughty little farm dog has found the basket full of varied farm produce. He has already toppled the basket causing the pumpkin and apples to fall on the ground.
Young Farmer Riding On A Tractor:
Waking up early morning, this enthusiastic young farmer is going about his duties happily. Spotting a cow from his tractor, he is gleefully waving hello to the animal. The cow looks so confused!
Farm Activity Sheet:
Another activity to help you color this illustration correctly. Different parts are labeled with different numbers. Each number corresponds to a color. Enjoy completing this farm activity sheet.
Farm Animals Posing For Farm Paparazzi:
The way all the animals are posing in this illustration, they look like some kind of professional models, standing in front of the paparazzi. You are sure to have a hilarious time coloring this page.
Farm Coloring Page For Preschoolers:
A simple illustration with easy lines and sparse details of a small farm. This farm coloring page is for preschoolers who are still getting adapted to holding pencils and coloring.
Farm Coloring Page For Toddlers:
More complex than the last illustration, this farm coloring page has quite a lot of details. The farmer drives a tractor while carrying different farm animals. Spot all the animals and start coloring them.
Collecting Farm Produce Like Corn, Carrots, And Apples: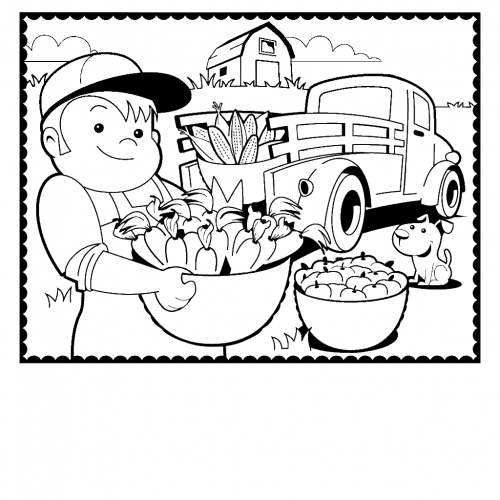 After working hard on cultivating and taking care of their growth, this farmer is reaping the benefits of his efforts. He has produced a lot of corns, carrots, and apples. With the surplus sold in the market, he will earn well this year.
Farm Animals In The Open Fields:
It's a pleasant day on the farm today. Almost all the animals including sheep, pigs, and horses are gathered out in the open fields, grazing or enjoying the warm sunlight.
Diligent Farmer, Riding A Tractor:
A rough day or a pleasant day, there is no rest for a farmer. There are a set of tasks that has to be completed every day and this farmer is already about to finish working with the tractor.
Rooster Wakes Up The Farm: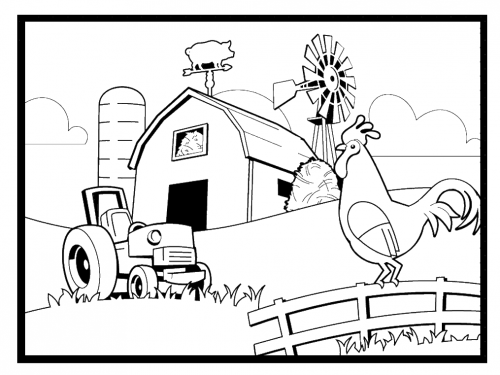 One thing to make you realize that you are on a farm in the early morning wake-up call from the roosters. Sometimes, it can be way too early, even before any light is visible outside.
Busy Morning Farm Scene:
Once you are up in the morning, there are several chores that need immediate attention in the morning. Releasing animals to the open fields, fetching water and fodder and other tasks like milking and cleaning. Give life to this busy morning farm scene with your colors.
Farmer Planting Rows Of Corn Crop:
You must enjoy popcorns, don't you? You can thank corn farmers like this one for the corns. He has plowed the ground and now he is going to plant rows and rows of corn.
Farmer Feeding Chickens:
Feeding the chickens are easy but remembering to feed them on time is crucial. Right on time, this farmer is here with the grains for the little chickens.
Rooster Cock-a-doodle-doo, "Good Morning To You":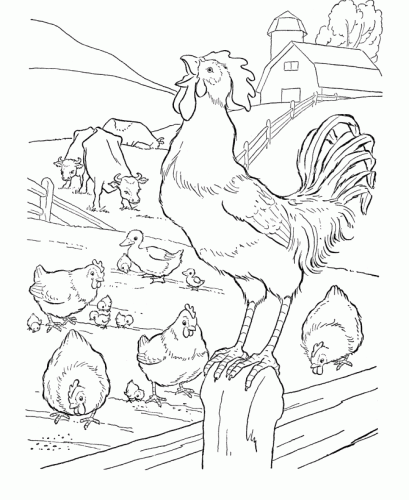 As soon as all the animals are out in the open, this particular rooster decides to cock-a-doodle-doo. Flying up on the fence, he shouts out his morning greetings to all the animals, who are too busy eating.
Happy Farm Animals:
The barn is quite busy today. A few of the other farm animals have decided to visit. You can find the cow, horse and the rooster greeting the visiting pig and sheep.
Kids Planting Seeds:
From a young age, kids in a farm get involved in the farming process as they observe their parents and other elders. Keeping in mind their age, they do simple tasks like planting seeds. While the boy plows the soil, the girl plants the seed.
Kitty Farmers Working At Their Farm:
If having dinosaur farmers was curious and odd, here are two kitty farmers with their own farm. They are in full farm overalls, ready with the farm equipment to finish all the jobs they have planned for the day.
Lambs Playing In The Open Farm:
When the farm area is open and wide, all the different farm animals get their own space to graze and even play around. Look at how much these two lambs are having running on the grassy meadows.
Little Farmer Ploughing: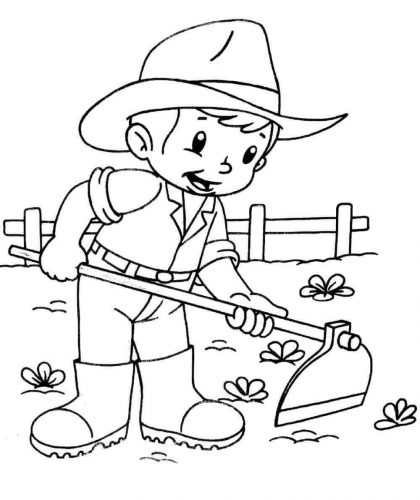 This little farmer is planting some vegetable today. While planting them, he is making sure to leave proper space in between so that each individual plant has the maximum nutrients to grow. Reward his effort with your expert coloring skills.
Realistic Farm Scene, Famers Planting Seeds:
Farming takes discipline and patience. Look at these two farmers who have been working since early morning planting seeds in this vast field. There are several long rows still left to be finished. You too must make sure to work hard to properly color this illustration.
Roosters At Farm:
Also known as the alarm clocks of the farm, here are two roosters with their early cock-a-doodle-doo. Roosters can have brilliant colors so make sure to give these two gentlemen roosters few shades of multicolored feathers.
Good Day To Work The Tractor:
With modern machinery, the task of a farmer has become easier and convenient, especially for a smaller farmer who manage things on their own. Having this tractor has been a blessing for this farmer, finishing work faster and efficiently.
Turkey Explores The Farm Ground:
Trying to get to know the new farm, this turkey is busy exploring the vast grounds of the farm. It seems to be surprised and slightly confused to find a bunch of mushrooms which didn't grow in the old farm.
There are different types of farms, from vegetable farms and fruit farms to poultry and dairy farms and more, as many as there are types of agricultural produces dependent on farming. Today's farms are way more modernized than most of the idyllic countryside farms in these farm coloring pictures to print. Use of scientific machinery and automated services have taken over most farms that specialize in commercial production. While most family farms are small farms owned by families for self-sustenance, planting, raising and growing for their needs and selling any surplus.
Hope you enjoyed the article. You can also check out our farm animals coloring pages. We're sure you'll enjoy them.