If you're a fan of Paw Patrol, which we can safely assume that you'll like "Rusty Rivets" too, which comes from the same studio. The show features Rusty Rivets, a mechanic and skilled inventor who repurposes and recycles the parts of old machines and turns them into useful gadgets. And he's not alone in this. He has a team of bots and his best buddy, Ruby Ramirez, who assist him in his endeavors. So if you're also captivated by the charms and intelligence of Rusty Rivets as we are, we'd suggest you check out our collection of printable Rusty Rivets coloring pages. We're sure you'll like them. 
20 Printable Rusty Rivets Coloring Pages:
All Bots Of Rusty Rivet:
We're starting this article with some of the most important characters of "Rusty Rivets", the bots. The coloring page features Botasaur, Bytes, Ray, Jack, Whirly, and Crush. They seem to be having a great time already and will be even happier if you color them.
Botasaur And Rusty Rivet:
Here's a coloring page of Rusty with his favorite bot, Botasaur. The duo seems to be having a great time together and will look even better when filled with bright and vibrant colors.
to join this conversation on GitHub. Already have an account? Sign in to comment Footer © 2023 GitHub, Inc. Footer navigation Terms Privacy Security Status
Botasaur: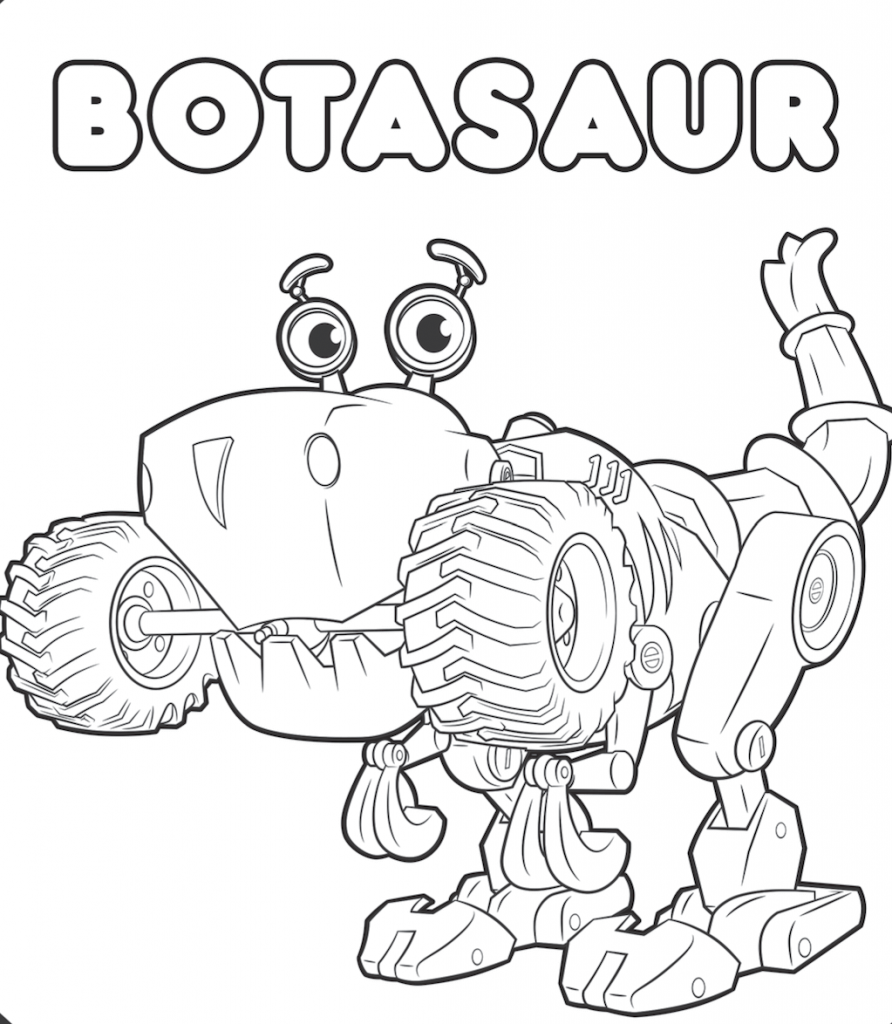 Meet Botasaur, the tallest robot of Rusty. Although he has the appearance of a dinosaur, Botasaur acts like a puppy of Rusty and this is exactly what makes him so lovable.
Also Read: Dinosaur Coloring Pages
Bytes:
Source: getcoloringpages.com
Here's a coloring page of Rusty, a mechanical dog, often found in the recycling yard. This adorable bot hasn't been summoned for a mission yet. But we're sure he'll be called soon.
Happy Holidays From Rusty Rivets And Ruby Ramirez:
Just like you and me, even Ruby Ramirez and Rusty Rivets have got in the holiday spirit and have come to wish you all a very happy holiday. The background is truly magical, with snowflakes.
Liam:
This coloring sheet features Liam, a recurring character in the series. Liam is a fair-skinned young boy, with blue eyes and blonde hair. He wears a white and blue tee, gray pants, and blue sneakers in the show. So use these colors to give him a lifelike look.
Liam, Rusty, And Botasaur:
This coloring page features three important characters of this cartoon series, Liam, Rusty, and Botasaur. So make them come alive by filing them in their signature colors.
Rusty Rivets Activity Sheet:
Not just coloring pages, we've even included a fun "Rusty Rivets" coloring sheet for you. Rusty, Ruby and the bots are playing hide and seek. Can you find them? Don't forget to color the elements featured in this image.
Ray And Jack:
Here's a coloring page of Jack and Ray, two essential bots of the series. Even though Rusty has created them, he feels incomplete when they are not around him.
Ruby And Rusty:
This coloring sheet features the two best friends, Ruby and Rusty. Both Ruby and Rusty love engineering, which reflects in the bots they've created together.
Ruby And Ray:
Here's a coloring page of Ruby with her most favorite bot, Ray, Honestly, Ray is so adorable that no one can help but love him.
Ruby Ramirez:
Meet Ruby Ramirez, Rusty's best buddy, who always assists him in missions and even adventures. Her job is to call the bots in action whenever an issue arises.
Rusty:
Here's a coloring page of the extremely charming and adorable Rusty in his workstation. This mechanic, or rather a young inventor, uses spare machine parts to create unique contraptions. Isn't that amazing?
Rusty Rivets:
Here's another coloring page of Rusty River, this time in a more formal form. Rusty appears in the series wearing blue jeans, an orange tee, and a gray tool belt. So give him the exact colors. And don't forget his orange and blue goggles.
Whirly:
Here's a coloring page of Whirly, the only female bit on the show. She's even the only bot that can fly, which is another feather in her cap. Whirly is a pink and white-colored bot with purple wings.
Ray:
This red-colored bot has skills related to illumination. He can shoot out lights from his eyes, that too in multiple colors. He can shoot laser beams from his pupil too.
Crush: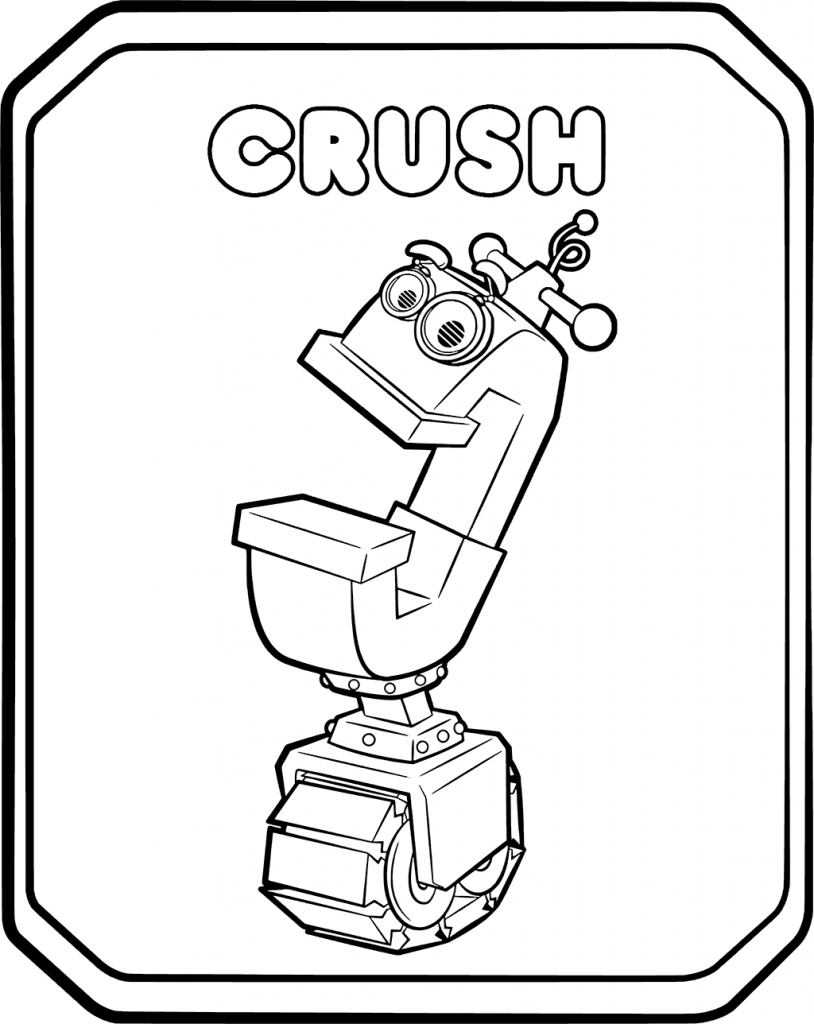 Crush, the jolly-looking bot is modeled after a metal clamp. He can compress any object and can hold anything with his unbreakable grip.
Jack: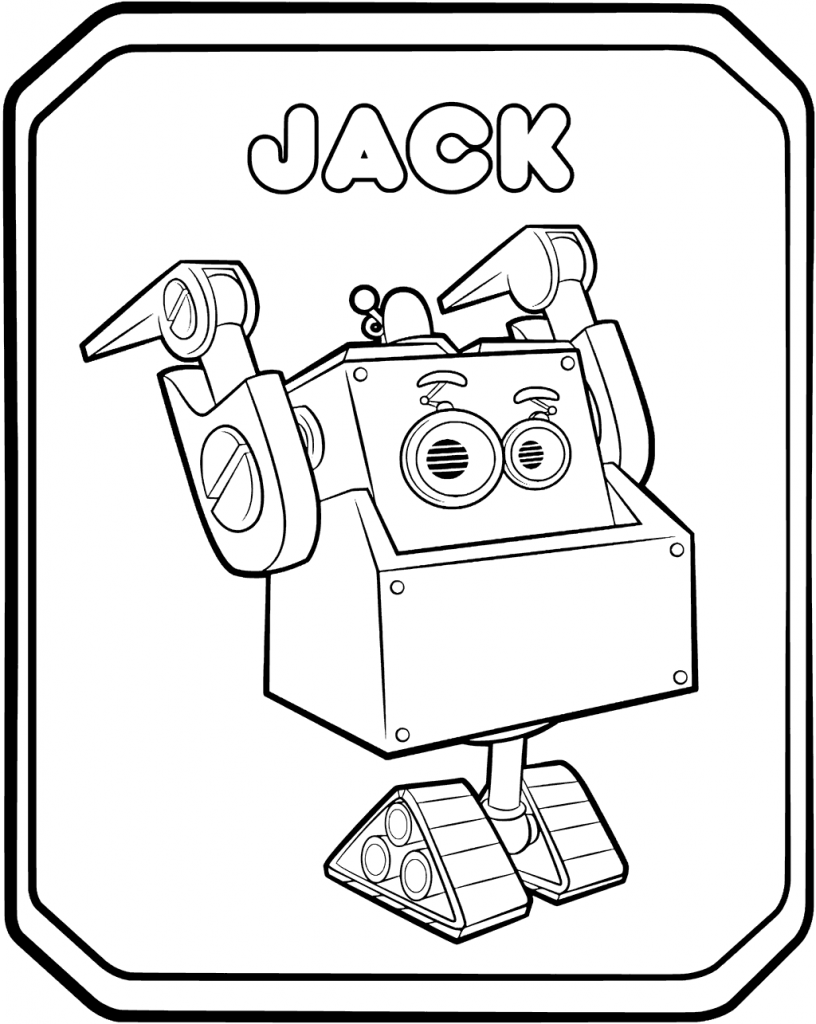 The specialty of Jack the robot is that it can swivel its arms 360 degrees and can lock them when he needs to carry an object. It's a blue colored bot with a white rectangular prism that acts as its lower lip.
Whirly And Crush:
Color in two of the most important bits of the show, Whirly and Crush. You can even try your hands at watercolor in this picture.
Whirly And Rusty:
In this coloring page, Whirly seems to be flying high and Rusty looks extremely jubilant seeing this.
So these were the top 20 Rusty Rivets coloring pages. All these printable Rusty Rivets coloring sheets are beautiful, so we'd suggest you download all of them. We'd even love your feedback on our collection of coloring pages. So let us know in the comment section.