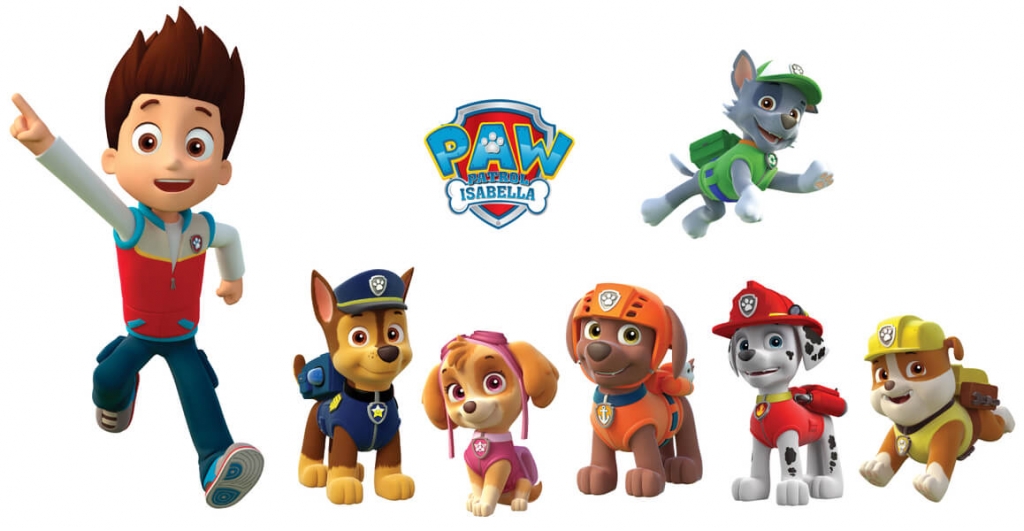 "In dark of night, in light of day, we, the PAW Patrol will serve Adventure Bay". PAW Patrol, the famous cartoon series, released in the year 2013 and has gone to become the most popular cartoon series with the kids. This Nickelodeon series revolves around Ryder, a young boy who leads a pack of rescue dogs, collectively known as PAW Patrol. The fourth season of Paw Patrol is still going on so we thought of getting you the best Paw Patrol coloring pages. Below is our gallery of printable Paw Patrol sheets to print.
40 Unique Paw Patrol Coloring Pages
Paw Patrol Rescue Team In Action: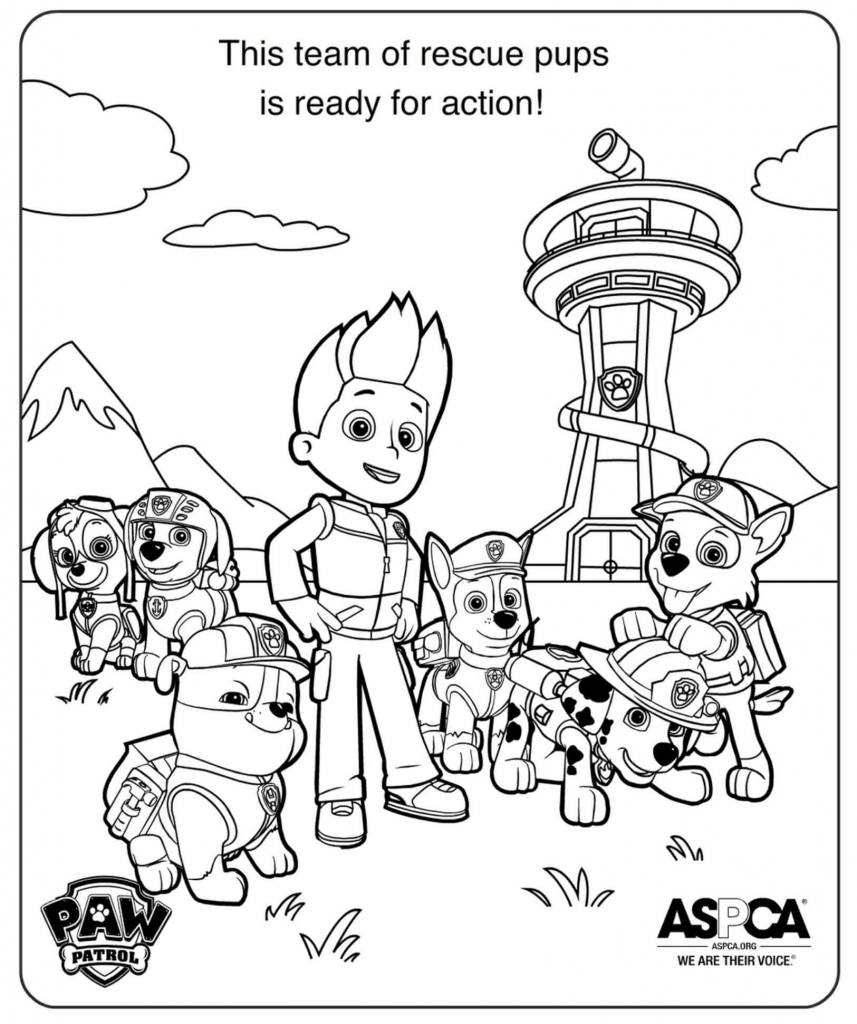 "The team of rescue pups is ready for action". This coloring page shows the PAW Patrol team in action. Each of the pups in this team has specific skills based on the real-life profession of police. Together, the pups save the city from recurring danger.
Ryder: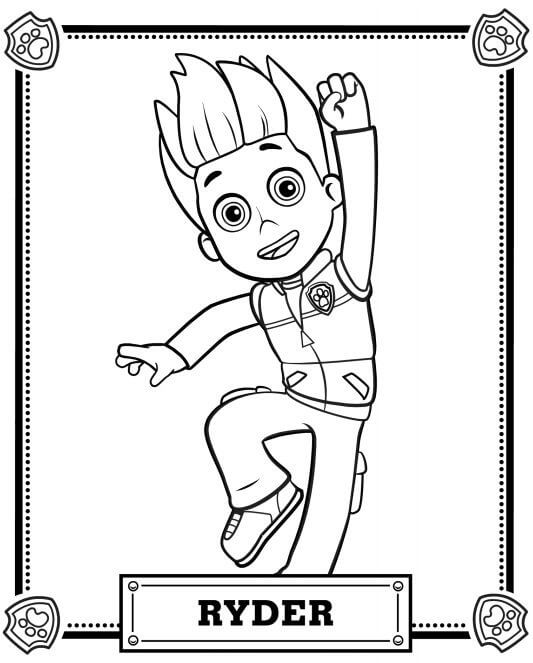 The handsome young boy you see here is Ryder, the protagonist of the PAW Patrol series. This 10-year-old young and precocious boy is the leader of the PAW Patrol team. Ryder is extremely talented and intelligent and has trained each of his pups amazingly for their specific jobs.
to join this conversation on GitHub. Already have an account? Sign in to comment Footer © 2023 GitHub, Inc. Footer navigation Terms Privacy Security Status
Zuma:
Here's a coloring sheet of Zuma, the Chocolate Labrador pup who happens to be the water rescuer in this series. His work involves rescuing sea animals in case of underwater emergencies. This makes Zuma one of the least used PAW Patrol members.
Tracker: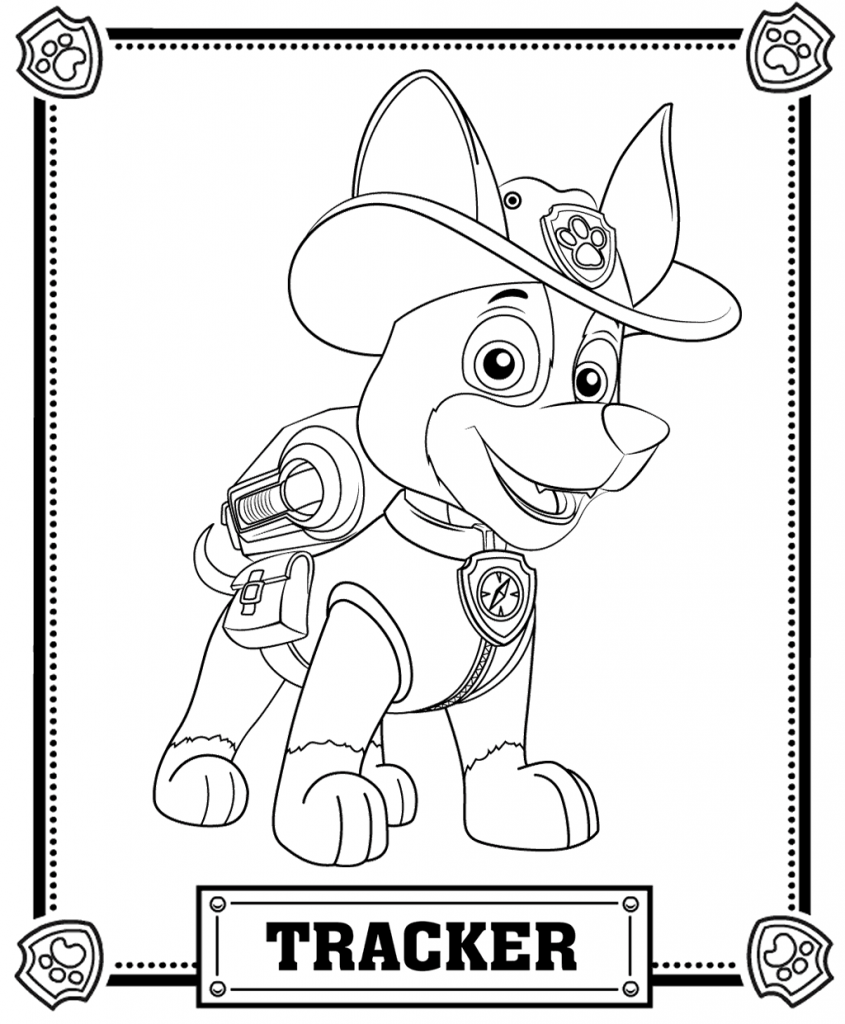 Meet Tracker, the jeep driving pup with stunning hearing abilities. This 8th member of PAW Patrol lives in the jungle and enjoys playing with wild animals found there. He uses his extraordinary hearing abilities to protect people from impending danger.
Skye:
Skye, the female cockapoo, is the first female member of this cute patrolling team. She keeps a close view of the emergencies in the city by using her helicopter. She has excellent memorization skills, which helps her in her quests.
Everest: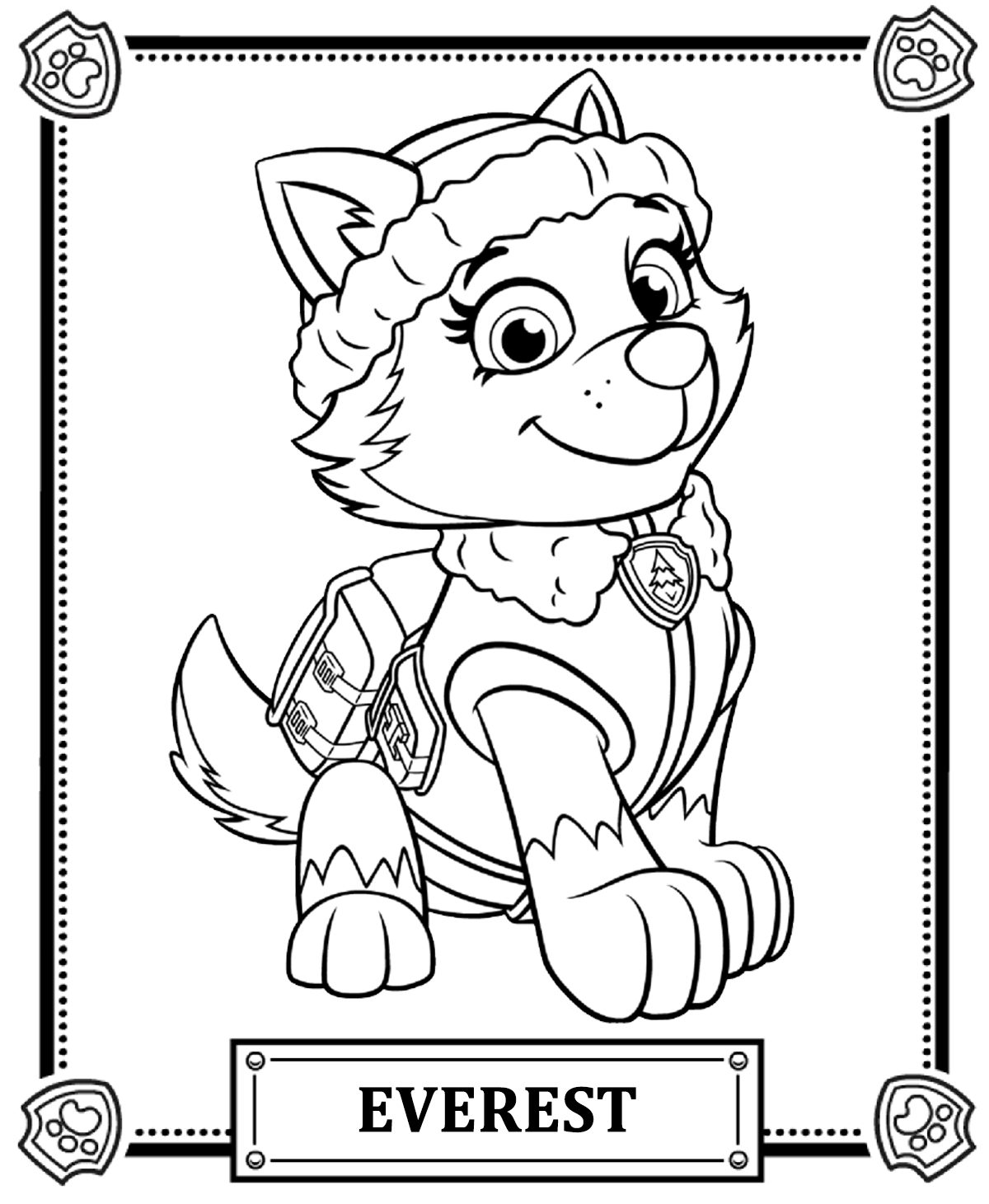 Everest, the 9th member of Paw Patrol, is a female husky whose primary purpose is to clear the snow from the roads at times of emergencies. This fun-loving and enthusiastic puppy resides with Jake on the snowy mountain. Everest has greyish lavender fur on the body and tail and white fur on the belly, chest, and paws.
Rubble: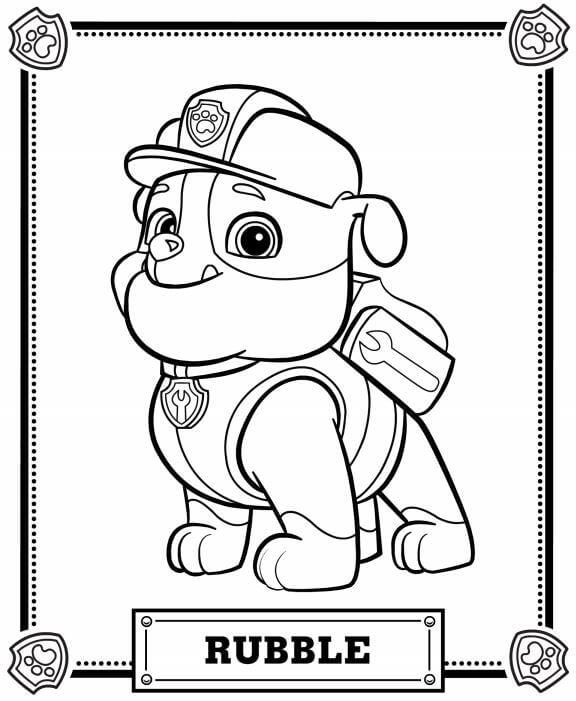 Here's a coloring page of Rubble, the male English Bulldog, whose purpose is to assist and manage the mishaps occurring in construction-related work. This brown and white-colored dog wears a yellow costume and carries a brown backpack.
Robo Dog:
Image Source: getcoloringpages.com
This is one of my most favorite Paw Patrol coloring sheets. It features Robo Dog, the dog robot created by young prodigy, Ryder. Robo Dog is a capable driver and pilot and can easily operate vehicles like Air Patroller and Paw Patroller. He even has several enhanced skills and talents.
Rocky:
Rocky, the mixed breed Eco Pup is one of the protagonists of the series. His primary job includes using recycled items to fix broken and damaged items. He has specialized claws, which he uses to pick up pieces that can be recycled and reused.
Chase: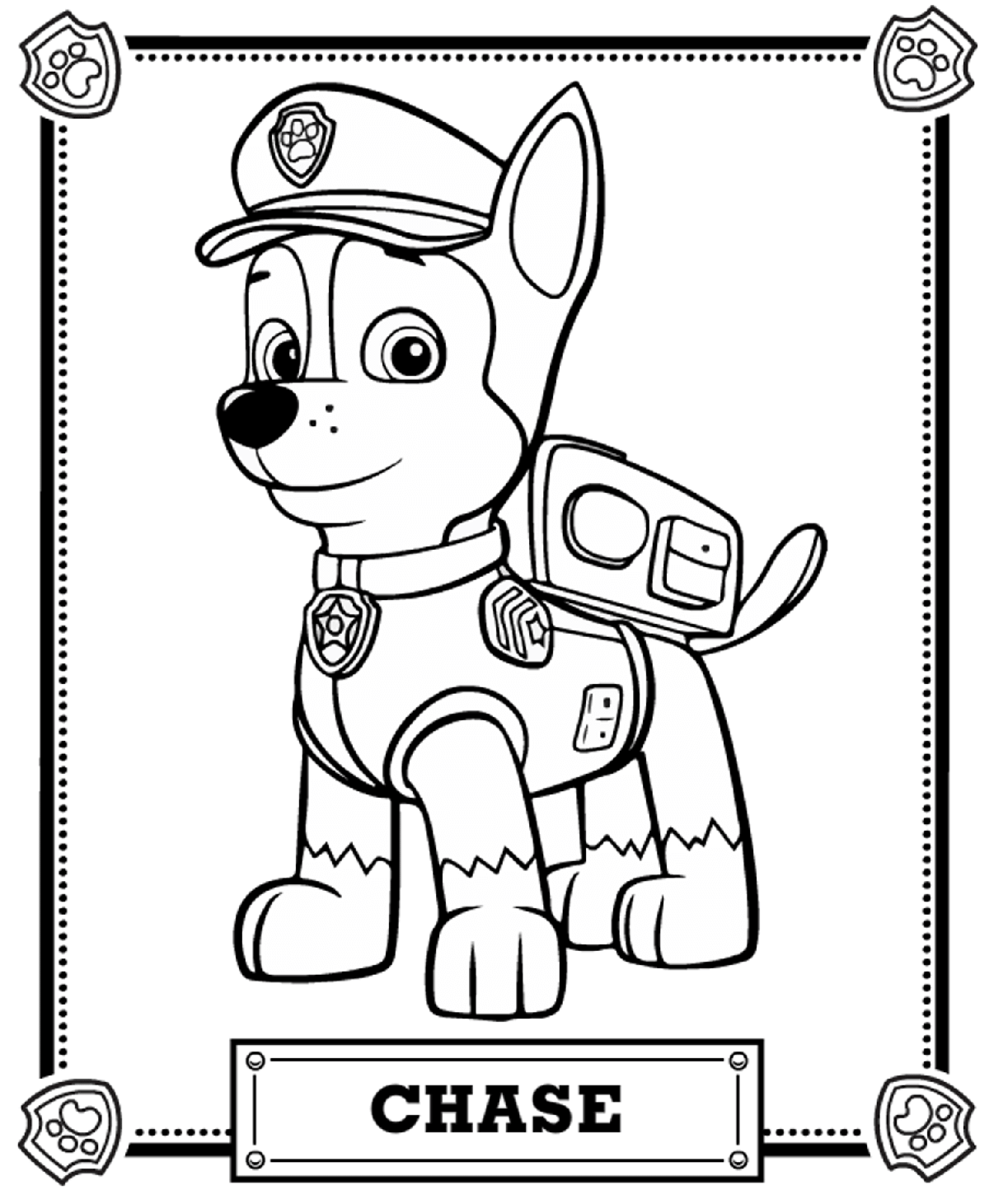 Chase, the German shepherd puppy and the main character of the series, a traffic police cop dog. His primary job is to keep everything in line and warn the traffic in case of emergencies. He's also required to track missing people and animals using his spy gear.
Marshall:
Marshall, the Dalmatian Puppy, is the fire pup of the team. His job is to check for fires from time to time and extinguish them when required. He's also a medic and uses his X-RAY screen to check people for injuries or broken bones and tends them when needed.
Apollo, The Super Pup:
Apollo the super pup with flying ability is the central character of the television series "Paw Patrol". This adorable superhero with white fur and light blue eye is seen wearing a yellow and blue uniform with a blue mask, red cape, and red boots.
Skye And Zuma: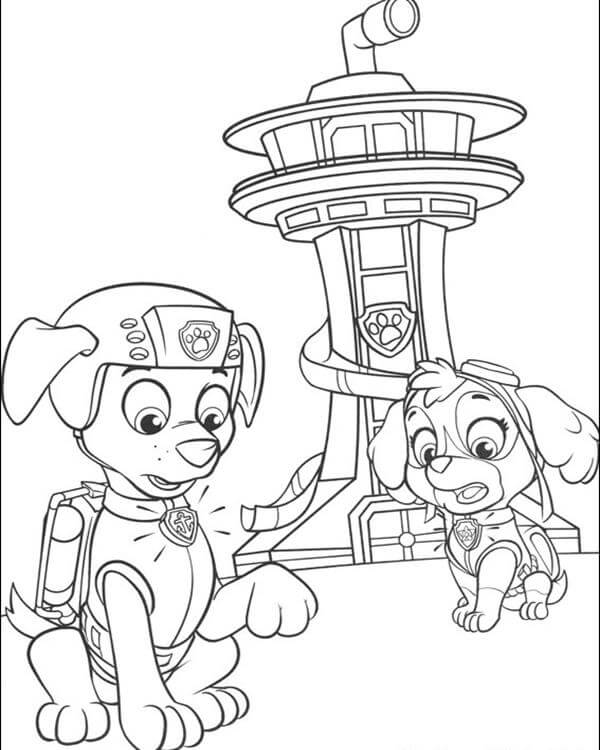 This coloring page features Zuma and Skye. Skye and Zuma are quite competitive with each other. But right now, it seems that a new problem has cropped up and Zuma is getting signals on it.
Rocky Posing: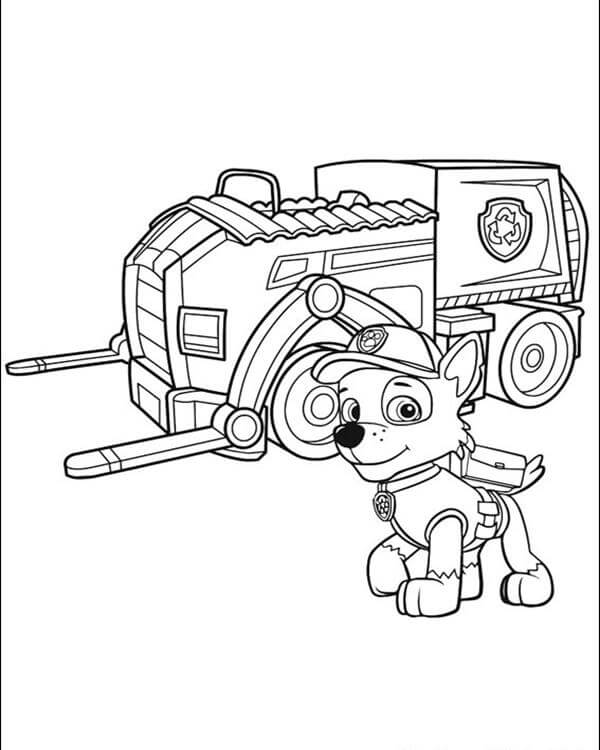 Here's a coloring page of Rocky posing beside his recycling truck. Rocky uses his ship both a vehicle to recycle items and a pup house to store items required for the mission. After the upgrade, Rocky can use his truck underwater too!
Marshall And Chase:
This coloring page features the best friends, Chase and Marshall. Both the pups can get pretty competitive, but that's just for fun. Chase even shows his emotional side only for and in front of Marshall.
Paw Patrol Super Pup Chase And Marshall:
Don't you think Chase and Marshall are looking beyond handsome on this coloring page? The duo is dressed up in their Super Pup costumes and it seems that they all get some sort of superpower when they wear this outfit.
Chase Posing: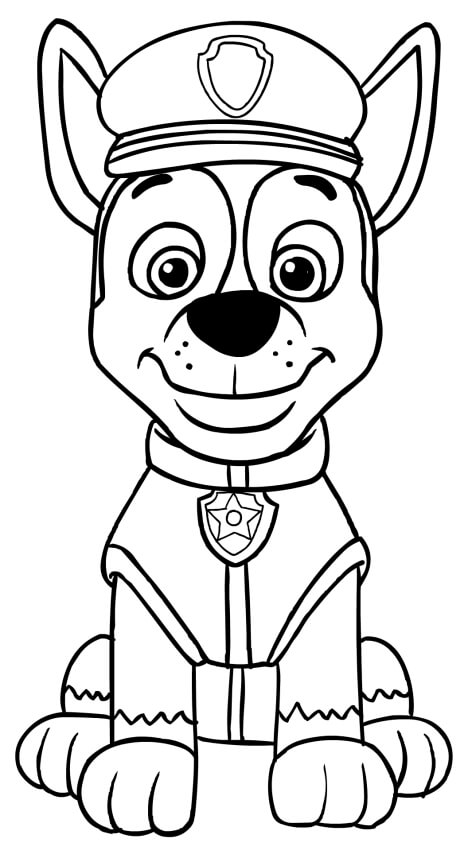 This coloring page shows Chase, the mature and strict pup dog posing. Being the police dog, Chase is the most mature member of the group. He has excellent leadership qualities and takes things very seriously when he's patrolling.
Chase Driving:
This Paw Patrol worksheet shows Chase driving his super-spy vehicle. His police vehicle is equipped with four cones in the back and a bone-shaped winch in the front. Just like vehicles of other's pups, even Chase's vehicle can turn into a pup house.
Marshall As The Super Pup: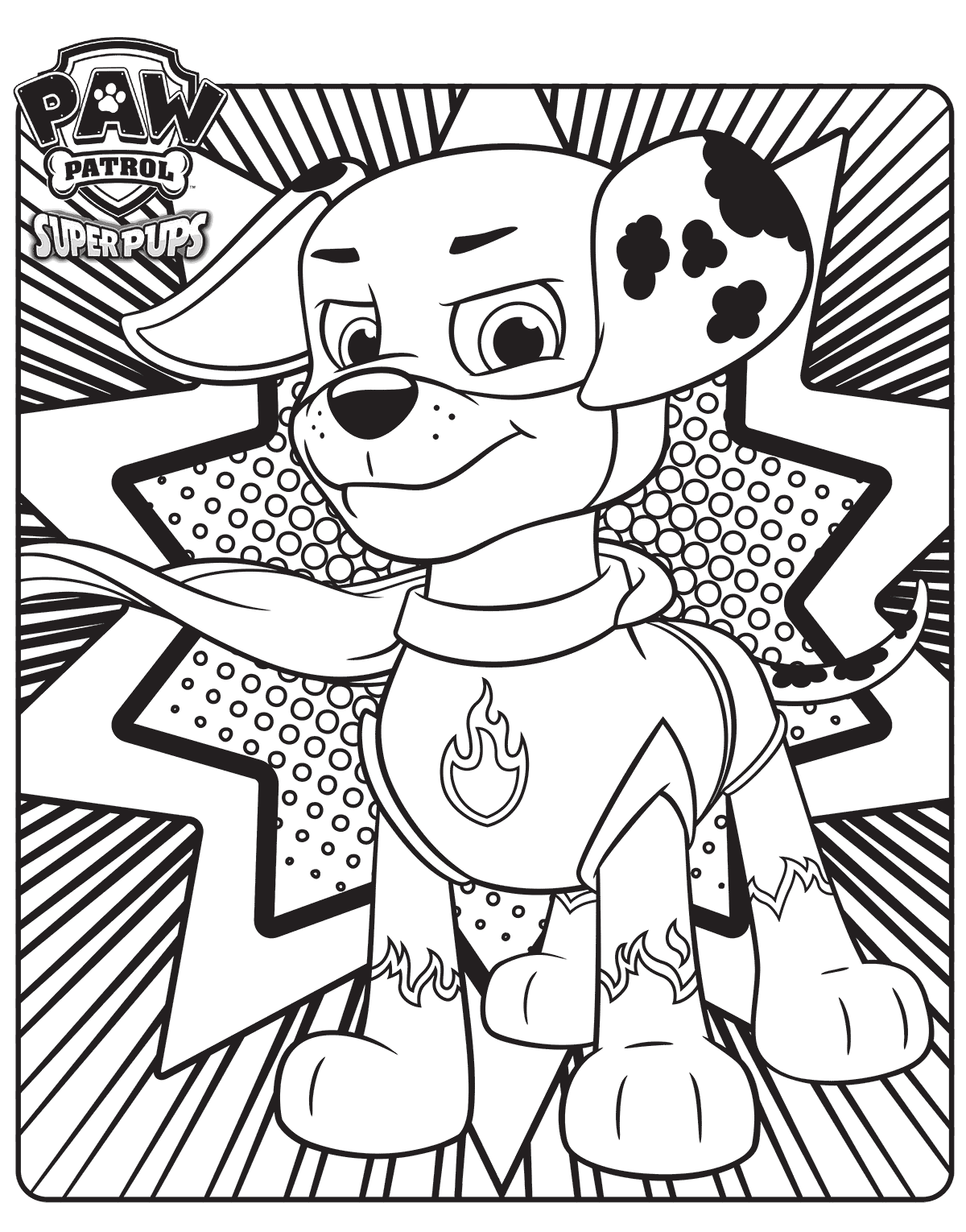 Apollo, the Super-pup has several fans and one of them is Marshall. And in this coloring page, he's trying to emulate his idol. What we love the most is that when Marshall cannot find the cape, he used his blanket in its place.
Rocky As Super Pup:
Here's a lovely coloring sheet of cutie Rocky dressed up as the super pup. Rocky doesn't really need a costume to turn into a superhero. He has excellent skills and abilities, which can put even the most admired superheroes into shame.
PAW Patrol Badges:
Those who're looking for some PAW Patrol worksheets can print out this coloring page featuring PAW Patrol badges. Kids can use this coloring page to create badges for themselves and their friends. They just have to color, cut out and stick on cardboard.
Zuma In The Vehicle: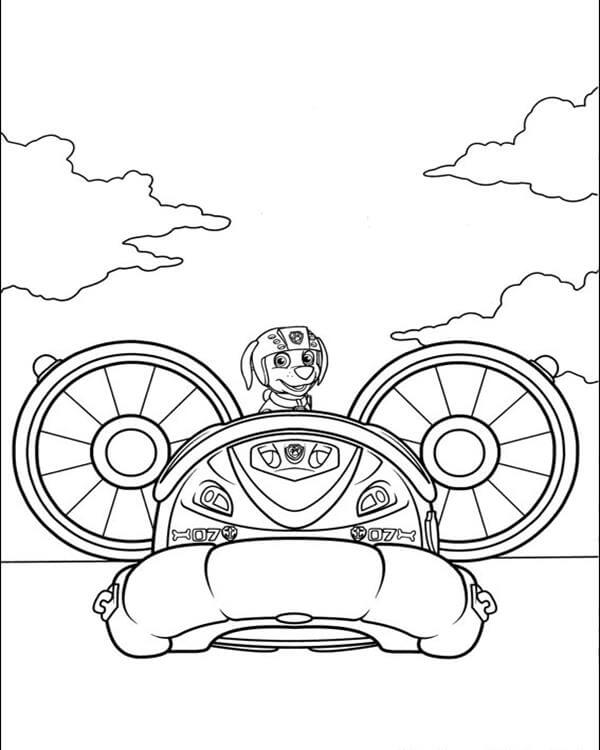 Here's a coloring page of Zuma in his hovercraft, a vehicle that can work on the land, water, and even sand. He makes use of his hovercraft in every mission he's appointed to.
Paw Patrol All-Star:
This coloring page, featuring Paw Patrol All Star Pups, is basically the first segment of an episode of the third season of PAW Patrol. In the episode, the kickball game of the pups gets interrupted when an eagle snatched their ball away.
Ryder With The Team: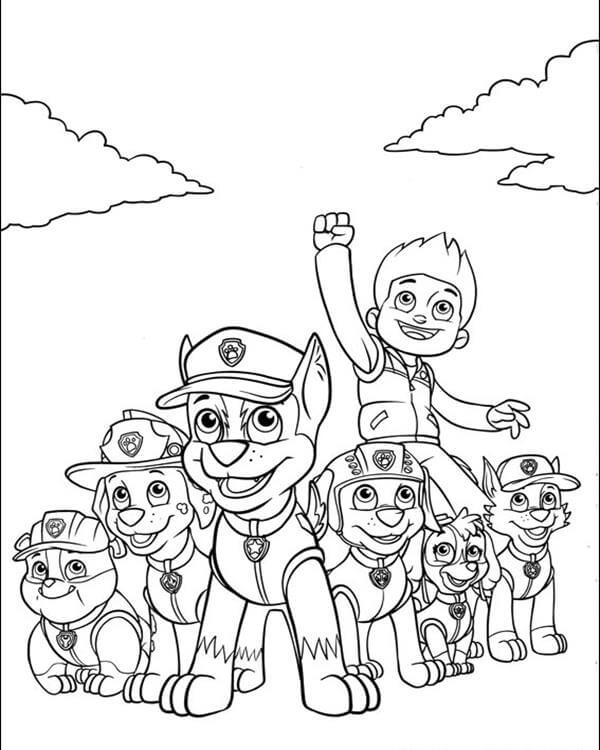 We can't help but love this PAW Patrol coloring page. It features Ryder with his gang of patrolling pups. What new quest do you think they are going on? You can even write a story about it before coloring. It will hone your imagination.
Farmer Yumi:
Here's a coloring page of Farmer Yumi, one of the recurring characters in the PAW Patrol series. This hard-working farmer raises livestock, grows food, and cares for the animals, including the pups. She's even good friends with the Mayor.
[ Read: Farm Coloring Pages ]
Paw Patrol Christmas Coloring Page:
If you're wondering how to keep your child occupied during Christmas, give him this coloring page featuring Ryder and the gang. The pups are totally excited to decorate the house for Christmas with a wreath and mistletoe.
Paw Patrol 4th Of July:
Skye, Marshall, and Rubble are excited for the 4th of July more than ever. They are probably more excited about seeing the fireworks in the background. So how are you planning to fill this lovely coloring page?
[ Read: 4th Of July Coloring Pages ]
Paw Patrol Team In A Frame: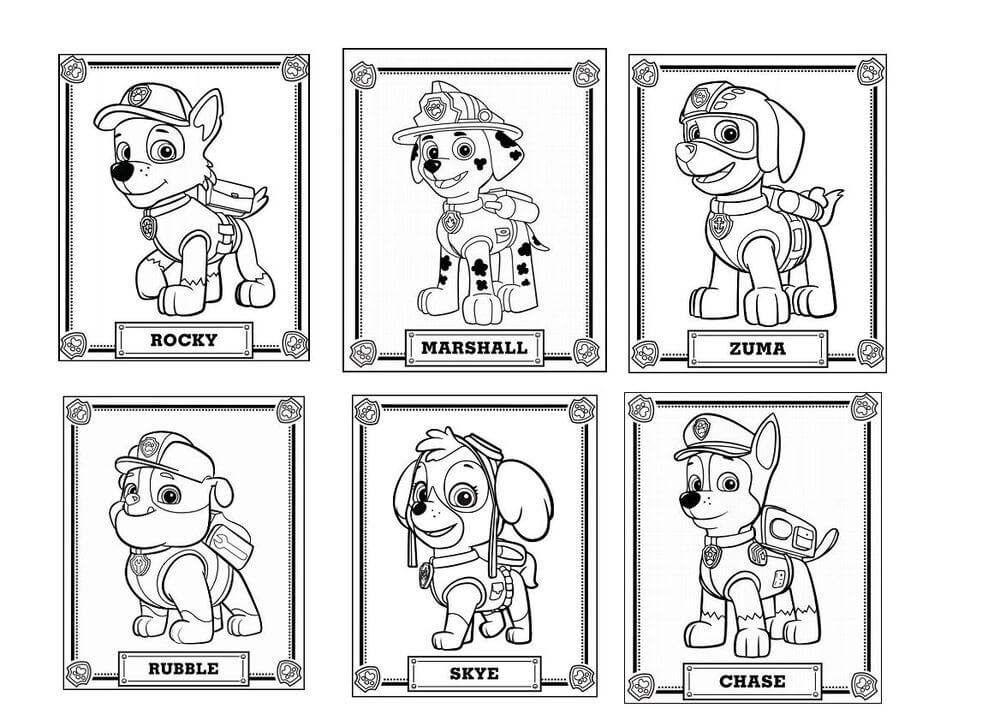 This PAW Patrol coloring page is a bit special because it features six core members of the team in one frame, which is great in our opinion because you won't have to pick a favorite.
Paw Patrol Rescue Pack:
Ryder and his team are totally pumped up for their new adventure. This coloring sheet will bring cheer to even the dullest of days.
Paw Patrol Team: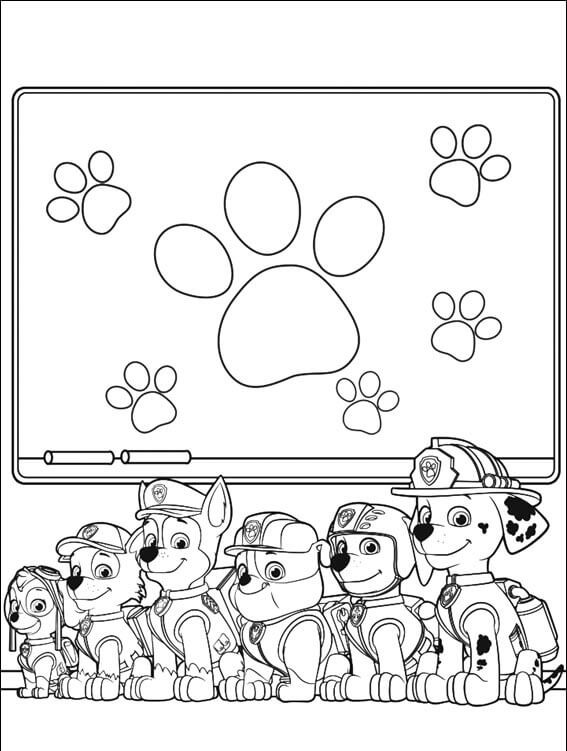 This looks so cute! All six core members of the PAW Patrol team are standing in a straight line. This shows how disciplined they are. There's even a blackboard in the background with a paw impression.
Everest In Mountains:
Unlike the six core pups of the team, Everest does not stay in the city. Instead, she stays in the mountains and takes care of her duties from there.
Rubble Underwater:
This coloring page shows Rubble underwater having fun with the sea animals. The scene is basically a still from "Underwater Adventures", a fan-made spin-off of the series. Isn't Rubble looking cute?
The Happy Pups: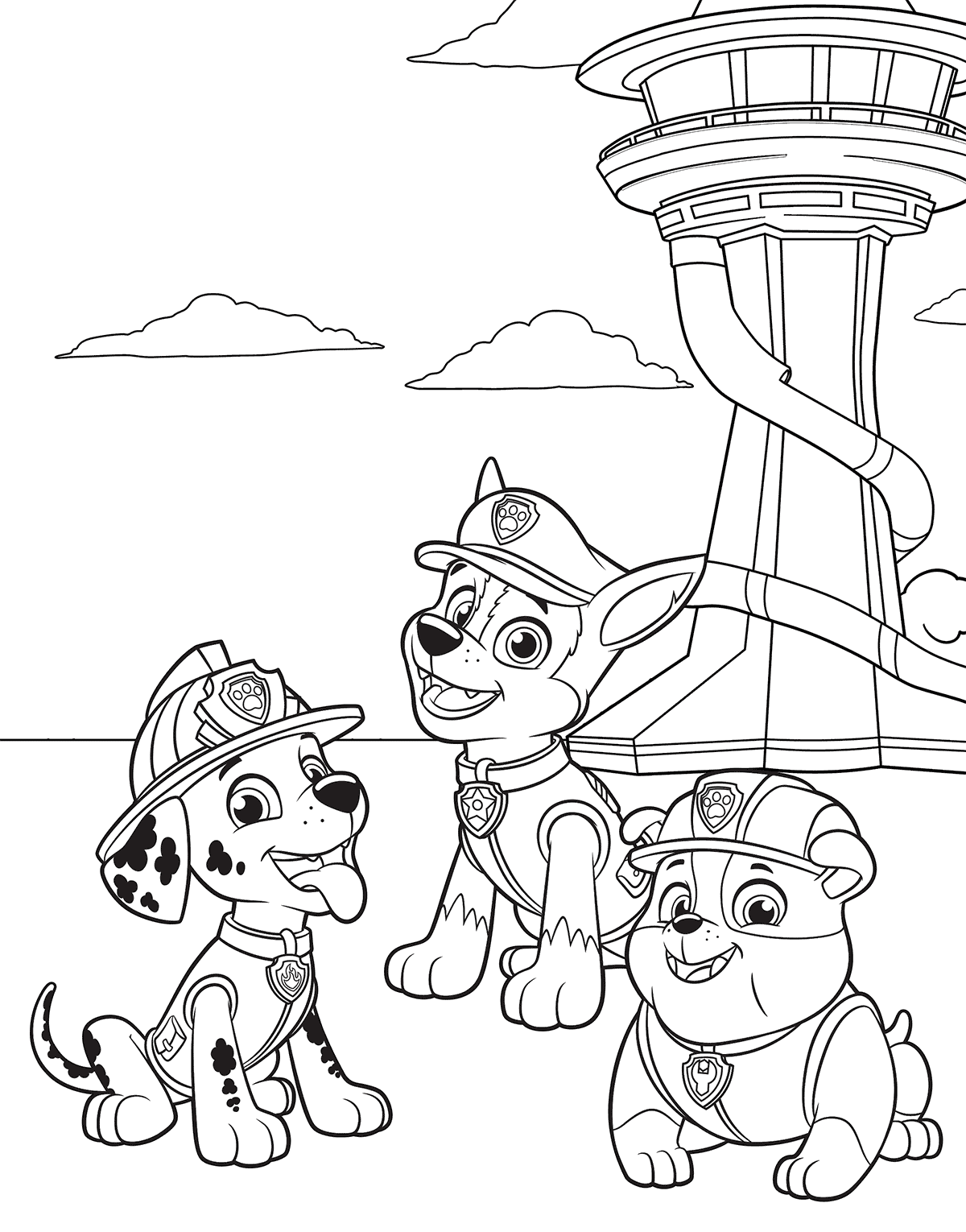 The trio, Marshall, Chase, and Rubble are also smiles in this coloring page. And we feel they'll look even better if you fill some bright and vibrant colors in them.
Flying Skye:
Skye, as we all know, is excellent at flying and making graceful landings and this coloring page beautifully captures the same.
Marshall Posing:
Here's a coloring page of Marshall near his vehicle, the Fire Truck. His high-tech fire truck not just helps to extinguish the fire, but is also used an ambulance for medic missions.
Ryder's Birthday:
It was Ryder's birthday and there's no way the pups won't give him a surprise. So they managed this large and beautiful birthday cake with PAW Patrol badge embossed on it. And how cutely are they licking him! You can even write your name at the bottom of the page.
Skye Underwater: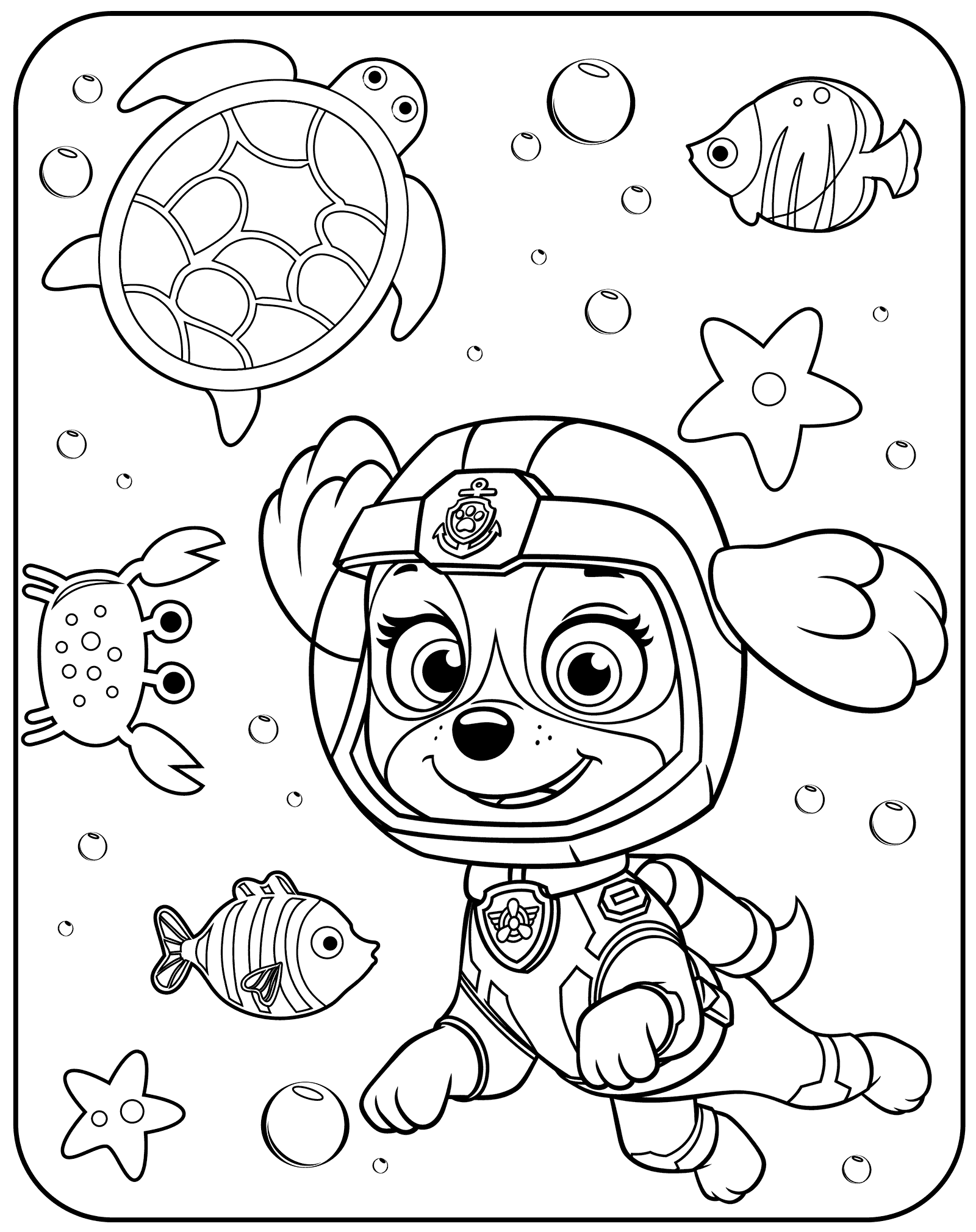 Here's another coloring sheet of PAW Patrol Underwater Adventures, and this time, it features Skye. Children are sure to enjoy coloring the tiny fish and other sea animals.
Marshall Underwater:
Image Source: getcoloringpages.com
Marshall seems to be having loads of fun with his newly founded underwater friends. And did you notice his newly acquired fishtail? No? Then hunt for it!
Tracker Joins The Pups: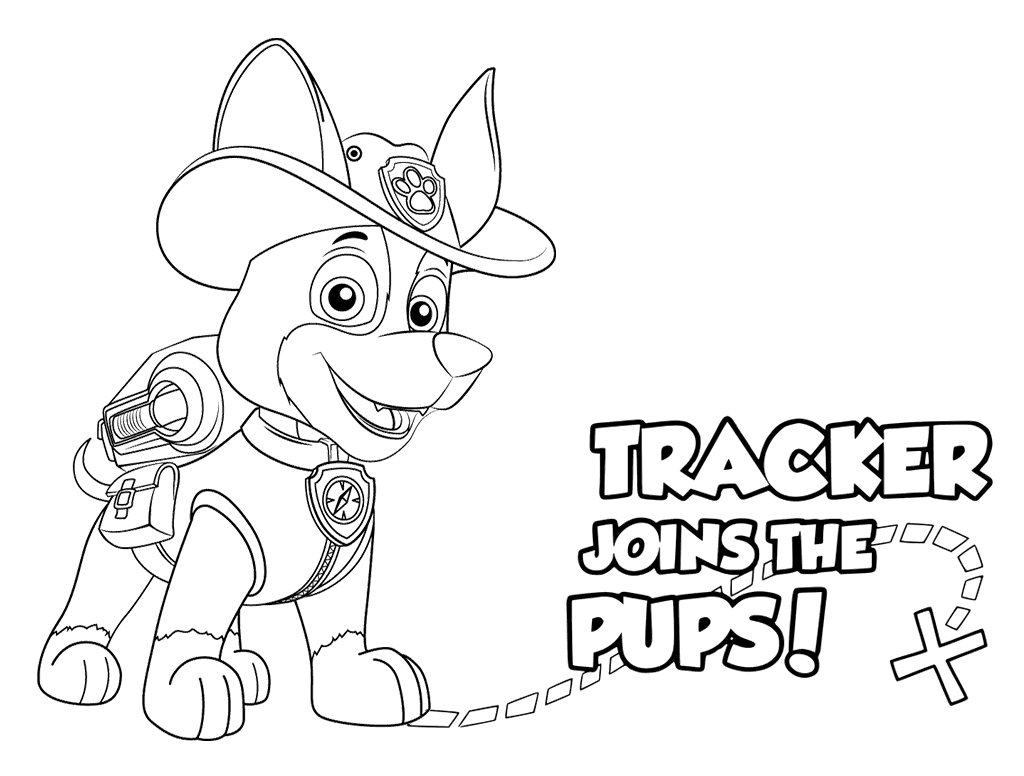 This coloring page is basically a scene from the episode of the same name. It was in this episode when Tracker was made an official member of the PAW Patrol team when he saved Carlos from falling into a pit.
Robo Dog In Air:
Image Source: getcoloringpages.com
This coloring page shows Robo Dog riding the Air Patroller. Air Patroller is the vehicle the PAW Patrol team uses to transport their equipment to anywhere in the world.
We hope you liked our gallery of PAW Patrol coloring pages. Do let us know your favorite printable PAW Patrol coloring pages in the comment section below.  And don't forget to check out our Paw Patrol Might Pups coloring pages.