What happens when the threat is too dangerous or large to be dealt by a single superhero? A team of superheroes, committed to using their powers for getting justice comes together, and that team is known as the Teen Titans! This bright and colorful team, comprising of superheroes Raven, Cyborg, Beast Boy, Starfire and Robin is a part of "Teen Titans Go", a top-rated animated drama by DC comics. The series is clever, funny, and provides history lessons to the young viewers. What more? The DC guys are also coming up with "Teen Titans Go To The Movies" which will release in July 2018. So keeping up with its popularity, we've got our readers a list of free printable Teen Titans Go coloring pages. Take a look at our listing of free Teen Titans Go coloring sheets to print below.
10 Free Printable Teen Titans Go Coloring Pages
Cyborg:
This Teen Titans Go coloring sheet features the mini version of the famous DC comic superhero, Cyborg. This laid back, but a strong teen robot is more interested in having pizza and playing video games than in fighting the baddies, and that's what makes him so endearing with the children. Just for your information, Cyborg is half robot and half man.
Teen Titans Go Coloring Page: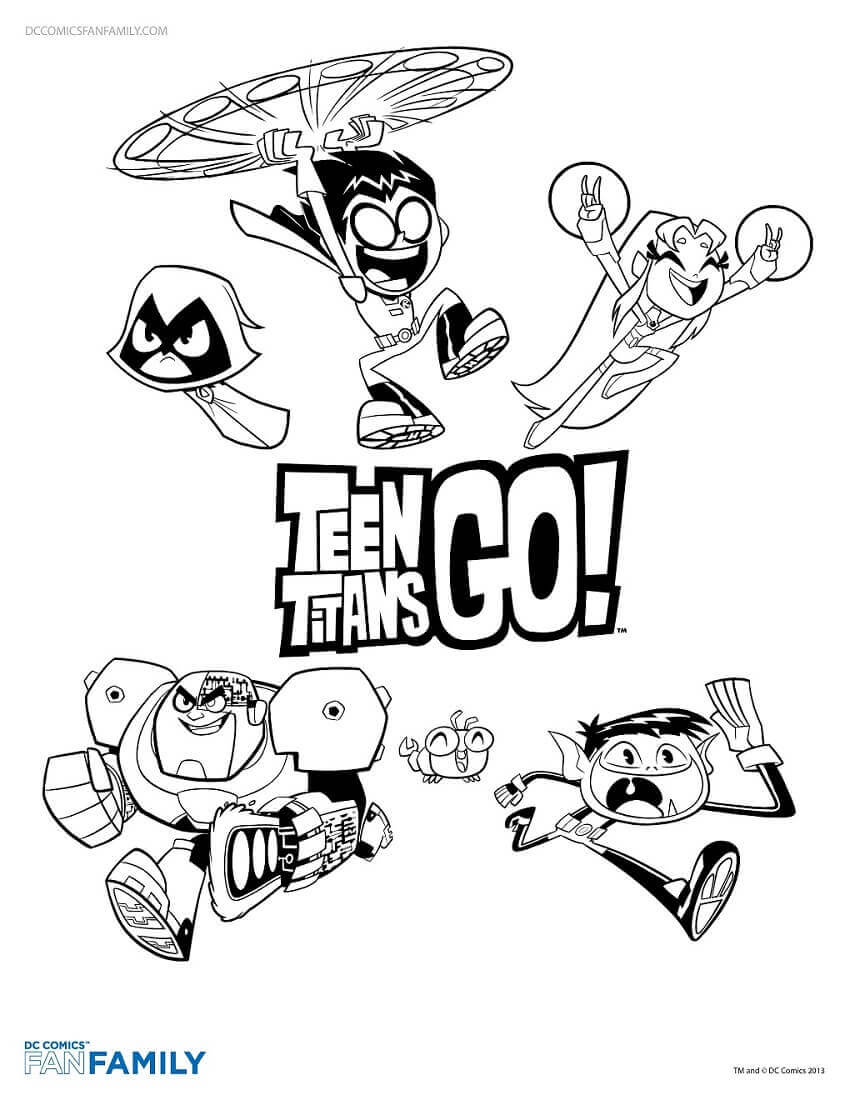 This is one of our favorite Teen Titans Go coloring sheets as it features all the five major characters of this series, Robin, Cyborg, Beast Boy, Raven, and Starfire. While Teen Titans Go! Is a spin-off to Teen Titans, it has no continuity with the previous series, which makes this series even more happening?
to join this conversation on GitHub. Already have an account? Sign in to comment Footer © 2023 GitHub, Inc. Footer navigation Terms Privacy Security Status
[ Related: Teen Titans Coloring Pages ]
Gizmo: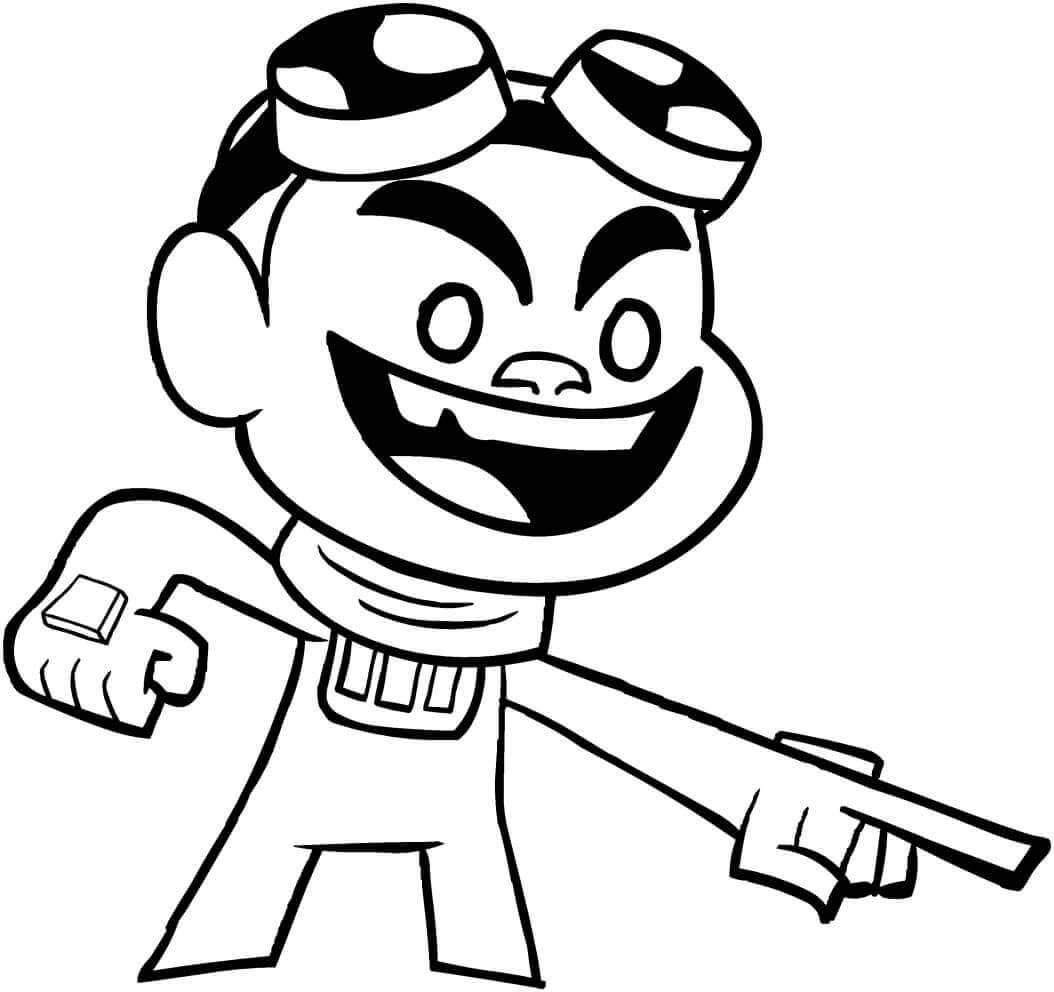 Here's a coloring sheet of Gizmo, one of the main antagonists of "Teen Titans Go!" and the leader of H.I.V.E. Five. Gizmo once tried to take over the Titans Tower with the help of his robot army with the sole intention of taking over and ruling the Jump city. But he fled after he had an awkward confrontation with Robin.
Robin:
This Teen Titan Go coloring picture features Robin, the leader of the Teen Titans and the protagonist of the series. This young boy was orphaned when his parents died a tragic death during a circus performance. When he grew a bit older, he joined Batman as his sidekick and helped him fight the criminals.
Starfire: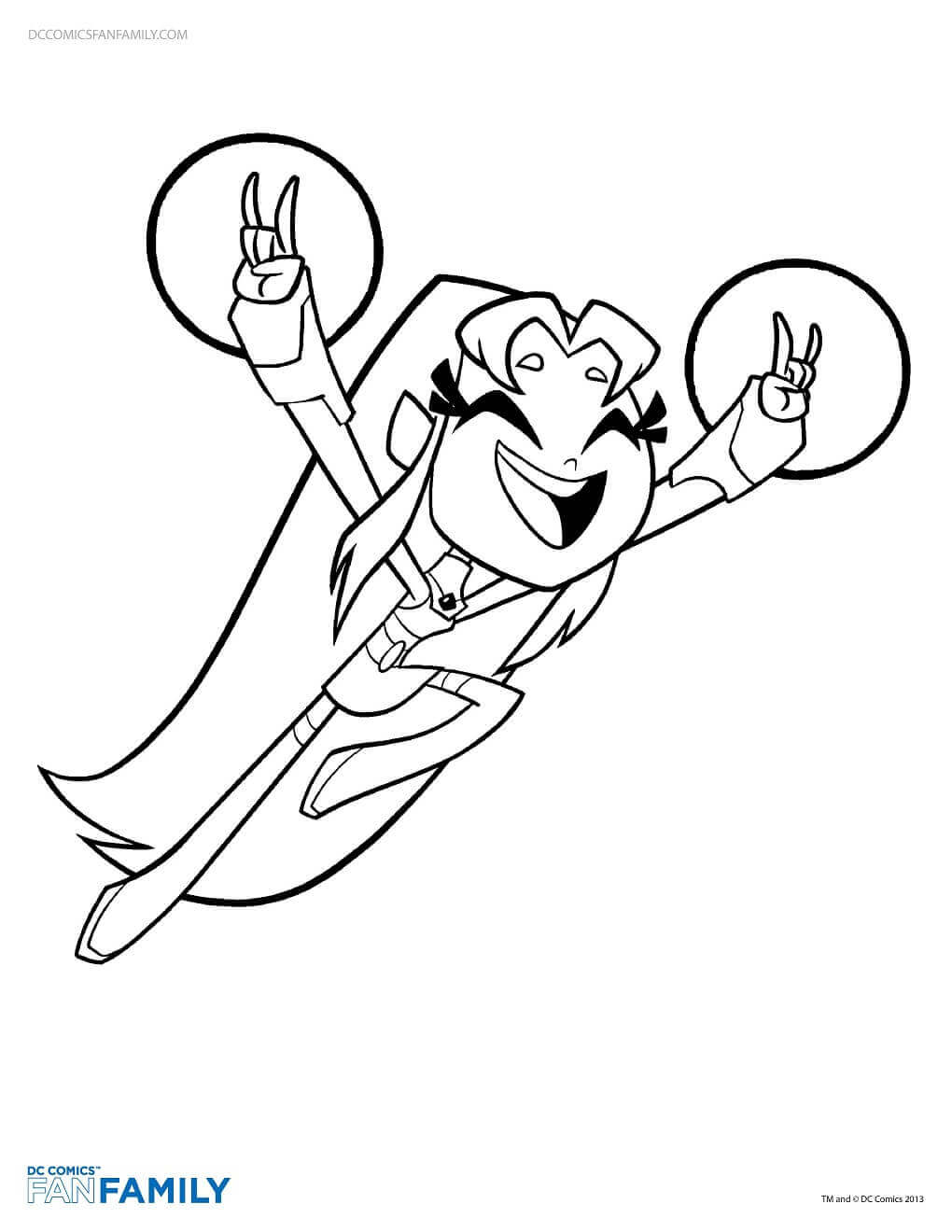 Here is a coloring sheet of one of the female leads of Teen Titans Go, Starfire. This intergalactic beauty was originally a Tamaranian Princess who was next in line to the throne, but her sister exiled her by selling her to the Gordanians. Soon after, she landed on earth and became a member of the Teen Titans.
Beast Boy: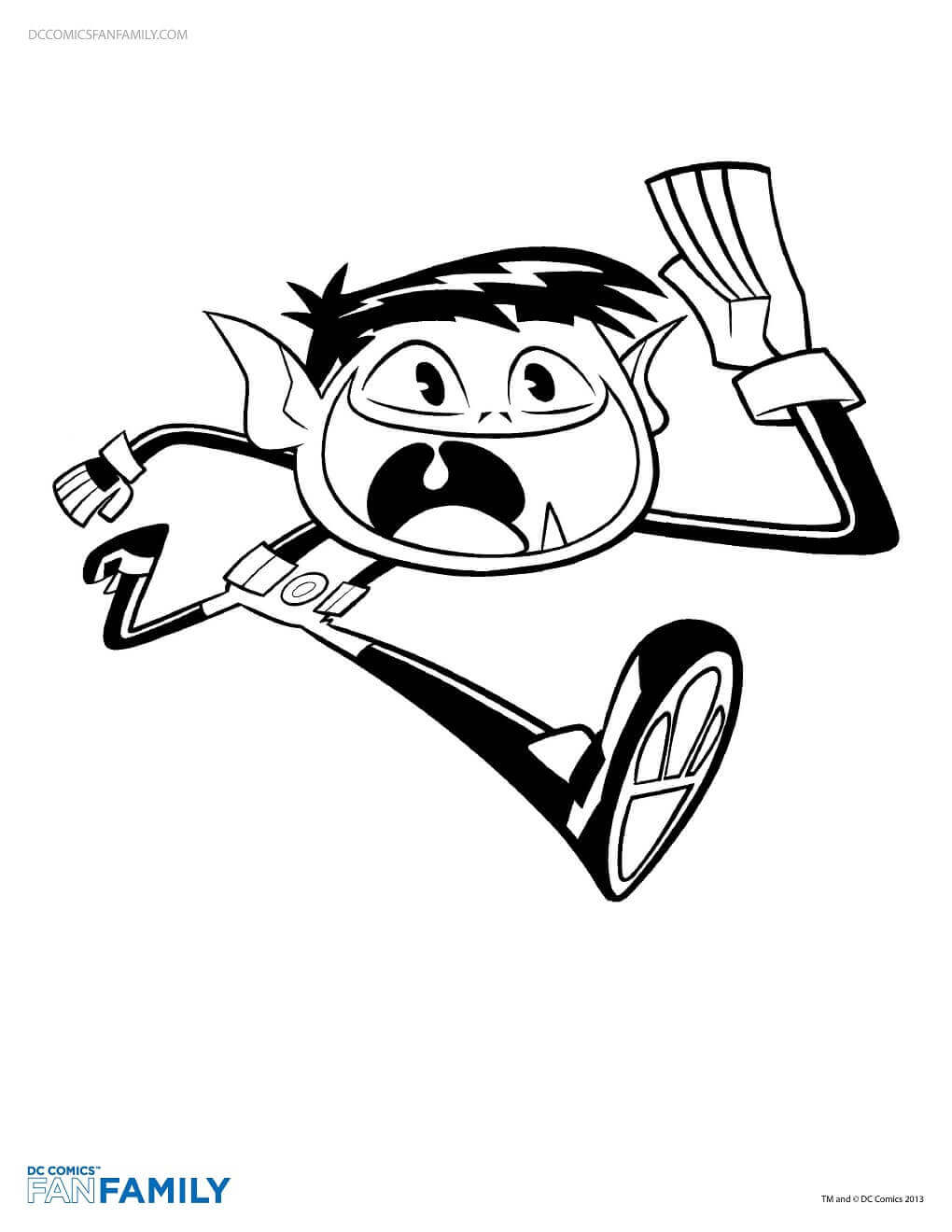 This coloring sheet features Beast Boy, a dimwitted, but lovable loafer who turns into all kinds of animals when he is not playing video games, watching television, sleeping, or eating burritos. Yup, that's his superpower. Beast Boy can turn into any animal he wants because of the rare disease he contracted as a child, Sakutia.
Raven And Starfire: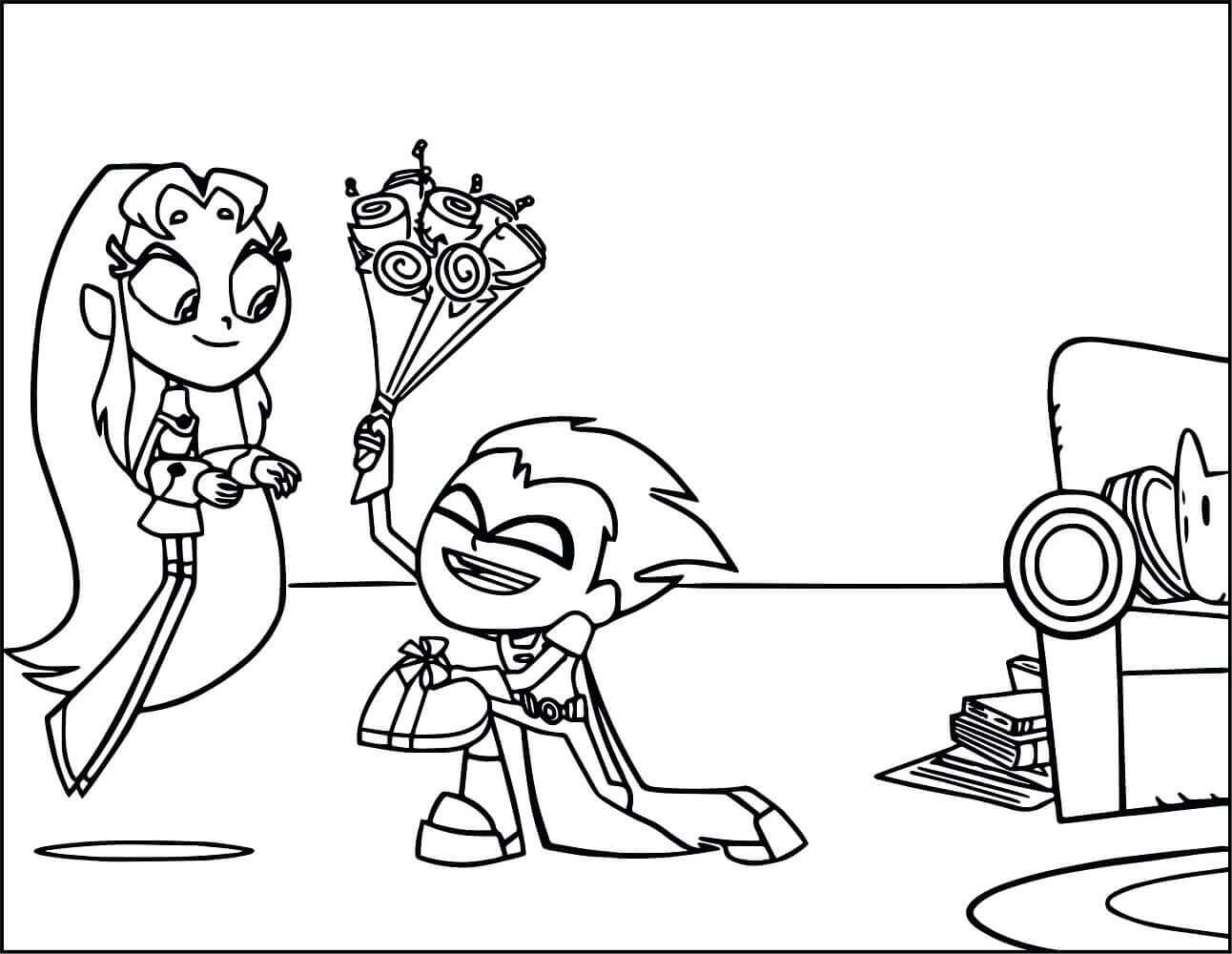 Here's a cute Teen Titans Go coloring sheet features Starfire and Robin. It seems like it's Valentine's Day and Robin is about to propose to Starfire with a bouquet and a box of chocolates. Do you think Starfire will accept his proposal? We'd highly suggest you write down a story that goes with the picture.
[ Related: Valentine's Day Coloring Pages ]
Teen Titans Go Logo Coloring Page:
Here's a simple Teen Titans Go coloring page, which even preschoolers can fill. The new animation style of this series is a fresh change from the previous one, so you must make efforts to make this coloring sheet stand out as well. For coloring, this logo, use blue for 'Teen and Titans' and yellow for 'Go'.
Raven And Beast Boy From Teen Titans Go Coloring Sheet:
Here's another simple Teen Titans Go colouring page, which our readers will definitely enjoy filling. Beast Boy and Raven are looking a bit tense in this coloring sheet, the reason is best known to them. If you're a regular viewer of this series, you'd know what could be the reason behind it. Can you tell us by commenting below?
Raven: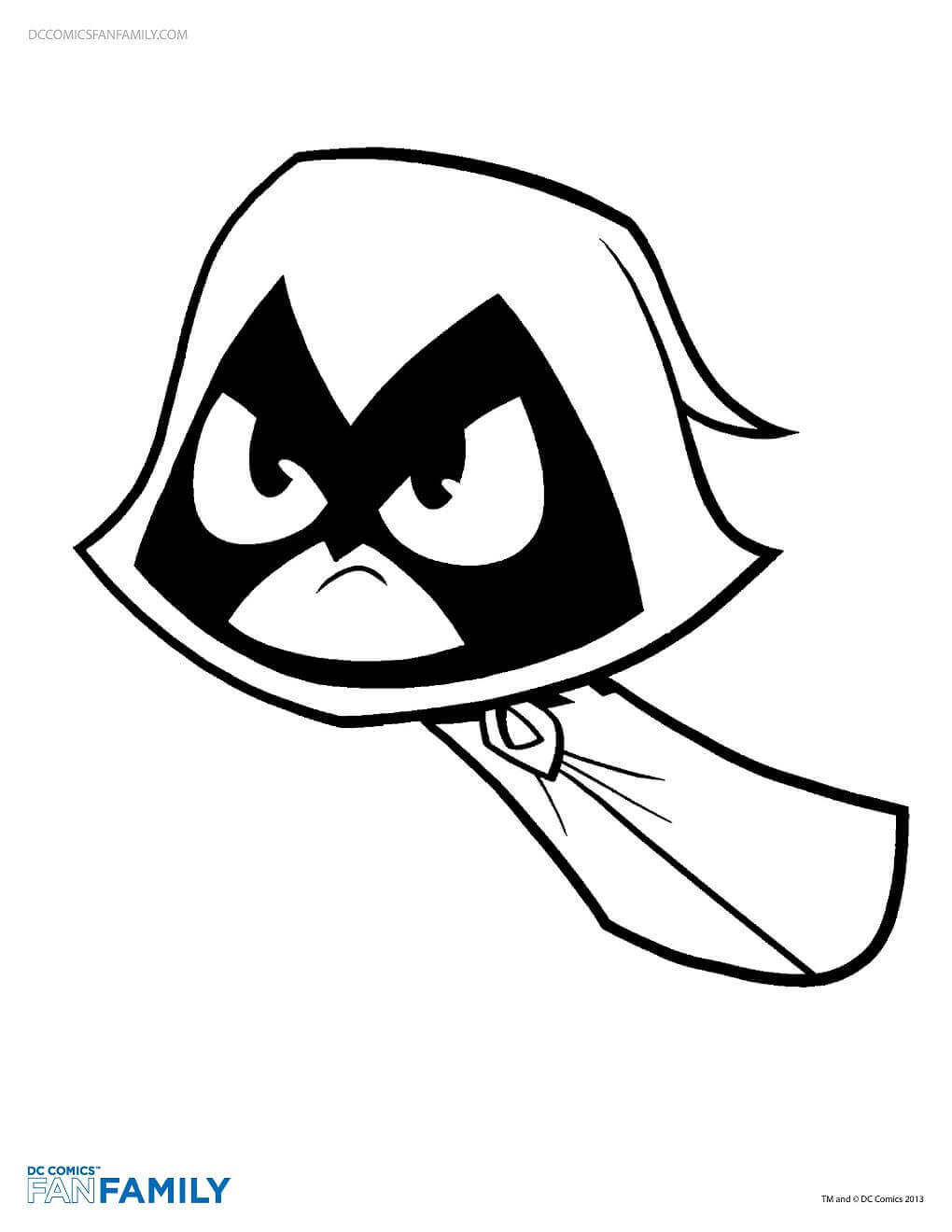 Here's a coloring sheet of Raven, a strong member of the Teen Titans. Raven is the daughter of Trigon, the inter-dimensional lord. She unknowingly accompanied her father in a lot of bad deeds but left him when she realized her foolishness. She even caused a great deal of havoc in the Jump City before joining the Teen Titans.
Image Source for 1, 2, 4, 5, 6, 8, 10
We hope you enjoyed our list of Teen Titans Go coloring pages printable. Stay tuned with us for such exciting printables.