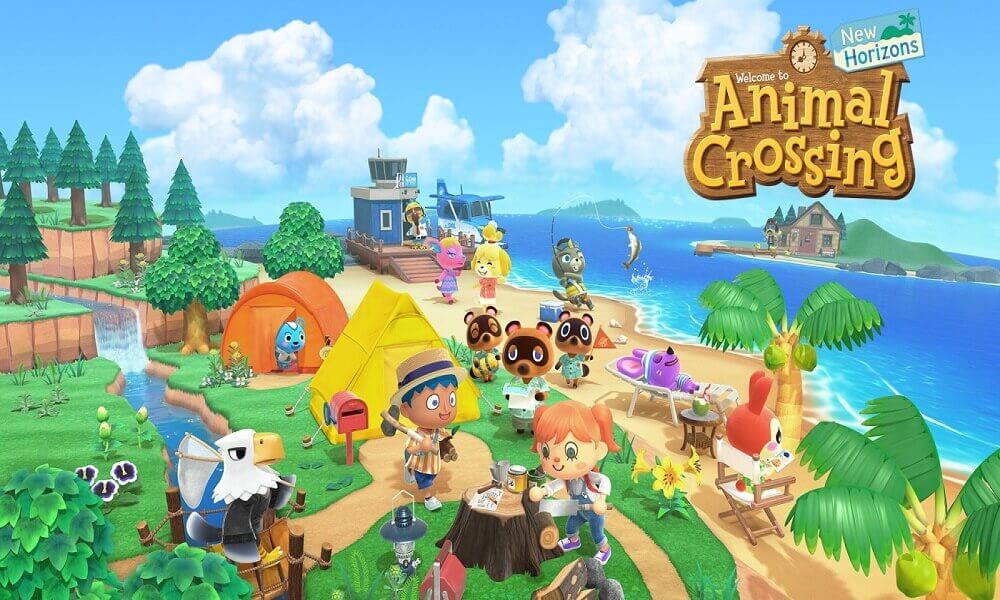 Most of the cartoons or animations we see have animal or bird characters that can talk, act, and behave like humans. In other words, they are anthropomorphic characters. If you have ever wondered what it would be like to interact with talking birds or animals, today's topic of coloring pictures is a video game that allows you to do just that.
We are talking about the hugely popular social simulation video game, Animal Crossing. Created by Katsuya Eguchi and Hisashi Nogami for Nintendo, the game lets the player be a human character in a village full of anthropomorphic animals engaging in various activities. Since its release in 2001, Animal Crossing has garnered commercial and critical success worldwide.
Let's meet and get to know the villagers through this collection of free printable Animal Crossing coloring pages.
to join this conversation on GitHub. Already have an account? Sign in to comment Footer © 2023 GitHub, Inc. Footer navigation Terms Privacy Security Status
20 Free Animal Crossing Coloring Pages Printable
Al, Friendly Gorilla Villager: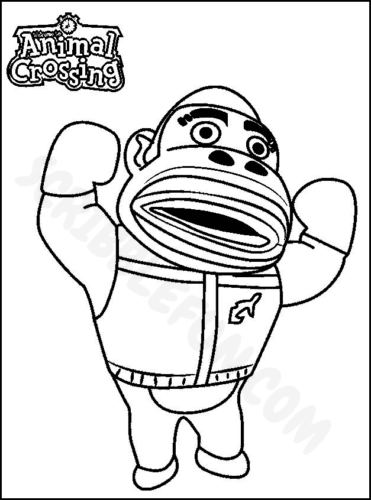 Al is a Gorilla villager and made his debut in the Animal Crossing series on Animal Crossing: City Folk. Everybody gets along well with him due to his friendly and easy-going nature.
Amelia, Eagle Villager From Animal Crossing: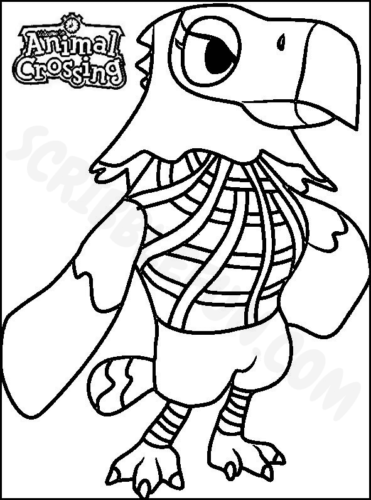 This villager's name is inspired by the first woman to fly solo across the Atlantic, Amelia Earheart. As illustrated here, Amelia is an Eagle villager. Fill the page with flying colors.
Animal Crossing Rudy, Jock Cat Villager: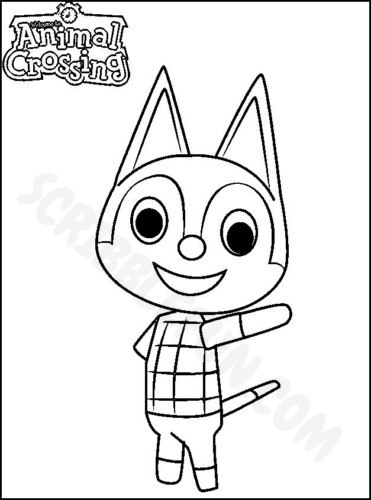 Appearing first in Animal Crossing: New Leaf, Rudy is a jock Cat villager with a red nose. This supports the name reference to Rudolph, the red-nosed reindeer. Capture this adorable illustration in colorful details.
Read: Cat Coloring Pages
The Elderly Tortoise, Animal Crossing Tortimer:
With the walking stick and the slightly slouched posture, you can guess that Tortimer is elderly. He is also the mayor of the town where the player moves in. But since the Animal Crossing: New Leaf, the player now has that role.
Caroline, Squirrel Villager from Animal Crossing: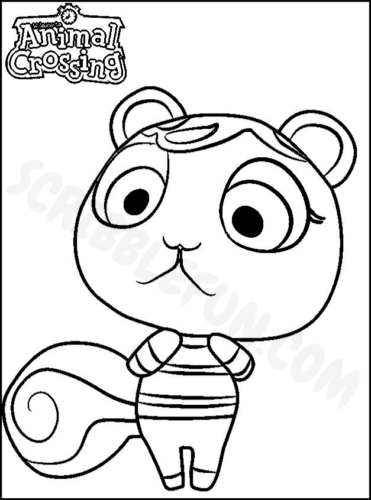 There seems to be something wrong here. Why is Caroline, the Squirrel villager looking a little confused and perhaps a little scared? Try to comfort her with your soothing colors.
Diana, Deer Villager From Animal Crossing:
Making her first appearance in Animal Crossing: New Leaf, here we have Diana, the Deer villager. Her name and even the animal form are inspired by the Roman goddess of the hunt, Diana who had a deer as her symbol.
Jingle, Christmas Character From Animal Crossing: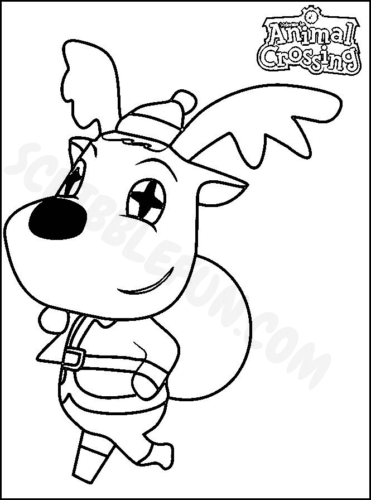 Paying a visit to the Animal Crossing series once a year, Jingle is a Reindeer character. Jingle makes an appearance either on Toy Day, a Christmas event held on 24th December, or on any other similar special event.
Read: Reindeer Coloring Pages
Norma From Animal Crossing:
Referencing a famous American farmer Norma Lyon, this is Norma, a Cow villager. Having a pleasant personality and known for exhibiting kindness towards the player, Norma gets along fine with everyone.
Olaf, The Smug Anteater Villager:
Dark orange in color with curly brown hair, Olaf is an Anteater Villager. A little smug, Olaf made his first appearance in Animal Crossing: New Leaf. Print this coloring page and fill it with the colors that go best with his personality.
Poppy, The Squirrel Villager From Animal Crossing: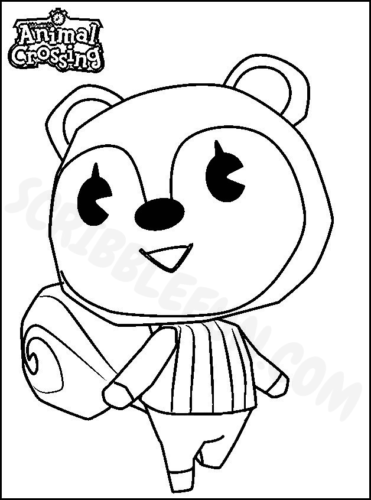 Making her debut in Animal Crossing: City Folk, here we have Poppy, a Squirrel villager. Unlike the other squirrel villager, Caroline, who looked worried, Poppy is looking so cheerful and lively in this illustration.
Quetzal, Jock Eagle Villager:
Quetzal is a Nahuatl word for a bird belonging to the Central American rain forests. That is why you see Quetzal, the Eagle villager having native Mexican-style war paint on his cheeks.
Rocket, Gorilla Villager from Animal Crossing:
After Al, we have another Gorilla villager. This time it's a sisterly Gorilla villager, Rocket, who is part of a team of super-hero Villagers. Her personality traits include somewhat normal to peppy and even snooty elements.
Rooney, Cranky Kangaroo Villager:
One of the only two male Kangaroo villagers in the Animal Crossing series, Rooney was first seen in Animal Crossing: New Leaf. The name references kangaroo as well as boxer Kevin Rooney. Kangaroos are notorious for throwing punches and kicks.
Rory, Lion Villager From Animal Crossing:
What sound does a lion make? Yes, it roars. The name of this Lion villager, Rory, is inspired by that roaring. Rory is greatly into music. Print this page and fill it with melodic colors.
Read: Lion Coloring Pages
Roscoe, Horse Villager:
One of the many Horse villagers in the Animal Crossing series, Roscoe is the only one who has a cranky personality. But that doesn't mean, he doesn't change. He gets kinder and considerate over time.
Ruby, Peppy Rabbit Villager:
Always excited about even the smallest of things, Ruby is a peppy Rabbit villager first seen in Animal Crossing: Wild World. Always motivated, Ruby never hesitates to follow her heart.
Sable, Tailor From Animal Crossing:
Sable Able is one of the two sisters who co-owns a tailor shop, Able Sisters Tailor Shop, in the town. Sable is a shy, Hedgehog villager who prefers working in the background.
Tia, Elephant Villager From Animal Crossing: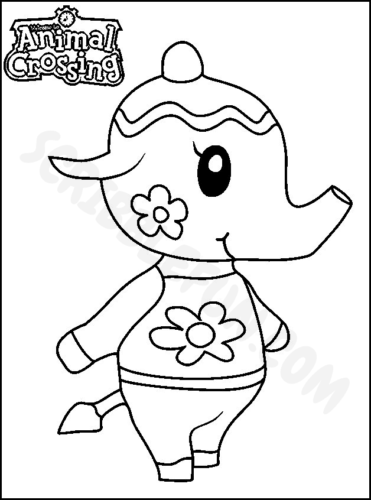 Tia is an Elephant villager with a head that is based on a teapot, as clearly illustrated on this coloring page. Give this cute illustration some floral colors.
Read: Elephant Coloring Pages
Totakeke Or Slider From Animal Crossing:
Known by other names like Slider or K.K., Totakeke is a Dog villager who has made an appearance in all the Animal Crossing games. He is a traveling musician who loves to entertain.
Wendell, Blue Walrus Villager:
While Slider is a traveling musician, Wendell is a traveling artist. Bearing two large, white tusks, Wendell is a blue Walrus villager.
On that blue note, we have reached the conclusion of the printable collection of Animal Crossing coloring sheets. Hope you had fun coloring these interesting and curious little creatures from the popular video game. The latest and the fifth installment, New Horizons, released in March 2020 proved to be the best-selling of the Animal Crossing series. It also won the Game of the Year at the Japan Game Awards.