Hello friends! Today, we're back with another cool video game coloring page and this time, it's Cuphead. Cuphead is a classic run and gun action game by StudioMDHR, focusing heavily on boss battles. The entire game is inspired by cartoons, which explain its over the top audio and visual. It's said that the visuals are created using the techniques of the 1930s, which includes watercolor backgrounds, hand-drawn cel animation, and of course, original jazz recordings. All these factors have made Cuphead incredibly popular with children, just like Kirby, which is why we've got you a set of free printable Cuphead coloring pages. Check out our collection of free Cuphead coloring sheets to print below.
10 Free Printable Cuphead Coloring Pages:
Baroness Von Bon Bon From Cuphead Coloring Page:
Baroness Von Bon Bon is a boss encountered in Inkwell Isle Two and fought at the Sugarland Shimmy level. She's a tall humanoid of soda bottle shape. She has pale pink skin, yellow eyes, and curly brown hair. Baroness Von Bon Bon is an authority figure with a feisty and unforgiving attitude.
Cagney Carnation From Cuphead Coloring Sheet:
Cuphead looks extremely fierce smashing flower Cagney Carnation's face on this coloring page. Cagney Carnation is a tall and sentient orange-colored carnation with a dark green stem. He's the boss of Floral Fury level and is encountered in Inkwell Isle One. Cagney Carnation loves to catch the enemies off guard.
to join this conversation on GitHub. Already have an account? Sign in to comment Footer © 2023 GitHub, Inc. Footer navigation Terms Privacy Security Status
[ Read: Flower Coloring Pages ]
Captain Brineybead From Cuphead Image:
Captain Brineybead, the pirate boss in Cuphead who looks like a typical cartoon pirate with two peg legs and an eye patch. This pirate taunts his opponents before fighting in his typical pirate language and even enjoys having brawls with others.
Cuphead And Mugman Coloring Page: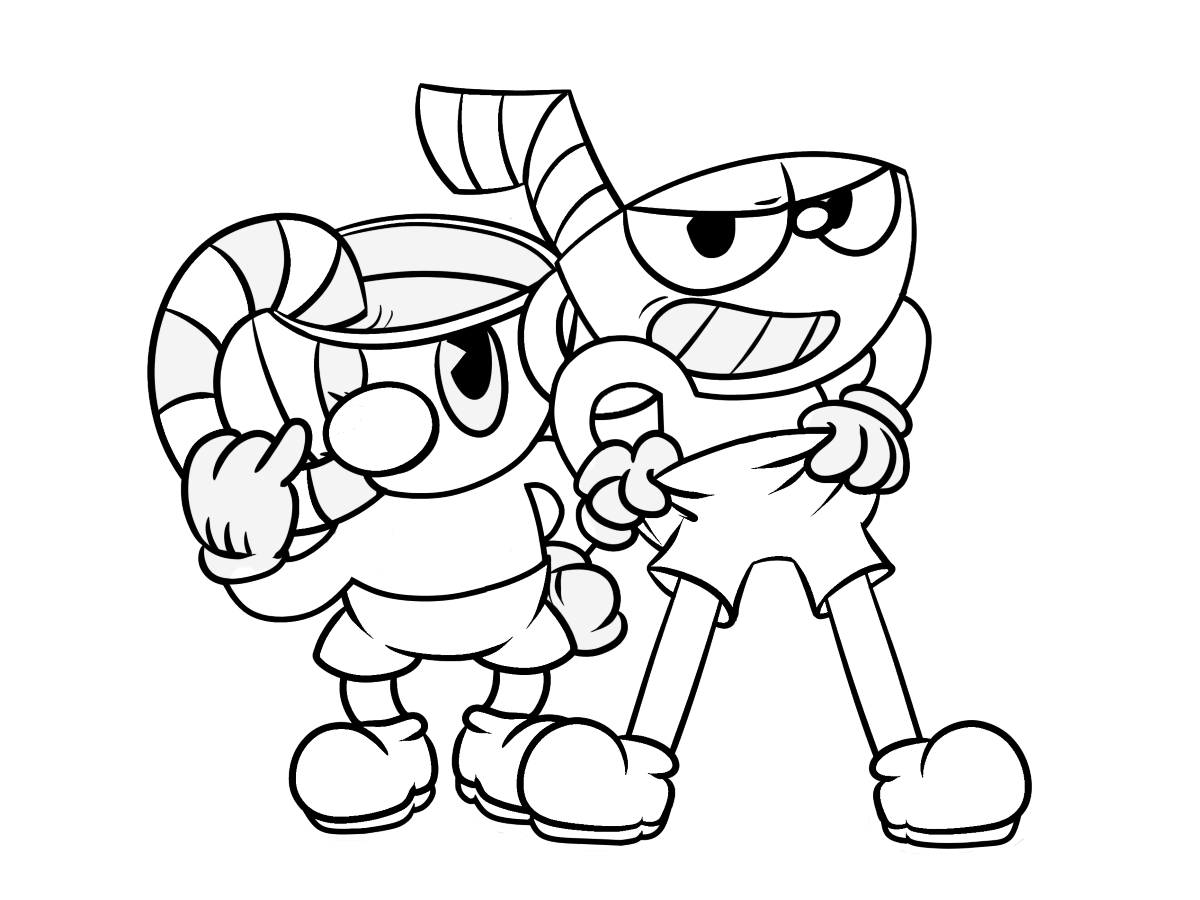 Here's a coloring sheet of the two protagonists and siblings of this video game, Cuphead and Mugman. Mugman is generally played by the second player and has the liberty to leave or join the game any time he wants. Mugman's head looks like a mug with a long straw. He wears white gloves, blue shorts, a black shirt, and brown boots.
Beppi The Clown From Cuphead Coloring Picture:
Here's a coloring sheet of Beppi, a tall clown, which appears in a red and blue clown suit. He's the boss of this video game found in the Carnival Kerfuffle in Inkwell Isle Two level. Despite being a villain, Beffi is a fun loving clown who loves to crack jokes and make puns whenever Cuphead and Mughead brothers lose to him.
Cuphead Coloring Page:
Here's a coloring sheet of Cuphead, the main and titular character from the video game. Cuphead is basically a wide cup with a straw that carries some sort of liquid inside. He has a small red nose and eyes that are drawn close together. What we and all the players love about his character is his determined expression that he has even in the face of danger.
Hilda Berg: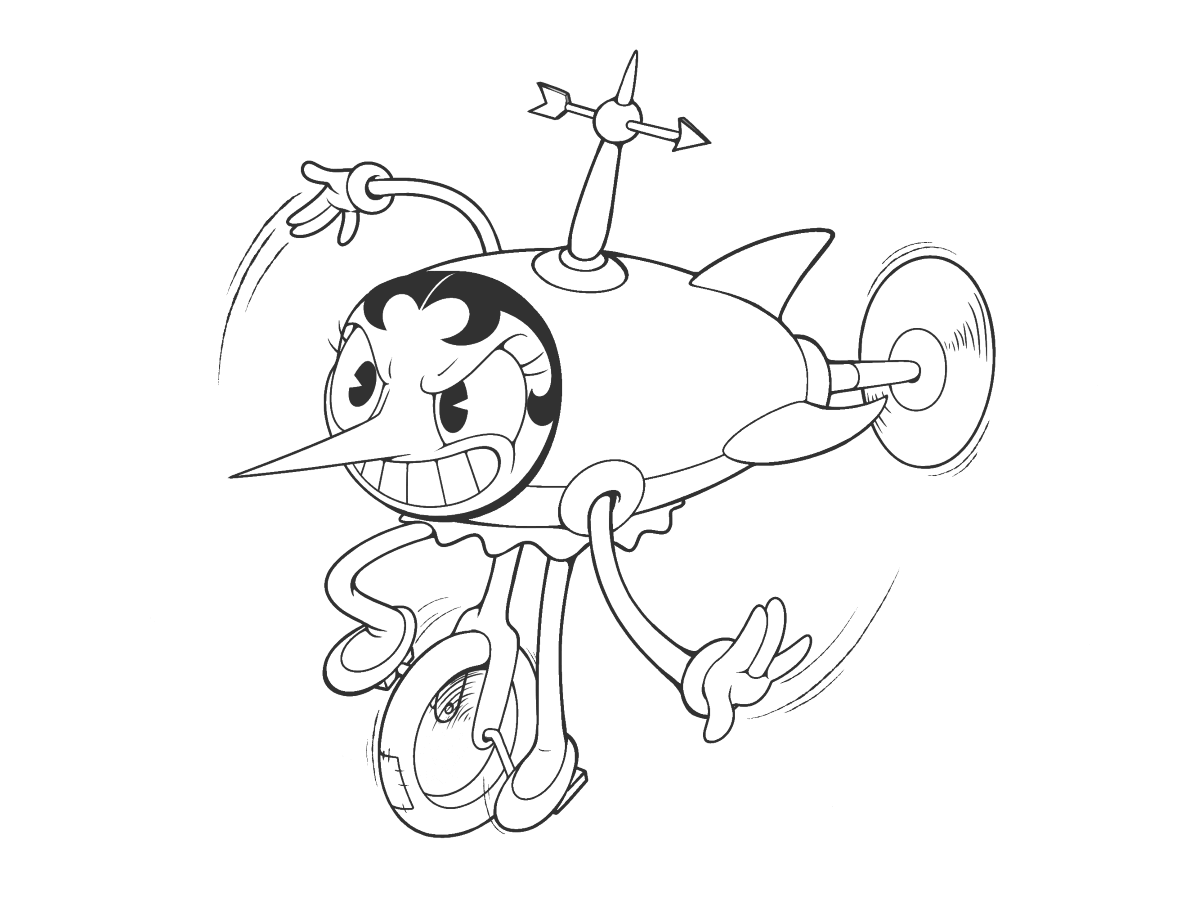 Hilda Berg, the boss of Cuphead located in Inkwell Isle One is said to be the first boss, which is fought using an airplane. This humanoid, pink-skinned female blimp that appears in the game wearing red shirt and bottoms, red shoes and gold bracelet.
King Dice Coloring Page:
Meet King Dice, Devil's right hand and the secondary antagonist of Cuphead. He's the gatekeeper between the underworlds and allows only Mugman and Cuphead to pass whenever they turn in contract to him. King Dice is a tall humanoid creature that has dice for a head.
Rumor Honeybottoms From Cuphead Colouring Page: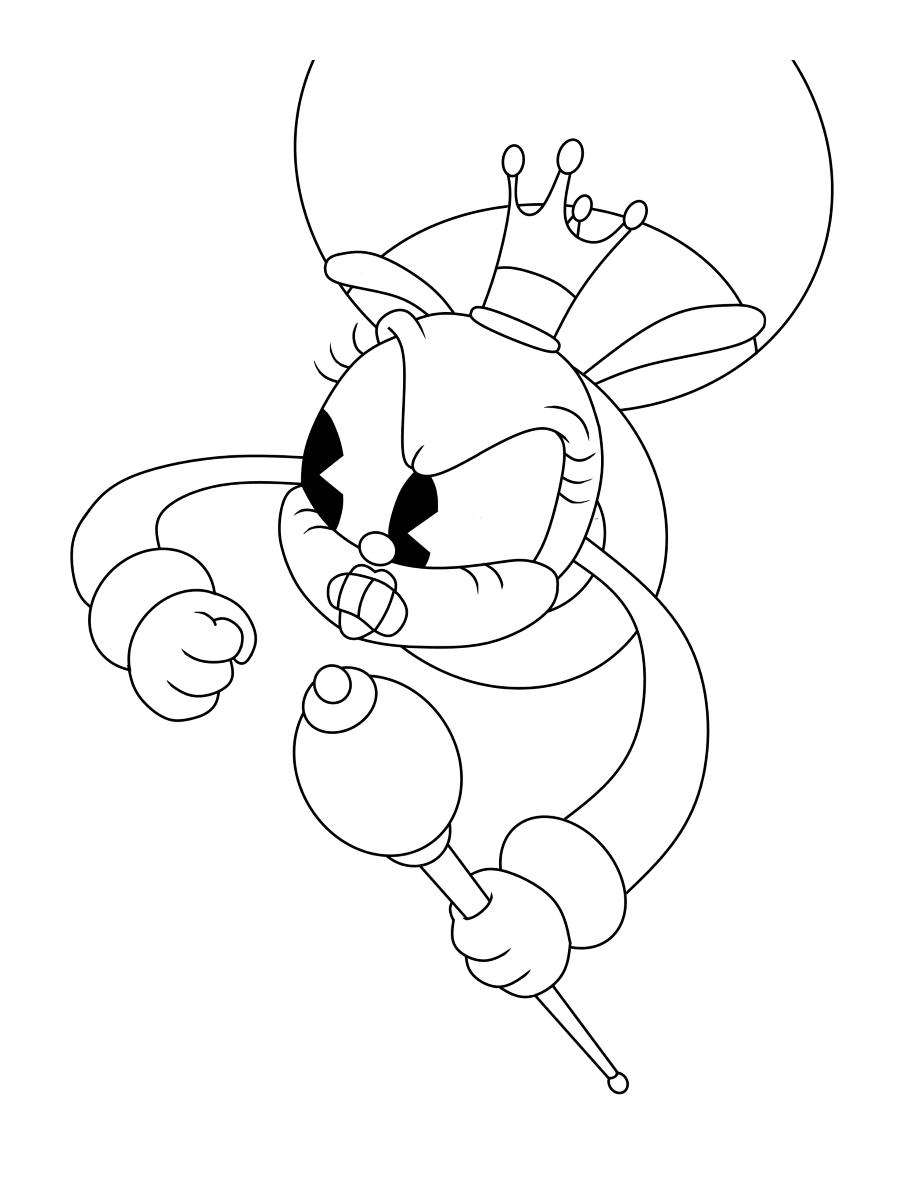 Rumor Honeybottoms, the boss in Cuphead is a large bee that appears in the game wearing a yellow and black dress with yellow cuffs, black sleeves, and white gloves. Since she's the queen, she carries a large honey wand and wears a crown.
Wally Warbles:
Lastly, we've got you a coloring page of Wally Warbles, the bird boss players you will find in the Inkwell Isle Two in Aviary Action level. It's a red and blue colored bird that hides most of its body in a birdhouse. Wally is a protective bird and even has a cuckoo house to keep him and his family safe.
So how did you find our free Cuphead coloring pages printables? They look absolutely amazing, right? We bet it will look even better when you fill it with shades that capture the techniques of the 30s. So which are your favorite Cuphead coloring pictures? Share with us soon!