How do you celebrate your happiness? Do you laugh and smile? Or do you break out into a song and dance routine? If singing and dancing is your way of celebration then you are going to enjoy today's topic of collection of coloring pages, inspired by the fun rhythmical game, Friday Night Funkin.
The game was developed by users of the Newgrounds platform as a free-to-play game that is aesthetically similar to earlier popular games played in the 2000s. The open-source Friday Night Funkin game involves a character named simply "Boyfriend" who has to compete in a musical event against several different opponents, in order to be able to date his "Girlfriend" by getting the approval of her father called "Daddy Dearest". The competition involves singing and rapping to win, with players having to follow the complicated pattern of notes in order to successfully play the game.
It's time to get moving to the rhythm through this musical collection of FNF or Friday Night Funkin coloring sheets to print.
to join this conversation on GitHub. Already have an account? Sign in to comment Footer © 2023 GitHub, Inc. Footer navigation Terms Privacy Security Status
15 Free Friday Night Funkin Coloring Pages Printable
Friday Night Funkin Coloring Page:
Starting off the collection is a face-off competition between the Boyfriend player and his opponent. You can add some funky colors to this musical illustration and bring out the fierceness of the face-off with your coloring skills.
Friday Night Funkin Boyfriend Coloring Page: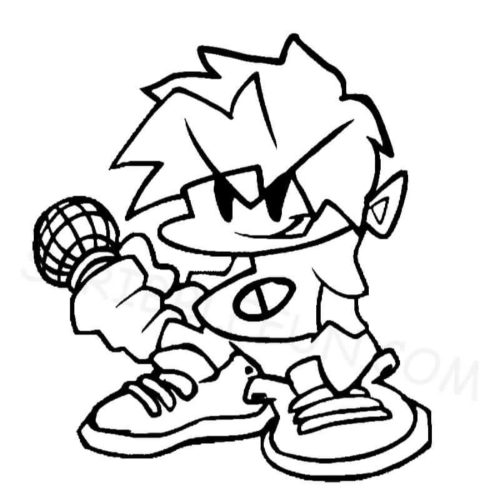 If you are wondering who won the face-off on the previous page, this illustration has the answer. Look at Boyfriend enthusiastically pumping up his fist in victory after having won the round. He must have sung incredibly well, as expected of the protagonist of the game.
Friday Night Funkin Levels or Weeks:
Each face-off denotes a level or as called in the game, a week. Boyfriend has to pass or win several weeks, competing against various opponents. Multiple songs are sung as part of the contest in each week's battle.
Friday Night Funkin Boyfriend Enjoys Another Victory:
As the level progresses the game-play in Friday Night Funkin gets complicated as well. From simply copying the singing of the opponents, it moves on to singing in different notes or performing a duet. But Boyfriend seems to be doing well as he flashes a victory sign after winning again.
Friday Night Funkin Girlfriend Coloring Page:
Here on this coloring page, we have the reason why Boyfriend is competing in the song contests. This is Girlfriend, whom Boyfriend wants to be able to date and seeks her parent's blessing. Print this page and fill it with loving and melodious colors.
Friday Night Funkin Logo:
There are different colors in the world. And there are different notes in music. To color this funky logo of the Friday Night Funkin game, you can use multiple colors. Perhaps, using different colors for each letter.
Melony from Friday Night Funkin:
Time to get introduced to another character from the Friday Night Funkin game. Here we have Melony, sitting prettily while listening to the players singing. Fill in some relaxed and groovy colors for this character.
Miku from Friday Night Funkin:
Friday Night Funkin game not only has various characters of its own, but it also boasts of a guest appearance from other famous characters. Like here we have Hatsune Miku, part of the Japanese VOCALOID software, making an appearance in week 5 of the game.
Friday Night Funkin Pico Coloring Page:
Pico is a hitman hired to kill a target. On the day of his assignment, he discovers that the target is Boyfriend, someone he knew before. So, he instead declares a rap battle, becoming the main antagonist of the week 3 round in the Friday Night Funkin game.
Friday Night Funkin The Father:
The Father or the Daddy Dearest is an ex-rock star and father of Girlfriend. In the first round or week 1, he is defeated by Boyfriend who wants to be able to date his daughter. This defeat leads Daddy Dearest to hire Pico, the hitman. Dressed in an all-black attire, The Father has lavender skin color and his eyes are black with red pupils.
Friday Night Funkin The Mom Coloring Page:
If The Father was defeated in week 1, the battle with The Mom happens in week 4 with a similar outcome. Boyfriend wins the face-off against the mother of Girlfriend. Print this coloring page and give The Mom some rock star diva colors. The hair needs an auburn color, skin should be purple while the eyes have red pupils.
Pico and Boyfriend from Friday Night Funkin: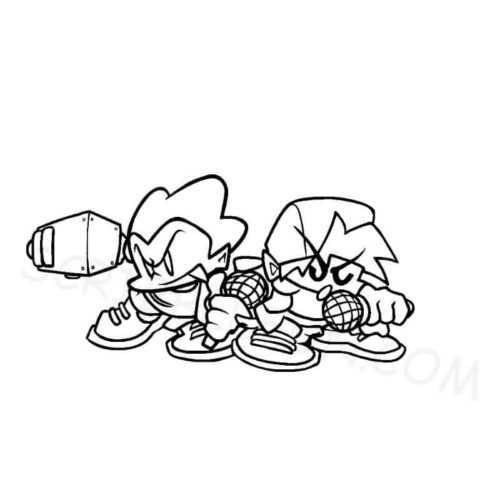 This illustration showcases the rap battle between Pico and Boyfriend in week 3. You can feel the intensity in this battle. Print this coloring page and bring out the musical tension with your coloring skills.
Skid and Pump Coloring Page:
Part of the Spooky Month or week 2, Skid and Pump are children in Halloween costumes inspired by a skeleton and a pumpkin. The one on top is Skid with a bony white body and skull head mask, while Pump wears the pumpkin mask and black suit.
[ Related: Pumpkin Coloring Pages ]
Boyfriend Swinging Mike:
Not only is Boyfriend musically talented, but he also has cool confidence about him. Look at him confidently swinging his mike as he engages in another face-off in the Friday Night Funkin game. Give this consecutive series of illustrations some swinging 
colors.
Whitty from Friday Night Funkin:
Gracing this coloring page is Whitmore, or popularly known as Whitty. Infamous as being short-tempered, Whitty shares an animosity with The Father, due to their rock star past.
On that rocky past note, we have unfortunately come to the end of this fun and rhythmic collection of coloring pictures inspired by the Friday Night Funkin or FNF game. Hope you had a groovy and funky time coloring these characters from the game. If you are feeling musically inspired, you can even engage in a singing and dancing battle with your family and friends.