Children in my family are totally crazy about L.O.L. Surprise! Dolls! They have collected almost every doll and fizz ball and are now waiting patiently for the release of the next batch of dolls. Since L.O.L. Surprise! Dolls, created by MGA Entertainment is a doll line that lets owners unwrap layer after layer to reveal secret messages. Since L.O.L. Surprise! Dolls are so popular with the kids, we decided to come up with a compilation of LOL Surprise Dolls coloring pages and activity sheets. Check out our collection of printable LOL Surprise Dolls coloring sheets below.
Printable LOL Surprise Dolls Coloring Pages:
Touchdown: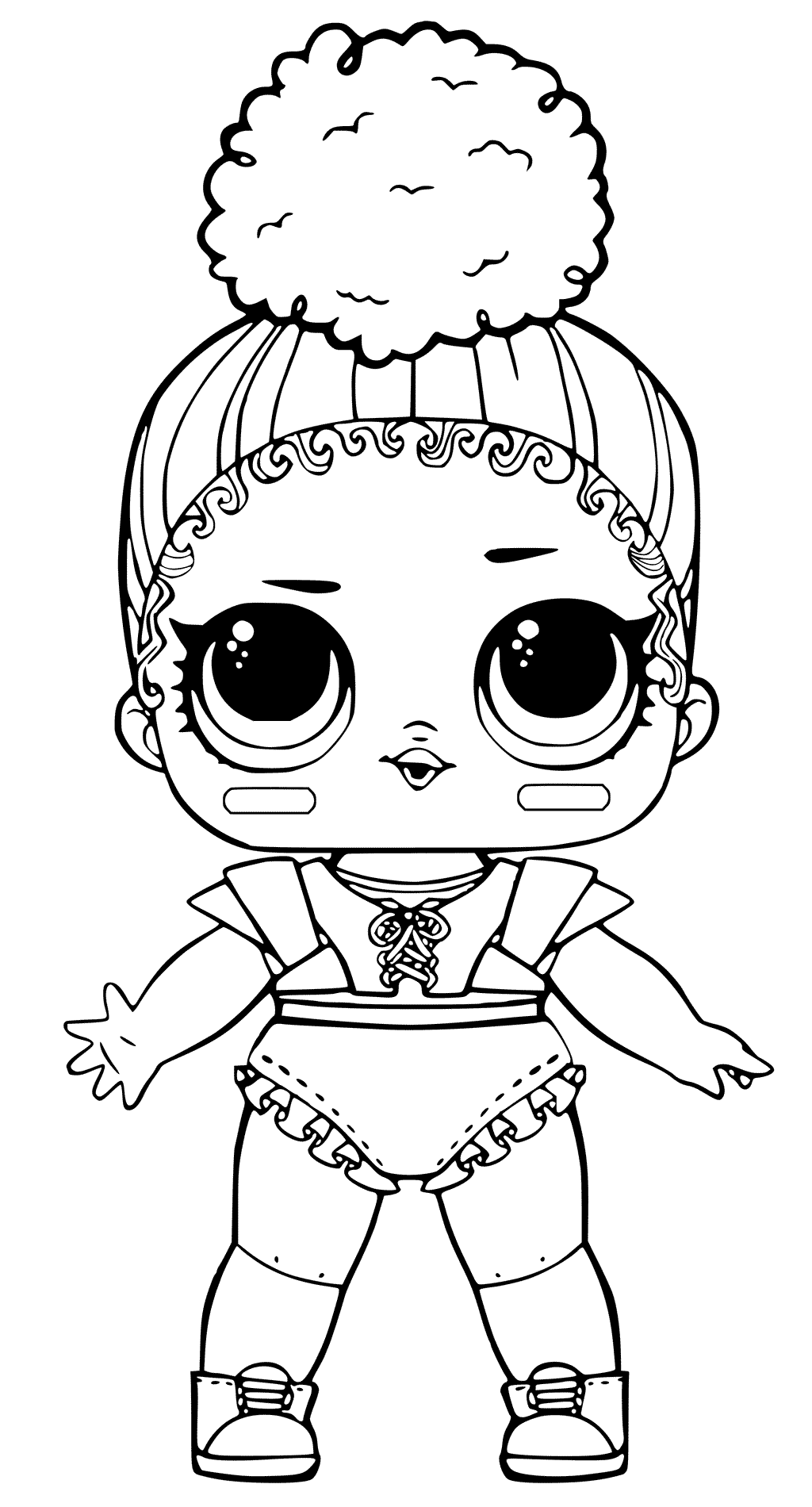 Meet Touchdown, our baby bowl champion. This athletic doll always wins the bowling championship. You can color her corset and shoes gold, knickers black and hair pink.
LOL Surprise Doll In A Bowl: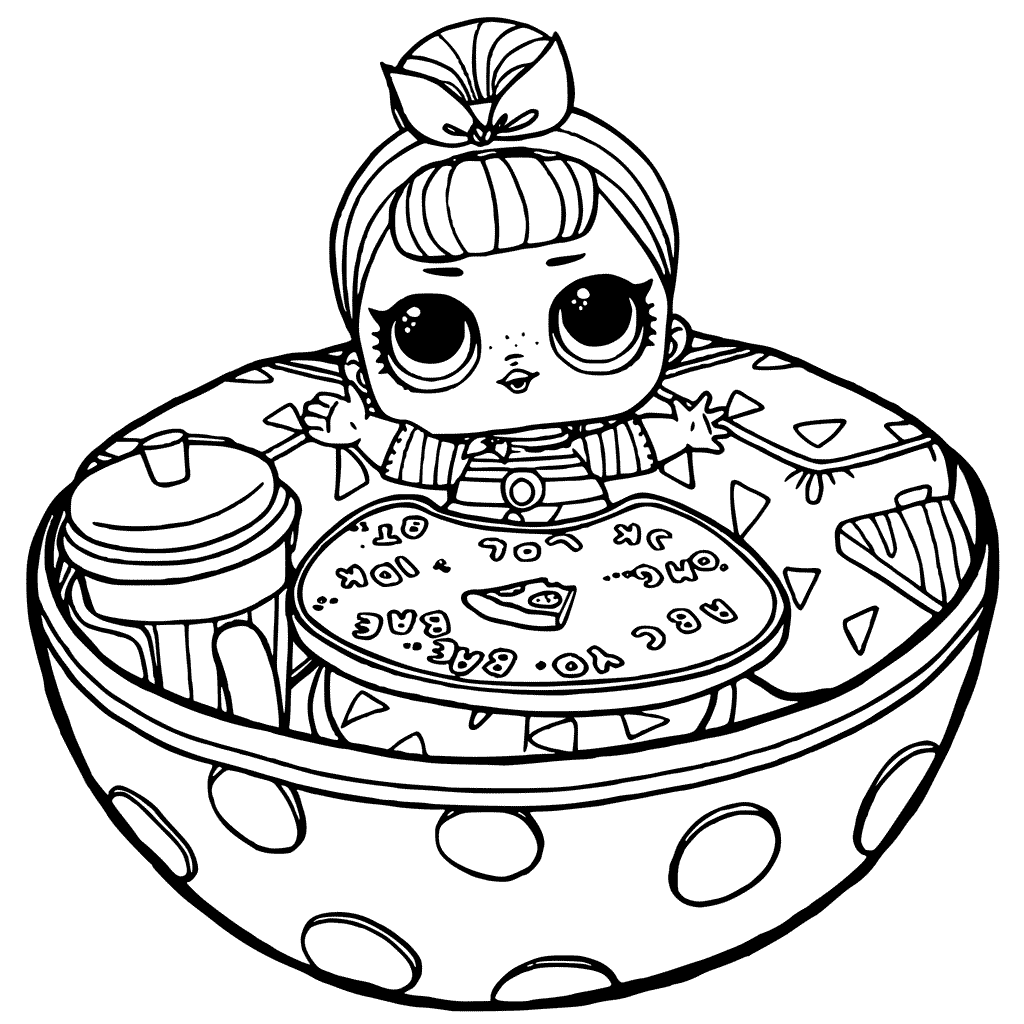 This coloring page shows a little surprise doll in the bowl. This lil doll seems to be enjoying a pizza in her love alphabet platter. And how happy and excited does she look at the picture? We totally love how she has beautified her hair with a bow. Can you guess which lil Lol Surprise Doll is featured in this coloring image?
LOL Surprise Dolls Activity Sheet: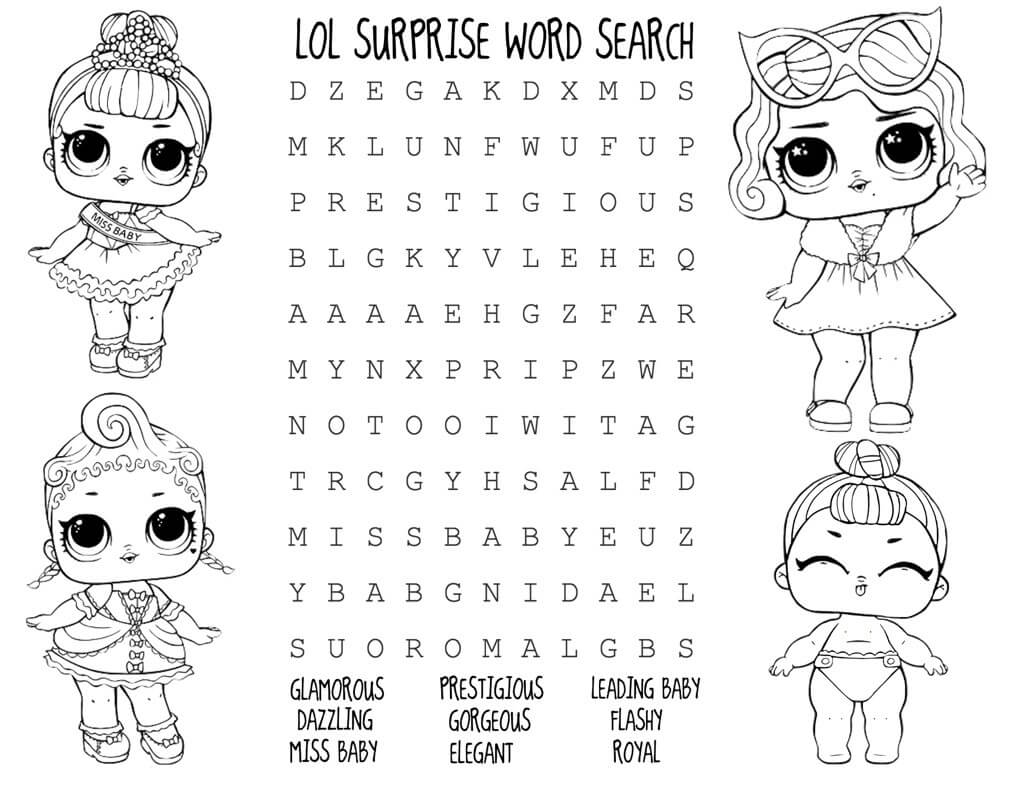 This is a fun activity sheet for preschoolers, where children have to search for the words mentioned below the coloring sheet from the letters featured above. After finding the words, children are free to color this sheet anyway they like.
LOL Surprise Dolls Activity Sheet: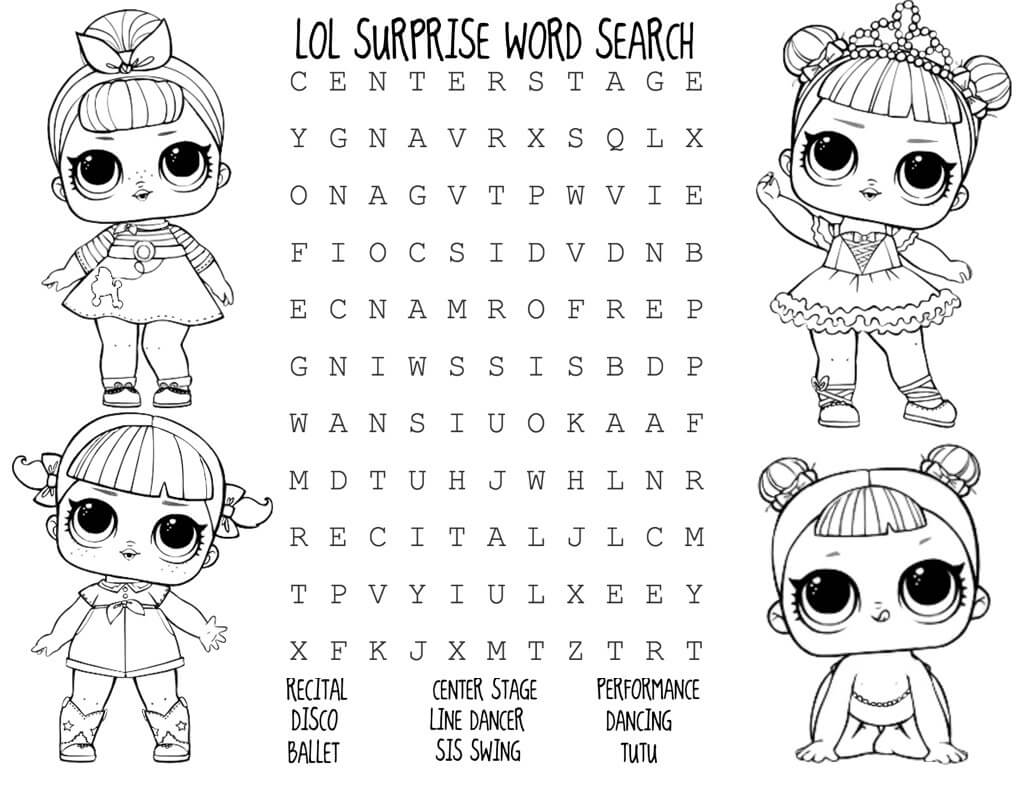 This one is similar to the former one, except you need to find different words. Even the dolls are different, which is a bonus for you as you'll get to color not one or two, but four different LOL Surprise Dolls.
Cherry: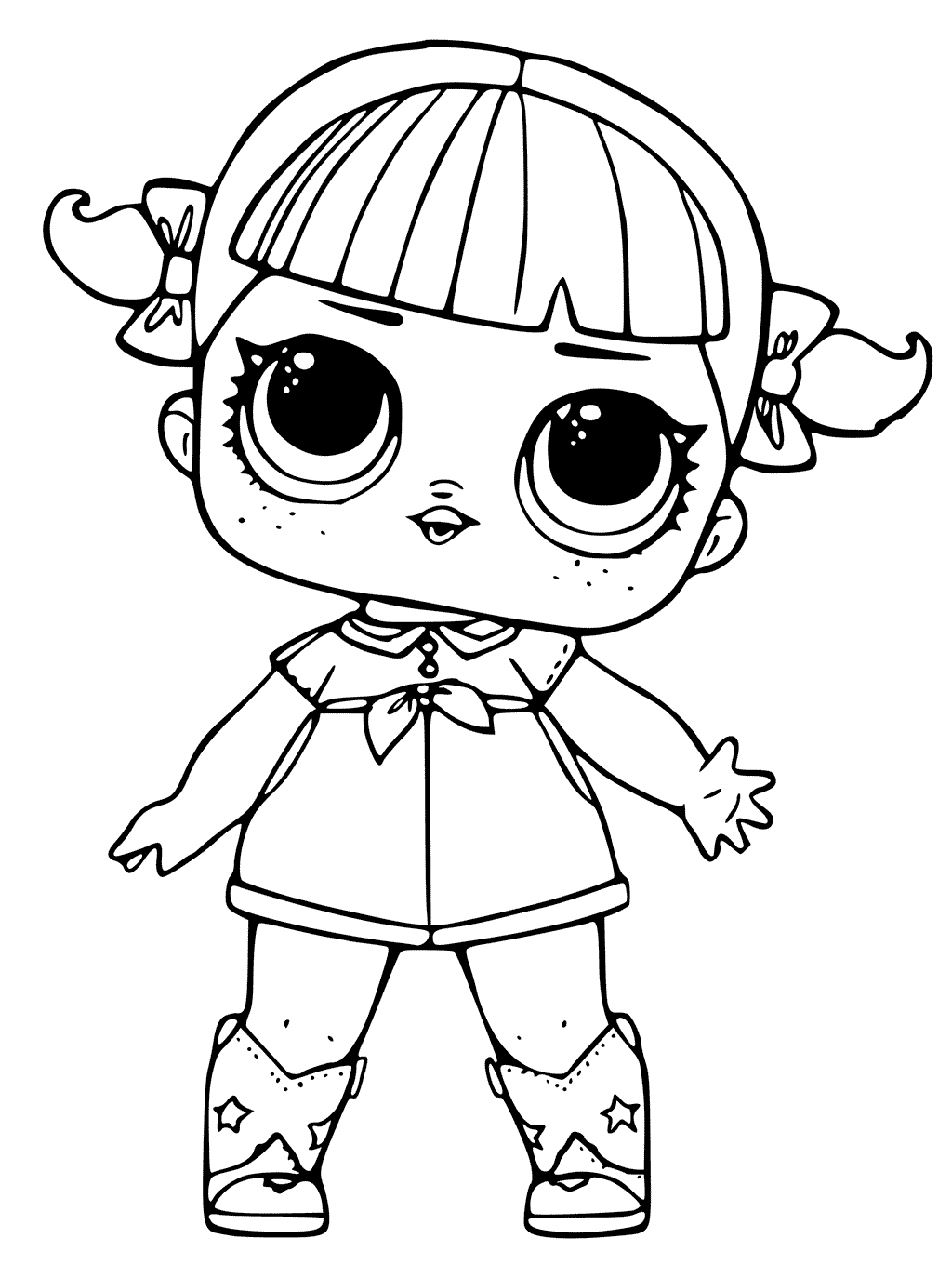 Here's a coloring page of sweet and adorable Cherry, who likes everything wild. Even her dress has cheetah prints, which she accessorizes with a black scarf. While coloring, make sure you paint the hair scarlet.
Crystal Doll: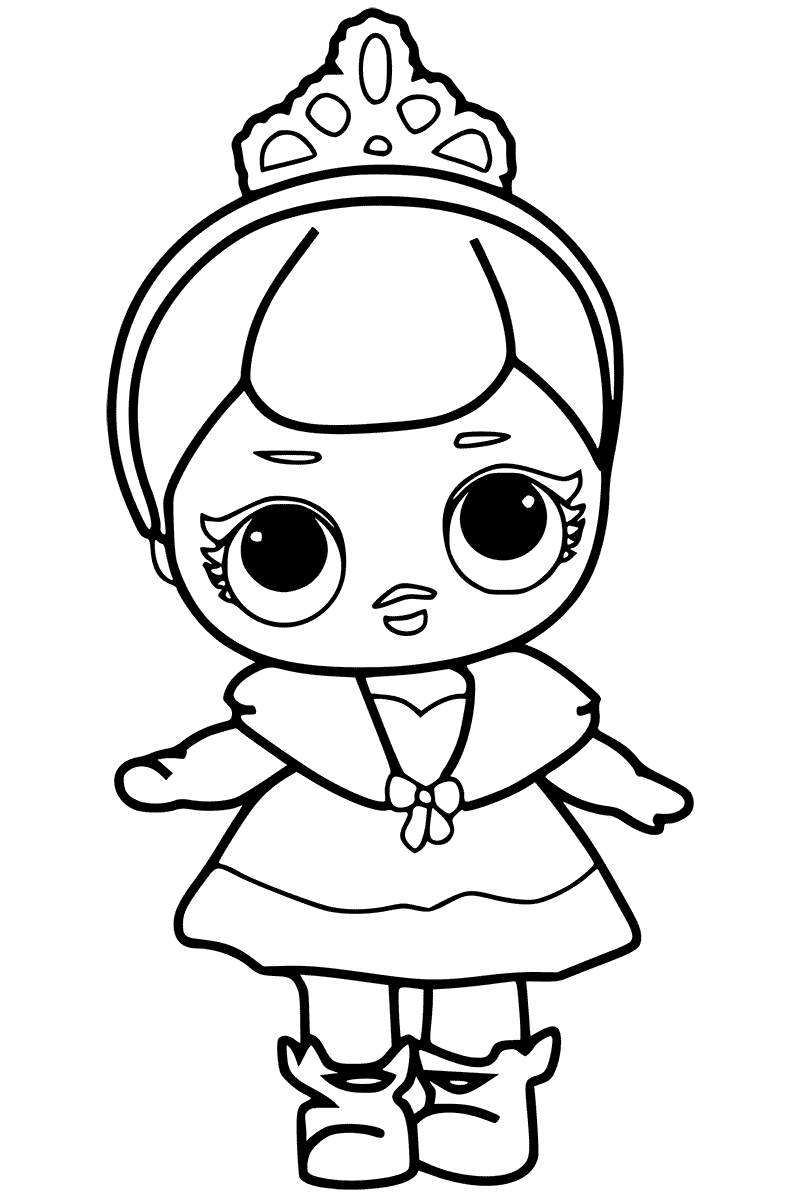 We find Crystal Doll the most adorable of all the L.O.L. Surprise! Dolls. She is a beautiful, light-skinned doll with hair pulled back into a bun. She wears a beautiful dress, which complements her tiara really well.
Leading Baby: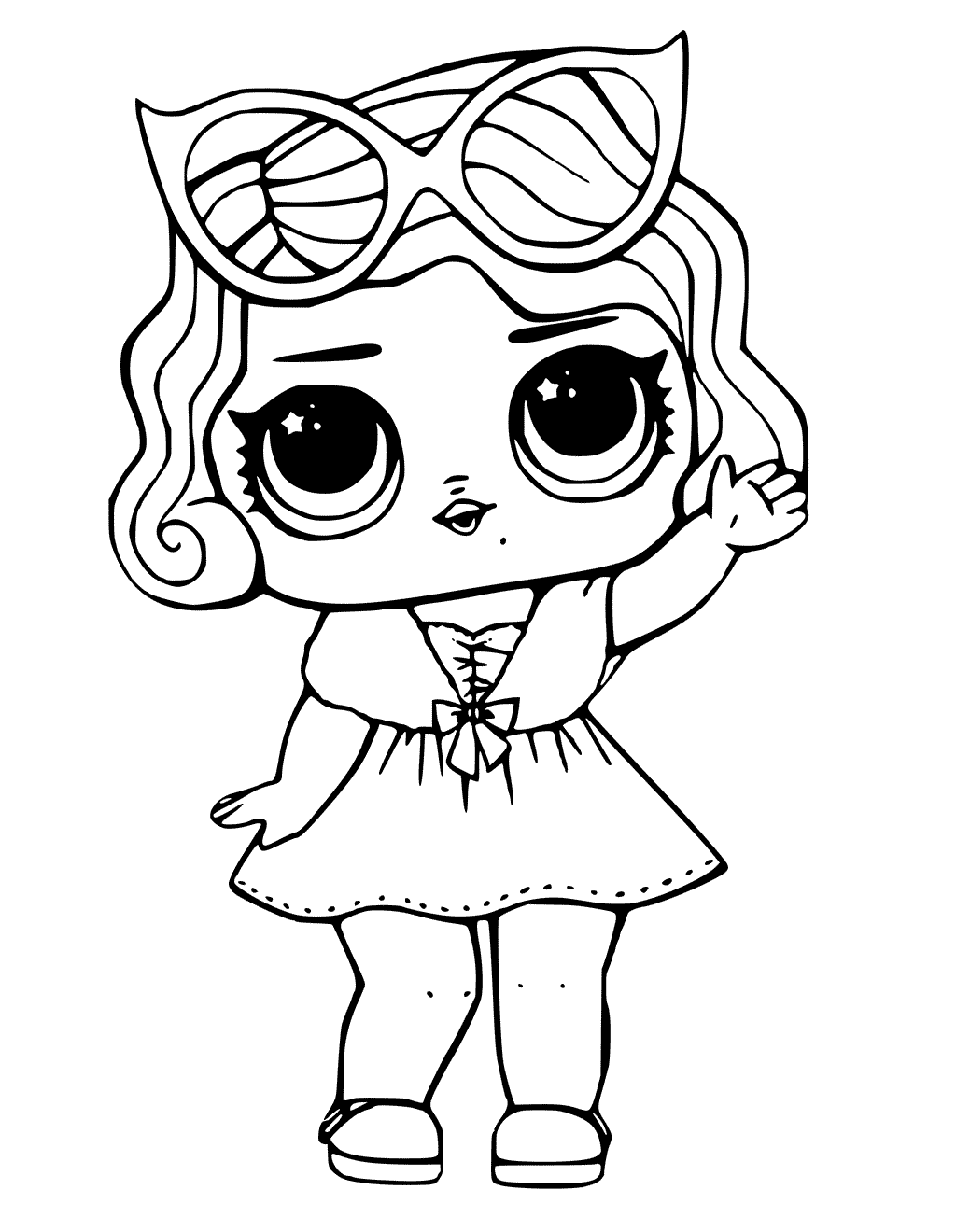 Here's a coloring page of Leading Baby, the true Hollywood star of this range. She has beautiful blonde curls, and wears a white dress. She accessorizes her look with red glass and red shoes, just like a fashionista.
Vacay Babay:
As her name implies, Vacay Babay is the traveler doll of L.O.L. Surprise! Dolls range. She loves to travel and try out new cuisines. We totally aspire to be like Vacay Babay. Going by her costume, which is a two-piece, it seems that Vacay Babay is a water baby.
Lil Cosmic Queen: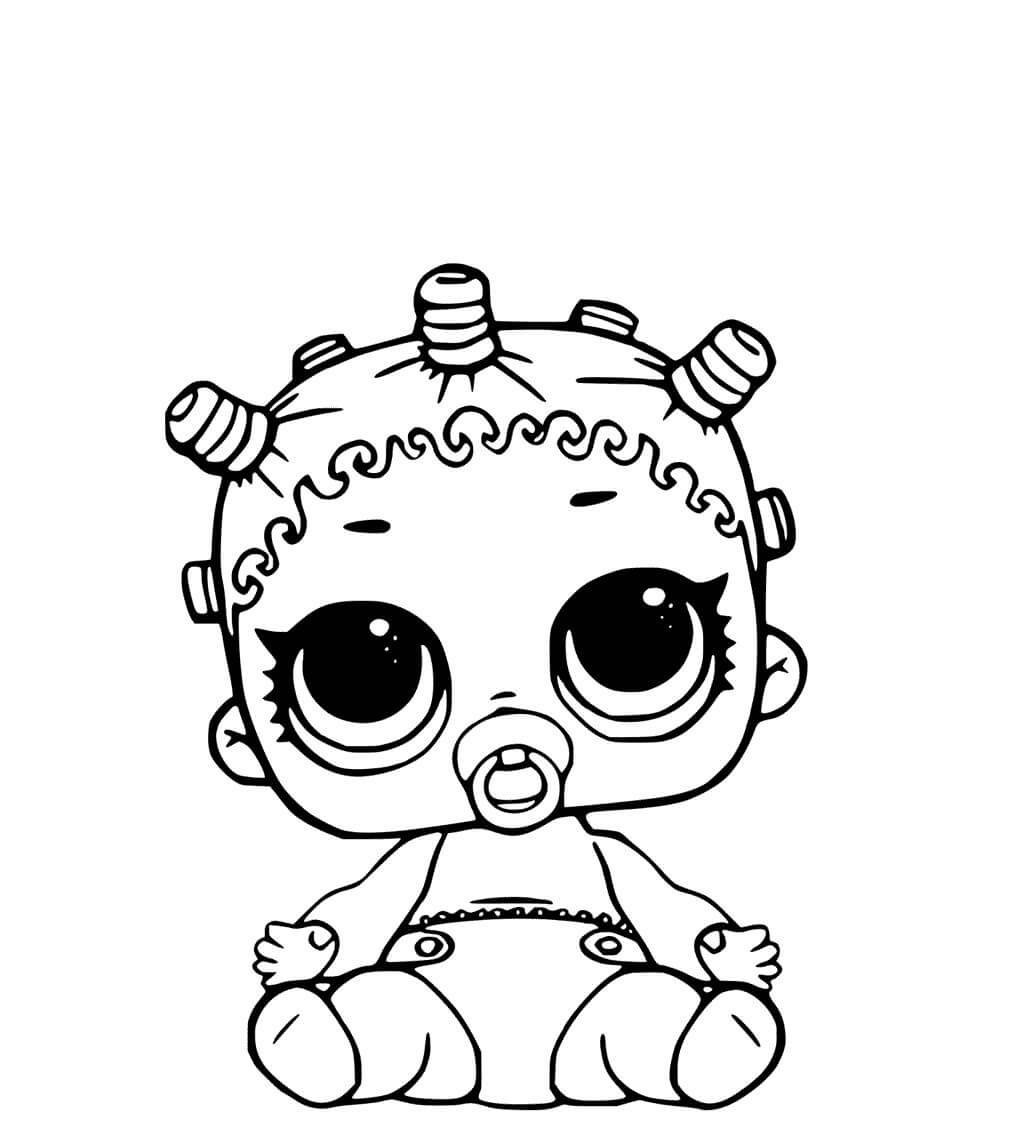 Here's the adorable miniature version of Cosmic Queen. Cosmic Queen likes to follow the call of a disco ball. We really can't decide which version of Cosmic Queen we like more because she looks beautiful in every form. You can, however, select that as you color this page.
Cosmic Queen And Crystal Doll:
This coloring sheet features two of our most favorite dolls from L.O.L. Surprise! Dolls range- Cosmic Queen and Crystal Doll. We would advise you to use beautiful colors, like how these dolls appear, to make them come alive.
Cosmic Queen:
Here's a coloring page of Cosmic Queen, the firm astrology believer. Color this adorable doll's hair turquoise, her dress purple and her shorts pink. The accessories should be colored silver. Don't forget to add some glitter to it.
Baby Doll: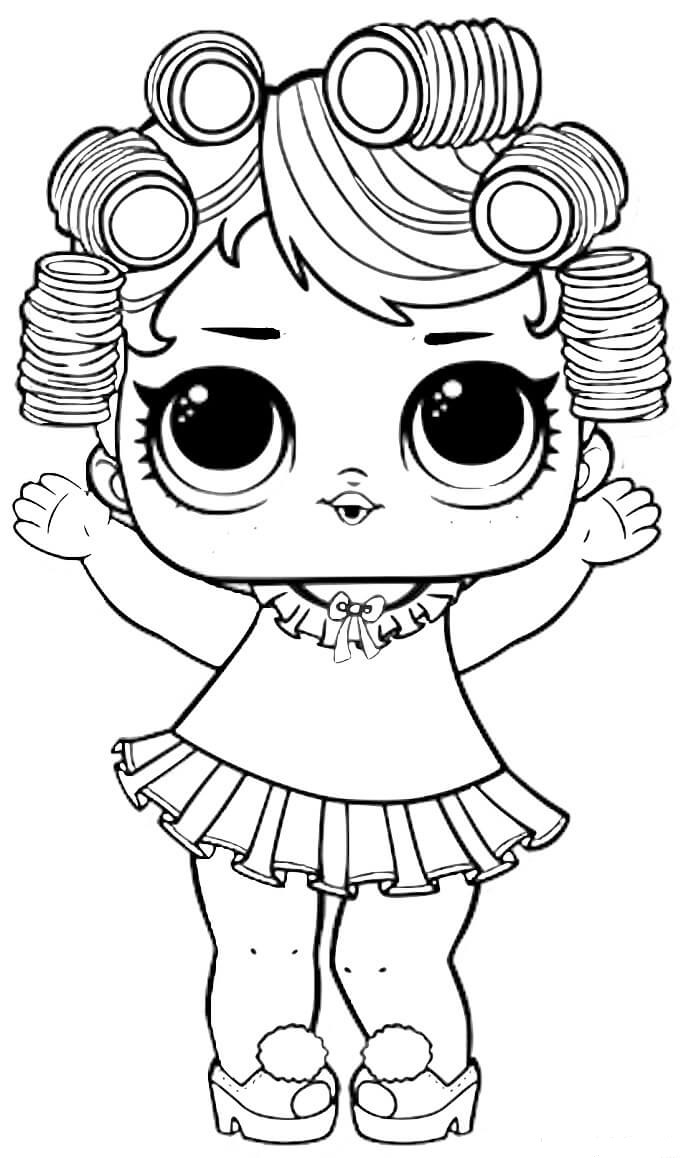 How adorable does Baby Doll look on this coloring page? Make sure you use gold shade for her beautiful locks!
Lol Doll Coloring Page:
Here's another wonderful Lol doll coloring page, featuring a feisty little girl. Ensure you color her stripes properly or else she will bite you!
Show Baby: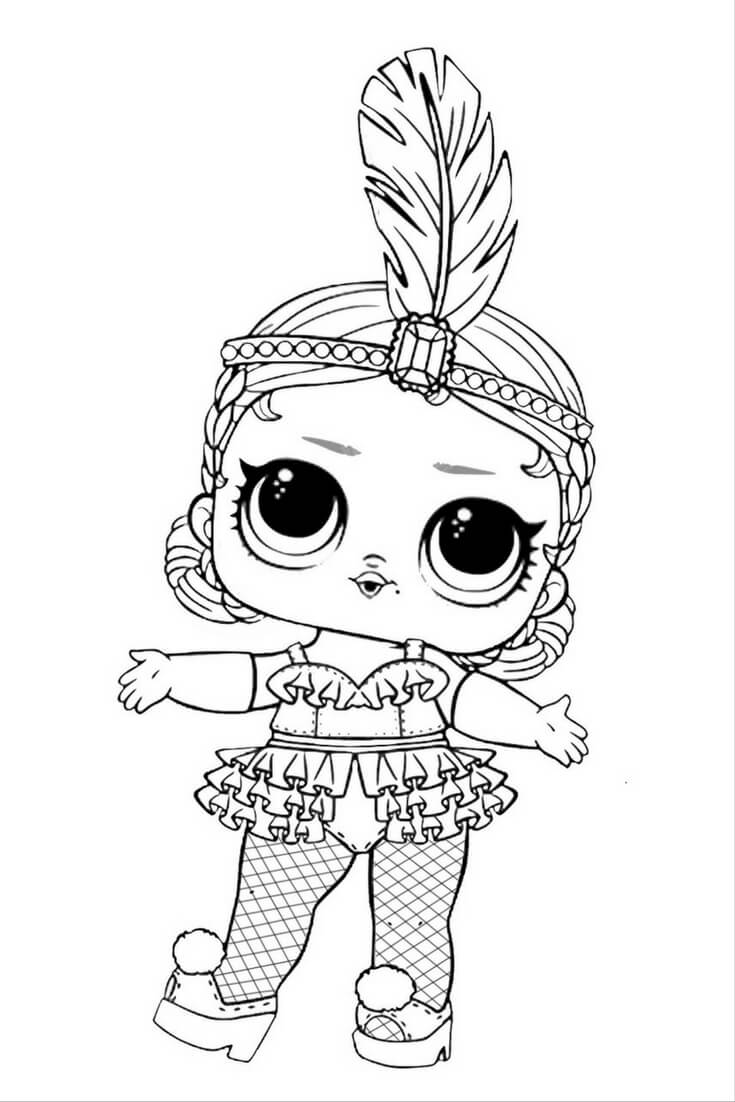 Isn't Show Baby looking absolutely stylish with a feather on her hair? She's dazzling as much as the stone on her hairband.
Rip Tide: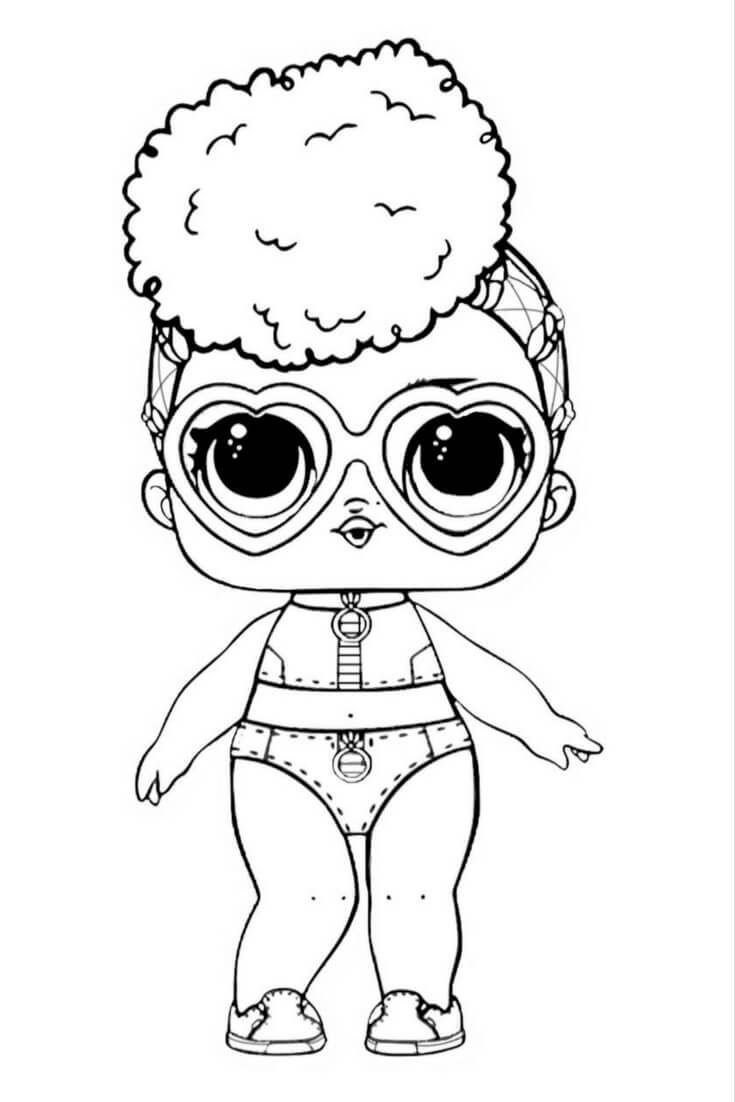 Rip Tide is as stylish as a fashionista can get. Be it her elaborate hairdo or her heart-shaped glasses, she can ace any look.
Can Do: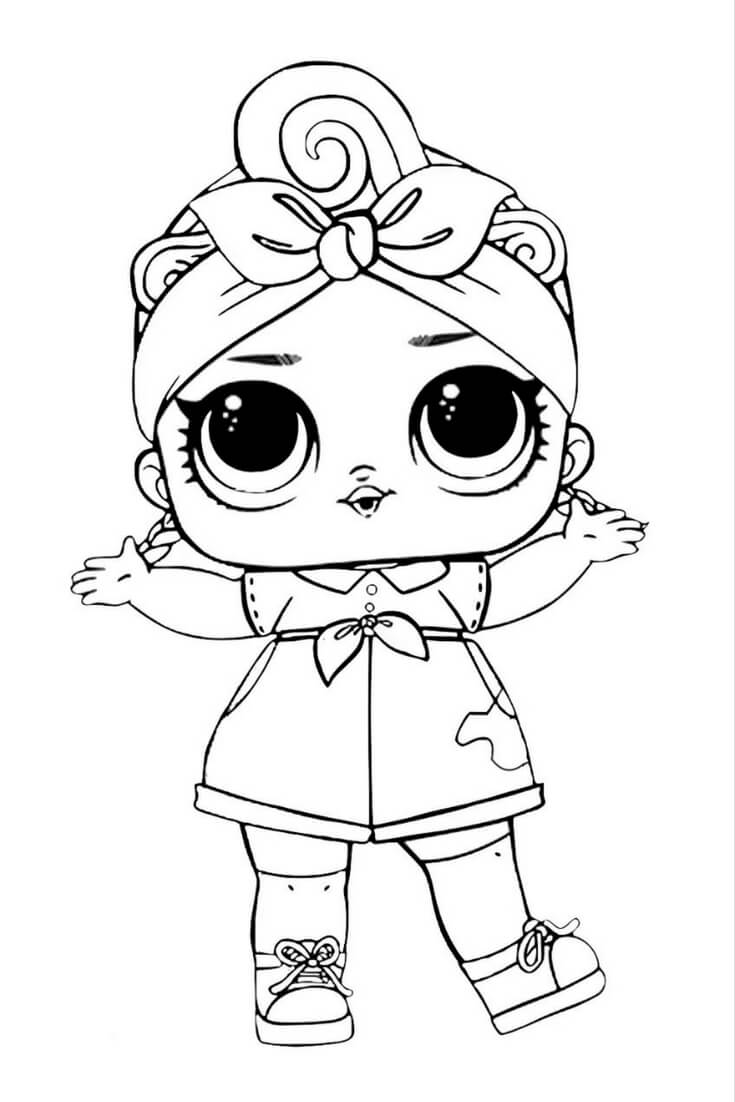 You can understand how confident and sassy Can Do is by her posture. She looks so cool in her simple get up.
Lil Lol Surprise Doll Coloring Page:
This Lol Surprise Doll coloring page features the baby version of the big dolls in this series.
Miss Punk: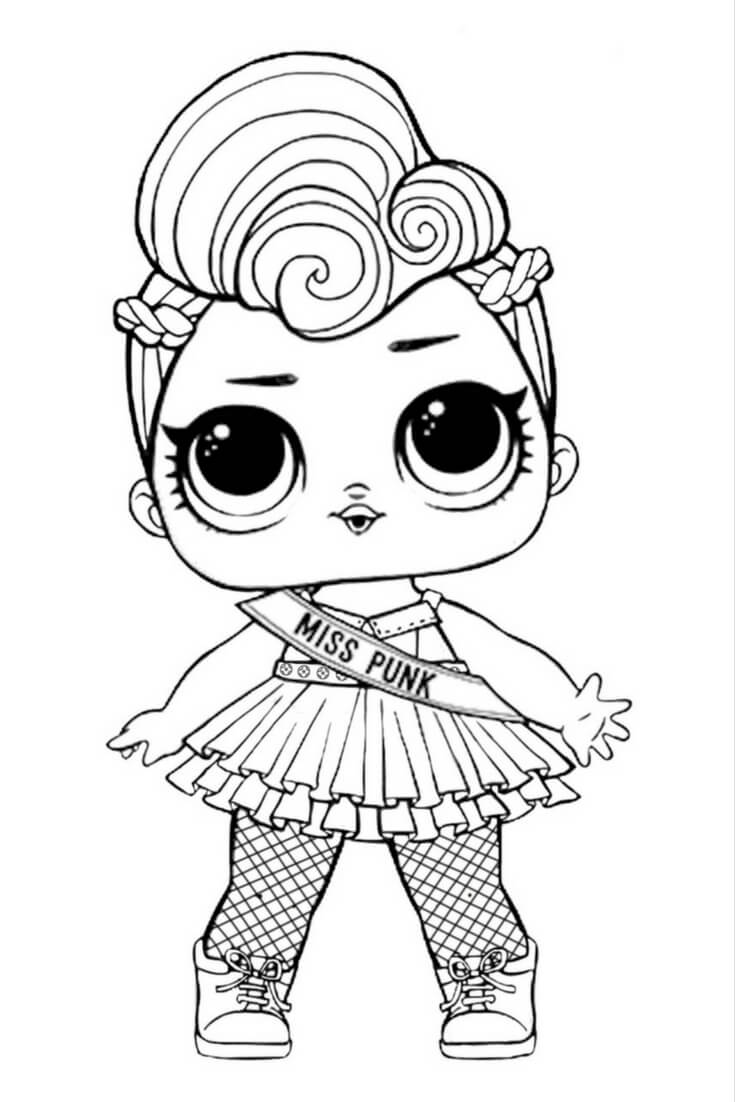 Here's a coloring page of Miss Punk, another fashionista of this series.
Lol Surprise Doll Coloring Page: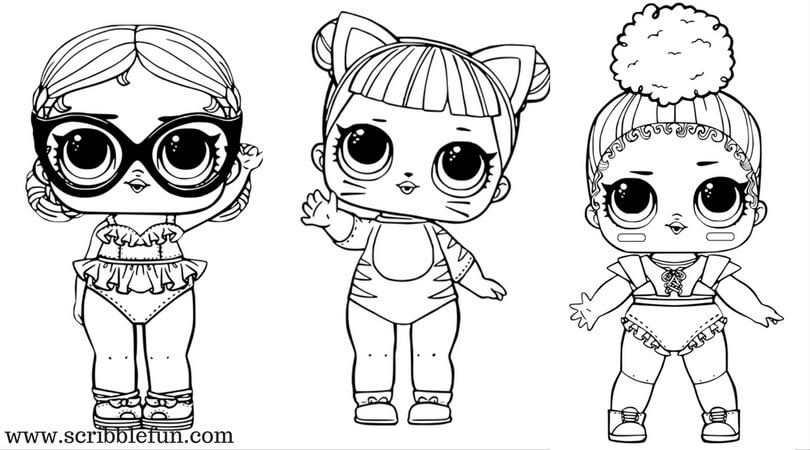 Here's another coloring page featuring three dolls of this series. Isn't it cute?
Lol Spice Doll Coloring Page: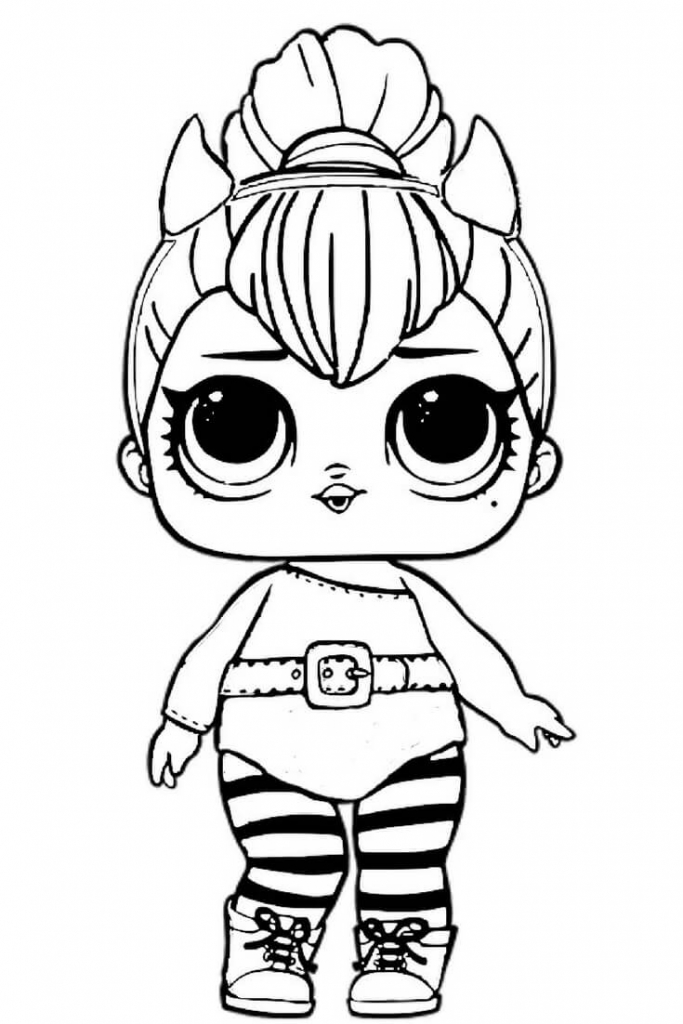 This coloring page features the spicy Spice from the Lol! Surprise Dolls collection. This spicy doll always appears wearing a horn hairband, which is strangely pink in color. And guess what! Her eyebrows are also pink. It seems that she's a pink lover.
Mc Swag Doll: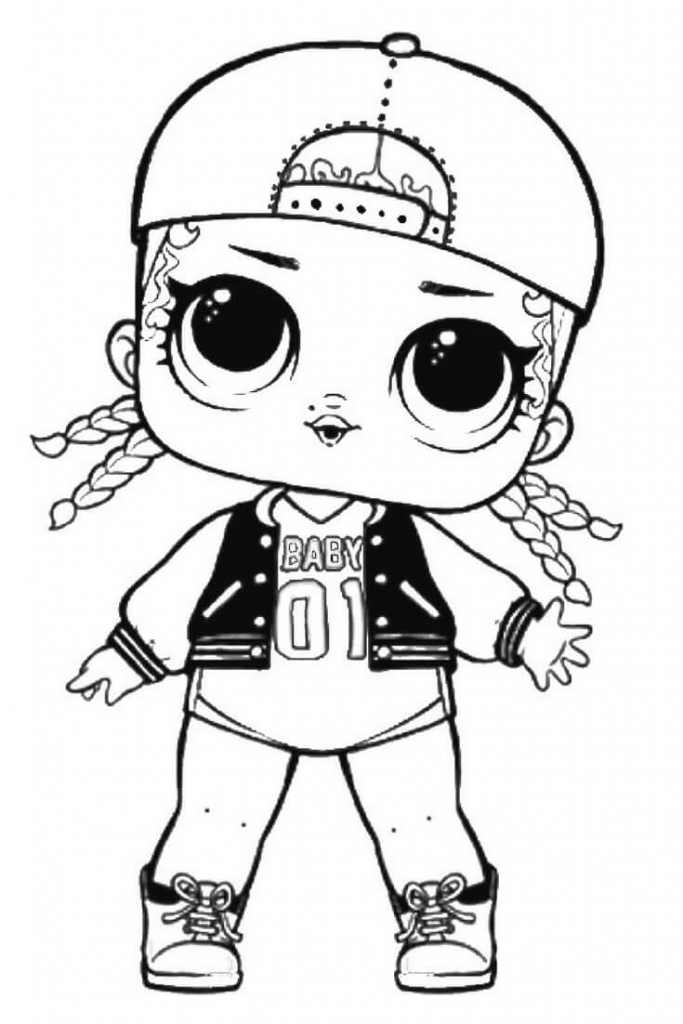 This Lol doll is a swagger in every sense of the term. She looks tremendously cool, wearing white shorts, a t-shirt with a jacket and a baseball cap.
Angel Lol Doll Coloring Page: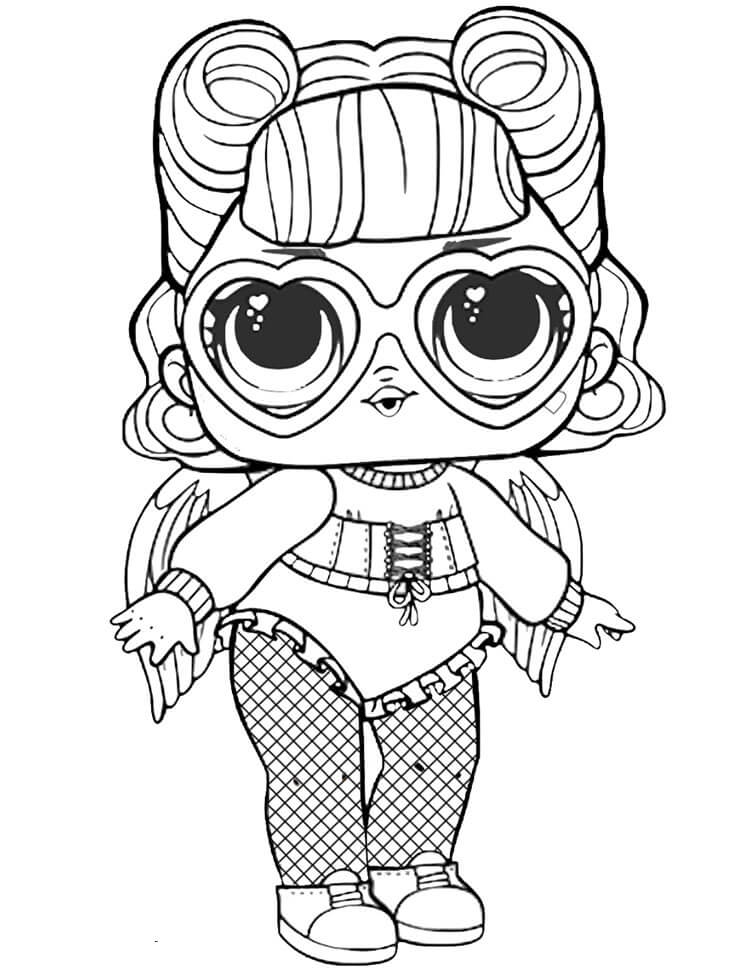 This cute, adorable, yet punky Lol Surprise Doll is Angel. She's an elegant and fancy doll from Lol! Surprise Dolls season 3, Theater Club. Angel has glamorous pink hair and wears heart-shaped sunglasses. But it's the wings that set her apart.
Boss Queen:
Here's a coloring sheet of Boss Queen, a rare doll, from Season 3 Lol Lil Outrageous series. She's a pretty doll with a crown and castle, implying that she's the 'Queen of the Castle'.
Sleepy Bones:
Here's a coloring picture of the Sleepy Bones doll from the Sleep Over Club, season 3. She's a sassy girl with blue hair and eyes and wears skeleton eyes like eyemask.
Unicorn Lol Doll Coloring Page: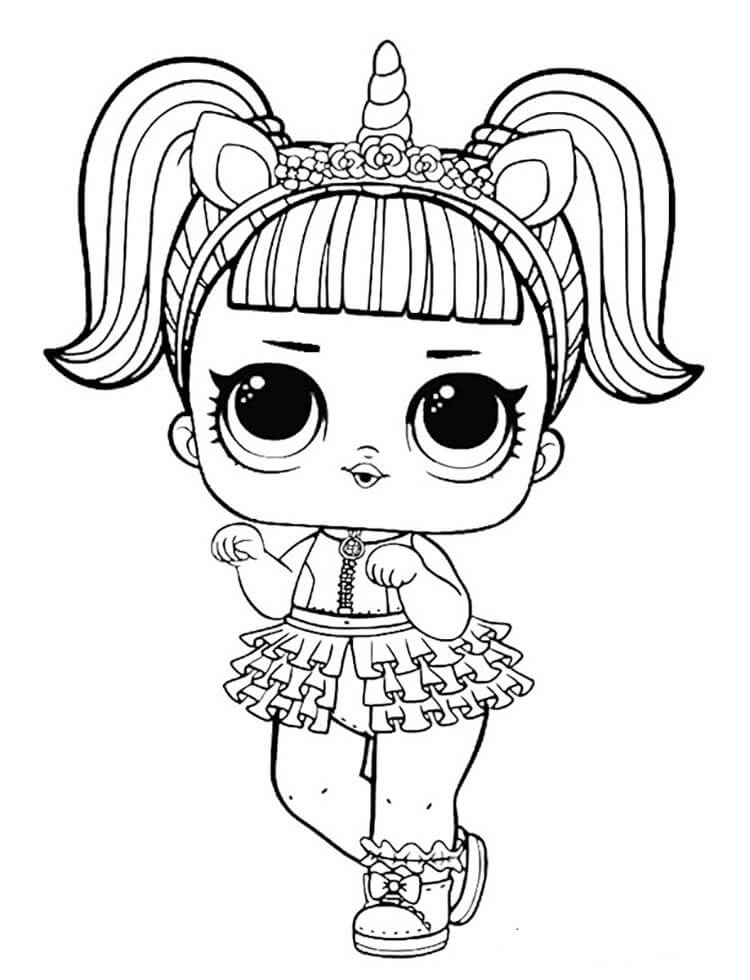 This coloring image features one of the most popular Lol Surprise dolls, the Unicorn Doll. Unicorn doll, belonging to the Theater Club of series 3 wave 2 of Lol Dolls, is a pink-colored doll with white hair that has turquoise, lavender, and pink details. She wears a floral headband with a golden horn, like a unicorn's.
[ Read: Unicorn Coloring Pages ]
Here Are A Few More Lol Dolls Coloring Pages For You.
We hope you enjoyed our collection of printable LOL Surprise Dolls coloring pictures printable. All these dolls are extremely adorable and would make great collectibles for the child's room and so would these LOL Surprise Dolls coloring images. We want you to print out all of them so that kids can color their favorite LOL Surprise Dolls anytime they. And you are free to print out as many of these coloring pages as you like. So why wait? Print out these LOL Surprise Dolls Coloring Pages right away. And don't forget to check out our Shopkins Shoppies coloring pages.